Advance Review: 'The Thrilling Adventures of Lovelace and Babbage' is a Fascinating Mess
Advance Review: this book will be released April 21, 2015
Despite the fact that this book is a huge mess, there is a lot of fascinating stuff in here, making me feel, angrily, that a great opportunity has been missed, and that The Thrilling Adventures of Lovelace and Babbage could have been amazing.
Amazing because the two real-life 'characters' (in both senses of that word) are/were so amazing. So amazing that I'm sheepishly amazed I hadn't heard of them before. First, there's Charles Babbage, inventor of first (never quite made in his lifetime) computer. A rich aristocrat and eccentric engineer/inventor in Britain of the 1830s, he's kind of the father of the steampunk movement/aesthetic, in that his computer/machine, or machines—he actually made two, one called the Difference Engine, which sounds cool, and one, which was supposed to be an actual calculating machine, called the Analytical Machine—that were steam-powered, leading to the speculation of 'what if' they had been built, and 'what if' steam power and therefore remained the norm, along (naturally?) with Victorian fashion.
Babbage himself would have been worthy of a graphic non-fiction book (and there are regular biographies on him) by himself, if it weren't for the fact that he knew the real star of this book, Ada Lovelace. The best part of reading this book was learning about her, so I hesitate to just regurgitate facts, but she's just so interesting and awesome that I have to share: daughter of the poet legend Byron (or, er, only legitimate daughter anyways) her mother ran away from his drinking and womanizing and, in an attempt to repress her father's potential crazy poet tendencies in her daughter, pushed Ada into mathematics studies, though nothing could stop Ada's genius tendencies, and she, quite young, became kind of a legend among her family's circles, which included people like Charles Darwin, Alfred Lord Tennyson, Florence Nightingale, and others, including Charles Babbage, 24 years her senior.
All of which sounds fascinating, and there's more to her life, much more, and which would also make for a great graphic non-fiction book, either about her, or her and Babbage. And that's what we get, at first, in The Thrilling Adventures. Or, for the first 40 pages or so. Then, instead of more real life biography stuff, artist/writer Sydney Padua puts Lovelace and Babbage in a fictional story, or stories, in which Babbage's Analytical Engine gets made (thanks to the now fictional and enhanced pants-wearing mechanic/engineer Lovelace) and they get enlisted by Queen Elizabeth to solve crime mysteries, in a sort of mashup of Sherlock Holmes, Alan Moore's The League of Extraordinary Gentlemen, and steampunk, while still giving us snippets of interesting facts about their real lives. Which might sound more interesting than the result, and may, if presented differently, have been interesting.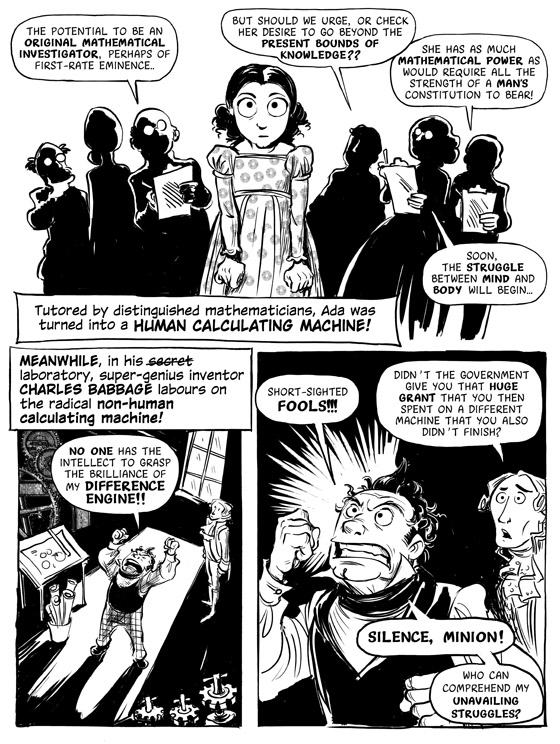 The problem is the format: Two-thirds of most pages have comics, which by themselves are pretty ok—I like Padua's black and white artwork: part caricature, and part Extraordinary Gentlemen artist Kevin O'Neill. But at the bottom of every page are what I guess you'd call bullet points, which sometimes serve the function of footnotes to stuff going on in the panels (without any actual footnote numbers appearing anywhere, so grrr) though sometimes they serve as….just new interesting facts about the Lovelace and Babbage, some of which are interesting, some relevant, and some more as an excuse for Padua to pretend he's the new David Foster Wallace. Also, some of the bullet points just repeat quotes from the panels, sometimes with attribution, sometimes with side stories. Almost all of the info, or all the interesting info, in the bullet points could, I think, have been worked into the actual main storyline, especially since the extra page space created would allow for more panels.
And keep in mind that in addition to the bullet points, Padua also includes endnotes, which actually are given numbered notes, which always made me think they were for the footnote/bullet points at the bottom, but they weren't, so again, grrr.
The model I would have used to this is the For Beginners graphci non-fiction series, which always does a great job of entertaining and informing, without the use of 'back up' footnotes or endnotes. That or, if Padua really really wanted to do something like The League of Extraordinary Gentlemen (which maybe would have been fine) then he should just tell a good story, a good alternative-history steampunk romp, and let what interesting real facts that might come up, come up, but to not worry about that so much. Instead, though he claims in one of the many endnotes somewhere that he's no scholar, he seems very (overly) concerned about giving his readers all possible sources he's used, ever.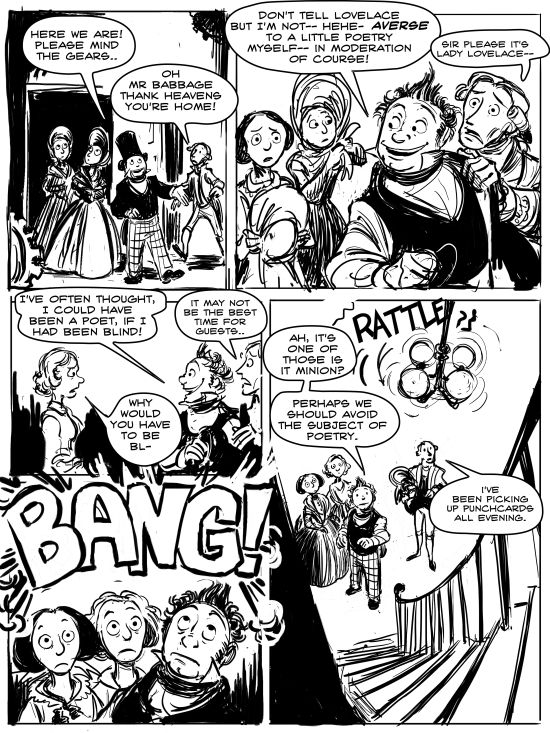 And, I know that's because, as he says, he's "Babbage's biggest fan" and just wants readers to nerd out on all the available info just like he has. But that's not the place of a graphic non-fiction book. Or, it's it's not being pulled off here.
Ultimately, what redeems the book and may make you want to read it anyway, is the character—the person—of Ada Lovelace, though again, remember, most of the interesting stuff about her are in the first 40 pages. She's just a fascinating person. If Padua is Babbage's biggest fan, I could be convinced to become Lovelace's. Really, what The Thrilling Adventures of Lovelace and Babbage will do is make you seek out a regular ole prose biography on Ada Lovelace. Though there's still time for someone to write and draw a For Beginners book on her! Please!