It is a post-apocalyptic world where ordinary people find a form of solace in the virtual reality of L.i.F.e. where most use it to work, play, and live. Trying to reform her bad habits and live normally is genius hacker, Kleya Smith who stars in Not A VIllain.

Above: Kleya Smith in L.i.F.e.
Aneeka Richins, 30, first came up with Not A Villain's setting when she was a teenager. She liked the idea of logging into a virtual world from a post-apocalyptic one and logging into a virtual game through the virtual world.
"…I wanted a story about virtual reality that didn't focus on how bad it was to waste your life in a game. Instead, I wanted to focus on how it would affect ordinary people if they were all forced to live in a virtual reality," said Richins.
Not A Villain (NAV) launched on October 10, 2010 and features three "worlds". According to the website, most of the webcomic takes place in L.i.F.e. the virtual reality that has been functioning for about two years before the story stars. Next, the Game is a MMORPG (massive multi-player online role-playing game) where people can choose to watch or play. Watchers subscribe to watch their favourite players and players try to do whatever they can in order to get watchers. If players do not get a certain amount of viewers, they are kicked out of the Game. Lastly, there is Reality where it is real life and people cannot go outside and must stay inside protected areas.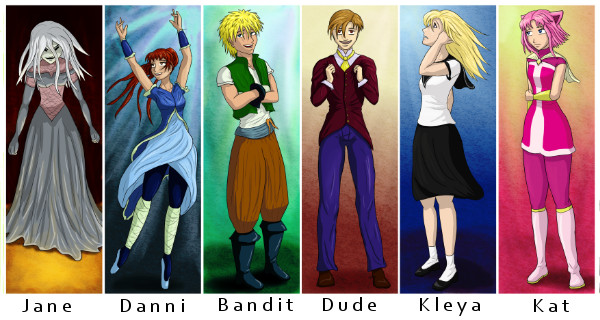 Above: Essentially the main cast (Kat is Kleya's Game character)
The main cast of NAV is genius hacker Kleya Smith, her partner Danni Morretti, arrogant Jake (Bandit) and Jake's friend Brandon (Dude). Bloody Mary can also be considered as part of the main cast because of the Game's party group. Richins put Bloody Mary into her webcomic because it would "instantly brand her and readers would know what to expect."
"It's kind of like calling someone Mr. Doom. [It] gives a good idea to the reader of the type of character he's going to be – unless you're doing a comedy," said the originally Arizonian.
All of NAV's characters are based off Richins in some way and she uses percentage to compare herself to them which ranges from two to twenty percent. She says Kleya is probably eighty-six percent her own character and fourteen percent like Richins herself.
"It's sort of like having kids. There are parts of you in your kids, but they are definitely their own person. So, trying to guess my personality from Kleya would lead you way off. I find it hilarious when people try to assume that I'm Kleya, though, and then get shocked when they meet me," said the Not A Villain artist.
The 30-year old creator is the sole artist of NAV and is unique because she chooses to incorporate three different art styles instead of sticking to one for her webcomic. She says since the Reality style is different than the Game or L.i.F.e. she usually has no problems with switching among each style.
"However, when I switch between Game and L.i.F.e., I do have problems trying to get them to look 'right' since their differences aren't as extreme, but after a few days of practicing – and lots of looking back on older pages and/or notes – I hit my stride again and can carry on without a problem," said Richins.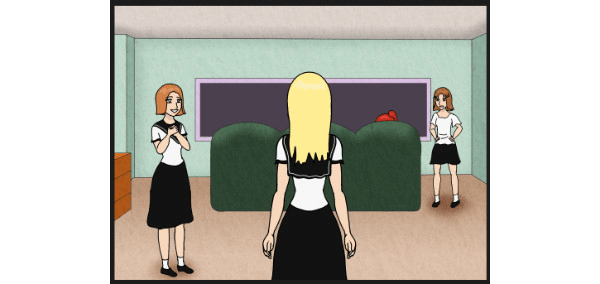 Above: Kleya in L.i.F.e.
Richins shares that she never thought she could be an artist until she was introduced to manga in college.
"The simple style made me think I could probably try my hand at it. So L.i.F.e. showcases my first attempt at art," said the NAV creator.
She says she has "definitely" improved since she had no idea what she was doing when she first started the webcomic. Richins said she had only drawn for a handful of months before she began and now nearly four years later of constant practice has led her to improve by "leaps and bounds."
With three different "worlds" in Not A Villain, Richins likes drawing L.i.F.e. because it is the easiest especially during stressful times but she likes all the styles and is excited to get better at them.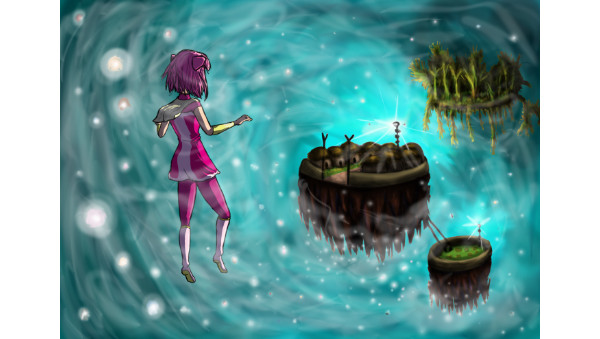 Above: Kat in Game
The NAV artist says that the time to do one strip depends on the art style. She shares that L.i.F.e. originally averaged 20-hours but now she can do it in about four to six hours. The Game also averaged to about 20 plus hours but now she can do it in about 10 to 15-hours. Richins says that Reality currently takes too long and she cannot wait until it shortens down like the other art styles.
The creator says her process is like other normal comic artists which starts with a thumbnail, sketching it out, ink, colour, dialogue, re-sizing, and ending with posting the art online.
Richins is not only the sole artist of Not A Villain but is her only employee. She says she is often a DIY (do-it-yourself) person so when she wanted drawing skills she had no problem starting the webcomic by herself. She says she also does not have the funds to hire help.
"It would be nice to have help on the business side of NAV, but I just keep puttering forward regardless," said Richins.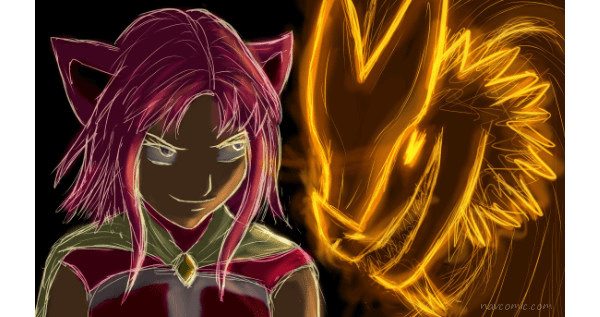 Above: Kat and "D" the cyber dragon
As an artist, Richins has her share of inspirations like Fred Gallagher of Megatokyo, Howard Taylor of Schlock Mercenary, author Robin McKinley, and the manga Fruits Basket.
Richins has attended several conventions such as Emerald City Comicon, Phoenix Comic Con, Salt Lake Comic Con, FanXperience, Intervention, WorldCon (when it was in Japan), and Life, the Universe, & Everything.
The 30-year old says she has many dreams for Not A Villain like updating three times a week, getting enough interest to create a hardback version of the webcomic, and being able to live off her webcomic.
"However, one dream that I think would be awesome – and is, perhaps, feasible – is creating a visual novel game featuring Annie. That way, I could show off the world of L.i.F.e. so much more than I currently can with Kleya," said Richins.
Annie is a character that is not part of the plot of Not A Villain. She is in a separate story but is part of all three "worlds." She is a regular girl that is discovering how to navigate herself through L.i.F.e.


Above: Brandon running to the water
The NAV creator hopes her readers take away her feelings after reading her webcomic.
"I'd love if they could love the characters as much as I do. And also knowing that if I could
draw, then anyone else could, too," said Richins.
You can find Aneeka Richins other links below:
Aneeka Richins' website (showcases a lot of her work)
---
Thanks to our friends at Two Geeks Talking for letting us share this content.
Two Geeks Talking is a partner in Crossroads Alpha along with Comics Bulletin.