It's about damn time that Creepshow made its way back into print. One of the great lost graphic novels of the 1980s, this delightfully dark film adaptation is one of the best-known and most-loved books drawn by the brilliant Bernie Wrightson, made even better by writing by peak-era Stephen King. This book is thrilling and weird and scary and just what we comic fans needed as we continue to mourn Wrightson's passing.
Bernie Wrightson was one of the greatest horror illustrators ever to work in comic. He displayed his sumptuously shadowy vision of the world in several spectacular series, including an epochal run on Swamp Thing (with writer Len Wein), a series of astonishingly beautiful horror stories for Warren Magazines, several notable miniseries for DC Comics, and the brilliant plates he delivered for an edition of Frankenstein published first by Marvel Comics in the early 1980s.
The secret to Wrightson's transcendent terror was in the way he showed the humanity beneath his characters' often grotesque exteriors. His Swamp Thing always showed the burden of his transformation from human to terrible swamp creature in his darkly inhuman eyes, sparklingly sad visages that always showed the dreadful psychic pain of a man turned unto a monster. As the former Alec Holland fell into a world ever more grotesque than his previous world, readers could watch his emotional devastation in the character's eyes. Similarly, the power of Wrightson's Frankenstein lay in the dreadful humanity of the grotesque beast as much as it did in the artist's brilliantly detailed designs.
Much of this approach evolved from Wrightson's strong passion for the E.C. horror comics of the 1950s. An avowed and obvious fan of Graham "Ghastly" Ingels, whose work often juxtaposed bleakly evil human characters with settings that reflected their vicious inhumanity, Wrightson learned that the true evil comes not from others but from inside oneself, that the worst evils brought upon the world come not from literal monsters or demons but from the monsters or demons who live inside our souls. The worst of humanity comes from devastating character flaws that twist and destroy peoples' sense of good and evil, destroying lives in the process.
Thus Wrightson was the perfect artist to draw the comics adaptation of Stephen King's Creepshow, an anthology film inspired by E.C. Comics. Creepshow combined abundant gore with a dark streak of inhumanity to deliver an unforgettable portrait of a deeply fucked-up America at the dawn of the Reagan era.
"Father's Day", the first story in this volume, tells the story of murder and revenge for a patricide. Wrightson delivers an astonishingly powerful image of a desiccated body rising from its grave, skin gone, with rotted clothing falling off its body and worms in its eyes. It's spooky as hell, made even more dreadful by the perfectly depicted looks of fear on everybody's face – and by the hilariously wild ending to the tale.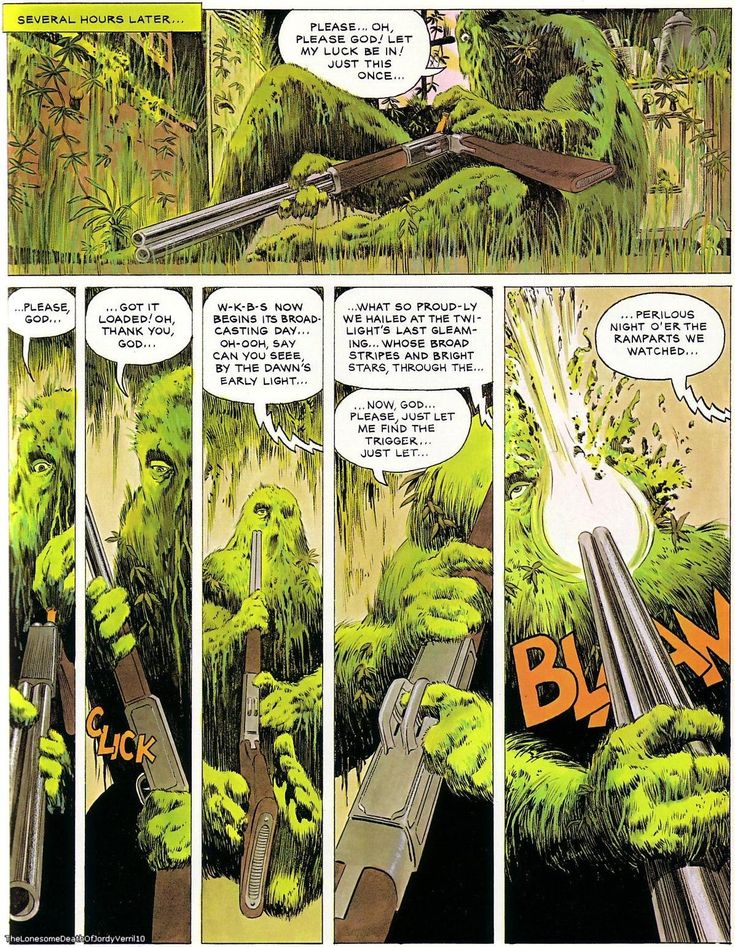 "The Lonesome Death of Jordy Verrill" is a tribute of sorts to Wrightson's brilliant work on Swamp Thing, telling the story of a dumb hick who discovers a strange meteor on his farm – a meteor that transforms him into a kind of grass monster. The transformation scene, set against the National Anthem playing on TV, is darkly wonderful. However, the real beauty of Wrightson's artwork is in the way he establishes setting – the vast emptiness of the farm, the dark imagination of Jordy as he imagines the riches and pain the meteor will bring him, the all-encompassing messiness of his life. This is an existence that seems richly lived-in, and it derives much power from that.
"The Crate" imagines a strange creature brought to a college for research and has several of Wrightson's most powerful images. The beast — more an unknowable mystical demon than animal of the Earth is absolutely terrifying looking, all sharp teeth and flowing hair with a brutal fury in its eyes that promises swift and painful death. At the story's heart, however, is a pair of bickering lovers who are as malicious and nasty as the monster. Stories like this one show the central idea of the greatest E.C. horror stories: that the worst monsters are people.
Wrightson and King explore man's inherent monstrosity more deeply with "Something to Tide You Over," in which one character takes revenge on another by burying his body in the sand as the tide is coming in. The Pacific Ocean often implies calm beauty, but under Wrightson's steady hand the ocean seems as deeply unknowable as the bleak human soul. Though there are no monsters in this story, Wrightson's depiction of ordinary evil – the everyday nastiness that people bring upon each other – is awesomely bleak.
The final tale, "They're Creeping Up On You", is a spooky tale of paranoia and undisciplined minds, the story of a man who despises dirt but finds himself battling an invasion of cockroaches. This is the tale in which Wrightson seems most closely channeling "Ghastly" Ingels, with a claustrophobic depiction of a man whose predilections bring him increasing amounts of terror. Wrightson's art on "Creeping" also reminds a bit of the great E.C. artist Bernard Krigstein, whose best E.C. yarns graphically showed the ways in which paranoia corrupted souls and brought terror on those who felt that dread.
Creepshow is a delightfully dark monument to the brilliance of the late, great Bernie Wrightson and a perfect demonstration of both his influences and his transcendence of those influences. Wrightson was a master at illuminating the place in which man's inhumanity to man collides with the monsters that inhumanity creates. This book is a worthy legacy for a uniquely brilliant creator. It's spooky as shit and drawn brilliantly. Thanks to the good people at Gallery 13 and Simon and Schuster for bringing this amazing book back.