History does strange things to our perceptions. Back in the day we once saw things as being great, or as vitally important, or as woefully out of step with their times. Later we shook our head and wondered in what bizarre parallel universe we saw things that way. One day (maybe soon) we'll look back on Donald Trump's Presidential run and wonder just what the fuck that all was about. We'll wonder why a certain TV series was overlooked in the same way that Firefly was, and why everybody saw Age of Ultron as a decent movie rather than the beginning of the end of the Marvel cinematic universe.
Times change and so do our perceptions of changing times.
I started reading comics during my childhood in the 1970s. Many of my friends read comics then too. It was a normal thing for kids to do (we also played baseball and tried to stay up to watch Saturday Night Live and wore bellbottoms) and so as we wandered around town on our Schwinns we endlessly debated the merits of certain comic book creators. Mike Grell? Super slick on the Legion. Steve Gerber? We loved his weird existential work that seemed like something we were too young to be allowed to read. Roy Thomas? We hated his obsession with continuity. Dave Cockrum? We wanted him to draw X-Men forever.
And while we all pretty much agreed on all the items I just mentioned, there was always a dissenter or two, someone who seemed to see things a different way from the consensus.
But there was one creator about whom we all agreed: as we all said, "Jack is a hack."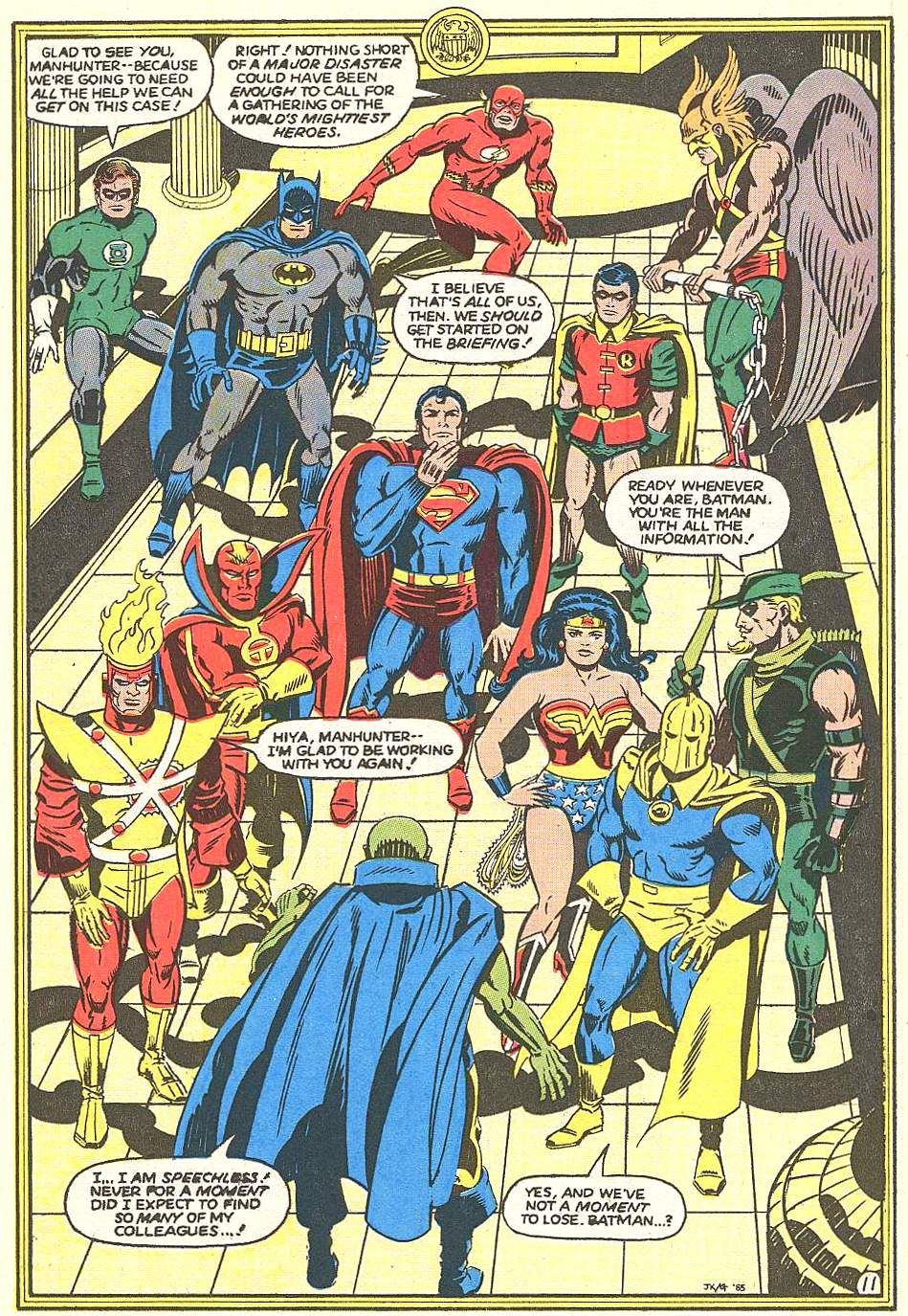 Forgive me, dear reader, I was young then and didn't know the true background of Jack Kirby, the King of Comics. But also forgive me because, frankly, a lot of the comic art that Kirby did in the 1970s and '80s was pretty dire.  That was especially true after the core New Gods series was cancelled and it was clear that DC Comics really didn't know what to do with him other than have him continue on Demon and deliver this crazy series called OMAC. Kirby's later Marvel work was often nearly incomprehensible without an education in the Kirby mind-set, but some of that work, like his awesomely odd work on 2001: A Space Odyssey and Captain America lingers in the mind due to its off-handed surrealism.
Kirby's career becomes even more complicated and strange when a reader looks at the stories in The Jack Kirby Omnibus Volume Two. This collection delivers a 600+ pages of dross and ephemera from the latter half of Kirby's time at DC Comics. It's a motley set of comics indeed: a dozen or so horror yarns by Kirby and his longtime partner Joe Simon from the reprint series Black Magic; a handful of pilots for comics that were never picked up; an extended run of adventures from his Sandman series (in which Kirby had to suffer the indignity of illustrating stories by Michael Fleisher); issues of long-forgotten no-hopers like Kobra and Kung Fu Fighter; and reprints of the two Super Powers comics that Kirby had a hand in creating.
None of this stuff is especially good or even especially interesting on its own terms. That, of course, makes this material fascinating to discuss. Reading Kirby Omnibus II is kind of like reading a biography of a great athlete that focuses on his mediocre life after leaving the playing field rather than his amazing play on the field.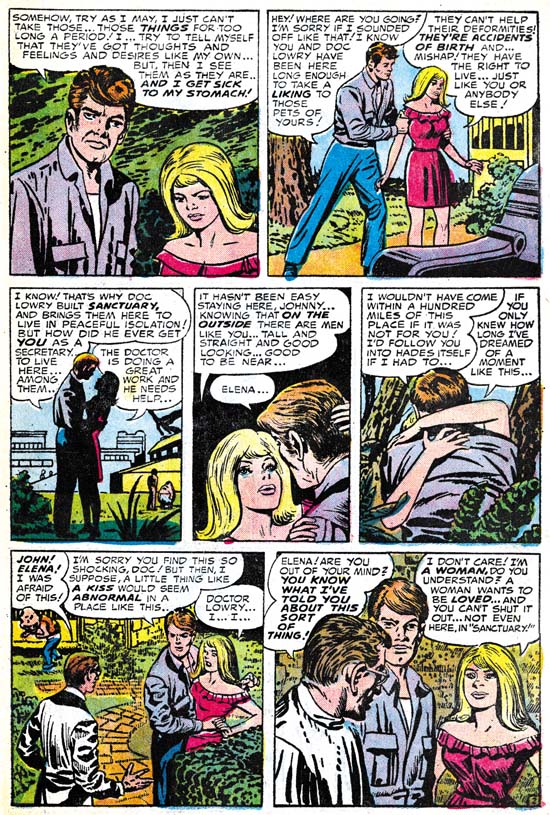 Though with all those caveats applied, the first 120 or so pages of this book are kind of awesomely wacky. They reprint horror tales that Kirby and Joe Simon created for their 1950s frightfest Black Magic, justified in their inclusion here because they were reprinted in a revival of that title at DC. These stories are shocking for all kinds of reasons; first and foremost because the art style presented here is so different from Kirby elsewhere.
Maybe it's Simon's influence, or the drive to create great horror stories, or because Kirby's grandiose style is muffled by Simon's moody inks, but this collection has a blotchy, rough-hewn intensity that perfectly fits the bizarre stories that they present. Faces are awkward and often off-kilter; the world is full of shadowy grotesqueries; there's a pervasive sense always that evil is lurking just around the corner of peoples' lives.
That leads to the second reason why these pieces stand out so much: they're noir tales of people being dragged into the miasma of evil. There are few heroes in any of these Black Magic shorts; instead, powers kill and scar, while nightmares are always just below the surface. As one frequently does with the classic EC fright-fests, it's very tempting to find deeper social commentary in these stories, or to see them as reflections of Kirby's inner life. If so, during this era Kirby was always looking for happiness only to find monsters behind every door (literally, in the case of one of these stories). Based on this evidence, jolly ol' Jack wasn't nearly as jolly in the early 1950s as he would be later.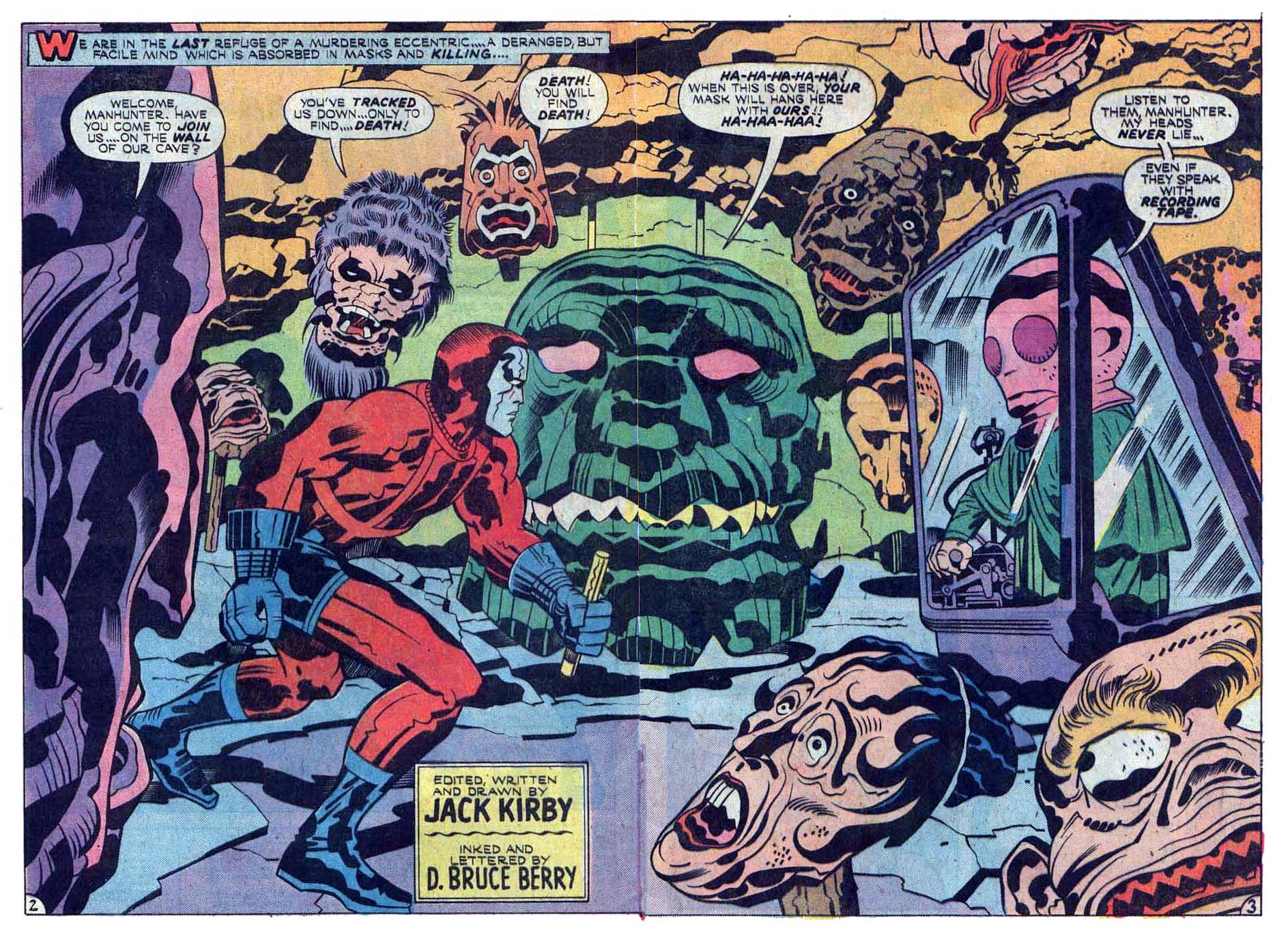 That sense of angst can be seen in other reprints in this volume as well. This is especially apparent in the series of pilot episodes that Kirby created but which never were picked up for ongoing series. "Manhunter", first presented in First Issue Special #5, has an intriguing storyline about an aging action hero, servant of a long-standing group of secret global protectors called the Manhunters, who successfully finds his young successor. The material here is intriguing but surreal, with a dreamlike beginning involving grotesque heads and small implications of a larger world around these characters.
The ideas in this story are as old as storytelling – how many legends involve the passing of a baton from one hero to the next? This idea represents a clever idea since Kirby was reviving one of his iconic 1940s characters in the 1970s. But the King delivers these tropes with an approach that feels to me like a mix of ennui and joy, a sincere attempt to create a new legend at the same time he seems to despair of the series ever having being picked up beyond this single desultory issue.
The same is true of another First Issue Special reprint. "Atlas" is a bit of a New Gods/Thor rehash, with a touch of Conan's revenge saga included. Here, too, Kirby creates implications of a complete world but readers are being told what to look for rather than shown what to think. There are some gorgeous scenes involving flames without heat that look beautiful, but the nothing here grips the reader in the way that other Kirby work from that period does. He just lacks the spark of greatness here.
Kirby seemed more excited about a third potential series. "Dingbats of Danger Street" was an idea near and dear to the King's heart, a revival of the old "kid gang" comics for the 1970s, and a series for which Kirby was so excited that he delivered three issues before the first was even published (only the first is reprinted here; in his introduction, Kirby Collector editor John Morrow praises the second and third issues while not explaining why we don't get to read them). Honestly, though, I found this "Dingbats" story almost unreadable, with character designs that are so ugly and awkward that there was no way to understand, much less empathize, with the events presented here.
There then come two utterly generic Kirby stories that are interesting for their obscurity. Kirby drew issue three of Richard Dragon, Kung Fu Fighter for some obscure reason, maybe the lowest ebb of his time at DC. If there ever was a book that was worse suited for Kirby, it's hard to find one. Kirby was all about power and energy, with blocky heroes fighting in ways that could only make sense on the comics page. Kung Fu comics, however, needed to be precise. The result is a comic that makes little sense but has some raw power. I'm just amazed that Jack Kirby, of all people, was pressed into action to create a fill-in issue of a second-rate series. The 1970s were weird.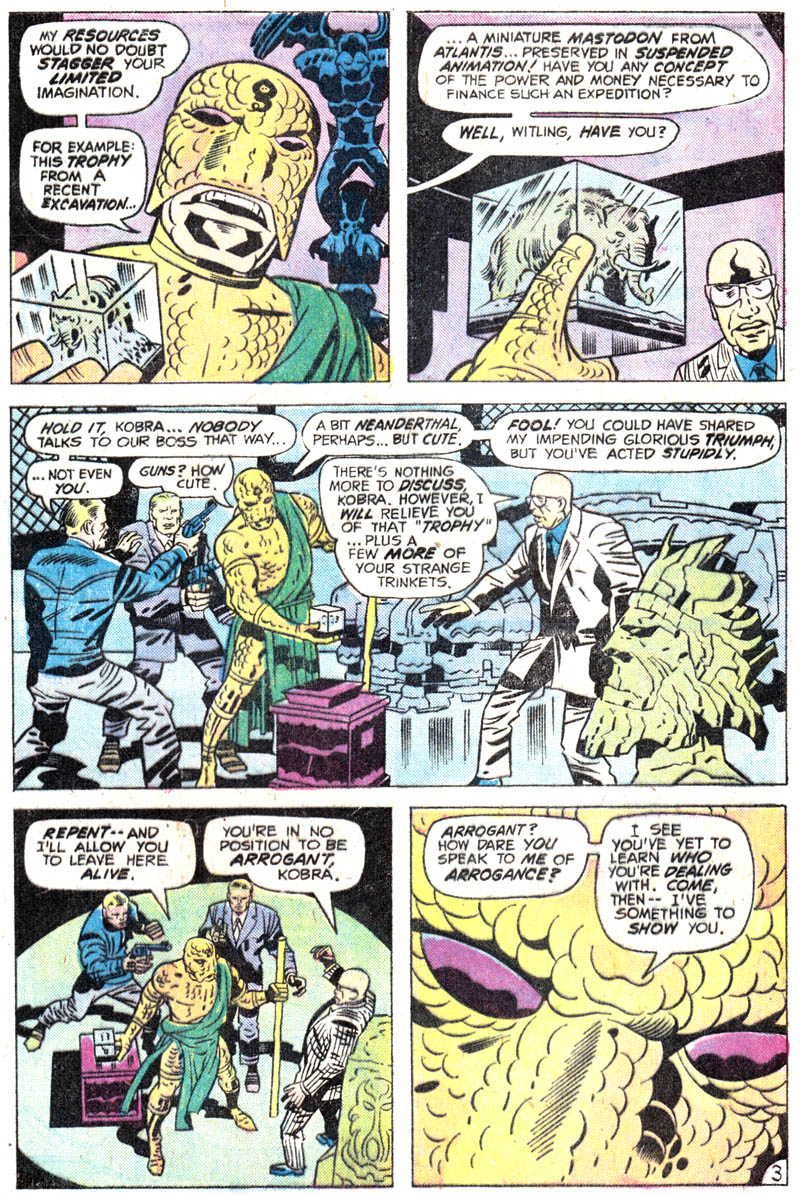 But even wackier is Kobra #1, which is half drawn by Kirby and half drawn by Pablo Marcos. That means that issue #1 of a new series was essentially created as a fill-in issue that had two separate but related stories. Kirby's work here is actually pretty wonderful, with the erstwhile world conqueror Kobra drawn beautifully in a strange mask that seems straight from the Kirby playbook. There's even a giant pink monster that's reminiscent of Kirby's 1950s monster comics. But the bifurcated nature of the presentation causes the whole thing to fall apart and make the whole thing into nothing more than a curiosity.
Then there's Sandman, which was first published as a one-shot revival of the Simon and Kirby team but sold phenomenally well and launched an ongoing series that lasted seven issues. The comics in these seven issues are both great and terrible. They're optimistic surreal jaunts filled with fairy-tale menace and a cloying sense of angel on a shoulder (in part from writer Michael Fleisher from issue #2 onwards). These stories are constrained and oddly claustrophobic, telling the tale of the hero's relationship with a young boy named Jed. Jed is a very strange kid, living in a lighthouse or on a farm and who suffers the death of everyone close to him and the tortures of his wicked step-parents. There's a lot of psychological complexity in these near-fairytales created for children, and Kirby does seem to have fun presenting it all. One issue is actually inked by the great Wally Wood (who knew?) and the combination of the two men looks wonderful even if they're both hacking the work.
If some stories are over-the-top silly (a Santa Claus tale wraps this section of the book – and yeesh, does Kirby draw Santa badly), they at least have a moral center to them. They also triggered a wonderful reaction by Neil Gaiman in the early chapters of "A Doll's House" in his Sandman series. That cavalier dismissal is pretty close to my own reaction to these issues, but there's a casual charm to these thrown-off pieces.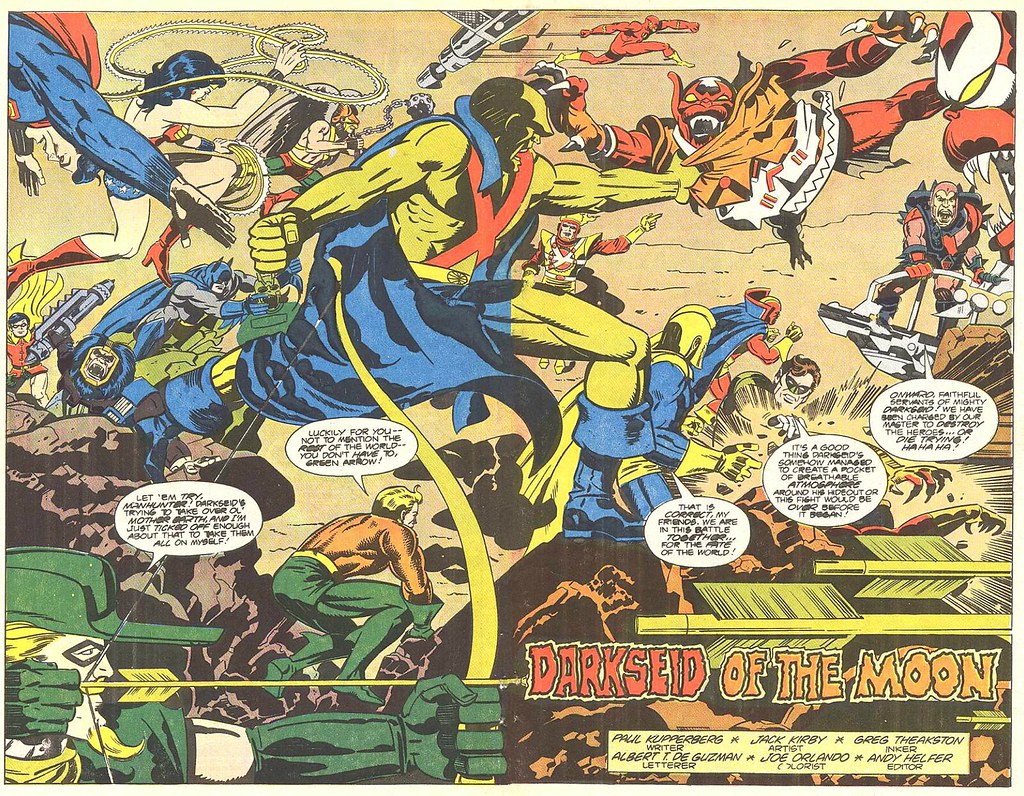 The final three hundred or so pages of Kirby Omnibus 2 are mainly devoted to the long-forgotten quarter bin fodder Super Powers mini-series from 1984 and 1985. These comics were created to promote a much-beloved line of action figures and associated. The DC editorial team was happy to keep Kirby working on these obscure comics even if they wouldn't sell to anybody over the age of 12. Kirby just plots the first series, with one issue drawn by him, and the result is desultory. Adrian Gonzales draws in a bargain-basement Kirby pastiche that simply annoys during his four issues. When Kirby takes the art chores with the final issue, there's a small frisson of excitement at the King drawing the New Gods, the Joker and Superman. Some of the classic Kirby magic is there, especially in the second volume of Super Powers. In that run, the stories are filled with Kirby grandiosity and cosmic machines. It really looks like Kirby is having a blast with these adventures, as they're filled with some of his archetypical delightfully bold battle scenes. Unfortunately many of those scenes are followed by poorly rendered scenes that kill momentum. Still, the spark of the old Kirby makes these a small delight.
The second Super Powers mini, too, is packed with scenes of Darkseid scheming in all his Kirbyesque toothly glory, and we get to see the King draw Red Tornado and Hawkman if that excites you. Late period Kirby can be a challenge to get through, but there's enough Kirby krackle and square fingers to give these stories a spark of the old, great comics master.
Compared to their contemporaries on the newsstand, many of Jack Kirby's late-period comics felt outdated and awkward, out of steps with the angst-filled era of uncertainty that America was living through. In the era of Watergate, the Dingbats of Danger Street felt as relevant as World War II. But time has done favors to Jack Kirby's 1970s comics. Though "Manhunter" and Sandman are weak sauce for Kirby fanatics, they still have enough authentic Kirby seasoning to make them transcend their era. Jack, you were never a hack.