Bryan Stroud for Comics Bulletin: It looks like your career at DC began in about 1972, is that correct?
Ernie Chan: You're right. Those were the days.
CB: What made you decide to go into comic illustration?
CHAN: That's what I had been doing back in the Philippines, illustrating local comics for 8 years, before migrating to the USA in 1970. I always loved to draw since I was a kid.
CB: Were you part of Tony DeZuniga's so-called Filipino Invasion?
CHAN: I apprenticed for Tony back in the Philippines for a couple of years. Tony came to the USA a year ahead of me. So I looked him up and apprenticed for him again for several months, then I went on my own. You can say the 'Filipino Invasion' was initiated by Tony and me.
CB: Was the language barrier ever a problem?
CHAN: It's not a problem. We were taught English in school and it is our second language.
CB: Please tell me about your art training.
CHAN: It was mostly self-taught, observing and imitating other artist's styles that appealed to me and a lot of practice and hard work.
CB: You've got an impressive list of credits and worked on everything from Batman to Swamp Thing with stops in between on westerns, war books and superheroes. Which was most enjoyable?
CHAN: Actually, I am challenged every time I encounter a new character assignment. But I enjoyed Batman the most
CB: Is there a character you feel represents your work best?
CHAN: I guess Batman represents my work best.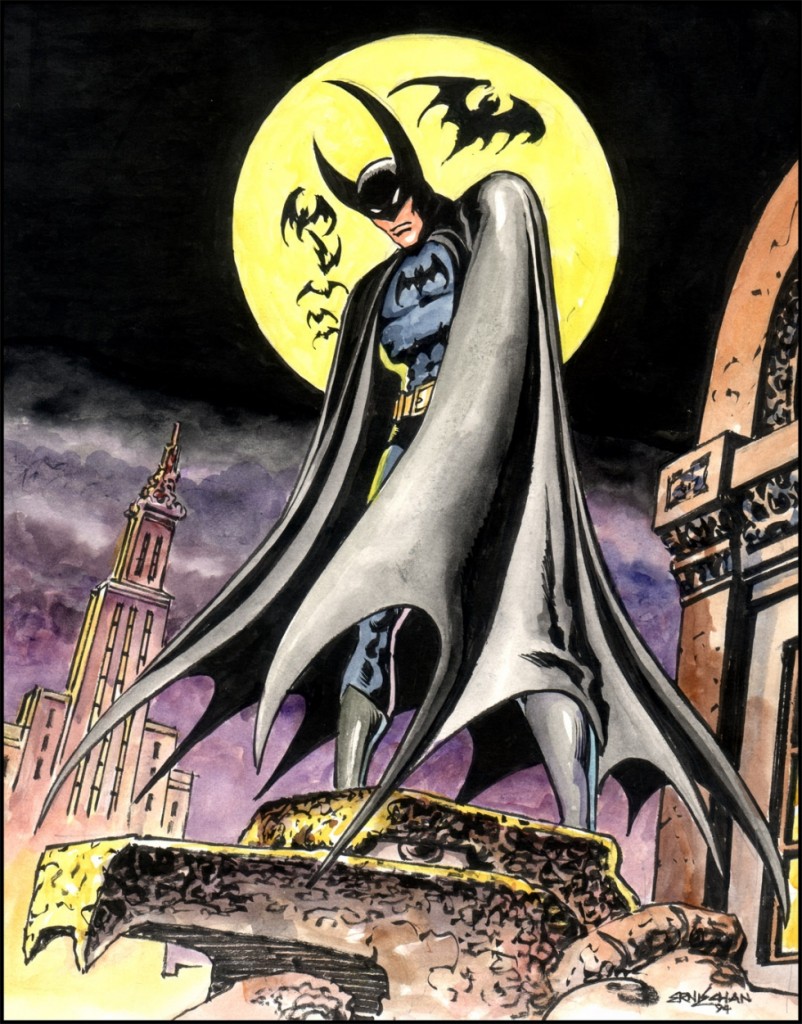 CB: Do you prefer penciling or inking?
CHAN: I prefer penciling. But I enjoy inking too.
CB: Which tools do you favor?
CHAN: I favor a mechanical pencil with 2B lead for sketching, a flexible pen and fountain brush filled with India ink for inking.
CB: Did you have a favorite writer to work with?
CHAN: David V. Reed was my favorite writer at that time.
CB: How about a favorite editor?
CHAN: Julius Schwartz. He was easy to work with.
CB: How did Marvel and DC compare?
CHAN: For me, it's like comparing apples and oranges. At DC, I am more of a penciller. While at Marvel, I am more of an inker.
CB: Did you have a preference between full script and Marvel method?
CHAN: With a full script, the writer dominates the storytelling. With the Marvel method, I have more flexibility in the story breakdowns. I prefer the latter.
CB: You worked on both Claw the Unconquered and Conan. Was Claw basically a knock-off of Conan?  
CHAN: Yes, I agree that Claw was a knock-off of Conan at the beginning. But if Claw had been given a longer run, I was pretty sure it would have branched off to something all its own.
CB: You worked on almost the entire run of the Joker book. Was that an interesting assignment?
CHAN: Yes. The Joker was and still is the best villain character for Batman.
CB: You became the designated cover artist for DC for awhile and had a particular gift for them. Did you like doing covers over interiors?
CHAN: I like doing covers way better than working on interiors. In interiors you have to deal with the 6 panels on average and tons of captions and dialogs; while in covers I just leave a third top portion of the space for the logo and stuff. And sometimes, if I am lucky, I can overlap my design over a part of the logo.
CB: Do you paint?
CHAN: I love to paint. But back then, my opportunity to paint was limited, because I could only paint in between a long span of black and white jobs. Nowadays, I have more time to paint.
CB: According to your website you did some T.V. and movie animation. Which projects?  Was it an interesting change of pace?
CHAN: I went into TV, movie and video animation for the sole purpose of being able to learn to use the computer tools. But I found it difficult, because I went in at a late age. It would have been a different situation if I had started it earlier in life. But I left with enough knowledge in computer tools for me to utilize the internet, e-mails, Photoshop, etc.
CB: You do lots of commission work these days. Are you involved in any other projects?
CHAN: At present I am not involved in any projects. I do lots of commission work, and I enjoy it.
CB: Did you ever try writing stories?
CHAN: I dabbled in writing and creating my own characters. The fun in doing these personal projects is that I am not pressured to finish in any scheduled time. I just do them whenever I feel like it. And I don't have to reveal it till I am good and ready.
CB: Do you produce work on the computer or is it still all by hand?
CHAN: I can produce work on the computer but it is very frustrating when I don't have the latest software and a more powerful computer. Besides, fans prefer art that is hand made.
CB: Do you hit the convention circuit much and if so is it fun for you?
CHAN: I enjoy very much attending comic conventions. I am a regular at the San Diego Comicon, SF WonderCon and the SJ SuperCon. I never turn down an invitation to any Conventions around the country or overseas, if there is no scheduling conflict.
Summary
Article Name
Classic Interview: Ernie Chan - "1972: Those Were the Days"
Description
An interview with Ernie Chan by Comics Bulletin's Bryan Stroud.
Author