In 2010 I decided to try to track down as many of the fabled "Crusty Bunkers" as I could to tap their memories of working at Neal Adams' and Dick Giordano's Continuity Associates.
This segment is part 3 of 3.
Greg Theakston: Now in the summer of I think 1980 Neal took a beach house on Fire Island and around late July I said, "Hey, you know, you keep inviting people out to your beach house. When are you going to invite me?"  He says, "Oh, you can come whenever you want."  I said, "Cool."  So I show up on a Saturday afternoon and Lynn's there visiting. At this point the only way to get out of Fire Island is by ferry. The last one was at about 10:30 at night. So I said, "Lynn, walk me to the ferry."  So we're walking to the ferry and having kind of a heart to heart and suddenly Neal comes charging down the boardwalk and says, believe it or not, "I'm not breaking up anything, I hope, I hope, I hope."  "Get out of my romance!"  That was that moment where it's like not only is Neal feeling competitive with me, but he's getting in the middle of my shit. So very shortly after that I said, "Look, Neal, I think I'm going to just start working from home."  I'd come in once in awhile. I said, "I know I owe you a few hours as the office manager. I'll come in on Fridays because that's the best day and I'll catch up on my last 15 hours or whatever it is I owe you."
He says, "Oh, no, no, no, no, no. You misunderstand. You owe me another 84 hours."  "What?"  "You rented a room that is fitted for two tables, not one."  "We never discussed this."  From the start I thought this was a one-table room and believe me, I could put my hand on my table and turn around and put my hand on the wall. That's how big it was.
Bryan D. Stroud for Comics Bulletin: Reminds me of a Japanese hotel room I once occupied.

THEAKSTON: It was like 6 phone booths. So he said, "That's a two table room. You've been racking up that rent and now you owe me 84 hours."  (Heavy sigh.)  What do I do?  I want to keep on good terms with Neal, but on the other hand, geez. I feel like I'm being raped. So I call up the New York City Workman's Rights Something to try and figure it out and it's "Oh, no. Only one person can work in a room that size. It's not a two person room."  So I tell him that and he says, "Well, Bob Wiacek and Terry Austin share studio space in the same amount of room."  So it comes to this point where, all right, I'm still coming in on Fridays, putting in 3 or 4 hours each Friday in an effort to maintain peace between Neal and I. And part of the deal was I said, "Look, I don't want to pay any money for this. I'll work for it, but if I've got to pay money for it I might as well work at home."
So after about two months of coming in every Friday and putting hours in he says, "This isn't going fast enough. I want doors on all the cupboards in the front room and you pay for the wood."  I said, "That was not our deal."  "Yeah, but you're not working this thing off fast enough."  Okay, so now it's dueling personalities.
CB: The classic battle of wills.
THEAKSTON: Yeah. I said, "No, that was not our deal. I tell you what, this two table thing was not our deal either."  He says, "Well, buy the cabinet fronts or that's it."  I said, "Well, that's it."  That's how Neal and I ended.
I never heard back from him ever again. We see each other at conventions and we don't even nod. On the other hand he doesn't shout at me. There's something to be said for that.
CB: Take the good with the bad.
THEAKSTON: Also, very interesting, Neal had a 10-year lease on that space and developers wanted to come in and knock down the building on the right and on the left and the building Continuity was in and build a gigantic skyscraper, which they eventually did. But Neal was a hold out. He wanted money before he was going to be bounced from this space. So it came to loggerheads.
Michael Golden worked for Neal at this period. They came up with Bucky O'Hare. A brilliant idea that went nowhere. Golden and Neal sat down and constructed this idea and all of the toy pieces that would go with it in an effort to sell it to a toy manufacturer. The gun was detachable from Bucky O'Hare's hand and so forth.
Anyway, I won't say the mafia word, but somehow they got all the other tenants out of the building. Except Neal. Neal won't budge. He's got a 10-year lease or at least a long-term lease. They tried to burn the building down.
CB: Wow!
THEAKSTON: They started a fire on the ground level and the last time I snuck in (wicked laughter) to Continuity because I was persona non grata, it stank like charred wood. Ultimately I think he got 2.5 million to get out.
CB: That's a tidy sum.
THEAKSTON: Yeah, he was dealing in futures at the time. Sugar. That's where he was putting his money. And every once in awhile the kids would come up and you'd meet the family. The Adams family, as we called them. And I won't even go into that. It's far too personal.
On the other hand…I'm a firm believer…and I know this from the very start. Not only am I an artist, but I'm a reporter, who is always interested in the journalistic aspect of life as well as being an artist, so when people did things in front of me they didn't realize there was a reporter on hand.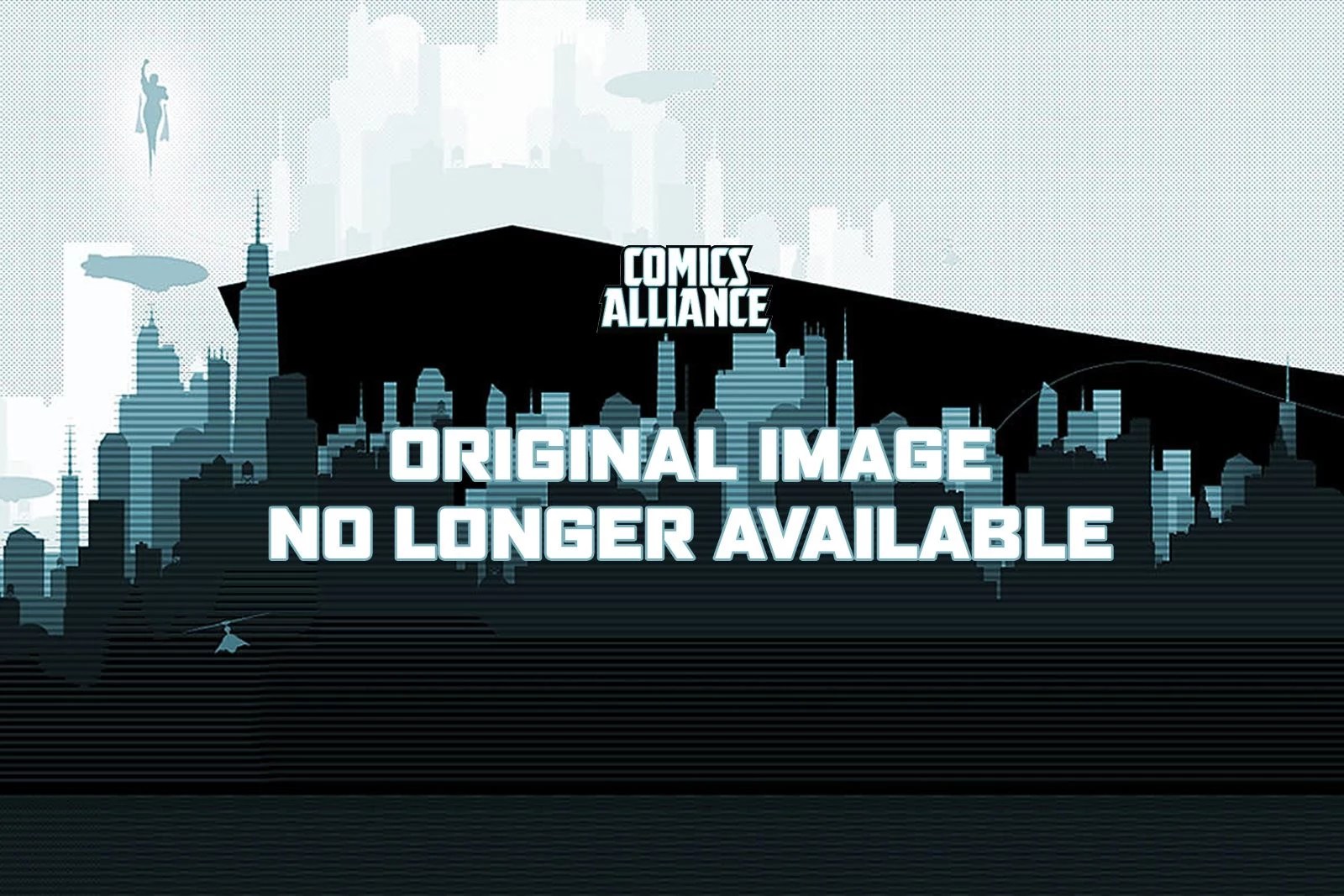 So I'm up at Continuity and Neal's not there. Kristine shows up and she's still in high school and she says, "Oh, Daddy's not here. I'm all out of money. I need some money."  Mike Nasser says, "I'll give you $20.00. Don't worry about it."  So he gives Kristine a twenty-dollar bill. Later on in the evening I hear this tussle in the hallway. Up in the reception area. I stick my head out the door to see what's going on. And it's Neal and Mike having a confrontation and Mike will confirm this, Neal will probably deny it up and down, and again, don't print this until Neal is dead. He picks up this cripple and smashes him by the lapels against the elevator doors. This is clearly about Mike giving Kristine twenty bucks. I mean really. Mike's a victim of polio. He walks with a limp. And Neal just manhandled a cripple?
Dave Spurlock of Vanguard productions is doing a documentary on Jim Sterankno and I was his first assistant and I said, "Dave…come on. I was his first assistant. I've got a lot of stories. Are you ever going to interview me?  He said, "Well, Jim might not like what you say about him."  I said, "Look, are you a documentarian, or are you a suck-up?  If he doesn't like it, don't include it. But really it should be recorded for posterity."
CB: Precisely.
THEAKSTON: On the other hand, my newborn son needed an operation. Not a very serious operation, but it was $400 I didn't have and Neal sat down and wrote me a check, Boom!  Like that as soon as I told him. So he's a complex personality.
CB: Complicated.
THEAKSTON: Yeah. He was an Army brat.
CB: That I didn't know.
THEAKSTON: Yeah, apparently he was dragged all over the United States. That's tough on a kid. And fascinating, same thing with Kirby, when they don't talk about a particular topic you know that's a hot-button issue. I knew Kirby for years and first started talking to him in '69 or '68 and knew him until he died in '93. I think he only spoke about his father maybe four times. And I can't remember Neal ever speaking about his father other than that he was an Army brat and his father dragged him around. Vaughn Bode had no problem telling me his issues about his father. It made Vaughn Bode what he was. He hated his father and made no bones about it. And the only way to escape his father was to go into a fantasy world and create a new world where his father wasn't there. Which is one of the reasons he was such a brilliant creator.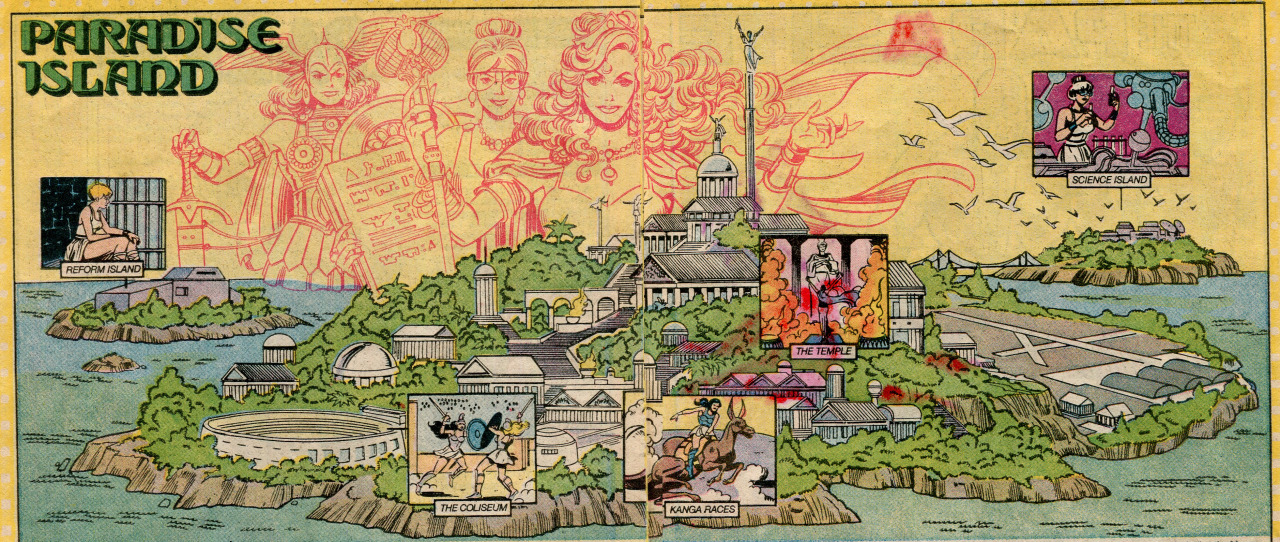 I'm talking to Larry Todd and I said, "What happened to Wrightson?  I thought he was going to be one of the most brilliant artists of the 20th century and suddenly it just fell apart."  And Todd says, "Well, his father died. He can't kill him any more."  Ouch!  And you know, you're right. So with the artistic temperament, it's one of the reasons I'll never be a great artist. I'll be a functional, good, solid artist, but I won't be a great artist, because I don't hate my father. I don't hate my mother. And I landed smack dab in the middle of all these guys with mommy and daddy issues. And I was completely unable to relate with them. "I had a happy childhood. Why are you so pissed-off all the time?"
Part of the point is that I lived through it to report it. Believe me the unrelated Continuity stories are just as horrifying…and funny.
CB: I have no doubt.
THEAKSTON: Let's see, what else can I tell you about Continuity?  Oh. The missing Tarzan covers. Neal was hired by Ballantine to illustrate the Tarzan series they had just picked up. And he's working on at least six paintings. You'd have to look it up. Six or eight paintings at the same time. And they're pretty good. There's just no getting around it. But Neal had this idea that people would wait for him to do his thing. When he did his contract with DC for Superman vs. Muhammad Ali there was a time schedule. And if he did not have the project completed by this particular time, money would be deducted from his check. DC had figured this out. By this point, Neal's ego is so big he thinks that everybody will just wait for him. And I am pretty sure there is a contract clause for press time he'll be penalized on if it's not used. So he's working on these Tarzan paintings for Ballantine and the art director calls him up. He says, "These are all due next week. It's now or never."  So Neal I guess decides to finish his eight paintings and they're all pretty much complete, but not done. And he starts looking around the studio. Can't find them.
CB: Uh-oh.
THEAKSTON: He said, "Greg, you're my studio manager. See if you can find these."  So, seriously. I'm the studio manager and I know where these will be?  Not likely. So I proceed to go through every square inch of ground in that entire place. This is a pretty big place. It's the whole floor of the building. And they're gone. Neal's thinking, "Who stole my paintings?"  And I would think that, too. "Which one of my so-called friends is a thief?"  So I'm sitting to his right and I'm thinking, "I've covered every square foot of the floor of this place. I've looked in all the shelves, I've looked in all the portfolios, I've looked in all the drawers."  And these are pretty big pieces. These are not easy to miss. And then it comes to me: I said, "Neal, I know where your paintings are."  And I drag a chair into the stat room, which doubles as the Art-o-graph room, which is a dark room, stand on the chair and they're on top of the stat camera. How they got there, who knows?  But it's the only place above the top of my head that I haven't looked yet. And sure enough there they all were. I saved his ass on that one.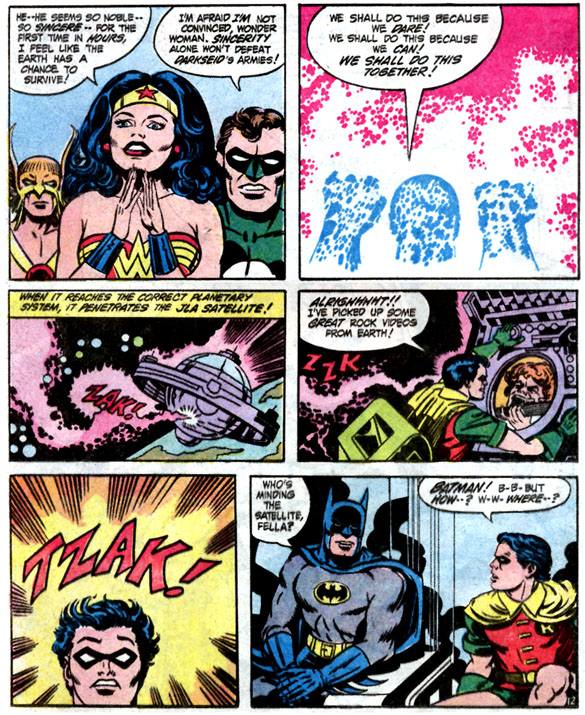 CB: Oh, I guess.
THEAKSTON: You want to talk about saving ass?  Gray Morrow comes up on a Friday. He says he's got the assignment to do Space 1999. So Gray comes up and he says, "I've got this job to do on Space 1999 for Charlton and I'm farming out the work."  The downside?  He only has five stills. One is costume. One is the ship. One is a villain from episode three or whatever and so on. So Gray heads to the back of the studio. Everybody around here is going to get one story. Neal says, "Xerox these stills."  I made five Xeroxes of each of the stills. So I turn one of the stills over and its ITC and the address is two blocks up on Madison Avenue. And we're talking 4:30 in the afternoon on Friday. So I call up the head of publicity at ITC and I say, "Look, we're working at a handicap here. We're supposed to do this thing for Charlton and we only have five photos."  The guy says, "Come on over."  So I get there and he pulls out this two feet by 18 inches and 6-inch deep box. He opens it up and it's got the plot synopsis for the first 13 episodes, proof sheets for the first 13 episodes and probably an additional 30 stills and a 16mm trailer. I said, "Wait a minute. You keep everything else, just give me the trailer."
CB: Jackpot!
THEAKSTON: There was a beautiful presentation booklet, 18 x 12 laminated. Twelve pages. So I come back to the studio and say, "Gray, Neal. Come into the front room. It's the mother lode."  I said, "Gray, can I do one of these stories?"  "Oh, sorry. While you were away I gave them all out to the other guys."  "You're welcome."
CB: No joke.
THEAKSTON: It was that kind of thing that separated me from the rest of the pack at Continuity. The young guys. It doesn't take too much to figure this out. And sure enough everybody else in the studio that got in on Space 1999 got paid for it after I saved the studio's ass.   No good deed goes unpunished. It was all just kind of comical. "I've got an idea. Let's go to ITC, two blocks away on the 15th floor and get some material that might help."  It had not even occurred to Gray Morrow to look at the back of the still, get the address and go get some extra material. Really it was not a brain-buster.
I contributed to Continuity in a way that none of the other young bucks ever did. And in some respects it put me at odds with Neal.
CB: It sounds like you were perceived as a threat.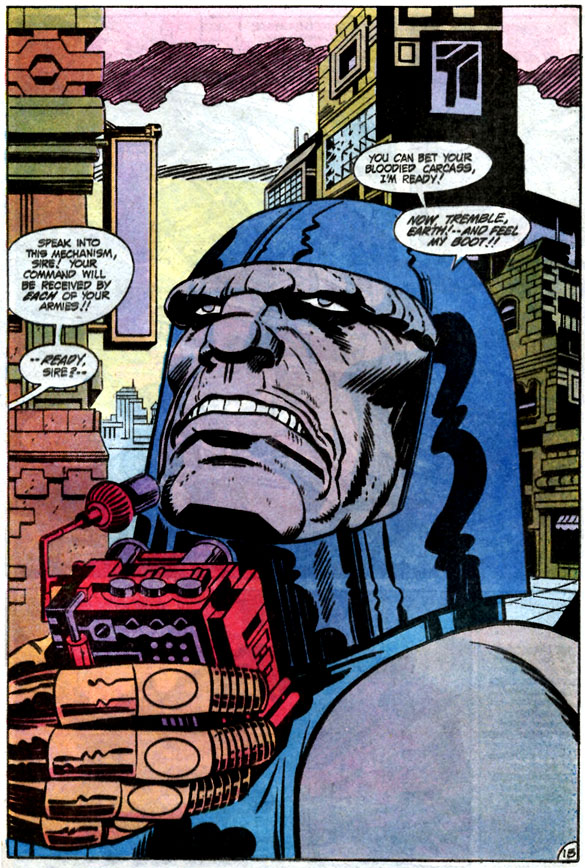 THEAKSTON: Yeah. How ridiculous is that?  Me and Neal Adams?  What kind of a threat am I?  Good Lord.
Now there was the Animation House at 50 East 48th, one building over, and we tended to do a fair amount of work with them. After I left, Neal did this highly erotic thing and they got together and said, "If we could just run this thing one time on television it would make such a stir."  So they did this highly erotic animated spot. A lot of work. And WPIX Channel 11 wouldn't run it because it was so sexual.
There used to be this corkboard to the right of Joe Brosowski's table and there was always interesting stuff being pinned up there. Neal got a hold of a picture of Barry Windsor Smith with his Barry Windsor shirt in gigantic circular signature. "Who are you?"  "I'm Barry Smith."
CB: (Chuckle.)
THEAKSTON: "Yeah, I read your shirt."  And Neal meticulously, for nothing, re-lettered it, "Barely Christ."  In the same lettering!  Ha!  And Barry never visited the studio, so he never tore it off the wall, but everybody got a laugh out of it who did see it. Dear dead days…
Once or twice a month I'd straighten up Neal's desk. All the correspondence in the upper left hand corner of the desk, hot projects are in the middle, and stuff that I can't figure out what's supposed to be done is on the right. "I changed out the matte board on your table."  That was over and above the call of duty and…(laughter.)  Neal is sitting there inking something and he says, "I'm the best inker in the business," in a very self-satisfied tone. (Chuckle.)  I kind of give him a fish eye to my left, and I go (hidden in a cough) "Ninio"  And everybody's back in the room stiffens. "Did you really say that to Neal?  My God!"  And there's a beat…beat…beat, and Neal says, "I'm the second-best inker in the comic book business."  (Mutual laughter.)
And that kind of sums up the situation with Neal and I. The guys would never, ever go up against Neal.
And he'd do these long, long jokes and the payout was like, "Oh, my God…"  Now I admired his creativity in coming up with this thing and trying to sell it and he says, "In Japan, the land where they make all of the toys out of plastic, they have these gigantic cooling towers and the plastic particles that float up are collected in these cooling towers."  I take a piece of paper out and I write, "This is another one of Neal's bullshit stories."  I pass it to Lynn Varley. She looks at it and laughs. He continues, "They're trying to figure out what to do with all the plastic in these cooling towers and it's really durable plastic. The best of the plastic, for some reason. So they decided to use it to make cars. And that's how Toy-oter, came to be."  Really?  "Toy-oter?"
Ultimately Continuity was a lovely place to springboard into the business. Working with the master, complex as he was. I don't have any bad feelings about Neal. He did me good turns. I did him good turns. It ended up in a loggerhead of ego.
One last memory: When they were trying to form A.C.B.A., he called a meeting up at Continuity and I swear there were 30 people in the front room who were trying to figure out how to set up A.C.B.A. Is it going to be a union?  They finally decided it was going to be a loose organization that represented, slightly, the rights of comic book artists.
Marty Pasko was there and said, "I think this whole thing is a terrible idea."  Then why are you here?  Just creating chaos?  Oh, that's right. You had a terrible childhood.
And in the crowd was Steve Ditko.
CB: Really?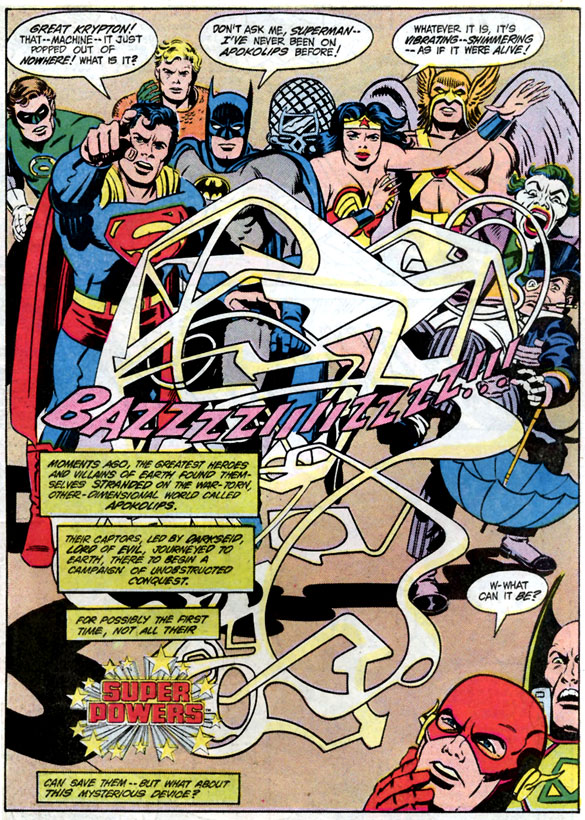 THEAKSTON: Yeah, the man of recluse. He actually came out for it. And ultimately they chose Stan Lee as the figurehead. Great. I wouldn't call it a radical situation, but it was a moment where all of the creators felt like, "It can't go on like this. We shouldn't be working like the artists in the 1950's and early 1960's did."  Everybody was behind it, but it never delivered. All of the artists were behind it. The A.C.B.A. portfolio kept things going. It was just some sort of symbolic thing that didn't do anything. It's sad.
I guess for a moment there were 30 of the…I guess I won't say top artists, because a number of them couldn't make it into the city, but a number of the young artists and a good smattering of the older artists who would like to see some change. I think very shortly after that the companies began giving artwork back.
CB: So something good came of it.
THEAKSTON: Yeah, well the fact that thirty artists could get off their asses and meet at some predetermined location was a sign.
And I was there for the Siegel and Shuster battle. Where Neal came to bat for Siegel and Shuster. This is another one of those moments. There were moments when the guy could be magnificent. And there were moments when you just wondered. "How can you do this and then do that?"  But people said that about Sinatra, too.
Neal was just a contradiction in terms. In some respects he likes publicity, but he's not very good at generating it.
Now Neal would go to bat for you. I was doing a painting for Atlas, Goodman's last company and I said, "Neal, I did a good painting of Frankenstein and Jeff Rovin keeps rejecting it. I keep changing it to his demands and he's rejecting it."  And Neal got on the phone and called Rovin up and said, "You know Theakston's here and he's very upset. He's done his very best to fix this to your liking and you keep rejecting it."  There's kind of a pause and "Well, all right."  So he stepped up for me. And I don't think he would have done that if he'd looked at the piece and said, "This is crap. No wonder he doesn't want it."
Summary
Article Name
Classic Interview: Greg Theakston Pt. III - Tiny Hotel Rooms, Rights for Comic Artists and Never going against Neal Adams
Description
The third and final segment of an interview with Greg Theakston.
Author