Bryan Stroud for Comics Bulletin: When did the actual Crusty Bunker thing kick off?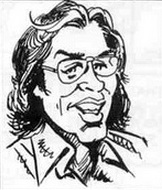 Steve Mitchell: I don't recall. I think Alan would have a better memory of it than I did. What happened was there were certain guys that were getting their start in comics. Guys like Chaykin in particular. Chaykin was getting work, but Chaykin could not ink to save his life. His inking style was very unattractive. But Chaykin was an interesting penciler, and Howard was a very interesting guy. I think Neal saw something in Howard's work that was a plus. I think Neal volunteered as almost kind of a guarantor in terms of the quality of the final product and Neal would ink the job. Neal would occasionally take time away from penciling and Continuity work and ink. Generally, my recollection is that a lot of these jobs didn't have deadlines. You didn't give anything to Neal that you needed in a week.
I think sometimes the turnaround had to be pretty fast. Anyway, what happened was the Crusty Bunkers kind of evolved from having me and Kupperberg there and guys who would come and visit. Guys like Alan Weiss, or Berni, or Jeff or Kaluta would sometimes come in and spend some time inking some panels and maybe ink figures. It was really one of the original, to use a musician's phrase, jam ever done in comics. I don't think any comics were ever inked that way. There was always a guy like Dick or Wally Wood or somebody who would ink all of the figures or most of the figures. I can't remember the last time Dick ever inked any backgrounds. Although I think when he penciled and inked some work of his for Marvel, Dracula stuff I think, he did ink his own backgrounds on those, but I'm not completely sure. But anyway, guys had help. The thing about the Crusty Bunkers was it was sort of all help. Neal did most of the key figures, but he didn't do all of them. I would come in and see some job, I think often it was the Fafhrd the Barbarian and the Gray Mouser and I would come in and see some of it had been inked over night by other guys.
Neal would say Alan Weiss had come in, or Jeff or Berni or other guys and they would poke at it for fun. That's kind of how some of these Crusty Bunker jobs were done. If you look at the pages, especially on the Fafhrd and the Gray Mouser backups…do you remember what books those were published in, because I can't.
CB: Not off the bat, I'm afraid.
MITCHELL: Well anyway, if you look closely, there are all kinds of different styles going on in there besides Neal's. I don't even remember how we got paid for them. I know we didn't get paid much. But it was really Neal trying to help young guys get in and sort of quality controlling the job. While Kaluta and Berni could ink their own stuff, Weiss was often inked by other guys, although Weiss was a pretty good inker as I recall. Chaykin could not ink. But these were all guys who were working very hard to get into the club and Neal was trying to help them do that.
I'm sure you've talked to a lot of guys about Neal, and you've heard a lot of interesting and contrasting opinions or thoughts about Neal. One thing about Neal that I liked is that he was very paternal. I think he was often times referred to as "Uncle Neal."  He was just sort of the father of all these wayward children who were living in New York doing comics. You could also maybe say there was a slight Fagin quality about him. But I don't think it was ever malevolent or malicious or negative. I mean Neal kind of liked being the center of the universe. He just thought it was a stimulating and interesting place to be. And he created that environment along with Dick, who was the grownup of the two. I think ultimately that's why Dick left. It just wasn't working out. I think they were making money. But it was just an interesting pairing of two different types, and ultimately Neal kind of was a corrosive factor on that relationship.
That's the way I remember it.
CB: Well, I've heard a lot about how complicated Neal can be.
MITCHELL: I think Neal has evolved into something that ultimately is not the Neal that we knew. But Neal was always a complex guy. There are dozens of reasons and I could probably come up with a few and they would either be the same or complement what you may or may not have heard. Neal has an enormous ego. I don't think that's any secret. And Neal's ego is so enormous that there have been times when I think he has taken reality and tried to mold it to fit his ego. It's kind of what makes him an interesting character. I mean if you were to see a guy like Neal in a movie, you would say that's a really interesting guy. And trust me, there are a number of guys in comics that are interesting in that way. I think Jim Shooter is another one of those guys.
I have no real axe to grind with Jim Shooter unlike most people. I think Jim has the perspective of a man who has lived many lives. That's number one. Jim was always good to me when I worked for him, until that one day when he decided to fire me. I don't know if you know anything about my comics career or not, but I was inking Iron Man in the 80's. I had a very long run on Iron Man with Luke McDonald and we were doing some nice work. In fact, those books had the famous Tony Stark alcohol storyline that Denny wrote.
CB: Oh, okay.
MITCHELL: And Obadiah Stain, the first villain in the Iron Man movie was created during our run on the book. Of course I didn't make any money from it, but "Hey!  There's Obadiah Stain!"  When I worked for Marvel Jim was a very good boss. I remember clear as day that I walked into his office one day and whenever I went to Marvel I always went in and said hello to Jim, and I always worked the room a little bit, because as a freelancer you sort of found it was smart to do so.
CB: Keep your face out there.
MITCHELL: Yeah. I'm a big guy, I'm a tall guy. Jim's taller than I am, but not by much. This particular day he said, "So how's it going?  Everything okay?"  I said, "Oh, I wouldn't mind making a little more money, but otherwise I'm okay."  He said, "What are we paying you?"  I told him what my rate was and he gave me a $5.00 page raise on the spot. Five dollars a page might not sound like much, but over the course of a 20-page job that's an extra hundred bucks and back in the early 80's a hundred bucks was worth a lot more than a hundred bucks is worth today.
CB: It adds up.
MITCHELL: Over a course of a year, it does add up, and the one thing about Jim, you cannot take this away from Jim: He always felt that a well-paid freelancer, a freelancer who could pay his rent, feed himself, take care of his family, would be a loyal freelancer. Loyalty was a big deal for Jim. That was always to me one of the most endearing things about him. If Marvel took care of you, then you would take care of Marvel by putting extra effort into it.
One time when Jim was really good to me was when I got a call from Bob Layton. I was at my studio in the west 20's. I don't know if you've ever been to New York, so I don't know if the layout of Manhattan means anything to you.
CB: No such luck.
MITCHELL: Anyway, I was in my studio one night and I think it was 7 or 8 o'clock and I got a phone call from Bob Layton. "Steve, it's Bob."  "Hey, Bob, what's going on?"  "I'm trying to finish an issue of Hercules and I'm horribly late and I need help. Can you come on over to Marvel and anything you can do, I would appreciate."  It was a hot, sticky night. The studio I was working in did not have any air conditioning and I said, "I was going to go home anyway, so sure."  I went to Marvel's offices, which were kind of directly across town. I was at 21st and 7th and they were at Park Avenue and 27th, so it wasn't that far. I spent the whole night there just poking away. I was literally there to put lines on the paper.
Shooter was the last guy who left. He said he really appreciated me helping out Bob and helping out Marvel. Shooter was the first guy there in the morning and he said, "How are you guys doing?  What can I get you for breakfast?"  He went out and brought us breakfast and we just kept going and going until I just couldn't keep my eyes open any more. I don't remember doing a lot, but I do remember that Bob was very appreciative and Shooter gave me a sort of Marvel bonus check for my efforts that night. I seem to recall it was about 400 bucks. I don't think I did 400 dollars' worth of work at the time, but it was Jim saying, "I really appreciate you helping us out."  And that was what Jim was like.
Now in many ways Jim was not always everyone's favorite executive. I'm sure you've heard about that. I read not long ago in an interview that he was described as fascistic, but that's again what made Jim like Neal. They were very strong contrasts. I was working on Iron Man for I think a couple of years and then one day Mark Grunnell says "I've got to let you go."  I said, "What?  Why?  What's going on?"  "Jim told me to get rid of you. I don't know if there is a why, he just told me."  I had a very good relationship with Grunnell and those guys. They were very happy with me.
So they just outright fired me and I think Luke McDonald was fired an issue or two later. I was sort of told at a later time that if anything was sort of successful or good, if Shooter didn't feel he had a personal finger, thumb or hand on that, he felt he had to destroy it because it was not representative of him. So I was a victim of Jim's sort of dark side. Len Wein explained it to me in a sort of articulate but vague way. The Shooter Way. "With Jim Shooter everything is hunky dory, everything is swimming, everything is just fine until you do "The Thing."  "What thing?"  He said, "The Thing. It is like this noun that covers a multitude of somethings."  So I guess in the case of Luke and I, the thing that we were doing was that we were doing a good job and Jim had nothing to do with it.
I always heard that the worst place to be at Marvel was to be doing something at the top of the food chain or at the bottom. If you could stay in the middle comfortably, Jim would never pay any attention to you. But I guess Iron Man was getting some attention at the time, partly I think because of Denny's storyline. He created Brodie and Obadiah Stain and Tony Stark had that really serious alcohol problem and while comics were different than they are today, it was getting some press, believe it or not, because we were dealing with something like alcoholism.
CB: Socially relevant stuff.
MITCHELL: Stuff that people were noticing. We were on time, for the most part. We were a problem free book and getting a little press and Jim had nothing to do with the book, so he had to destroy it. So I've benefited from Jim from when he was at his best and I have been affected by Jim at his worst.
I think Neal, on a parallel universe, had that as well. Neal had a really good side, and I think Neal had sort of a dark side as well. And people were affected by that. If I had a dollar for every time some young guy came up to the office and wanted to be in comics and would show Neal his stuff…Neal could be a complete and utter bastard. Generally it would start off like, "There is so much wrong with your stuff that I don't have enough time left today to tell you what's wrong with it."  That's a pretty crushing thing to say.
CB: Devastating.
MITCHELL: Yeah. I think it actually did affect some guys who did want to get into comics. I believe Frank Miller may have come up to Continuity and showed him his stuff and I think Frank Miller, of all people got pasted by Neal (chuckle) in that classic Neal way. I think Neal felt like "If you can put up with that from me then you've got the stones to make it in the business."  A Marine drill sergeant sort of tough love thing, I guess.
CB: It does sound like boot camp.
MITCHELL: Artists are very sensitive people, though and Neal could be merciless.
CB: The Bob Kanigher school of nurturing. (Laughter.)
MITCHELL: Bob Kanigher never nurtured anything in his life. There was another interesting character of the comic book business.
CB: Mike Esposito told me about how he thanked Bob once, despite all he'd done to Ross and him and that he thought Bob was going to cry.
MITCHELL: I think I know why Mike said that, too. Bob was one of those people and if you looked at a bunch of DC comics in the 60's, Mort Weisinger's books were drawn by Mort's guys; Julie Schwartz's books were drawn by Julie's guys; Kanigher's books were drawn by Kanigher's guys. All of these guys had these sort of unofficial contracts. "You work for me. You get the job done on time at a certain level of quality and I will continue to give you work."  It was a non-contract contract. And Kanigher was very loyal to all of these guys. You know why?  Those guys made his day easier. If you talked to Jack Harris, you know that a freelancer is an editor's best friend or worst friend.
Getting into the whole Vinnie Colletta controversy, as a consumer, I'm sure you and thousands and thousands and thousands of other people would say, "Why in the hell did Vinnie Colletta ever get work?"  The one thing Vinnie Colletta did was he never made your day harder as an editor. I said to Levitz, "Why do you give Vinnie work?  Why do you give Vinnie good pencils?"  He said, "It's Friday. The book is late. I need the job on Monday and with Vinnie, I'll get it on Monday. It won't be good, but I'll get it."  It's the periodical business!  This shit has to come out every month!  And a lot of guys forget about that. A lot of the artists that were part of my generation and generations to follow, and Neal…they didn't give a flying rat's ass about deadlines for the most part.
Neal always felt that if he did, and this is a quote, "Good stuff," that the deadlines didn't matter. Which is not true.
CB: They're unforgiving.
MITCHELL: It's a periodical business. It's not the art business. And a lot of the guys who followed the Silver Age and Golden Age guys didn't get that. An editor wants to know that it's coming in tomorrow. If it doesn't come in tomorrow, it can f*** things up. And Neal was horrible at that. Horr-i-ble!
By the way, I'll tell you a quick Neal story. Remember the Superman/Muhammad Ali book?
CB: Sure.
MITCHELL: I actually worked on that. I did some backgrounds and some figures on that. Like a lot of guys did. I remember when Neal brought the pencils in. It was a BIG deal. And Sol Harrison was looking at the pencils. Sol had a way of looking at the pencils very quietly. He would just sort of turn one page over right after another. His eyes were very quick. And he turned to Neal and he said, "You know, Adams, it's the best work you've ever done…and not worth the wait."  The book was like a year late. So Sol, who was another of the great comic book business characters, who a lot of people don't say good things about, but I always liked Sol, gave him a compliment and then yanked it away.
But it probably was Neal's best comics work. But that was Neal. Neal always had contempt for the restrictions of the job, I think. I don't know what he says, but I always got the impression Neal felt that deadlines were meant to be broken. The only deadlines he ever kept were for his advertising clients. A lot of times we were working very close to the edge on those.
CB: That's probably where the bread and butter was, I suppose.
MITCHELL: Yeah, it's just that sometimes the bread and the butter took a long time to get there. There was an ad agency that we used to do animatics for. It was about 3 blocks north of Continuity and I remember running over there with a lot of pages and I remember saying all the time, "Gee, they're three blocks away from us. Why does it always take them so long to pay us?"  It's not like it's coming cross country by mule train. It just took a long, long, long time to get paid. If you could afford to live in that universe and wait, that's great, but most of us can't. That's why comics are so attractive. You just knew when you were going to get paid.
CB: Cash flow can make or break. I'm reminded of stories a distant cousin told about dealing with Wal-Mart's tactics of demanding deep discounts from suppliers, the deepest in the industry and then insisting on freebies and then routinely paying 60 days beyond invoice.
MITCHELL: I haven't worked in comics since the early part of the decade and one of the things I do to make a living, such as it is, is to produce DVD special features and Wal-Mart does not report its sales numbers. Everybody reports their numbers so people have an idea, "Well, how is it selling?"  But the Wal-Mart numbers are not available to the public and the Wal-Mart numbers are probably the biggest numbers or have been in terms of DVD sales.
CB: They move the market. I sometimes wonder what would happen if they controlled comic book distribution.
MITCHELL: They operate to the beat of their own drummer. And they get away with it because they sell so much product. But, that's a topic far afield.
CB: Yes. Steve, what do you think, in summation, you took away from your experience at Continuity?
MITCHELL: It helped me learn how you went about doing comic books and what I mean is literally the experience of putting ink on pages and also working with guys like Neal and Dick. Jack Abel, by the way, was renting space up there and it was a chance for me to be around guys who had a lot of experience. Guys who could tell interesting anecdotes for purposes of entertainment, but could also give me anecdotal information about doing the job and being a pro. It was clearly a way to apprentice in the business that I wanted to be in. It gave me exposure to the business and being around guys who were at the top of their game.
Jack Abel, to me, it was interesting that Jack worked at the same office that Neal did. Because while Neal seemed to work all day long, but it didn't seem that his output or his productivity was good every day. But Jack would come to work at 10:00 in the morning, and he would go home at 6:30 or 7:00 at night and he would ink 18 panels that day. Because Jack felt that 18 panels was the equivalent of 3 pages. So Jack was doing 3 pages a day and he did it like f***ing clockwork. Sometimes he came in on Saturday for half a day. But basically Jack was turning out about 15 pages a week. Like clockwork. I thought Jack was a very good inker. I think Jack was sometimes not as good as he needed to be and sometimes better. Jack was one of those guys I would call an equalizer. I did not like Jack on certain guys and I saw Jack on other guys and he was fantastic. I always thought he was underrated as a Curt Swan inker. I thought his work on Curt was quite good. Although I think he would tend to flatten out some of Curt's drawing.
Curt Swan, by the way, as a draftsman, was one of the finest draftsmen I've ever seen in comics. If you saw his pencils, you would be amazed at how well he drew.
CB: The pictures I've seen looked like they were very tight and detailed.
MITCHELL: It wasn't that tight. It was amazingly well drawn. It wasn't so tight because it was more grey-toney than line specific. I think Andrew Loomis, who was a great illustrator and an illustration teacher was a strong influence of his and I've seen pencils of Curt's and I'm going, "Look at how good he can draw!"  Amazingly so. I don't think anybody, unless they've seen his pencils, know how well Curt could draw. Of course in a sense I don't think Curt ever got really good inking. He got good inking, but I don't think he got great inking. I think George Klein was stylistically pretty good with Curt and Murphy and I think Jack, too, although I think Jack would flatten out some of his work, but I thought the overall result of Jack on Curt was a pretty nice result.
But there's Jack, cranking it out like clockwork. Totally professional, and Neal just being, you know, Neal. I learned a lesson from being exposed to those two different approaches to the business. Dick was very professional as well, and I learned a lot from Dick. I liked Dick a great deal. And listen, I liked Neal, too, back in the day. Neal was an interesting guy to be around. It was an interesting place for young guys like me and Kupperberg. We were exposed to a lot of interesting characters, a lot of interesting talent, some crazies. I don't know whether Alan named names or not. There were some nutty guys who worked up there. Alan and I were sort of the…and how's this for a self-complimenting kind of thing?  We were the vanguard of assistants.
CB: (Laughter.)
MITCHELL: I say that with a smile on my face. Alan has a shockingly good memory for stuff than can be personally embarrassing to me. He's a good guy. I live in California and he still lives in New York. For many years we just kind of lived our own lives and we've reconnected a bit in the last year or so and it's nice to be in touch with Alan. As an aside, do you watch Madmen?
CB: I've been meaning to, but haven't pulled it off yet.
MITCHELL: Madmen is the best show on television, bar none. It would behoove you to go out and get the DVD's and get caught up. Other than the fact that it's great, I will tell you why in particular if you are interested in Silver Age comics. The environment of Madison Avenue and the advertising business was not terribly different than the environment of the comic book business. There are a lot of parallels that exist, I think, between the world of that show and the world of DC. To a larger degree at Marvel, to a lesser degree of the day.
For example, this season on Madmen, season four, they have new offices. The new offices really remind me of the offices of the Lexington Avenue days. The Lexington Avenue offices physically, architecturally, are very similar to the offices in Madmen. The overall 60's style of the offices. And some of the attitudes as well. I like Madmen because it's good drama, but it does take me back. If you've never been to New York City and would like to get the tonal atmosphere of New York City in the late 60's in a business that is involved with art, as advertising was and is, it will give you tonally sort of a parallel universe and an understanding of what comics was like. To quote Neal Adams, it's "Good stuff!"
Summary
Article Name
Classic Interview: Steve Mitchell Pt.II - "Artists can be Sensitive and Neal was a Drill Sergeant"
Description
The concluding segment of an interview with Crusty Bunker, Steve Mitchell.
Author