The announcement of Jonathan Hickman taking over the X-Men titles has caused comic fans to rejoice. After lengthy and highly acclaimed runs on Fantastic Four and Avengers, Hickman has justifiably earned the trust of readers. What was once the flagship of the publisher has floundered in recent years, in part due to feuding between Disney and Fox, but also due to a general lack of direction. There has been no clear vision for Marvel's mutants, something we expect Hickman to bring to the table.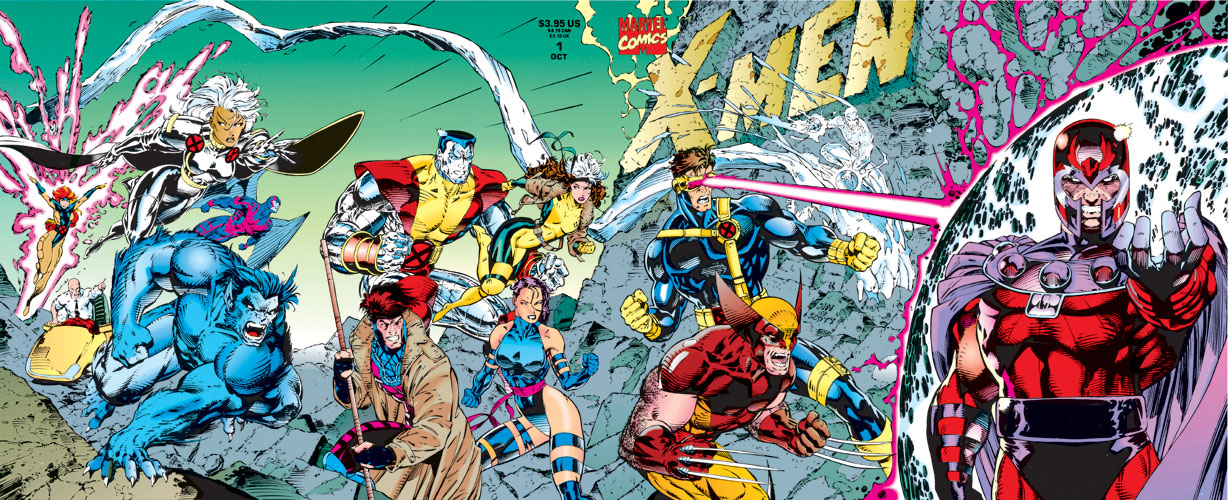 Days of Future Past
Though initially a Lee/Kirby creation that surprisingly didn't hit, the X-Men became an unstoppable juggernaut throughout the 1980s and 1990s. Spurred by Len Wein and Dave Cockram's Giant-Sized X-Men #1 (1975), the series saw a renewed interest thanks to the legendary run by writer Chris Claremont and artists Cockram, John Byrne, and Jim Lee. The stories penned by Clarmont are considered defining for the franchise, wth classics such as Days of Future Past, Proteus, and God Loves Man Kills. By the early 1980s, Uncanny X-Men was the biggest comic in the industry, a title which it would hold throughout the decade. The property would ultimately peaking with the release of X-Men #1 in 1991, selling a record 8 million copies.
The 1990s would see the X-Men continue to dominate, though crossovers and convoluted storytelling would see popularity wane. In the end, the series succumbed to some of the decade's worst trends, and it wouldn't recover until Grant Morrison and Frank Quitely's New X-Men in 2004. The momentum would continue with Astonishing X-Men by Joss Whedon and John Cassaday, considered by many to be the best of modern X-Men stories. Throughout this period, the X-Men roster would expand and see frequent lineup changes, and the property would begin to buckle under its own weight.
No More Mutants
Following Whedon and Cassaday's Astonishing X-Men, a string of X-Men centric events would carry the property through the late 2000s and into the 2010s, culminating with House of M, a story arc that would leave the mutant community in tatters. The fallout would lead to further divisions in Schism, before shit really hit the fan with Avengers vs. X-Men ("AvX"). Once the publisher's flagship, the X-Men were now obsensably the villains of an event, with former vanilla and heroic Cyclops serving as lead antagonist.
The fallout of AvX perpetuated what readers had already perceived about X-Men comics: they're too convoluted, too many characters, and impenetrable for casual readers. Not helping was the new status quo, spearheaded by Marvel architect Brian Michael Bendis, which saw the original five X-Men brought to the present. Their presence was a catalyst for the event Battle of the Atom, intended to be a big, celebratory story that fell completely flat. And the the young, original X-Men stayed around well past their expiration date while their present-day counterparts continued to flounder.
Behind the scenes, Marvel's parent company, Disney, was not playing nice with 21st Century Fox, who held the film rights to the mutants. And so, we saw the X-Men get stripped away from much of the company's marketing materials. The scale back then cascaded into other media, perhaps the most notable being the video game Marvel vs. Capcom: Infinite, the latest in a series that began as an X-Men fighting game. But with the announced acquisition of 21st Century Fox by Disney, the course Marvel had taken these characters began to change once again.
After a lengthy run of X-Men's core "color books" (X-Men Blue, X-Men Gold, X-Men Red, X-Men Black) and various satellite series, Marvel made a series of announcements that spurred hope for X-fans – most notably the returns of Wolverine and Cyclops. Then, things became even more interesting when the line's flagship title, Uncanny X-Men, was announced to return in late 2018 with the rock solid creative team of Matthew Rosenberg, Kelly Thompson, Ed Brisson, and Leinil Yu. After the first 10 issues were released on a weekly basis for the "Disassembled" arc, it began shipping on a more regular schedule. Satellites such as Age of X-Man and Mr. & Mrs. X have kept the line's forward momentum going. As an X-Men fan, things already seem to be on the right path. This finally brings us to the Hickman announcement…

The Hickman Agenda
While that may seem like a poorly abridged version of the X-Men's publication history, it's important to put the announcement of Jonathan Hickman's takeover into context. Yes, there are the standard complaints that are oft repeated: there's too many books, they're too complicated, and there's no clear starting point. In Hickman's own words,
"Okay, so, for the most part, I don't believe incrementalism works in fictional universes, and that, I think, is why almost every big franchise change that occurs has a delineated starting point."
That's fair, and totally understandable. He goes on to say that the industry has abused this idea as a sales tactic, which is also fair. A couple of years ago, Spider-Gwen and Squirrel Girl saw at least two #1 issues in the same year. We're now on Volume 6 of Amazing Spider-Man. And let's not even bother with the mental gymnastics of other characters' legacy numbering like Thor or Captain America. But the X-Men have had several clear and delineated starting points in recent years. A new status quo was seen after AvX with the Bendis-led All-New X-Men and Uncanny X-Men titles. The same can be said for 2017's X-Men Prime, the one-shot that launched the most recent era of X-titles. Hell, a case could be made that this past fall's Uncanny X-Men relaunch is a great jumping on point for readers. But alas, Hickman (and by extension, Marvel) see otherwise as evidenced by their announced cancelling of the entire X-line. So if you liked what the current teams are doing, too bad.
The idea behind a complete, clean slate relaunch makes sense. For example, although DC's "New 52" may have pissed off a lot of people, the idea of starting completely fresh brought in a lot of new readers. To make sure readers understood they were serious about the relaunch, they renumbered Action Comics and Detective Comics – two of the longest running comics ever – with brand new #1s. And it worked. People were having a good laugh at how Aquaman was outselling Marvel's entire line. Of course, DC found a way to mess things up as they are wont to do, but it is evidence that a clean slate can signal to readers that the publisher is serious. However, the New 52 and this new X-Men relaunch have something else in common – a major editorial and publisher push.
House of M(icky Mouse)
Though we are primarily a comics site, we cannot ignore the influence of factors such as film, television, and merchandising. As mentioned before, Disney recently acquired 21st Century Fox, which held the X-Men movie rights. Before that, the company – and as a result, Marvel – made a major effort to de-emphasize the X-Men and effectively replace them with the Inhumans. That's why there was a (mercifully short) television show. That's why Scarlet Witch and Quicksilver's histories were retconned to no longer be Magneto's kids. The X-Men have fallen by the wayside because "the Mouse" willed it.
By relaunching the entire X-line with a big marketing push, Disney is signalling that it is ready for the X-Men to return to prominence. Did it need to essentially kick everyone off the books they're working on for a complete relaunch? No. Did it need to bring in a big name like Hickman? No. However, these certainly help in accomplishing its goals. Despite his comments in that Comicbook.com interview coming off as slightly dick-ish, he proven time and again that he can deliver long-running, quality stories with similar characters – namely the Fantastic Four and Avengers. However, until his takeover, give the current X-books a shot. Uncanny X-Men is highly entertaining, and Matthew Rosenberg is doing a great job cleaning up the line's continuity before Hickman takes control. The Age of X-Man books are great, as is Mr. & Mrs. X. Hickman may return the X-Men to prominence, but the quality storytelling is already there.