There has been some discontent within comic communities, mainly due to the rise of digital comics and how it can be seen as "killing off" traditional print comics. However, this has proven to be false as many publications are reporting that both digital and print sales have been improving. But what is the reason for this, and why are both mediums flourishing as opposed to the scales tipping in favour of one or the other?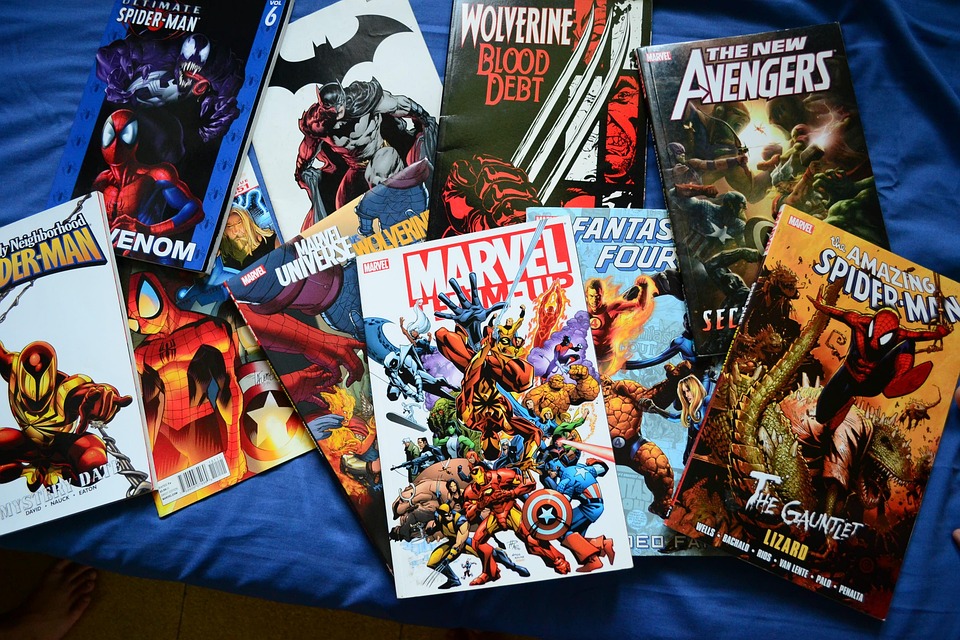 The Pros and Cons of Print
First, let's look at the pros and cons of print comics. These comics are typically weaker due to how flimsy they can be and it's easy to ruin or damage them if you're using them regularly. For instance, you might pull an issue out of your bookshelf to read and perhaps your dog jumps on it when you set it down, or you accidentally crinkle page when turning it.
Since comics are collector's items, it makes sense to take care of them as best you can so that you can preserve their quality. As a result, many collectors find it appropriate to buy sleeves and boxes for them. Some collectors even go as far to build store-like bookshelves to store all of their collections and carefully dust the shelves on a regular basis to prevent dust and grime buildup. However, this is fairly stressful and can take a considerable amount of time. Storage will always be a problem when it comes to large collections. Thankfully, there are smart ways to store your comics that are both space-saving and will keep them in condition.
A pro about having physical copies, however, is that they're in your hands. No one can doubt the great feeling of paper between your fingers as you read the text on each page. The quality is usually superb and you can really appreciate all the detail and colour work when it's up close. Buying physical comics is also a fantastic way to support your local community and comic store. Many stores are run by passionate individuals, not international corporations with a lot of funding. This means that every comic you buy directly supports the store that is supplying them.
Getting print copies also means there is some resale value. If you manage to save your comics for a long time and keep them in pristine conditions, they might be worth a lot of money in the future if you want to move on and give your collection a better home and owner to look after them.
The Pros and Cons of Digital
Digital is the king of convenience. You can read your comics on a smartphone, you can look at them on your tablet, or appreciate them on your desktop monitor. In most cases, they're also easier to manage as well with built-in search functions on your apps. It doesn't matter if you have thousands of comics or just a dozen, they will all easily fit on your storage device and you can search for issues by their tags, issue number or just their name. It's very convenient, and you don't have to worry about physical storage such as shelves either.
You also have more choice when it comes to digital comics. Thanks to easy-to-use tools such as Adobe Spark and Manga Studio, even amateurs can get creative with their comics and release new content that is both unique and fun to read. As a result, you don't have to resort to reading just Marvel or DC Comics. You can read the latest indie works that could be from all over the world.
Digital is also less prone to damage. Sure, you might drop your tablet and break it, but that's less likely to happen than creasing a page a bit too much or accidentally tearing a flimsy comic. You can be a lot rougher with your digital comics, meaning you can have your tablet in bed as you read them, or you can read them on the toilet, out in public, and so on.
Embracing Both
There are, however, many reasons to embrace both digital and print comics. For starters, digital comics offer you many ways to preview a comic before investing in it. This is especially helpful if your local comic store is too far away or doesn't have copies of a specific comic that you're interested in. These previews are usually free, making it a great value choice to sample a comic instead of buying just a single copy and having it delivered to you. Once you're convinced that you really enjoy a comic, you can start purchasing single copies or entire volumes from physical comic stores.
Space is usually one of the major advantages that digital comics have over physical. This is the main reason why people don't indulge in buying mass amounts of physical comics, but there's no doubt that having the comic in your hand and reading it feels fantastic. This is what draws many people to start collecting in the first place; the feeling of owning a copy of your favourite magazine as a physical item that you can touch, feel and smell is a collector's dream. Thankfully, you can cut down on the number of comics you buy and the amount of space you need by reading the comics as digital versions first, and then invest in a large batch of physical comics for series that you really enjoy. Think of the digital version as an investment!
While some people are adamant about sticking to print or digital, there's absolutely nothing wrong with investing in both. Sure, it might cost a lot of money (think about the number of comics you could buy for the price of a tablet!) but if you really enjoy comics and you love certain creators and writers, then there's nothing wrong with double-dipping and supporting them twice as much by buying multiple copies of their work on various mediums. Remember that you don't do anyone good by arguing for one side or the other, so learn to be friends, embrace both mediums, and show your love for comics!