I was a writing instructor for seven years, and was thought of by many of my fellow instructors, and especially the various admin folks, as the weirdo creative dude, who did weird stuff like have his students write poems in class. Yes, gasp, I know: students writing creative things in a writing class. How dare I?
The thing is, those writing classes (sometimes called 'composition' classes) aren't supposed to be creative. Without going into a huge history of Comp Theory (yes! the dreaded big 'T'), suffice to say that there's always been a battle going on between those who think school writing should be logical, and 'for' something, whether for preparing students for future classes, or for engaging in the political (and it's all political) realm of the Real World, these are the rhetoricians, coming down from Plato and Aristotle.
But there have been others of us, who see all writing as creative writing, and a form of creative thinking, that, 1. may be the best kind of thinking one can cultivate to survive in the real world, and 2. makes us better people in general, and 3. is fun and helps us build confidence in ourselves as writers and thinkers, period.
There doesn't seem to be that kind of battle going on in the art departments at colleges, unless it's between the Art Historians and the artists, but even then those two majors seem to get along fairly well. Not so in the English Department. I was always telling my colleague, Tom, the lone full-time art teacher at my community college, that I wanted his students, but what I really meant was I wanted his freedom to explore creativity with my students, without the rhetoricians shaking their heads and tsk-ing.
Thus, enter Lynda Barry. I've used some of her work before in my writing classes, in particular a comic book meditation on art and creativity called, "Does This Suck?" as a way to show students that we never know, we never know if what we create sucks or not, and that that doesn't matter. What matters? The act! The act of creating.
Barry's new Syllabus: Notes From An Accidental Professor explores this idea in depth, though creatively and erratically and humorously, and without, maybe perhaps, coming to any solid conclusions. Just like the creative act of drawing, Barry is saying, the creative act of inquiry is valuable in itself, and we don't have to pretend to act (or write) like academics to ask good questions and exercise our brains.
The form of the book itself is important: it looks like one of those standard "Composition Books" that you can buy in a grocery store for three bucks, only as if a super-creative person went nuts in it (and on it), which is exactly what Barry has done, and what she asked her students to do in a series of classes she taught at the University of Wisconsin-Madison. The classes were in the Art Department but, being the superstar she is, she got free range to design them how she wanted (i.e. combining some with Theatre and other departments) and to pick her students, so that many weren't art majors. Again, she's not interested in technical craft, but exploring the creative process.
So we get actual syllabus pages from various classes and, unlike the boring ones I and most instructors make, she practices what she preaches by modeling the creative process, hand-drawing and pasting info and images, creating wild-looking collages that still fulfill the basics of giving students info.
And we get sample assignment sheets, again hand-drawn and written, for both in-class projects, and homework. And, samples of her students' sketches which, say what you will about their technique, are certainly creative. Which is Barry's point.
Barry asks you to re-think what you think "good" drawing/art is. In fact, she's going to try and get you to not think of art in terms of good or bad at all. Yes, and that art isn't a product, but a process. She may not get you there, since she's arguing (she doesn't really argue, she seems perfectly content to just think about shit for herself, and if you want to come along, fine) that supposedly "good art", including maybe specially comic book superhero art, is sterile, and has actually lost something:
"There is something beautiful in the lines made by people who stopped drawing a long time ago….and sometimes we say this kind of picture looks like a kid drew it….But what if the way kids draw–that kind of line that we call 'childish'–what it that is what a line looks like when someone is having an experience by hand?….There is an aliveness in these drawings that can't be faked, and when I look at them, that aliveness seems to come into me….Real aliveness of line is hard to come by" (26-31).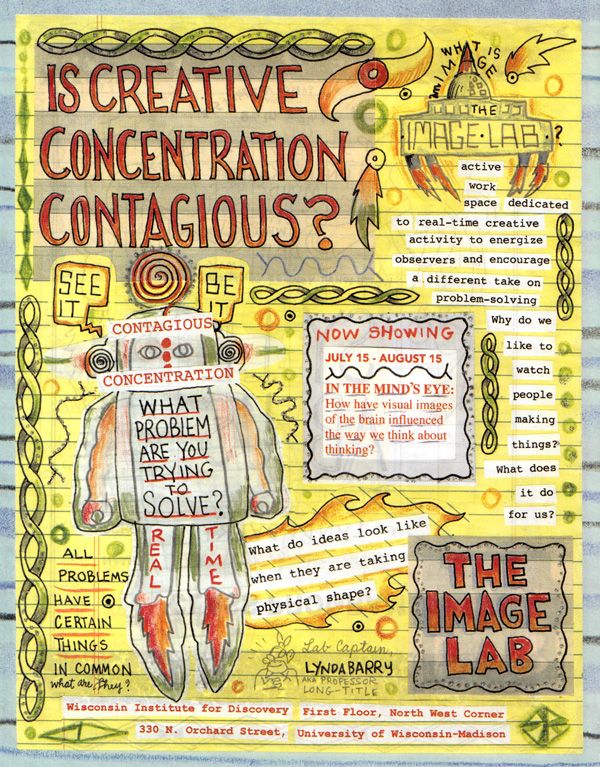 I believe that's true, even as I also (still) believe that Sean Phillips and Alex Maleev and Milo Manera are all great artists, and I don't know how to reconcile these two feelings. To Barry, this doesn't seem a problem, but Barry isn't trying to crank out the next great comic book artists. She's interested in getting students, and readers/viewers into what I think (though Barry doesn't mention him) is Mihaly Csikszentmihalyi's idea of "flow"—that feeling of creating. Barry first just calls it "it," then later uses the term "dreaming awake," quoting writer Dan Chaon, though her sense of whatever 'it' is, is that it's more than how the creator feels during the creation, but that the feeling of 'it' transfers over to the viewer/reader—we feel it too.
So, what is Barry's 'it'? That's what Barry spends the whole book exploring. For example, in her classes, she has students draw quick sketches, like of a car, or Batman, and she shares some of their sketches in the book. And, well, I will admit they are interesting. The Batman's are funny, primitive and…well…but—I'd still rather see a Frank Miller Batman. If there's a flaw in Syllabus, it's that Barry may be assuming that the it/flow/creative process of her students is as interesting to us readers as it is to her students and her.
Still, am I sure of that? No. Am I sure I still like Frank Miller's The Dark Knight Returns? Hell yes.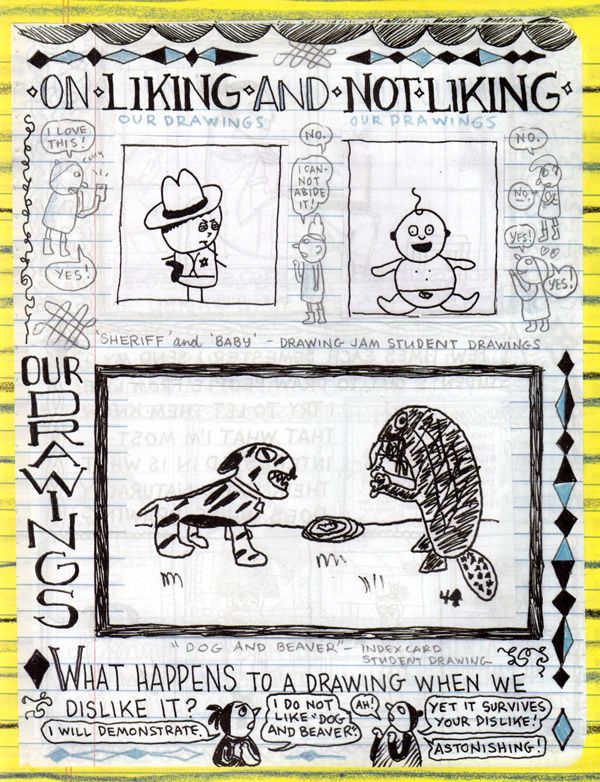 But am I sure that I like Lynda Barry's style of art too? Again, hell yes. She's like Joan Miró, who wanted to capture the innocent style of children when they draw, before they've 'learned' (i.e. been brainwashed) how to draw properly. Her monkey and Chewbacca self-portraits are awesome, and funny, and inspire joy, something that Miller never did in me. Whereas many Big 2 comics books artists can be a little cookie-cutter in their style (not Miller though), with Barry, you instantly recognize her artwork. And that, in the long-run enjoyability factor, may be more important than drawing Wolverine just right.
Though I like Wolverine. So I don't know.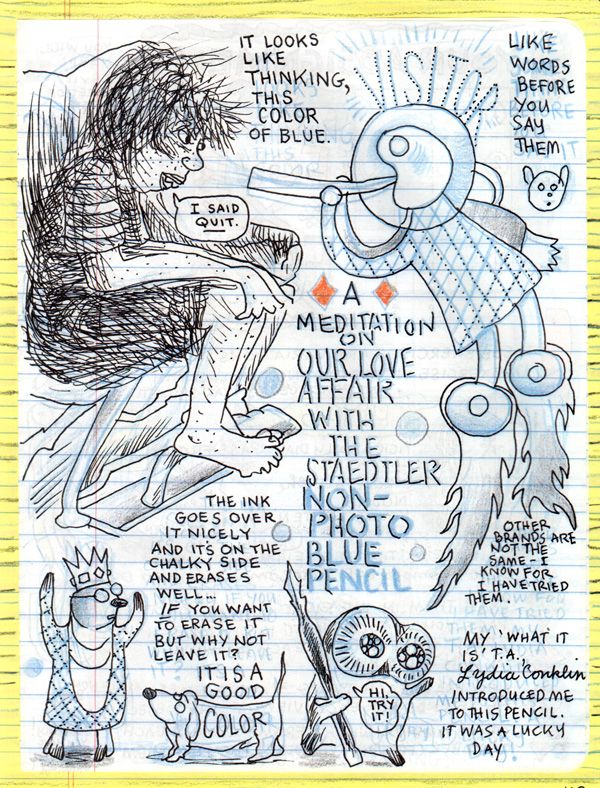 What I do know is:
I would love to take a class with Lynda Barry.
She makes me want to teach again, and to get even more creative in how I'd approach my classes, despite (in defiance of) the tsk-ers.
That everyone should take a class like hers.
So, therefore, we need more teachers doing this kind of stuff.
Naive dreams, perhaps, in this age where everyone, especially our students, just see school as a way to get a decent-paying job in the shrinking middle-class. Can't blame them (though get me ranting and I'll happily blame others). But I think they'd be happier, and less likely to settle for brain-numbing employment, if they'd embrace their inner creative process(es).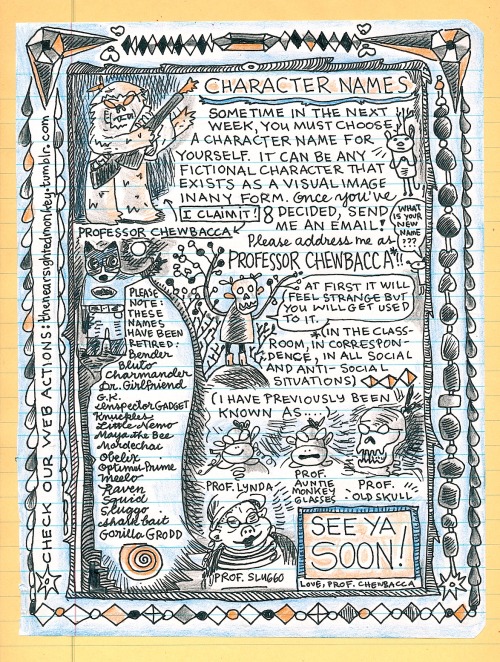 En lieu of taking a class with Barry, we have Syllabus, which just by reading it takes us on a brain-charging journey, though you can also jump in and do some of the drawing and writing and thinking activities she shares. Better than stuffing yourself with Doritos while you watch Dancing With The Stars.