Imagine living through the post-Golden Age of science fiction and fantasy. What would it be like to experience this journey at the plodding, one day per day pace?
Galactic Journeys is a time machine to 55 years in the past, a blog written from the point of view of someone living in the past writing about then-contemporary science fiction and fantasy, particularly fiction found in magazines.
Our pal "The Traveler" is writing this blog. He's kindly consented for us to rerun his posts about comics here on Comics Bulletin. We thought you might enjoy this interesting take on some very old comics. Expect this as an occasional series on our site as he writes them.
---
What?! The Traveler is reduced to buying comic books? The same fellow who reads Fantasy & Science Fiction, like so many prominent intellectuals do? Surely you jest!
Well, I couldn't resist. I pass these lurid covers at the grocery every week, and I decided it was time to plunk down two bits and see what all the fuss was about. Actually, I bought them at a second-hand store, since I wanted to start at Issue #1 of the titles I'd selected.
What did I pick? Tales to Astonish and Tales of Suspense by publishing newcomer, Marvel Comics (which, I understand, is a sort of descendant of Atlas Comics). I chose these two titles because they are billed as science fiction/fantasy anthologies, and if I'm happy to read science fiction "juveniles" and watch drive-in dreck, surely comic books aren't beneath me.
Astonish was a fun 15 minutes of entertainment, about at the level of the B-movie flicks. The headliner story, We Found the Ninth Wonder of the World, features a scientist whose hobby is making overlarge sea creatures (with exactly the same proportion as their unaltered originals–the square-cube law need not apply!) And… that's about it. I'm not quite sure why a biggish sea turtle counts as the "Ninth Wonder of the World," but it does make for a fine title.
The next vignette (I know the Secret of the Poltergeist!) is a silly tale about a poltergeist debunker who turns out to be a poltergeist–his scientific explanations are designed to allay the suspicions of the owners of afflicted homes. I guess ghosts just like to add insult to injury. The clever bit is that the sadistic spook has to rack his brain to come up with plausible answers. Did you know ghosts can sweat?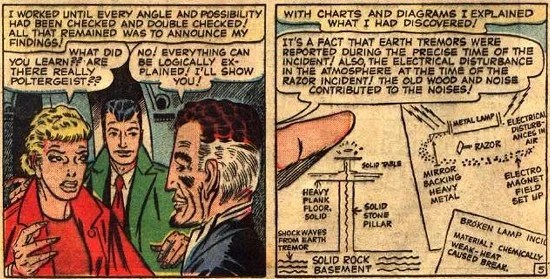 I didn't really understand the next story, I was the First to Set Foot on… the Mystery Planet! I think that a rogue planet ends up flying close to Earth, spraying our planet with radioactive oil. I'm not certain why this is the greatest of the effects this interloper has on the Earth (one would think massive tides would be a far bigger concern), and the punchline, that the inhabitants of the other planet are robots who use the oil as lubricant, doesn't make a lot of sense. On the other hand, the subplot is that the protagonist, who has a deep-seated prejudice against robots, learns to confront and conquer his bigotry. A rather high-minded and laudable tale for any medium these days.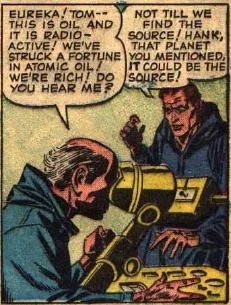 In the last tale, I Foiled an Alien Invasion!, an alien race plans to invade the Earth by hiding out two-dimensionally on a series of billboards. The plot is foiled because it is possibly the dumbest plot in the history of alien invasions since Wells' Martians forgot to wear face-masks. Dig that crazy future car from 2008, though!
---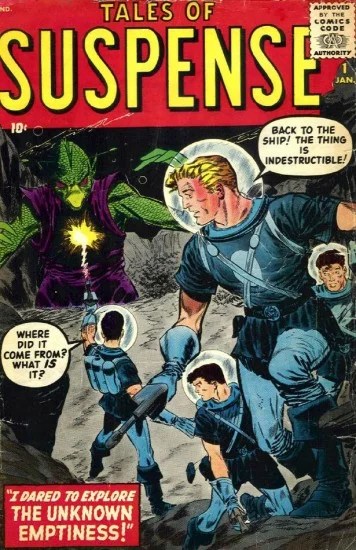 Suspense's cover was more overtly science-fiction themed, so I saved it for second, expecting a better treat. I was not disappointed.
The first story (The Strangers from Space!) features an alien ship silently, menacingly approaching the technologically advanced Earth of 2000 A.D.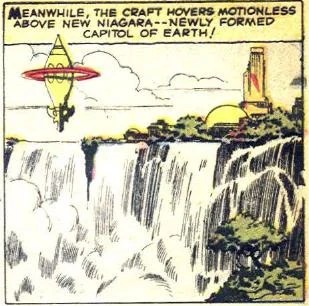 Of course that's where the world's capital will be!
Our first instinct, naturally, is to destroy the vessel, but one clear-thinking fellow manages to stop us from shooting as the spaceship lands. It turns out that the ship's crew look perfectly human, and the Earthers feel sheepish about judging a race before seeing it. But the sting in the tale's tail is that, after the aliens leave, we learn they really do look shockingly different, and they only adopted the disguise to avoid being slaughtered. Humanity just can't handle anything that looks too different, they surmised.
I'm sensing a strong anti-prejudice theme from Marvel.
I rather liked the next story, I Dared Explore the Unknown Emptiness!, too. 500 years from now, the Earth is over-populated to the gills (a concept that is very popular these days), and humanity has invented its first faster-than-light drive to find a second Earth to export people to. Instead, the crew of the new starship find nothing but hostile or over-crowded planets. They take the discovery philosophically, however, resolving to solve Earth's problems back at home rather than exporting them elsewhere. Horace Gold would have rolled in his grave at this panel, though (and he's not even dead!):
The Day I Left My Body wasn't much. A prisoner being held for murder gets shot in a jailbreak. In a near-death experience, he briefly possesses a defense attorney and leaves the lawyer with a geas to get the prisoner off. Unfortunately for the prisoner (who is shown to be an unrepentant jerk), the attorney works too hard to exonerate his client, turning in an exhausted, lackluster performance in court that results in the prisoner's conviction.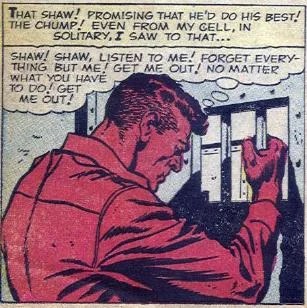 He Fled in the Night follows the story of an 18th century clerk who leaves it all for adventure on the South Seas. The punchline? His name is Robinson Crusoe. A slight story, but the art and style was nice. I'd like to see more in this vein.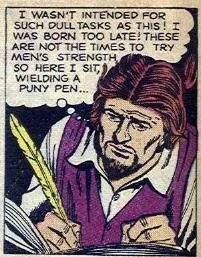 I feel something of a kinship with this fellow, sometimes…
Last, but not least, was the enjoyable vignette, Prisoner of the Satellites! Aliens zap the Earth with a ray that enfolds its victims, living an
d inanimate, in a field that shrinks them into infinite smallness. This is the first stage in an attempt to unhinge humanity, making us ripe for conquest. It turns out, however, that cosmic rays reverse the effect (why not?), and the aliens leave, beaten.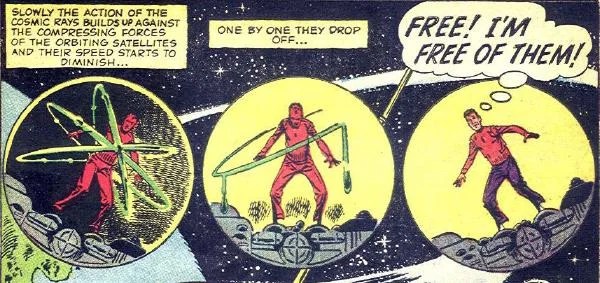 So ends my first toe-dipping into the world of comics since I stopped collecting Detective Comics as a kid. I appreciate Marvel's subversively progressive message, and while the science isn't exactly top-notch, it wasn't bad for 48 pages of art and word-balloons. I think Suspense is the better magazine, but that's partly personal preference. I'll have to buy a copy for my friend, Carl McIllwain, a student of Dr. Van Allen who helped design the cosmic ray detectors on some of our recent satellites; I'm sure he'll get a kick out of it.
Back to the printed word next week! I hope you'll all stay tuned in to this frequency.
P.S. I'd like to give a special, public hello to some friends I made at the book store while perusing the stacks: Jake, Matt and Chris! And, of course, Carl.
---
(Confused? Click here for an explanation as to what's really going on)