What a way to open a season! The return of Hannibal has been anxiously awaited, and if this episode is any indication, this season is serving up some fine viewing. The premiere, "Kaiseki," manages to address the fallout from last season as well as mix things up a bit. The result is a series that fully embraces the change and progression in its characters, but still retains that same Hannibal flavor.
It opens with a brilliant fight between Jack Crawford (Laurence Fishburne) and Lecter (Mads Mikkelsen). It's exciting, shocking, and expertly choreographed. This is undoubtedly one of the best fight scenes seen on primetime television in a long time. It's rare that a brawl carries such an emotional punch while maintaining its believability. When the fight starts to look its grimmest, we cut away and see the words "twelve weeks earlier."
What we've been shown is a glimpse of the end of the season.
Revealing such a small, yet important tidbit within a season premiere can be a challenging task. After all, you don't want to make a promise to the audience you can't keep. It's a good way to build excitement and a yearning for questions that will be answered throughout the season; you just have to make sure those answers don't disappoint. It's an easy thing to mess up. For instance Season Two of Breaking Bad opened with debris from a plane crash, but ultimately the consequences of the crash didn't feel substantial enough to build a whole season around.
Though only time will tell, Hannibal will likely succeed with what they've revealed. The consequences are certainly more apparent in this scenario, and make the viewer curious to know how we've arrived at the fight and also what will happen after. In any case, it's an awesomely crafted scene sure to get any viewer pumped for this season.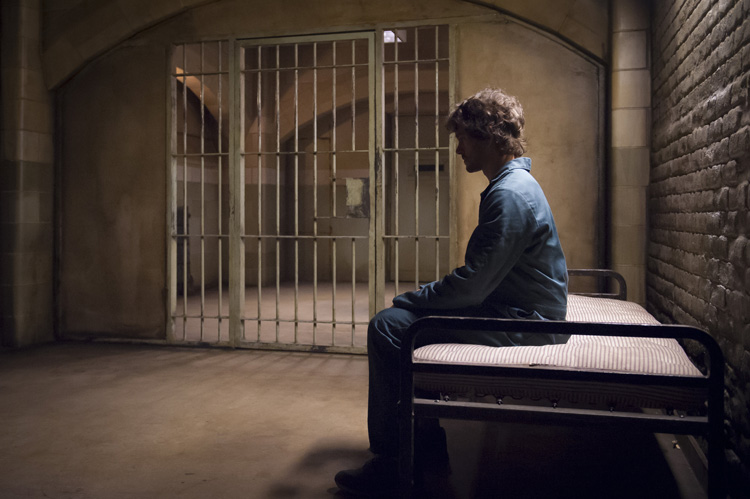 Twelve weeks before the fight, we find Will Graham (Hugh Dancy) behind bars at the Baltimore State Hospital for the Criminally Insane. He sees Hannibal for what he is now… he just needs to get everyone else around him to see it. While he has plenty of sympathy from characters like Alana Bloom (Caroline Dhavernas), everyone seems to believe in his guilt.
Meanwhile, the newest serial killer is kidnapping people, drugging them up, and preserving their bodies. The first victims are found clogging a beaver dam. He's collecting a color palette of people, and the bodies found are just his "discard pile."
To help find him, Hannibal takes over in place of Will as the psychological profiler. It's an interesting choice, even if it is a little odd. However, Will's "this is my design" moments are going to be sorely missed. They were one of the best parts of the show, and helped make Will a more dynamic character than he would have been otherwise.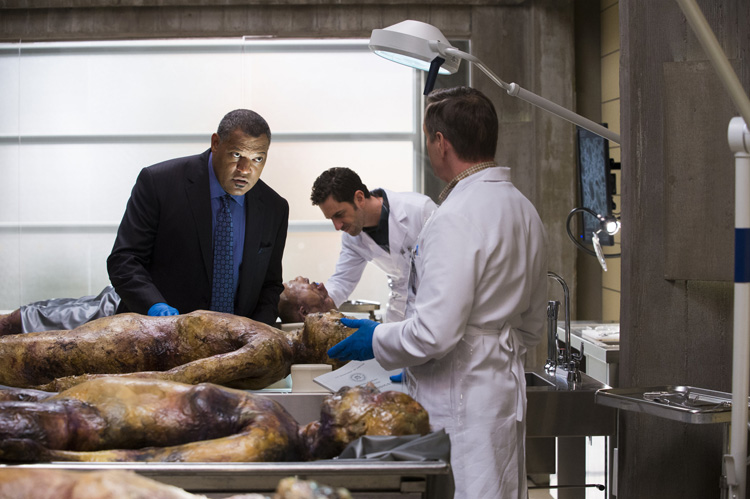 There's a real missed opportunity to still include them, too. Beverly Katz (Hettienne Park) visits Will and brings with her an assortment of photos and evidence. Granted he's not actually at the scene of the crime, but why not have Will imagine and recreate murders like he did before based off of what was in front of him? If they are bothering to include Will in the process of catching this newest serial killer, they might as well use him to the fullest. The show would do well to give Will a chance to get out of the chains and on the job, if only in his head, and mutter the series most famous catchphrase.
Even without a "this is my design" scene, there's still a lot going on visually in this Hannibal opener. The series has always had a sophisticated, yet disturbing style to it. "Kaiseki" is no exception. The scene in which Alana helps Will recover memories being the visual highlight. As Will undergoes hypnosis, he sees Alana become engulfed in a sort of black liquid. The effect is startling and striking.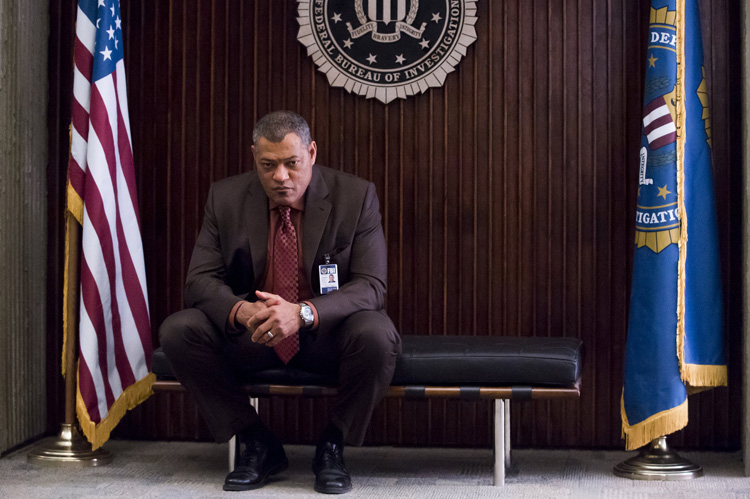 In addition to all the grand table settings and food preparation, it's clear this season of Hannibal is not skimping on the style. This extends to the music. Composer Brian Reitzell returns this episode, crafting some great soundscapes and ambient musical pieces that evoke a sense of unease. Perfect for what each character is going through.
It's clear that everyone is having a hard time coming to terms with Will's imprisonment and the events surrounding it. An internal investigation is imminent, and everyone is preparing for it, including Hannibal. Will on the other hand, is readying himself to go on the offensive against Hannibal. His mind is still fuzzy, but he is slowly uncovering Hannibal's manipulations — like the ear being stuffed down his throat that we saw thrown up in his sink last season.
He tells Hannibal, "I'm going to remember, Dr. Lecter, and when I do, there will be a reckoning." If this season can keep up the momentum started with this premiere, it will be quite the reckoning to see.
Be sure to check out this review and more exclusive content over at Comics Bulletin's new sister site, Psycho Drive-in!
---
Amanda is a freelance writer from Virginia. She spends her time enjoying geeky media and caring for her too many birds. In particular she loves writing reviews, and birds. She might be a bit quiet, but you can always start a conversation with her about video games, movies, shows, and comics. Oh, and birds. Currently she has three parakeets, four zebra finches, and a 20-year-old cockatiel named Pepper. She blogs about them and birdy things on her blog. You can find more of her work on her site. Did you know that she likes birds?