Recently I was approached with the chance to speak to Chris Claremont about his long career in comics. I've literally been reading Claremont's comics about since I was barely out of diapers, so I couldn't say no. I was pleasantly surprised by how much fun it was to speak with Chris. I expected him to be smart and articulate, but I didn't expect him to be so generous with his time – we spoke for over an hour about his long and august career, and I wish we could have spoken longer. (I had to get to work but Chris could have kept going.) I think any fan of comics will enjoy this long and fascinating talk with one of comics' legends.
---
Jason Sacks for Comics Bulletin: It must be interesting to see books like Black Dragon and Marada come back into print after all these years.
Chris Claremont: It's very encouraging, hopefully. Fingers crossed they'll find their audience.
CB: How do you expect they'll be seen these days? I mean, you are so well known for your work on X-Men. These are a little outside of that work.
Claremont: Well, I mean, one could just as easily talk about a friend of mine, George R.R. Martin. His earlier books which were classic science fiction and which represented cutting edge in sci-fi. Yet when you talk to anyone, what he is known for is Game of Thrones, ironically more or as much for the TV adaptation than for the books themselves, although one might lead to the other or vice a versa.
I look it as it's another facet of what's a muse, an ongoing never-ending process. I want to tell stories; I don't want to be restricted to just superheroes or to the present era or to an easily defined good versus evil. The nice thing about both Marada and the Dragon is that the core concepts embrace a significant sweep of western history at the very least and provides a rich tapestry to play with.
CB: One thing that was striking about both of those books is that rather than going the Robert E. Howard route and having them set outside time and space, you have them set in very specific time periods, which must have also been an enjoyable, interesting writing challenge for you versus kind of being part of an organic universe in the Marvel Universe. How did you approach that at the time?
Claremont: Partly it makes the research both easier and more challenging. The nice thing about it is you're tired to events that actually happened, and yet you twist them just enough to make the story interesting and see where it leads.
The thing about the Dragon, for example, is that the overall cannon would have lead to a three-volume anime series that I was doing for France about eight or nine years back, where it was set constrainedly after the death of Arthur, but the sixth century A.D.
But if you look actually the events occurring in the mid Dark Ages, which this was, you have this crucial lynchpin in the late 500s, early 600s just prior to the birth of Mohammed, where Christianity is the dominant religion amidst the ruins of the Roman Empire and that nothing else anywhere that has even a chance of establishing any global political or social structure. Everything is in chaos. In that kind of "devil take all" environment there is so much room to play.  What if something happened? What if something didn't happen?
The same thing with Marada; Marada is basically set in the transition, the last couple of decades B.C. before the birth of Christ. So Julius Cesar has been dead for twenty years. Octavian has just besieged Anthony and assumed the Imperium. But everything is very much in flux. Will an imperial Rome survive? Will his legacy survive? Can he himself survive the machination of his wife?
Then you throw in the wild card, the literal granddaughter of Julius Cesar, and suddenly everything is up for grabs because she represents the legitimate brink without even the foolishness of Cleopatra to the House of Cesar and the establishment in Rome. She's a wild card that could both legitimize a claim to the Imperium or destabilize it altogether.
By the same token, in Black Dragon, you're suddenly jumping into British history right after the death of Henry II. Everything is in flux. Richard, as the story says, is off hacking his way to the Holy Land. John has basically hijacked the regency from Eleanor. Eleanor is trying, who is pretty much a legend for the fact that she is in her eighties and surviving and indeed lives into her nineties. At a time most people were lucky if they survived fifty.
CB: Right. That's remarkable for the era.
Claremont: From my perspective looking at it, it's not simply the balance of Saxon and Norman in the British Isles, but of the old gods and the new. I basically come back to answering the fundamental writer's question: what the heck will happen next?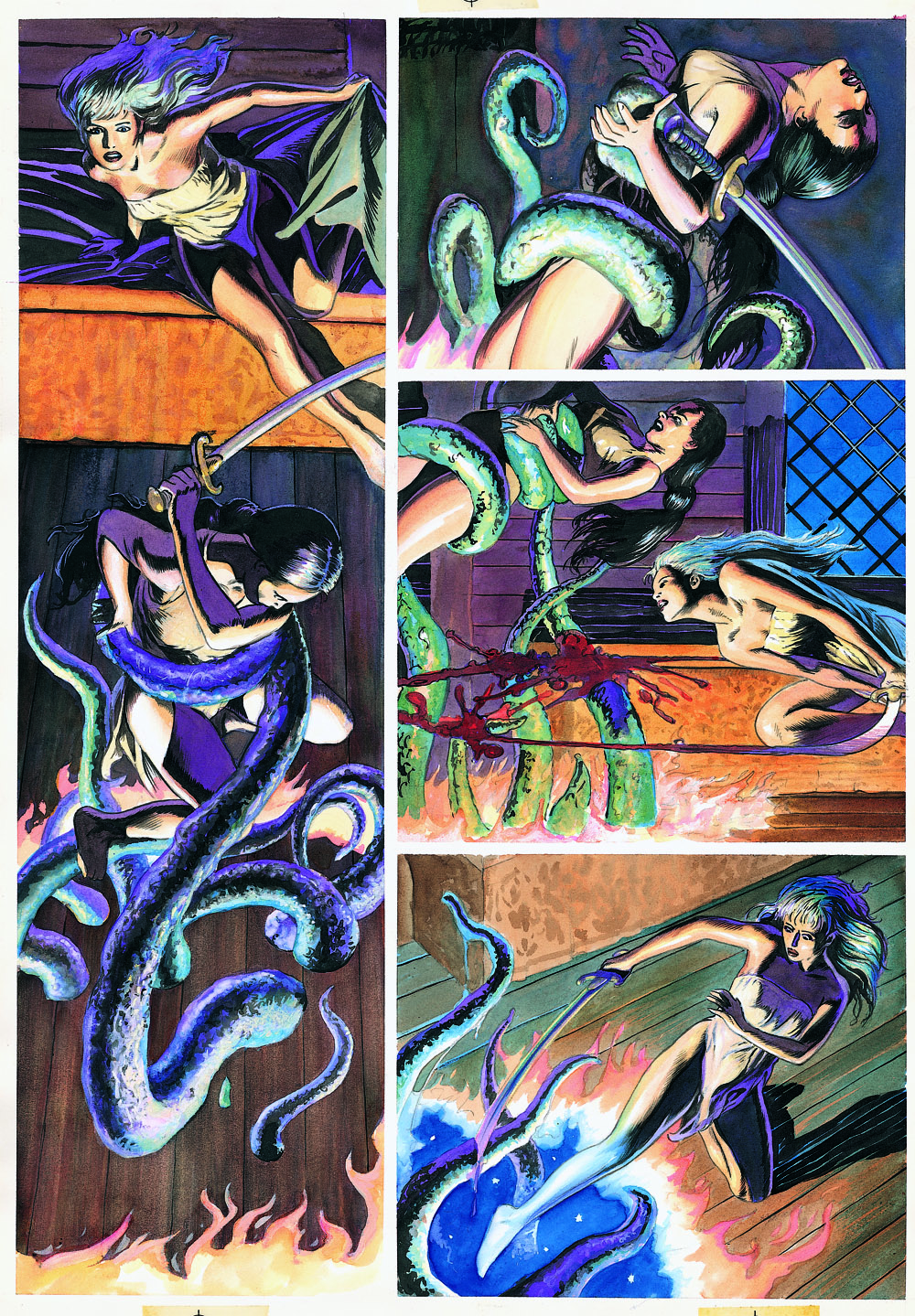 CB: You have this almost Shakespearean background along with this complex world that is created just by definition of playing in that space. It is part of what makes the background so fascinating for both of these stories.
Claremont: For me, the way I like to create stories is I come up with people I like or don't like, and do your basic theatrical explain: who, what, where, when, why, and how. Who are they? Where are they? Who are they? What do they want? Where are they? When does this occur? Why does it occur and how does it occur? And see where it leads. Sometimes it can take you down to a dead end. But in the case of the Dragon, it's led to a whole catalogue of ideas for stories that sustained John and me through three Maradas and hopefully will continue down the road. The same with the Black Dragon.
CB: How was John Bolton involved in the process of creation? How tightly were you two working together?
Claremont: Basically by editor Ralph Macchio discovering his stuff over in England, bringing him to the attention of his fellow editors at Marvel and writers as well, and me doing what I tended to do almost automatically back in those days, which is seeing an artist whose work I instantly loved and saying, "I want to write a story with him."
Then I sat down with John and figured out what he you wanted to draw, and determine how can we involve a story from those desires and what cool thing will happen next. In both cases we lucked out big time.
CB: You certainly did. You worked on a number of projects together as well. The Classic X-Men stories are wonderful, too.
Claremont: Thank you.
CB: It obviously was a fruitful pairing. Obviously you've worked with quite a few artists over the years. Is there a certain magic to working with a particular artist at times?
Claremont: I can function as working with a whole succession of artists who inspire that sort of magic or variance on that sort of magic. The elements that John brings to the story are similar and yet all together different from say Dave Cockrum or Marc Silvestri or Walt Simonson or John Byrne or Barry Windsor-Smith or Jim Lee.
The wonderful delight, especially in those days, was that you almost couldn't turn around in the office without bumping into somebody who was an up-and-coming legend or a pre-existing legend, like John Buscema. Then finding a way to craft a story that challenges them to tell it in ways hasn't been seen before and challenges me to write a script that will do it justice if not improve on it.
CB: There are certain writers whose work stood out by the late '70s as kind of leading the way towards, for want of a better term, the '80s way of thinking about comics, where comics really start to explode. Your work on Iron Fist on X-Men and such really kind of showed the way, just in terms of maybe character construction as much as anything.
Claremont: The key way of looking at it, fundamentally, is a conversation that Archie Godwin had with me and Jo Duffy, and by extension John even though I think he was still in Canada back then. Archie decided for editorial reasons…
Both Power Man and Iron Fist had marginally successful sales. Perhaps since it was clear to him that the books appealed to different audiences, and if we shuffle the two together, we might come up with a concept and a presentation that intrigued both groups and would turn it into a successful team book.
In principle, our reaction was "Okay. Kind of weird, but we'll give it a shot." Then my reaction was, "I have no idea what we can do for an antagonist" because neither series had, what seemed to me, a particularly exceptional group of antagonists.
What do we do for conflict? And Archie looks at me as if I'm an idiot, which I suppose at that point I was, and says, "You've got Luke Cage. You've got Danny Rand, Iron Fist. You've got Misty Knight. You've got Colleen Wing. You've got an ex-con. You've got a millionaire kid who was raised by trans-dimensional Tibetan monks. You've got an ex-cop with a bionic arm. And you've got a Hawaiian mixed race girl ninja. Danny and Luke tend to like each other, but Misty doesn't trust Luke; he's an ex-con. Luke is leery of Misty; she's an ex-cop. Colleen would rather be loose of any of them, but she feels a bond to Danny. And oh yes, Danny and Misty are falling in love.
"If you can't come up with twelve issues just starting from the basic question of what happens when the four of them walk into the kitchen in the morning to have breakfast, how can you call yourself a writer?" Basically he's right.
The essence, for me anyway, of good storytelling, of good character building, is the character. I try not to derive the structure of the story from "hero man meets villain man and they punch each other and they all fall down at the end". It's Peter Parker running out to save the city, but what he's really is worried about is, "How am I going to pay the rent? And oh my gosh, Aunt May is sick. And golly, what do I get Mary Jane for Christmas? And I'm twenty years old and my life is basically bound up by a skintight costume. And just that statement alone. And what the hell am I doing flying around the city on a web in a skintight costume? I can't even take out at IHOP."
CB: Right, right. I have to be in great shape all the time. Right, yeah.
Claremont: Then you can flip the coin and have Dr. Octopus with a similar set of conflicts and questions and revelations.
Suddenly it isn't simply a case of stick figures hammering at each other in an artistically enlightening sort of way that looks really cool; it's the adventures of a character that you hopefully like and with whom you are bonding and wanting to see what happens next.
To use a TV analogy, I suspect the majority of audiences don't watch NCIS because of the intricate plots, because nine times out of ten they aren't ferociously intricate. Bad guy commits an act. Good guys try to investigate the act. They come to a resolution. They move on. But over the past dozen years the series has been on, Donald Bellisario has established such a wealth of character between the core team that you want to see the next stage in the people's lives as they get older, as they come to various crossroads, as they face questions like, "I've just met a girl. Will this go well? I've just lost a girl. How do I survive?"
There is a school of thought that believes the responsibility of the writer is to come up with a cool, intricate sequence of events and the character will take care of itself, and that has validity. I just prefer to start with the character and move out.
CB: That's something you've always been known for. When I talk to my friends about your X-Men run, there are some storylines that people inevitably talk about. But more than anything, people talk about the characters and how vivid they are. It really seems like that is where your true passion is; what happens to these people rather than the events themselves.
Claremont: I also feel that great characters will survive periods of bad art better than great art will save bad characters. You might love a series drawn by a young Jim Lee, but if the character is a cool character, if the reality of the comic stories isn't evocative and definitive, the minute Jim transfers to a better gig the series is gone.
Whereas if you hit a dry stretch on a book like X-Men, which we did in a way for about a half a dozen issues between Marc Silvestri departing for Wolverine and Jim coming aboard. The sales slipped because you had Spider-Man hitting the streets. But everyone kept reading it because the stories worked. When Jim came in, we rocketed back up to the top again.
CB: Yeah, how was it at that point? You were selling so many copies at that point.
Claremont: You'll have to ask marketing. I have no idea, though it impressed the living daylights out of me.
CB: Of course one of the key moments in the book I am writing about the 1990s is the X-Men #1, which sold 7.1 million copies I believe.
Claremont: No, it was 7.9 out of 8.3.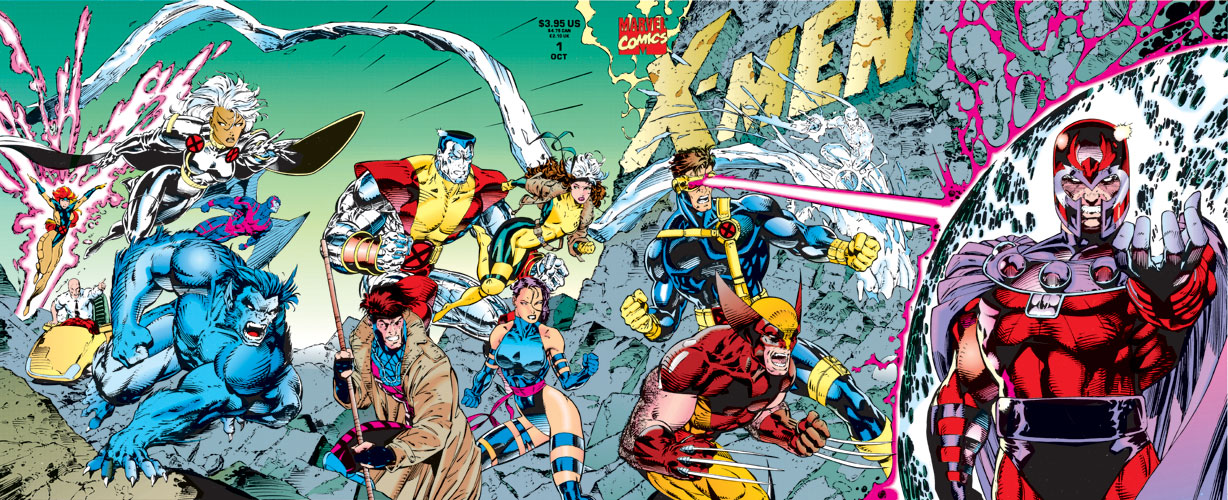 CB: Holy cow. How did it feel being in the eye of the hurricane?
Claremont: I wanted to keep going.
CB: Did you have a sense that you were…
Claremont: No, I mean my plan at the time was… X-Men #1 was nice. What my ambition was to come back a year later with X-Men #12 or I guess since we did six issues in the summer, X-Men #18, and somehow keeping the sales in the high six figures, close to seven figures.
If we could come back a year later and the book was selling 750 consistently, then to me that would have been a game changer because it would have taken the rocket blast of issue one and kept the momentum into regular books. It would have meant we'd expanded our audience by a significant factor. Who knows if we'd done that what would have happened in '93 with the crash.
Would have had as comprehensive of an effect? Would it have even happened if instead of speculation the sales increased had been based on readership, real readership? People who were intrigued by the stories, excited by the storytelling both visual and textual and wanted to see what happened next. I think we will never know at this point. But that was my dream, my goal. That was my sort of end game. That's why I wanted to hold on to it. That is why I wanted to keep growing and keep trying to surprise the reader and not retreat to retelling stories that have been done over and over again.
The problem was it was up against a management structure that wanted to utilize the existing tropes. My game plan was to evolve characters, and that means some of them would have to step to the back and perhaps even die for real.
But from a commercial standpoint, management felt we're then losing any potential possibility from existing popular characters. And also the lynchpin discussion with being Magneto, the feeling was among management and the editors responsible for X-Men, Magneto was the series' primal villain, and that was the role he was cast in, that is the role he should play. They were not happy with my involving him towards becoming, for want of a better phrase, the next generation of Professor X and leader of the team as the reformed villain. Whereas my ambition was to take Magneto across the border, bring him into the light and replace him with a really scary and terrifying and dangerous adversary alternative, for example possibly the Shadow King.
CB: Now you had been building Magneto as this anti-hero for years. And of course X-Men #200 for example, the trial, really plays that dichotomy in the character. That is another great example of how you put character in front of plot line in order to let the character drive the plot line.
Claremont: Well, you can see it. The whole point of Magneto was he never sees himself as a villain. He sees himself as a hero, as someone who is standing for the rights and salvation of his own kind against a world that fears and hates him and wants them dead. He knows this because he has been through persecution. He lived through persecution. That was a fundamental core moment of his life and his primal belief is that will happen again if we don't take our stand. I mean, much of the confrontation between him and Charlie was David Ben-Gurion versus Menachem Begin. With Begin you had somebody that in 1945 the British had a shoot on sight order.
CB: Begin's an interesting contrast.
Claremont: Twenty years later he wins the Nobel Peace Prize by forming peace with Sadat. His path in a way was a pattern for Magneto's path.
But then you can slip sideways to the Black Dragon and see a similar structure in that you've got James Dunreith exiled for the things he had to do in the service of the crown, but it put him on the wrong side of the noble. So Henry had no choice but to get him out of town. Coming back, what does he find? That his best friend, Edmund De Valere, for want of a better phrase, yielded to the dark side of the force.
Here is someone who has achieved a significant measure of power and wealth and influence, yet all that De Valere remembers or notes in his life are the insults, the slights, the contempt with which the Norman barons look at him as a half-breed Norman-Saxon. Whose only claim his fiefdom is an accident of death. His father died without a legitimate heir. He got the credit.
That conflict, you have Dunrieth trying to save his friend. You have the friend looking on him as, "You've been screwed too. Why aren't you standing by my side? Damn it, I love you. I loved you and you walked away from me." So it is not something that should solely be restricted to superheroes or modern day. It's a trump that plays out across the span of history and if done right can hopefully lead to some whopping good stories.
CB: I have to say, I've done a few hundred interviews with creators across different media. You have the most the enthusiastic about characters of anyone who has been working in the industry for a long time. You have the passion…
Claremont: Is that a bad thing?
CB: No, it's kind of thrilling actually. You have this passion that I often only hear from people who are introducing their first self-created characters. You really do love these people who you write about.
Claremont: Well, why write about them otherwise?
CB: Well, it's a damn good paycheck, especially in your case.
Claremont: You know, you still have to find something about them that is cool. I mean, the problem I've always with when I've done work over at DC is for me as a writer, I find Clark and Bruce far more interesting than Superman or Batman.
Not because it's not fun to play with the Man of Steel or the Dark Knight, but because as their alter egos, they tend to occasionally find themselves in the situations that illuminate, for want of a better term, the human side. They are vulnerable. They can have a sense of humor. They can reveal facets of their lives that aren't as easily seen when they are wearing their super suits.
CB: They are fully-fledged human beings.
Claremont: Or at least trying to being.
CB: But you are limited by space, you're limited by format, expectations. You are not writing character studies. I understand that.
Claremont: Well, no, we are all trying to be fully-fledged human beings. It's always a work in progress.
Like it or not, with Clark you have the ultimate stranger in a strange land. Clark in effect is the super being, the masked man. Superman is the guy. Clark is the disguise. But it's a disguise that allows him to feel the things that he can't or is rarely expected to show as Superman- being alone, being the comic equivalent of Valentine Michael Smith. He's trying to fit in and making it up as he goes along. Whereas with Bruce you have… Oh for God's sake, where do you start with a psychological profile? It's incredibly complex, but fun. It's iconic.
With Marvel, Stan's great gift was taking it and bringing it down to a much, much, much more human level. Peter Parker is not a millionaire. Peter Parker is not a member of a support group team, even if they are dysfunctional. He doesn't even have a super family that he can hang with, like the FF. I mean, what is he is now (I am going by classic Stan Peter Parker, not the current iteration, which is humongous different.).
But the idea carries the X-Men in that you have this collection of outsiders and in a sense it's exemplified by the fact that, especially in New X-Men starting with Dave Cockrum and me, they're not simply super characters who are feared and hated; they are all more or less outsiders trying to fit in to a greater collective whole.
I mean, a young woman from east Africa, a young man from Germany who looks like a demon but has the soul of a priest, a Russian monolith of armor, a cute redhead from upstate New York who just happens to be one step down from God. Oops.
But then you throw in the New Mutants and you've got a shy scots girl, maybe barely thirteen, who happens to be a werewolf, a young Brazilian who should be at the top of the food chain except his father is a millionaire but he's biracial and a mutant so he doesn't seem like he fits in, a young guy from Appalachia, a girl from culture's family is northern Cheyenne. This used to be her country and look what happened. She got conquered. And Xi'an, the ultimate dispossession, a refuge from Vietnam which way back in the day was not a good place to be. Now you look at Xi'an you think, "Huh? What's she bleeding for? Oh, we can't go into that. It's ancient history literally."
CB: But the characters still have resonance, whether or not you have that context.
Claremont: They're all outsiders trying to fit in. They are not simply outsiders because of their superpowers; they are outsiders because of their ethnicity. The great advantage there is the ethnicity aspect becomes a stand-in for the superpowers. It becomes the bridge on which you can blend and relate the conflicts in terms that are relevant to the superhero adventure and yet equally if not more primally relevant to the readers. Because while you may not be able to relate to walking through walls like Kitty or turning into black energy like Sunspot or catching fire like Amara, you can relate to people looking at you funny because you're the wrong color or because you're gay or because you are of inappropriate religion.
CB: Sure. That's why comics work so well as a kind of a symbolic, primal force for people to see their own struggles through.
Claremont: That was always my idea.
CB: It's certainly why I started reading comics. As a child I could kind of fulfill my dreams virtually through the characters I loved.
Claremont: That's it.
CB: If you don't mind, I want to go back to 1991 and X-Men #1The book hit and then very quickly the whole Image thing started to flow out of that. How did you see that happening at the time?
Claremont: Well, after X-Men #3 had no connection with the X-Men on Marvel. So the arrival of Image meant there was another company I could talk to about getting a gig. And indeed, Jim and Marc and I talked about it. I had a proposal in with them. That was the story arc that first Jim and I did in Wild C.A.T.S and then Marc and I did it in Cyberforce with Huntsman.
The idea was, the ambition then was the first seven founders of Image were artists; I was going to come in as the first writer. But unfortunately we could never get it off the ground. We couldn't find the right artist and everyone got distracted. That was that.
CB: Jim Valentino, says that at that point everything was moving so quickly that almost all they could was just react and try to make sense of what was happening. Months would go by in a blink of an eye because the money was flowing in so quickly and the company was growing like crazy. In retrospect, having a more stable professional as part of Image might have helped to the stop the crash from happening as well.
Claremont: Well, you never know. Would've, should've, could've.
CB: Yeah, I suppose.
Claremont: Hopefully there is another dimension somewhere where that happened. I think everybody did what they thought was best. That's the way it moved on from there.
CB: Do you mind talking a little about why you ended up leaving Marvel at that time?
Claremont: Oh, I think basically it was sort of like getting fired.
CB: Okay.
Claremont: It came to the point where the fundamental problem, the fundamental challenge was that no one had ever seen a creator, especially a writer stay with a series as long as I had and be humongously successful at it. As time went on there were increasing feelings on discomfort among management at Marvel because the book was being perceived as Chris Claremont's X-Men, whereas it should be Marvel's X-Men.
Far more irksome to them was the idea that they could not utilize the title as a means of… Let's say Joss Whedon walked in and said, "You know, I'd love to write a couple of years of X-Men." "Oh geez, we obviously can't because Chris won't get out of the way." From a management point of view it kind of was a roadblock.
The other problem was I had a specific sense of where I wanted to go and what I wanted to do with the series. I had been pretty much treading my own way for the better part of two decades.
CB: You had earned that, yeah.
Claremont: I had been producing in the process. I said this many times that at the time, my goal was if you pick up the book say with issue 100, you'll find one cast. If you pick up the book with say issue 300, the cast will have evolved. My ambition originally was when Cyclops married, when Scott married Madeline and then Madeline had the baby, that was it. He was going to step off stage, in effect go into semi-retirement. He was going to do the responsible thing and become a father and a husband and live happily ever after. Be available for special stories, but he was going to go off the board.
At least at that stage of the evolution, Ororo would continue her role as leader of the team. But the idea that if I couldn't kill someone off as we had tried with Jean. Actually at that point we had to kill Jean off and it was a primal moment. Our idea was the book changes, the book evolves. It moves slowly because we don't want to suddenly find ourselves with a forty-year-old Kitty. But it will change.
What we ran into was X-Factor, and the desire of other creators to want to play with their classic heroes, i.e. Scott and Jean. Well, that all happened. Madeline became the Goblin Queen. Nathan vanished into oblivion. And that was that. But I still have the next point of all that evolution was an idea. I structured it out as how in issue 300 I was actually going to kill Charlie. And I was figuring I would stick around for 20 years and I would call it a day. Or maybe 25, I don't know.
CB: You got to 14 or 15.
Claremont: It just got to the point where the stories that I wanted to tell were substantially different from the stories that Jim wanted to tell.
The stories Jim wanted to tell I had already told twice before. So they weren't really…been there, done that. I didn't see the sense of turning Magneto into a villain because what would it accomplish?
The problem was that Bob Harras as editor felt that Jim's points were more commercially viable and more importantly, he was the hottest artist on the block. And that gave them more weight. Bob's theory, his suggestion was I was kind of working too hard and why not let Jim plot the book for a while and I would script it and that would be that. My attitude was I'd just spent over 16 years making us the best-selling comic in modern American history. I didn't appreciate being demoted because I knew once you step down that's a slippery slope. They'll find a way to extend it. They'll suddenly say, "Can you maybe take a rest from the book and we'll get Joss Whedon to draw it?" Josh, please forgive me for using you as a rival.
CB: Well, it's ironic though.
Claremont: Drawing the commercial side as an editor, I understand the attitude. But as a writer, I felt this my very low rank and not a way for saying thanks for what I spent my whole professional career doing. Unfortunately when push came to shove, no one in the editorial panel in Marvel could find a way to defuse the situation before it crossed over the line into irreconcilable differences. So I left and then six months years later it dawned on on the magnificent seven that, "Why are we doing all this stuff for Marvel when we could maybe do our own company, create our own stuff and keep all the money?" And ba da bing.
CB: The great irony of them pushing you away from the series is that they could have you there for years. It sounds like you would have loved to do that. But by pushing you away they kind of…
Claremont: Yeah, except when Bob tried to rectify it, when I came back to Marvel and ultimately in 2000 got the series back, it didn't last more than six months before new blood came in and the scene repeated itself.
The point is what you want to do, what a writer-storyteller wants to do as his own or her own creative person is not always simpatico with what the publisher wants you to do or wants to do himself. Intellectually I understand; that's the way of the world. Emotionally… But it's done. It's old news and old business. There's no point, to throw the most ultimate cliché imaginable, crying over split milk.
CB: No, it's absolutely true. From a historical standpoint, it's a fascinating era to write about, that point between '90 and '92 when comics were exploding and a lot of decisions were made that in retrospect were a lot more far reaching than probably the amount of thought that they put into them at the time.
Claremont: Yeah, but that's the nature of publishing, of a management positions like that.
CB: Yeah, of any industry to be honest. I work in software in my regular job and it's just as true in software as it is in publishing. One decision you make…
Claremont: Someone thought they had a brilliant idea.
CB: Right, right.
Claremont: But didn't turn out that way.
CB: Absolutely, well you do have your own series through DC, Sovereign Seven. Obviously it wasn't created to be a doppelganger of X-Men. How did that whole project come about?
Claremont: Paul basically called up and said, "Do you want to write a series for DC?" I said, "Well, I would like to do my own stuff at DC. Can you do a creator-owned?" He said, "Yup." So my agent talked and we set it up. After some false starts we got it going. It seemed like we were off to a great start, and then with the third issue the bottom fell out of the industry.
Like far too many titles, we didn't recover. The problem is that new stuff, you need time to build. Case in point, the first season of Cheers was not a game changer. It did okay, but everyone was sort of half surprised when it was renewed. But within a year or two after that, it was the top show on TV and it lasted for ten years. And then some fate, from Cheers came Frasier. Suddenly Kelsey Grammer had a 25 year career at the top of the heap. Sometimes you have to let things build. You can't just assume you are going to be a hero, an instant success going out of the gate.
The biggest problem in the modern dynamic of marketing is too often your first issue is your definition commercially. So if your first issue comes out at say 45k, there is never an opportunity to build from that base. Instead the presumption is that everything will decline from that base. Retailers will order less just to cover their butts and there is no incentive for them to order more, even if you have people coming in and asking for it.
CB: Right. It's incredibly rare for a series to come back up.
Claremont: So I think that is probably why you are seeing more and more series that are effectively limited series with an extra. They'll go for five issues or maybe twelve, but rarely more than that.
CB: You were also the victim of bad timing to release a book like that in '95. I mean, at that point the market was flooded and sales were just cascading and it was almost a perfect storm time to release a new series like that.
Claremont: Would've, should've, could've.
CB: Yeah, right. You can't have regrets. The other thing I want to ask you is how you ended up writing Fantastic Four for Heroes Return.
Claremont: Bobbie Chase asked me.
CB: Okay.
Claremont: I was VP/Editorial Director at the time, so it was…
CB: Oh, I see. Okay.
Claremont: Part of the job structure was I worked in the office for half the week. I wrote for half the week. The idea being that that way Marvel could have the benefit of both sides of my brain, the writer and the manager. We had the launch of the FF with Scott Lobdell, then Scott moved on. I don't know. Bobbie needed someone to write the book fast and I was there. She teamed me up with Salvador Larocca, and that was absolutely wonderful.
For me it was great because, a, I loved the FF, and b, it wasn't the X-Men. When I came back to Marvel in '98, I didn't want to go anywhere near the X-Men. I didn't want anything to do with the X-Men. I'd done the X-Men. Let someone else play with them. I didn't want to deal with all the new continuity of the new characters. There was no way I could go back and pick up where I left off because that would disenfranchise everyone who had been reading it since then. So for me it was better was leave it lie and play with other toys. And the FF was just too cool.
CB: It must have been fun in a way to get back and write a completely different set of characters on a whole different approach to their world.
Claremont: Absolutely. And to try to invent new elements to the cannon, like Valeria.
CB: Right. She's lasted for all these years now.
Claremont: I have no idea. I can't even remember who took over after I did, after Jim came in. But all the stuff that I created for it vanished basically after I left, which seems to be usually the case these days.
CB: But this is comics. Everything comes back eventually. It's funny how the industry evolves.
Claremont: Yeah. And all the old plots that I got rejected suddenly end up manifesting as real stories.
CB: I was thinking as you were describing the Magneto arc, we've seen that a couple of times now I think.
Claremont: Yeah, and the bit with Wolverine and you know, it's the nature of the beast. That's a discussion better held with Joe or with Axel.
CB: Absolutely.
Claremont: As far as I'm concerned, I'm on the outside looking in and my opinions are no more or no less than those of any other fan or any other reader.
CB: But you have a certain amount of credibility after forty years in the business I guess.
Claremont: Oh no, it's not a question of credibility. It's a question of… If you want an answer, talk to the guys who actually make the decisions, not to someone who is drawing conclusions based on what is seen on the websites or in the comics. That's all.
CB: It's been a real joy talking with you. I've tried to catch up with you at various conventions and your lines are always so long that it's not a chance to come up and shake your hand.
Claremont: Well, it's a dirty job but someone has to do it.
CB: Must feel good to have your name still out there like that. I mean, you are a man whose work is beloved.
Claremont: I'm not going to complain. And my stock answer, I'm afraid, is I'm not done yet.
CB: So that leads me to a great next question: what should we look for these days?
Claremont: At the moment just more Nightcrawler.
CB: Okay.
Claremont: That's really the only thing I'm working on for Marvel.
CB: Are you writing any novels these days? Are you doing any straight fiction these days, any prose?
Claremont: Yeah, but the thing about comics is you write them and in far too many cases, three weeks later they are on sale. That doesn't happen with novels. So it's basically keep on chugging. Finish a book and then find a publisher, then hope to God they are feeling generous.
CB: Well, thank you again for your time. This was an absolute joy.
Claremont: You are more than welcome.