One of my favorite interviews at San Diego Comic Con was with the delightful Gigi Edgley. A star of Farscape, Jim Henson's Creature Shop Challenge and The Starter Wife, Edgley was one of the most charming and professional people I've had the chance to speak to.
---
Jason Sacks for Comics Bulletin: I am here with Gigi Edgley, who's well known for Farscape among many other things.
Gigi Edgley: Yes.
CB: How did you get involved with that show?
Edgley: Many, many years ago I auditioned for the Henson Company. They asked me to become a part of their beautiful family. I was actually on meant to be on the show for one episode. I really enjoyed the character. I ended up living on Moya for over five years.
So it was fantastic. I am a huge fan of the Henson Company. I've always been obsessed and mesmerized by The Dark Crystal and by Labyrinth. So to be invited to be part of that world is absolutely magnificent.
CB: You call it a family. They really do treat you like a family member. That's wonderful.
Edgley: A hundred percent. It's not like you are working for a production company. They welcome you with open arms. So I was even more extremely blessed when they invited me back to host Jim Henson's Creature Shop Challenge recently, which was on Syfy and rated one of the highest television shows for a certain demographic, which was beautiful.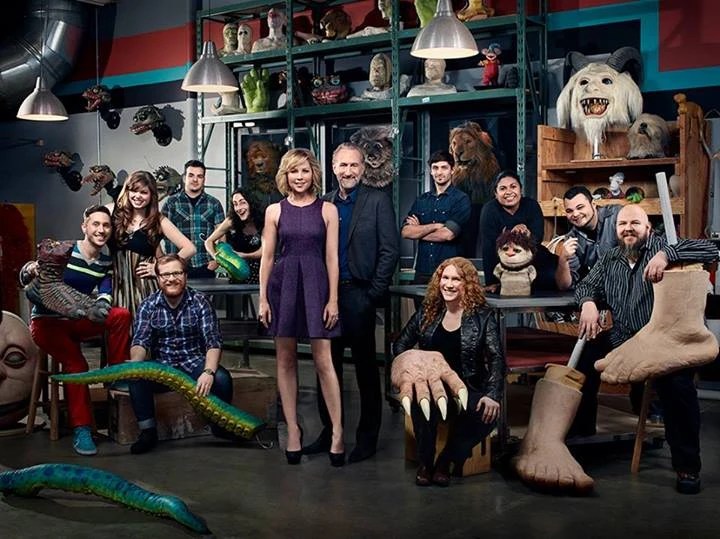 It was very exciting because you could actually for the first time see inside the Creature Shop, which is so special. We've all been influenced by the Henson Company growing up, whether it be Kermit the Frog or The Storyteller or Fraggle Rock. The list goes on.
So it was actually an amazing chance to see behind those hidden doors into a crucial part of all of our childhood. When I was looking at the script and everything when we set the challenges, I would walk through the hallway and literally see the making of Kermit the Frog and Where the Wild Things Are. It was just quite a surreal experience. I make sure to always enjoy coming onto the set. So I could see them putting on the very, very last finishing touches and just really take a minute and enjoy every single moment of it. I was so blown away and so appreciative that they even thought of me to be involved with that production.
CB: It sounds like you really have a deep love for these characters. I do as well, the Henson characters in particular. But your Farscape character, what did you fall in love with her?
Edgley: I loved that she was an invitation for me to really explore everything that I've grown up loving. There's a little bit inside all of us that's a bit crazy and is a bit wild. I got to embrace that. It was so awesome because it's not like it was a cop or a robber or a doctor or a lawyer. It was an alien. So there wasn't a carbon copy; I could completely invent her from scratch. So I really, really wanted to be an alien. I didn't want to be a human in alien makeup. So that was very exciting for me. As I said before, I've always adored anything Henson.
All of their characters are so intricate and so complex and so in depth. I wanted to make Chiana fit in seamlessly into the world of Henson.
CB: I think that's part of why people love that series so much and why it's so beloved. The characters are so rich and the world is so rich.
Edgley: Extremely well written. It approaches topics that taboo. They really gave all of us a lot of trust. They let us improvise a lot. They let us really run with the characters. They believed that we knew these creatures inside out. So that was very refreshing when a production company allows you to do something like that.
CB: Are there any moments in that series you especially love?
Edgley: Every single moment.
CB: Every single moment?
Edgley: Every single moment. It was just such a blessing. I lived on a space ship for five years. I'd read the script at night and wander what this new species would look like and what this new space ship would look like and what the creatures on this planet would look like. It was just like being a kid in a candy store really.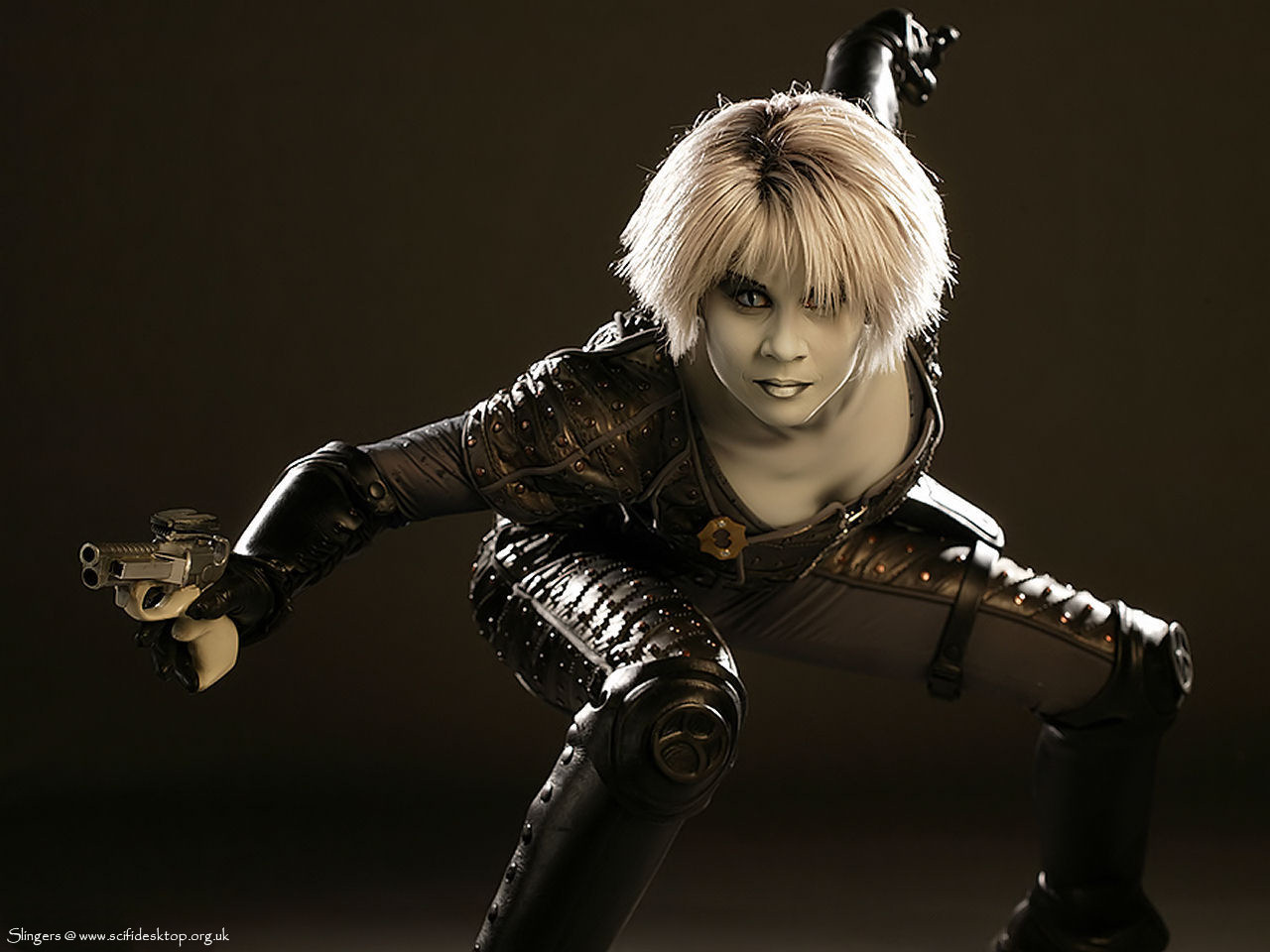 CB: People still love the character, too. Your line was very long earlier. It was flattering.
Edgley: Yeah, it's been refreshing. Now it's on Netflix and now it's on Hulu. I think that it's been fantastic with The Jim Henson Creature Shop Challenge that my younger fans actually now come up and get to watch Farscape; they only know the Creature Shop Challenge. So that's kind of interesting as well and so exciting.
We did a panel here yesterday. We walked up to the panel room and there's a huge, never ending line. I thought, 'Wonder what panel this is for.' And it was our panel! So it really has reached a lot of people. Endless families and endless parents come up to me going, "It's so good because it's a show we can all watch together and we love it." The parents love it and the kids love it. It's like a kid's show you have to sit through. It's phenomenal.
CB: And the characters are so fun, like I said, and so interesting. You got to play a strong, female, alien character, too. That must have been exciting.
Edgley: Recently when I came over to shoot the second season of Creature Shop, which at this date is not getting picked up so I moved my whole life to Los Angeles and then I thought, 'What am I going to do now? The show is not happening.'
So we did a Kickstarter and we raised over $44,000. We made Hashtag, which is this sensational script that we wanted to take Sundance and Con and Toronto. It's about a online medium maven that is completely obsessed and lives in a world where she is totally demoted by modern technology. There are eight hundred million followers. It's pretty much us in fifty years time.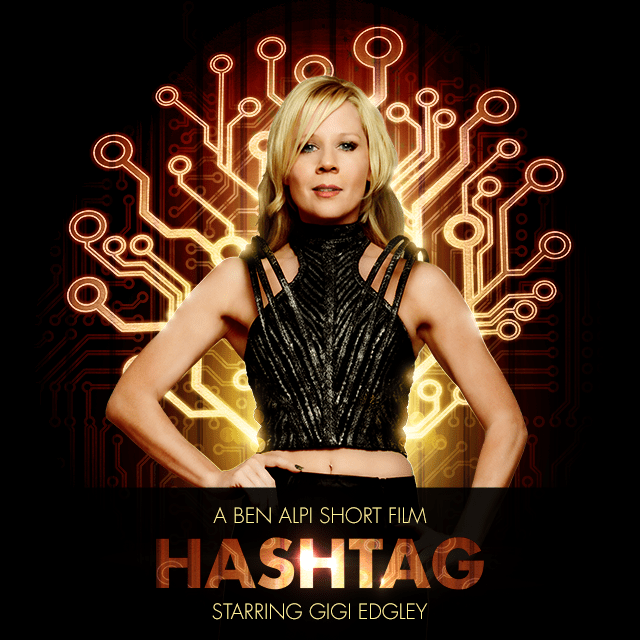 So it was a really strong and intelligent comic about where we are heading with the Internet, Facebook, and Twitter. So we just finished shooting that, which is really exciting. My latest little project is a model of Jimmy Diggs, who is one of the most successful freelance writers on Star Trek. He's asked me to involved in Star Trek animated series where he wants to add capture. So animate myself, Derek Wong, Vernon Wells, Mira Furlan, Tim Russ in motion capture.
CB: Oh, wow! Interesting.
Edgley: Yes. We're going to do an Indiegogo. I think we are going to launch around October. So that's my new baby at the moment. I also sing. I write comic books.
CB: That's what I hear. I have to ask about the comics.
Edgley: Yeah. Blue Shift is still happening. It's hard because all of us have life that goes on. The group that I am doing it with, we do it for the love of it, but life sometimes gets in the way. So it's all still happening. Actually we got all the artwork done and it's being colored. Now we'll have to sit down with Brian Meredith and put the story into the bubbles. We're that close.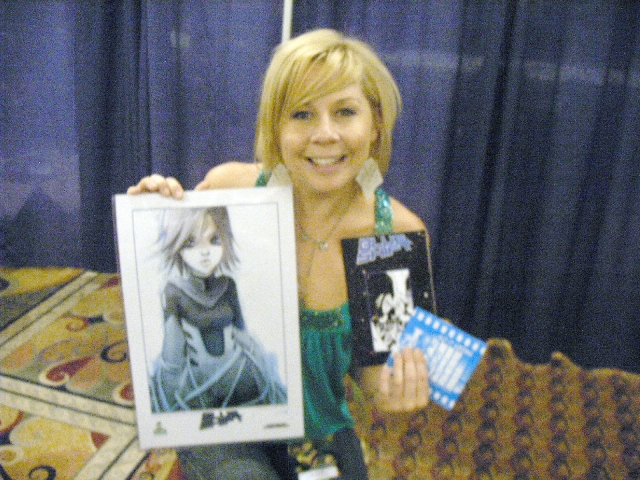 CB: Okay. What's that series about?
Edgley: It's about a girl who gets into space and who travels through the unchartered territories. But if anyone wants to keep an eye on my adventures, the conventions I go to, my website, gigiedgley.com, has a link to my Facebook and my Twitter. I would invite everyone that has helped me along the journey to come and join my travels throughout the uncharted territories of equal Earth. You can login there and check me out and see where I'm traveling and the latest projects.