I've been a fan and friends with Arnold and Jacob Pander for a long time, so it was a treat to catch up with them at this year's Emerald City Comicon to talk their history in comics and their new book Girlfiend.
---
Jason Sacks for Comics Bulletin: You just kind of fell into comics, then? 
Arnold Pander: Yeah.
Jacob Pander: Well, I mean we were drawing and were doing comic books in the school newspaper.
A Pander: We had our own little paper and we were doing graphics locally. And D had drawings up at the comic bookstore. We had illustrated some local free press stuff. So Matt came across that and saw a book signing and invited us. We were totally into comics and movies and drawing and everything. So it was just great intersection.
J Pander: But we were already doing a lot of like rock posters and album covers and graphic design and getting into fashion. So that's why Grendel had some of those influences.
CB: Oh, yeah. That really made it stand out. It was like one of the few books where people actually dressed in fashion. Future specific fashion, too, which kind of was really-
A Pander: Yeah, kind of thinking about what it's going to be. I mean it is 80s to the hill, but trying to be sort of speculative at the same time.
J Pander: Flying whatever skid boards.
A Pander: Yeah, flying phones.
J Pander: Flying phones.
CB: That's next, right?
A Pander: I think so. Drones, hello?
CB: You could probably buy an app. 
A Pander: Drone phone.
J Pander: You could drone on forever. Oh, yeah, Jacob's dirty secret is he's the pun master. They sneak up on you.
CB: Were you guys always drawing together then? 
A Pander: Well, not always. Early on, I was just trying to play catch up because I'm the younger brother. So Jacob is doing these amazing kind of pent up drawings of women based on sort of Alex Raymond inspiration, Flash Gordon, sort of classic.
J Pander: He was a big hero of mine.
A Pander: Yeah. So I was more drawing the superheroes from just reading Marvel comics. But Jacob had such a natural ability to do these beautiful drawings. I was just trying to catch up. It wasn't until we did the school newspaper. We did this comic called Gamma World for our school newspaper. We would draw the individual panels. I would be like, "This is my panel." And then he'd be like, "Well, I drew this panel." And it just got to the point I said,  "We can't sign each panel. We both worked on this. We both worked on that." So that is where Pander Brothers came about. It was kind of out of sheer practicality.
J Pander: We've actually posted some of those school newspaper drawings on our Facebook page, Pander Bros Comic's Facebook. So Gamma World.
CB: How does it feel looking at that stuff after all of these years?
A Pander: Well, it's a trip because in some ways it's very permitted, and in other ways, we see the seeds of a lot of things would go on to do. So there was a lot. For being basically young kids, there was some pretty interesting tells in it of where…
J Pander: Breaking through panels.
A Pander: You see it in Grendel eventually, other stuff.
CB: I don't see any Alex Raymond in your work.
A Pander: Well, if you look at like the last page of Grendel, of the Devil's legacy and the city in the background, it's total Flash Gordon. 
J Pander: There're sort of deco moments.
CB: Yeah, maybe it's the deco, the kind of Europe future deco on top of it. 
A Pander: Yeah, future art deco.
J Pander: I mean a lot more influence has kind of piled. And then Arnold really excelled at the finger drawing. Once it kind of clicked in, it was kind of like on a DNA level. Arnold really just leapt forward. So a lot of the finger art now is Arnold's work and I'll do a lot of the art texture backgrounds and stuff like that.
CB: Okay. You kind of fell into this pattern. 
J Pander: Yeah, almost a system really.
A Pander: And Girlfiend is really interesting because now it has become a little more seamless.
J Pander: This is the first book we did all digitally, which unbeknownst to us it would make the collaboration even more seamless and integrated, which is kind of interesting.
A Pander: Yeah. Again, out of shear practicality, just the layers of drawing that needed to happen. Jacob actually did more on the figure side because he was doing a lot of the breakdowns. And those breakdowns, because we could just import those breakdowns from a small notepad that was very rough and very raw, it was really easy for me build-
J Pander: Build a pencil layer on top of that.
A Pander: Yeah, pencil layer from that. And really use that as the sort of foundation. So just Jacob's layouts I think informed a lot of the figure art as well. And of course I got to the point where I was like, "I'll do these backgrounds. You do those backgrounds." So this time around I feel like we were sharing more of the animate and the inanimate if you will.
CB: That's cool. I'm not sure if I can think of any creators who have this kind of very organic relationship. You almost have to be brothers to be so connected in a way.
A Pander: I think maybe.
CB: You've got that trust and everything, too.
A Pander: I think there're friendships that are in the same level. And certainly when you have maybe some couples or whatever. But it's pretty rare I guess. Most siblings from what we hear hate each other.
J Pander: Well, it has evolved over time.
A Pander: Yeah, definitely.
J Pander: I think being thrown really into the fire at such a young age and drawing so many pages of art right out of the gate, it almost was like a crash course in process focus.
A Pander: And in collaboration.
J Pander: Yeah, and in collaboration.
A Pander: So maybe getting started at that young age. A lot of growing up together we would fight over the front seat, the classic. And then our mom would say, "Hey, look. You are both going to sit in the back seat unless you can trade off." And that kind of cooperation I think eventually informed us to be able to collaborate.
CB: Right, right. That was always my thing, "You make the rule. If I have to make the rule, I'm going to make it the wrong rule. You won't like it."
A Pander: Yeah, that's right. So you have to sort of earn your freedom I guess. In that sense, we still negotiate. We have it out in terms of ideas and methodology and strategy on many levels.
J Pander: But I think that expedites refinement. Because we're so used to going at it, we can definitely kind of propel refinement in the work and even storytelling writing process.
A Pander: Yeah, we hash it out.
CB: And I'm sure in digital form, too, you can go back and forth between different ideas. 
J Pander: Yeah, it has a little more of an organic feel. You can really experiment a little bit more rapidly and kind of look at different ways of doing a page or laying something out.
A Pander: Really we can kind of just do everything quickly in a way.
CB: You've been working with digital for a while, but never quite at this level, right?
J Pander: We've been doing stuff in digital and film animation.
CB: Yeah, you have kind of mixed media stuff.
J Pander: Yeah, mixed media approach with say Secret Broadcast. We've actually been digitally remastering a lot of back catalog and coloring, stuff that was originally printed in black and white.
A Pander: But we've always had a kind of graphic design side to what we do in film making and branding.
J Pander: But most of the drawing has been on paper.
A Pander: Yeah, the drawing has in a weird way, it was traditionally on paper, it was almost like coming back to this medium where we just sit and draw. And by virtue of working in MangaPro and on the SimT tablets, we've kind of in a way bringing the comic book art process to the level of our other media that we work in. So it's kind of brought them together and brought more harmony between them instead of living these kind of two different lives and two different careers. J Pander: Two different centuries.
A Pander: Yeah, two different centuries. Kind of yeah. It feels like the drawing now can be more symbiotic with our media work.
CB: So what is Girlfiend about?
A Pander: Well, do you want to take that?
J Pander: Girlfiend is a kind of Edward vampire thriller about a rural, runaway vampire who goes to the big city, Seattle, which is where we decided to premier our book this weekend. Just looking for love. Basically looking to live a normal life, kind of escape her dark, conservative vampire family's ways and wards. So she ends up in the big city and ends up in a kind of cataclysmic way meeting a morgue attendant.
A Pander: Who is a mortal.
J Pander: Who is a mortal and a heartbroken one at that. He's been dumped. And so when they meet, it ends up being love at first sight. But he soon discovers that she's in fact a vampire.
A Pander: And once the honeymoon phase is sort of over, it's like, "Well, she needs to eat." And he sort of comes into ethical conflict with her-
J Pander: Killing people.
A Pander: – killing innocent people on a daily basis. So as the story unfolds, there is a sort of a crime gang that is on the run. One of them ends up in the morgue and gives Nick the idea that Karina might be able to feed on this criminal underworld as a way to kind of rationalize it being okay for her to feed, to take a human life.
J Pander: It spirals out of control and into very chaotic adventure.
CB: Is there a big criminal underworld in Seattle?
J Pander: Well, there are underworlds.
CB: They're under the world, okay. I keep wondering if these could be my coworkers.
J Pander: No, this has a bit of a Tarantino feel.
A Pander: It's kind of a bunch of messed up, low-level biker gang screw-ups that they go in.
J Pander: They basically are their own worst enemy already. And so in that sense, they're kind of low on the food chain.
CB: Okay. So just doing society a favor then.
J Pander: Exactly. But in that, of course that brings the authorities on to them and they go from hunter to the prey.
A Pander: And often stupid criminals are the most dangerous criminals.
J Pander: That's true.
A Pander: So, you know, they've stepped into desperate territory.
CB: As in life in general, right?
A Pander: Yeah. But we do allude to some other mystery characters that are behind the criminal element. And also we've done some contemporary updating on the vampire myth to kind of bring our own twist to the world that Karina embodies.
CB: Okay. So I'm trying to imagine vampire tribes in Wenatchee or Poulsbo or something.
A Pander: She lived in Montana, yeah.
CB: Okay.
A Pander: Kind of up there in the woods . That's the side of the story now that is a little bit of a backstory element, although the family is coming to find her. There's a lot of layers that kind of specialize in that sort of thing. As the story unfolds, the other players, the other interested parties that want Karina taken out sort of come to the surface.
CB: I can tell you guys had a lot of fun with this project.
A Pander: This has been a fun project. We wrote it a while back. It has kind of been on the shelf for a while. We were like, "God, this is such a beautiful, fun, playful story."
J Pander: But the vampire thing kind of took off and it kept our interest. It was hard to sell it.
A Pander: It was hard to do a vampire project. But finally, we were like we had to do it.
CB: Really?
A Pander: Well, yeah, just because it was really over-saturated. But we decided to do was draw the first eighty pages, just start digitalizing it. And then we brought it to Mike at Darkhorse and he saw. He was like, "This looks like a blast. Let's do it." And so it's the first graphic novel collaboration that Arnold and I have done in ten years.
J Pander: Since Batman: City of Light.
A Pander: Yeah. It's been fun. I think the fact that we drew it digitally we were able to draw a lot faster. So I think for us it was really entertaining to draw because we were seeing results so quick. So we were kind of getting quick gratification as we plowed through.
J Pander: Well, we were able to see it come to life in a way that inspired us to keep going, to get it done.
CB: That's fun. It's a nice, thick graphic novel.
A Pander: Yeah, it is.
CB: So you got about halfway through and then had the publisher finish the first art so to speak?
A Pander: Yeah, pretty much got the first act up and running, sort of the main characters in play. And then really once it was a go, we just really dug in even deeper and really got in to other characters.
CB: Do you guys have a certain favorite character or scene in the book?
A Pander: Oh, gosh. There're so many great scenes.
J Pander: It's a lot of fun.
A Pander: It's very cinematic in the way it unfolds.
J Pander: There're a lot of great twists and turns.
A Pander: There're some good scenes, but there're also great scenes with Karina and Nick because each time they go out to hunt, it almost peels away another layer of their relationship.
J Pander: That they have to confront.
A Pander: That they have to confront. So those kind of hunting rituals become kind of like another layer of their relationship, another level that they take things to, another extreme if you will.
CB: It's very symbolic of the way a relationship grows anyway, without the fangs, right?
A Pander: That was kind of the spirit of it. It was like, "Let's tell a story about two people from two different sides of the track and how do they make it work." That's it at its core. So I think on level it's very high concept, but on another level it's a really relatable relationship story.
J Pander: I would also say, to answer your previous question, the finale. It's all about the finale.
CB: Okay. No spoilers.
J Pander: No spoilers.
A Pander: Pay off!
CB: Okay.
A Pander: Maybe that is a compound word, I don't know.
J Pander: You would know.
A Pander: I don't know. Okay. Let's just say it's a lot of bang for your buck, though, for one graphic novel. We hope that the ending is a payoff because there is a lot of build up to the climax.
CB: One thing, you guys are always ambitious. You always have a few things going on. You always want to take on the larger projects, whether it's multimedia or the full graphic novel or whatever it's.
A Pander: I think we egg each other on a little bit, like "Let's take this to the next level. Let's do something new. Let's take a chance." And risk taking has always been in our nature I think, for better or for worse. We don't have that franchise character with kids lining up a mile long. But that was because we made choices early in our career that we were really based on whatever the creative inspiration was at moment. And it opened us up to a lot of really great creative opportunities, but it didn't really position us well in the industry per-se.
CB: I have a question about that because I'm writing a book about the comics in the 1990s. And one of the things I came across was Exquisite Corpse, which I had forgotten about. How did that come about? It's a very different book from what you have done before.
J Pander: Really, prior to that it was Ginger Fox, which was probably the most light of all of the works we've done.
A Pander: And really a kind of explosion of experimentation that we wanted to do in Grendel, that we were doing in Grendel.
J Pander: But we still had to work within the formal bounds of the universe that Matt was creating.
A Pander: And even so he allowed us a lot of liberty, whereas Ginger Fox we were unbridled. And I think as a result, that story suffered from neglect on multiple levels. It didn't have the time put into it. There was a lot of pressure to get a follow-up book out from us. Mike Baron was stacked with a number of projects.
CB: Busiest man in comics at the time.
A Pander: He was at that time. He was just not at the top of his… You know, but still we worked with him to kind of devise a plot and made it a little bit more farcical in a way. And just had fun with it. Made it like more like Hollywood Babylon.
J Pander: It was like the wild, Wild West.
A Pander: Yeah. So I think by the time we got to Exquisite Corpse, we were really ready to dig into something psychological much deeper.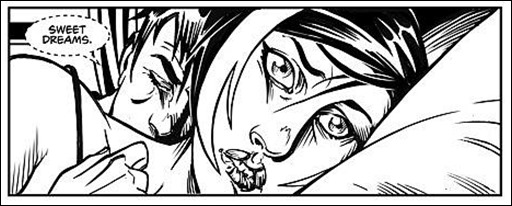 J Pander: What I was going to say, too, is with Corpse, in way, that's the origin project with us and Darkhorse. Darkhorse blew up in Portland. They're right in our backyard. But our first big opportunity was out of Philadelphia, Norristown, Philadelphia with Kamiko Grendel. And then that blew up real big. And then I think there was a period of like, "Wow, these guys are right here, but they've picked this other company that's going on." So at the time one of the editors out of Darkhorse had written Exquisite Corpse. They were interested in getting that project to us.
So one of the folks out there, they got us the script. It was such an interesting experimental work because design… Basically Exquisite Corpse is a story about the psychosocial evolution of the serial killer. It came out in three issues, no numbers on any of the issues, and they all came out the same day. And so the reader wouldn't necessarily know what order to read them in. And based on the order they read them in, one reader may come away with a very different moral conclusion than another reader. And that to us narratively was super exciting, very intriguing. And in fact when Arnold and I read it, we purposely read it in different orders. We both had very strong, sort of different ideas.
A Pander: You might feel more compassion toward the protagonist or might find him to deplorable. So that was, for us, like Jacob said, a great narrative challenge. And also it was very difficult subject manner in general because the periods of his life were very traumatic, although they were sympathetic to him because he was victimized as a child. To visualize that was very tricky stuff. We had to really walk a fine line. And we wanted it to be a clinical thing, not an exploitative thing.
J Pander: So people could read it in a more objective way.
A Pander: Yeah, we decided to approach it more as almost a forensic drawing, crime scene imagery. It was also done against the backdrop of the defunding of National Endowment for the Arts and the big brouhaha around them. Censorship was definitely… So we were also being influenced by that censorship conversation. Somehow it connected and we decided to explore the idea that during the Nazi era there was a big push back against what was called degenerative heart and kind of German expressionism. So we thought, "Why don't we do this piece influenced by the style of German expressionism?"
J Pander: Like George Grosz and Otto Dix and a lot of what were considered degenerates of the Nazi era.
A Pander: Persecuted artists. So we drew it in that.
J Pander: The artists that were forced to escape Nazi Germany.
CB: They weren't glorifying the State, right? They were bringing in doubt.
A Pander: They were the doubt, uncertainty, and the truth that lies between.
J Pander: Dark introspection.
CB: Right. You've got this other echo in history, too. By presenting art that it's influenced by them, you are also getting into the postwar or the mid-war period between World War I and World War II, the decadent era. So there is a whole other element of indulgence.
A Pander:  Yeah, which is the character himself in a way. He's a victim who then ends up becoming a murderer and victimizer, as it were. So there is kind of a parallel with him as well in that sense. In that sense, it made such a complicated subject to take on in graphic novel form, in a comic book form.
We thought this is a really important thing to do not as populist mechanism to create some sort of franchise or popularize this character or exploit the subject manner, but really just to show the power of the comic book medium and how it can do something that can be compelling, but hopefully open minds to a subject that is very difficult that might stimulate a positive conversation. So it was banned in three countries.
J Pander: Yes.
CB: That's the thing. It's a very bold choice. You came off Grendel, which was a pretty big hit. You could have done almost anything, and you did The Ginger Fox book, which was certainly on a little bit of an edge, not a mainstream book. And then you went completely off the mainstream.
J Pander: Oh, totally. Well, it was interesting. We didn't really have any major comic book or business mentors. And we were really young, so we were very drawn by our reactions and responses to the cultural era. So a lot of the stuff was fueled by a kind of gut.
A Pander: And sort of counterculture influences. It was in the industrial era. We were reading Research magazine and listening to industrial music, surrounded by extremely intellectual peers that were very questioning of capitalist virtues and the status quos. So we were definitely being influenced by a counterculture ethos. That really set the tone for the kind of choices we were making, risk taking. But also then it really became even more political with XXX, which was our sort of big adventure.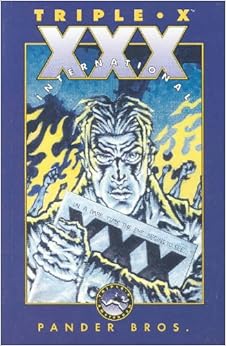 Sort of Tintin in the future. But then as that project was unfolding, the whole war was exploding with the Gulf War. That became almost the political tone of our time as well. So we were very much swept up in the times. And that was immediately impacting the kinds of stories we wanted to tell and comic books we were involved in.
J Pander: And in that sense, all of those stories reflected a stage we were going through in our own kind of creative development. Because Grendel, we were living that life in fashion, the eighties, and new wave music. But then by the time we were drawing Exquisite Corpse and XXX, it was more grunge and dark industrial. We were living in Amsterdam doing art.
A Pander: Hanging out in clubs with squatters. It was a very exotic experience. And the reality is we were still in our early twenties. So all of what we were doing was between the ages of eighteen and twenty-eight.
CB: And at the age when you want to feel like you are blazing your own trail, creating a new world.
A Pander: Yeah, exactly.
CB: And everything at that point really felt like it was on the edge of becoming something different. We were all living under the shadow of the bomb, too, so there's an impending fear of the world blowing up.
A Pander: So what do you have to lose? To tell you the truth, I think a lot of what we were doing at that time collectively with the music scene and the sort of counterculture influences that seeped into comic books, we were really part of a crossover. Indie comics were sort of taking those underground values and making them more populous with the mainstream. That was the power of the pen at that point. That did drive us forward.
I think collectively it did have an impact. Pop culture evolved very much in continuity with a lot of these counterculture values of GenX that have become the new normal. You look around now, everybody's got a tattoo. People are walking around living their fantasy or the lifestyle of say steampunk or cyberpunk. These are virtues that really came out of saying, "Hey, we can be our own community."
J Pander: Be our own tribe.
A Pander: We can be our own tribe. And comic books, music, movies- they faith feed us and we in turn, as creative people, fed our voice through that same pop culture sort of vehicle. In our case, comics and film.
CB: But you are right. That's the biggest change between growing up in the seventies and eighties and now. It's so much more of our culture to have this be a part of your world. Not in this, in that you have to be a comic fan or music fan or whatever. But just individuality is just prized in a way that never was prized before.
A Pander: Totally.
CB: I think it's exciting.
A Pander: It's exciting. I think that is in one way what has drawn us back doing comic books with Darkhorse. It's really, really engaging this super creative side of our selves. We have also done film directing, commercial directing for brands, but I think in our heart, it's really about telling human stories in a compelling way, entertaining way about the human condition.
CB: Or inhuman stories, right?
A Pander: Totally inhuman.
J Pander: Humans are overrated.
A Pander: Superhumans.
CB: She's the ultimate freak?
A Pander: Yeah.
CB: Actually she's a great symbol of what you are talking about, though. Ran away from her family, wants to set her own life, free to love someone who is a different sort of person. In a different world, that would be like a Romeo and Juliet story headed for disaster.
A Pander: Absolutely.
CB: Now it's just a modern relationship. They're two different people who have so much in common.
A Pander: Exactly. And it's universal conflict. A lot of the elements of this story were born out of our own personal lives.
CB: I hope you never had a girlfriend who had spiked teeth who would suck your blood.
A Pander: I can't talk about that.
CB: Okay.
J Pander: Metaphorically maybe.
A Pander: But, I mean, you have to write from those kinds of experiences. It's true that we spent a lot of our early twenties living in a kind of a hyper real existence of being paid to draw comics and write comics and be able to express our views through this incredible medium. And then there was a point where it's like, "Oh, we're not the popular kids anymore. We're not the new kids on the block. We don't have our franchise character."
J Pander: And also we wanted to do –
A Pander: That is what I was getting at, yeah. We wanted to explore other areas and film was one of them. We liked a lot of those interests. That's when we really shifted into more movie making in the early 2000s.
J Pander: We spent about a decade focusing pretty heavily on that. But we're back in comics now.
A Pander: Yes, exactly.
J Pander: And who knows. It feels like you are watching a movie when you read it.
CB: Who knows, you could be directing the movie at some point.
J Pander: Make some popcorn before you read it.
A Pander: That's right.