Recently I received an advance PDF for Nathan Edmondson's new comic Genesis. Nathan and I have been comics friends for several years, and I've enjoyed his work from Who is Jake Ellis to Olympus to Black Widow. But though I knew that Nathan has a probing mind and a deep passion for the metaphysical, I wasn't expecting the power and beauty of Genesis. Appearing in comic shops in April, and in this month's Previews, Genesis is beautifully illustrated by Alison Sampson. As you'll read, Alison is an architect as well as a cartoonist. She brought a fascinating and different approach to her work on this comic, which makes it something very special. When I received a request to interview Nathan and Alison, I jumped at the opportunity to have this fascinating conversation.
---
Jason Sacks for Comics Bulletin: Genesis is a very unique comic. How did you formulate the comic?
Nathan Edmondson: Genesis has been the most stream-of-consciousness approach to a story I've ever attempted; my sense of the final turn in the story was much less plotted out than in, say, one of my spy stories. It felt more appropriate to let the story move as organically as possibly in the storytelling. It was in that sense a very experimental work that simultaneous to its brevity and fantasy has a very simple and direct character's journey.
CB: Was it created from the beginning as a collaboration between the two of you?
Edmondson: I had tinkered with Genesis for a few months or more in some way or another before even approaching artists; I spoke with one or two more but no one seemed to have the right fit or vision for it. I saw a drawing that Alison did of her studio, I believe it was, and upon reading about her background as an architect I was intrigued to have someone with that skill set show a world be torn apart and put back together.
Alison Sampson: Nathan approached me, explained his ideas, we talked about those a little, I drew a series of sketches, and then after the fourth, Nathan produced eighteen pages of script and I drew that, without us having further discussion. Nathan said I was entirely responsible for the art and I thought fine, I can own that. Although in my work I'm used to a lot of back and forth, and a lots of communication, I do see this as a true collaboration. I was completely entrusted by Nathan with the ideas and his name and in return I took on a story that unfolded gradually. That's quite a big deal.
CB: How did you find each other?
Sampson: My first comic, 4 pages that I'd drawn and written, was called "Small World", and it was included in the UK anthology, Solipsistic Pop 4. I drew a world on the page, distorting and detailed. One of my pages from that fished up on Robot 6. Nathan saw that, emailed me, my contract was just coming to an end, and the timing was good. It segued straight into his/ our story, pretty much.
CB: This story reads like a bit of a parable. What does that parable mean to you?
Edmondson: I prefer not to preach the point to the reader as they're less likely to enjoy the story if they're at all points they're looking for it to speak to them. What the story is "about" is a man granted an impossible wish and how it changes him; what the "means," if anything, is up to the reader to discern.
Sampson: I'm really still too close to the work to say, but have had lots of thoughts about this. There are obvious parallels between our protagonist and any creator, and this comic is a rebus, as each page is. I think I'm happy to not to suggest anything- to leave it that this act of creation engenders another in the mind of the reader. Sometimes it is good not to read too much into something and just enjoy it, while it is there.
CB: Genesis spans all levels of human emotion, from despair to joy, and then to – but that would be telling. It has a wider range of emotions than we find in most comics. How did you approach creating this story, especially the art?
Sampson: I think communicating emotion is the most important thing in comics. Layouts were drawn at print size so I could think about the looks on people's faces and lay down some structure to the page, and I drew as much as I could from life. The backgrounds are entirely made up, trying to express the story, in form, light, framing and in ink. I think landscape and architecture can be expressive and useful in storytelling. I wanted to explore that here, but I feel I've barely scratched the surface.
CB: Nate, I know you've become well known for your espionage and adventure comics so Genesis is quite different from the rest of your work. What motivated you to create this comic?
Edmondson: My titles Olympus and The Dream Merchant exist if not in this space than at least on this side of the fence from my espionage and military work—the point being I have an interest in more fantastic and emotional and wild stories, and this was an opportunity to let loose and tell one of those.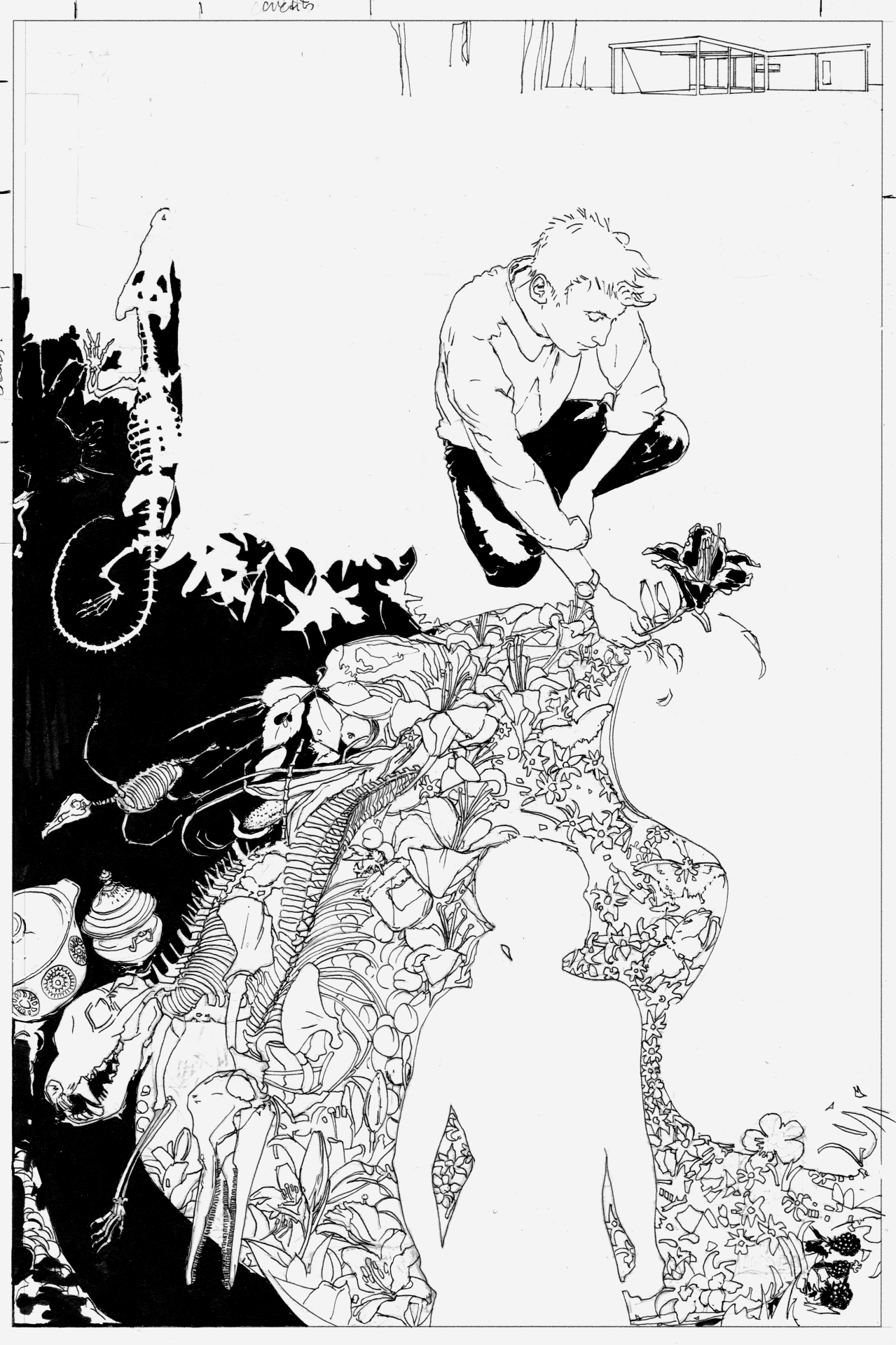 CB: Alison, did I see that this is your first comics work?
Sampson: It is my first comic beyond the four pages I described above, although since I started this I've done some other shorts, including for Spera, Image Comics' Outlaw Territory and IDW's In The Dark. You could say though, that the books we publish of our work in architecture, with story, dream, image and text, are comics of a sort. I've made those pretty much continuously, and their three dimensional inhabitable offspring, for quarter of a century. Comics and Architecture have a lot in common, at least where the art is abstract. We say anything can be engineered, any composition be made to work.
CB: Was this story created as a full script or did you have freedom to create these wonderful images?
Sampson: There was a concise full script that left lots of freedom for me (thank you for the compliment) and that suited me fine. I'd have liked a bit more space, but I'm sure any artist says that… constraints are an enabler. I had some fairly specific ideas about the mood of the pages and the look of the characters- I'd conceived it as a black and white comic- but working with Jason Wordie (who came in to colour when the line art was finished), these were transformed and the story evolved. When we were done, Nathan revised the text. To really understand the collaboration, you'd need to see the script (I've put one page and the related line art in the back matter in the book).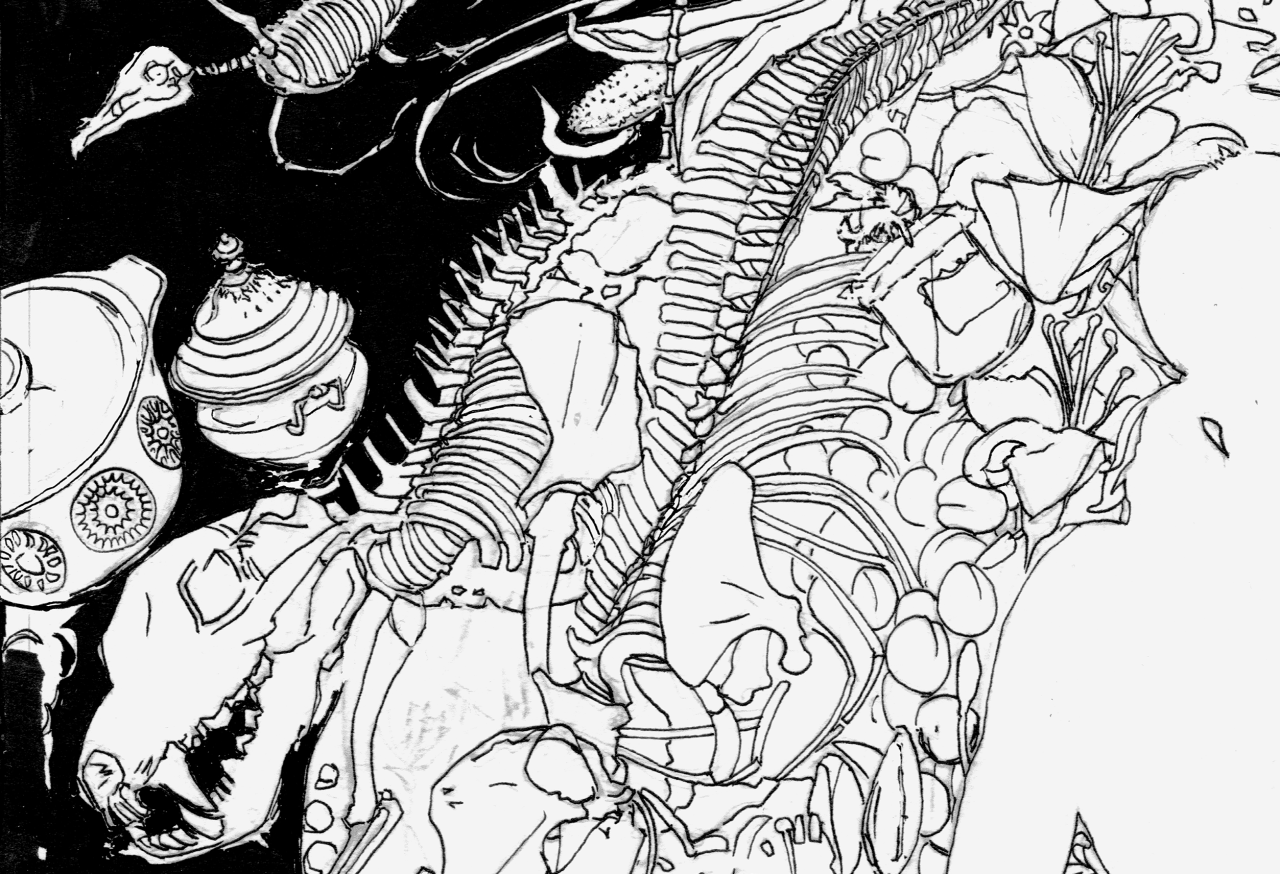 CB: If you had the power to do anything you wanted, what do you think you would do with it, and what do you hope you would do with it?
Sampson: I hope I'd just manage a better distribution of resources in the world- that would sort out war, hunger, disease, inequality, poverty, child labour, a whole load of crime. No big. Power always corrupts, though. I'd really like people to look out for each other a bit more, and I'd like to see more of my family and friends. My mum passed away a couple of months ago and I miss her terribly. Controlling people like they are things could never be good, though.
Edmondson: I'd get the squirrels out of the eaves for my house, for one thing.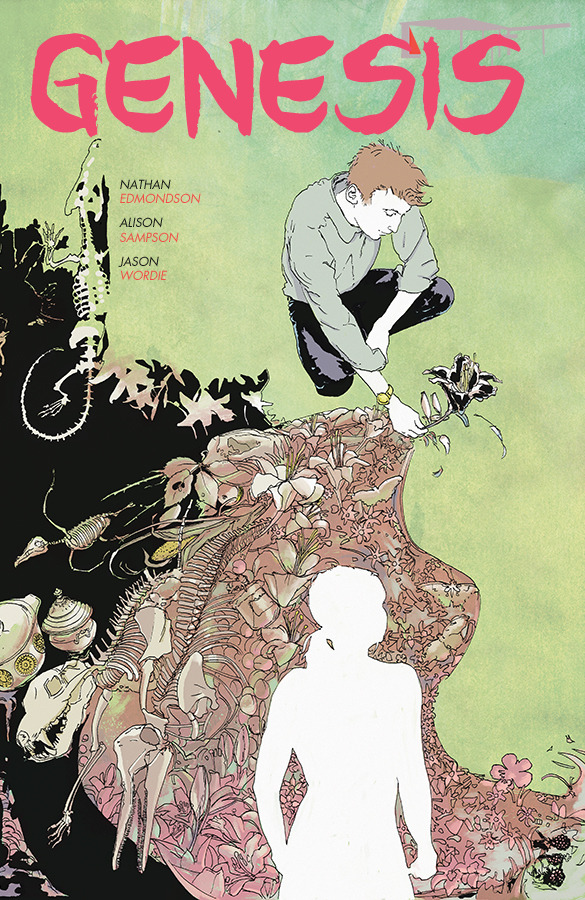 CB: What do you hope the public's reception will be to this book?
Sampson: Hopefully sufficient people will buy the book, to help me make another creator-owned comic, to the standard that Image expects. I hope people enjoy our book. I'm a big fan of the comic Pretty Deadly, which is progressive in its storytelling, beautiful to dwell in, and speaks to to broad audiences. That is something we aspire to, with Genesis, and I'd like the public will support more comics like this.
Edmondson: I hope readers enjoy it—that's about all I ever hope for from any of my books.