The best biographies bring their subject to vivid life on the printed page. Pénélope Bagieu does just that in California Dreamin', her profile of the brilliant Cass Elliot, the amazing voice at the center of one the great pop bands of the 1960s, the Mamas and the Papas. Bagieu's wonderful graphic novel tells the story of Elliot's life from her childhood — in which she was always singing — to her escape into music, her ups and downs and finally to the edge of her stardom.
I thoroughly enjoyed the book and was excited about the chance to interview Bagieu by email.
Jason Sacks for Comics Bulletin: Why did you choose to create a graphic novel about "Mama" Cass Elliot?
Pénélope Bagieu: I always loved her music, her voice, her persona and her image. There is so much to say about her! She would be a great subject to a biopic I would love to see. And since the movie doesn't exist, I made a book!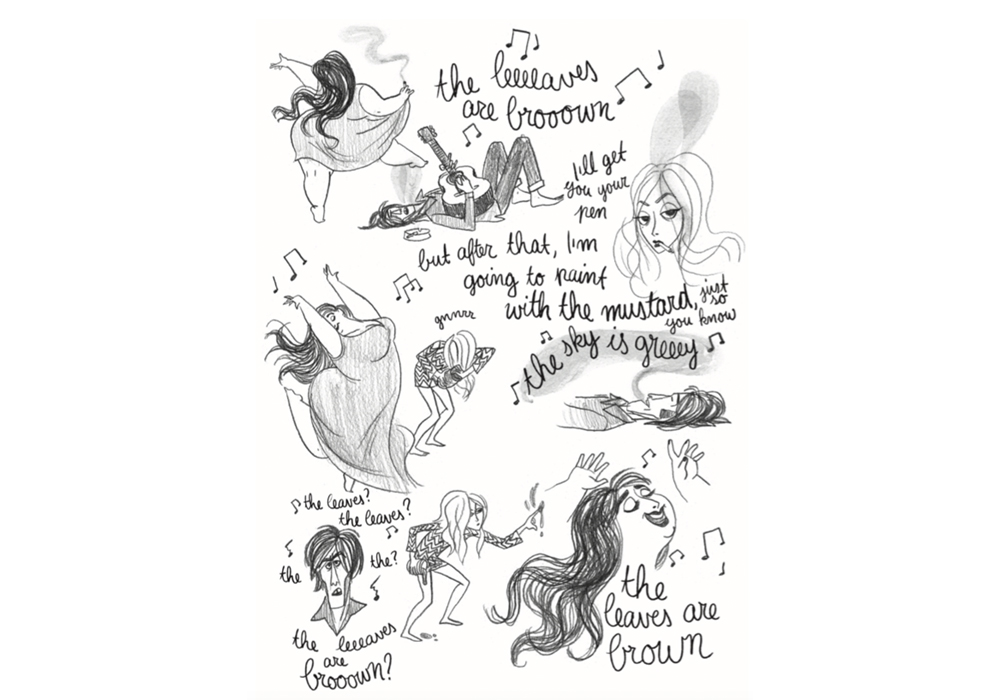 CB: What makes her life and career interesting to you?
Bagieu: Her kind of story doesn't age: She was given the wrong deal to begin with, and yet she persisted. She was born a chubby little insecure girl in a family who ran kosher delis in Baltimore, with parents who clearly didn't have time or money to foster a young career or pay for singing lessons. But what she really wanted was to become a rock star, and she did, even though so many people tried to step in her way. And she was hilarious, and touching, and smart, and bad-ass. She's the kind of strong woman we can all relate to, I think.
CB: Were you fan of her music before you started this book? Did creating this book help you appreciate her music more?
Bagieu: I wasn't a fan, I had a few records from my parents. But I listened to them a lot, at very different moments of my life, ever since I was a kid. And it is true that listening to her voice really helped me shape a clearer vision of "my" Cass, the one I wanted to tell the story of. And focus more on the emotions that show through her voice, as I had to try to figure out what kind of child, teenager and young woman she could have been.
CB: The beautiful Michelle Phillips is kind of a vacant enigma in your book? Is that how you see her?
Bagieu: Is she? To me she is not vacant nor a mystery at all. I truly see her as another victim of the unfair way to judge women according to her looks. So yes, she was beautiful. And yes, she wasn't given much to sing in her husband's songs. But from what I understand, she was a very smart young woman, often se
en as shallow (which she wasn't), good-natured and always supportive to Cass. It was necessary to me that their relationship avoided that trope of "the mean beautiful girl." They were very close friends, and even if Cass could have been reluctant at first, and suspicious, she really saw her as an ally.
CB: How did you conceptualize the world of the 1960s? Your take is very working-class and kind of run-down hippie.
Bagieu: I fantasized it, of course, cause I didn't really have a choice! Not only is it not my era, but furthermore it's not even my country. So mostly from what I've always seen through movies and TV shows!
CB: In a book like this, character design is very important. How did you approach creating these real people on the comic page?
Bagieu: My priority is always to make my characters alive, more than close-to-reality. What will make you turn hundreds of pages, laugh and ache with a character is clearly not the fact that they are similar to the actual person. What I usually do is doodle them until I love them, and am willing to spend a year or two with them (that is, drawing them). They have to be real people to me, so I can start working on their acting. And on the other hand, I want them to have features that will definitely remind of the actual people, for instance if you google them afterwards. Pretty much like you would cast actors, I guess. You wouldn't prefer a lookalike over a very good actor or actress.
CB: How are music and comics similar?
Bagieu: I don't know, really, cause I really love doing both. I suck at one, and I make a living out of the other, but I really need the two to feel happy.