Out of Nothing is one of the most emotionally affecting graphic novels I've read in quite some time, and I'm having trouble explaining why it touched me so deeply.
Written and illustrated by British artist David Locke with the writing help of David Blandy, this graphic novel from Nobrow Press chronicles the history of mankind. We follow a bright and curious blue-skinned emissary as she travels from the Big Bang and caveman days to the birth of art during the caveman era and the birth of modern agriculture all the way to the far future.
The most compelling aspect of this work is the grace Locke shows with his approach to the story. His generous artistic approach takes a long and patient view of human history, providing an almost magical sense of wonder at the curious and inexplicable long span of human existence.
We feel his bright-eyed wonder at the birth of humanity. We see ourselves in the face of our emissary, and we see ourselves as a curious child with worldly experience, as a worker at the printing press of Johannes Gutenberg and a visitor to Albert Einstein's bedside; as a friend of Pablo Picasso and Georges Braque and a friend of DJ Herc as he creates the first great rap mix. He delves into the conflict that Gutenberg stirred up with his printing press, and he's not blind to the obstacles mankind faces along the way, but the long view is fascinating and deeply moving, an affirmation that mankind is continually moving towards creating compelling art and culture that change our world.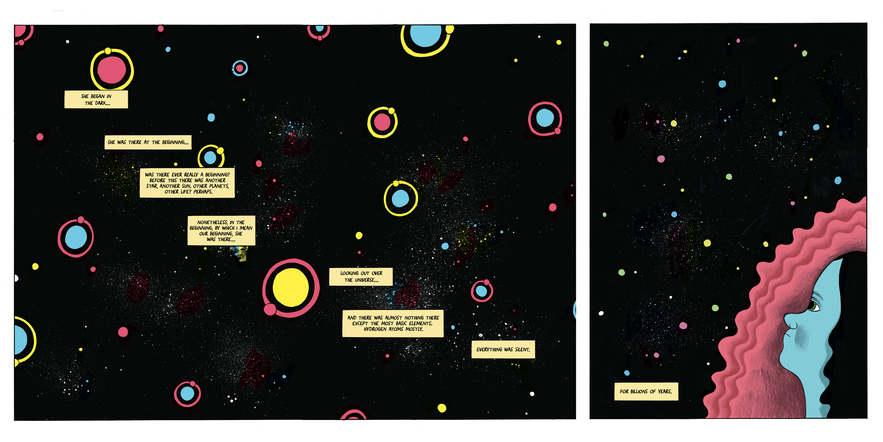 Out of Nowhere is an intoxicating and reassuring journey, illustrated in a beguiling style that seems childlike but which implies much more than it first seems. Locke favors thick lines and simple faces, but like many artists who work in a ligne claire style, the clarity of the line allows for clearer communication. Every line is in its place, and wrinkled foreheads and pinched eyes communicate volumes.
Of course, there's another reason a book like this feels so important these days. Our world has rarely had less grace than these Trump-obsessed days, when sincerity is frowned upon and honesty is a tool to be manipulated. Daniel Locke's Out of Nothing reminds readers of the important verities of life, providing a long view that shows that despite it all, mankind can still find grace in its own history.