"Tokyo Ghoul" is the debut manga of mangaka Sui Ishida, the winner of the 113th Young Jump Grand Prix contest in 2010. The series, a dark urban fantasy with heavy grotesque themes, was published in Weekly Young Jump magazine and is released in America by Viz Media. Joe Yamazaki, known for his work on titles like "Bleach" and "Slam Dunk", provides translation for this volume.
Set in present day Tokyo, "Tokyo Ghoul" paints a morbid alternate reality where normal humans live out their days in fear of cannibalistic creatures known as ghouls. Ghouls are able to blend in seamlessly with every day society by hiding their red eyes and tentacles–called kagune, literally "shining child"–which makes them appear completely human. However, for all ghouls, human food is nothing short of repulsive. Their stomachs turn at the thought of consuming anything other than, strangely enough, coffee and human flesh.
The story follows the everyday life of Ken Kaneki, a shy bibliophile of a first year college student, who one day finds that the girl he's had his eye on, Rize Kamashiro, surprisingly returns his affections. All seems to be going well for Kaneki, until it turns out that Rize's request for Kaneki to walk her home for fear of a recent rash of ghoul attacks was just a thin veneer of an excuse so Rize could feast on Kaneki's flesh. Yet by a strange twist of fate, a mortally wounded Kaneki survives Rize's attacks only to find that Rize—crushed by steel beams from a nearby construction site—is chosen as the organ donor to save his life. At first, it seems like nothing more than a horrific nightmare to Kaneki, a thing of the past to be forgotten. That is, at least, until he finds his appetite diminishing, replaced by a craving for which there's only one solution.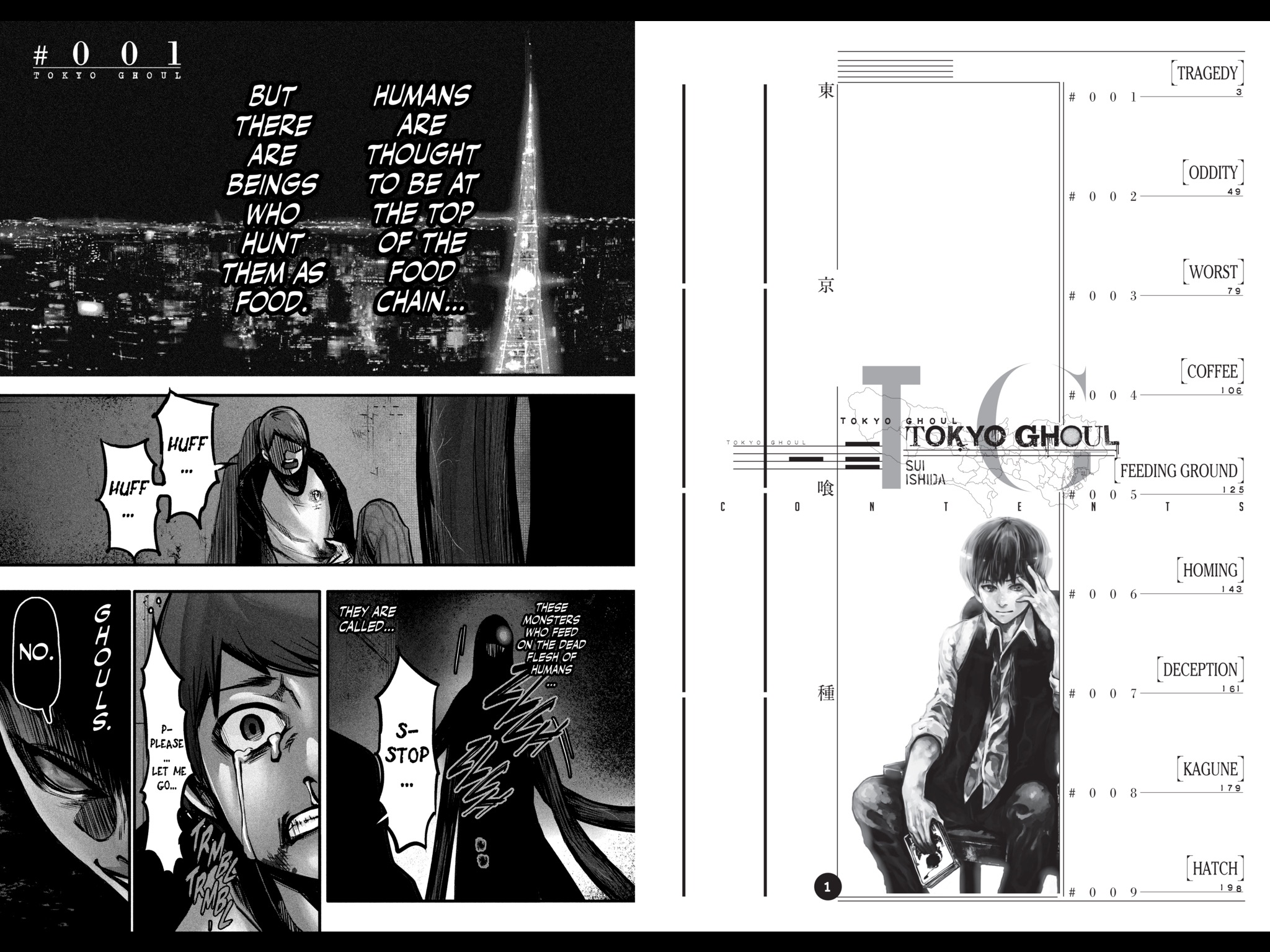 As Ishida's debut work, the first volume of "Tokyo Ghoul" in particular demonstrates some of the growing pains expected from an early mangaka. Character designs and even Ishida's particular brand of stylistic anatomy seem somewhat inconsistent at first, though his line work and consistency do tighten up near the end of the volume. Fitting in the genre of dark fantasy and the darker elements of the storyline, Ishida shows a clear focus on the grotesque and gruesome throughout the work. Extremely close shots of character expression–with a particular focus on mouths–drawn in meticulous detail, contribute to a jarring, surreal atmosphere that permeates the work. Viz's work in lettering with sound effects works seamlessly to contribute to the emotional impact of the comic, offering a very faithful rendition of the original Japanese. Although the work lacks translator's notes, which does leave something to be desired in understanding phrases like kagune and other cultural references, Yamazaki provides a clear and easy to read rendition of the original.
The gruesome elements of "Tokyo Ghoul" mean that it's not a read for the faint of heart. For the braver souls among us, or fans of monster movies and the horror genre, in this manga Ishida offers us just enough of a taste into the morbid world of ghouls hiding in plain sight on the streets of Tokyo that you'll find yourself hungry for more.