The second serialized work of the 2006 winner of the Tezuka Award for Best Newcomer Shounen Manga, Yoshiaki Sukeno, "Twin Star Exorcists" (Sousei no Onmyouji) is Sukeno's debut work in English. Starting serialization right on the heels of Sukeno's previous work, Binbougami ga!, "Twin Star Exorcists" is currently published in Jump Square in Japan with the English adaptation under Viz Media's Shounen Jump label. Tetsuichiro Miyaki, known for his work on "Bakuman" and "Vampire Knight", provides the English translation with Bryant Turnage assisting on the English adaptation.
Plunging into the story of "Twin Star Exorcists", we quickly learn that the world as we know it is under the constant threat of demons, called kegare, that emerge from the evil realm of Magano, to possess innocent souls. Only the work of an exorcist can banish the threat of these demons. The story's protagonist, fourteen year old Rokuro Enmado, once trained diligently for the chance to fight among the ranks of these prestigious exorcists. However, following a kegare attack two years ago where Rokuro witnessed the slaughter of his entire dorm of trainees, he has since abandoned all his previous aspirations of ridding the world of evil, instead jumping from daydream to daydream, lacking the drive to accomplish anything.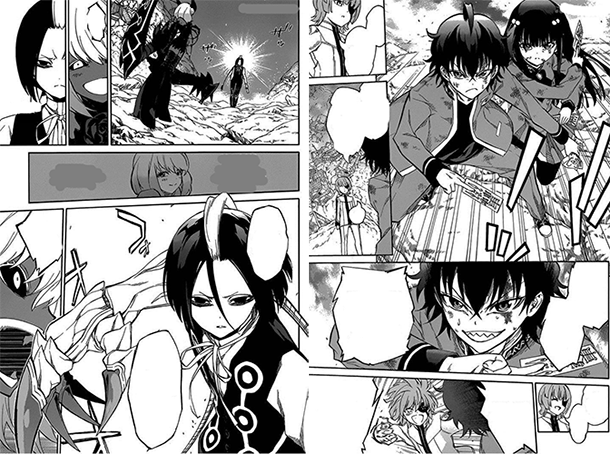 All this changes when Rokuro encounters another skilled exorcist, Benio Adashino, who not only draws him into the world of Magano to face the threat of kegare head on, but who's also coming to stay with him in the exorcist dormitory where Rokuro lives. Rokuro and Benio butt heads immediately, both of them too brash and headstrong for their own good, but as it turns out; fate has other plans in mind for the two young exorcists…
Although Sukeno brings crisp and vibrant artwork to the page in "Twin Star Exorcists", with clean lines and action packed battles, the storyline itself leaves something to be desired. Slaying demons to rid the world of evil is certainly nothing new in the world of manga, and putting a headstrong young male protagonist against an aloof, unimpressed female counterpart reads as somewhat formulaic in this volume. What's more, the work suffers from inconsistencies in the story it tells. This ranges from pivotal pieces of world building, an exorcist is shocked to see a kegare possess a young child at the start of the volume when it's later explained by Benio that kegare are naturally attracted to young and innocent souls, to minor things like a bottle of soy sauce costing 390 yen at the start of a chapter and 300 yen later on. Furthermore, it's hard to grasp a clear sense of the character's motivations within the work.
Both Benio and Rokuro seem to be driven by nothing more than their tragic backstories, and change their attitudes towards one another within the space of a couple of pages. Miyaki's translation and Turnage's adaptation also leave something to be desired in terms of readability. At times, the phrasing the characters use come across as awkward and stilted, not what you would expect from a pair of fourteen year olds.
Regardless of these problems, the plot moves quickly in "Twin Star Exorcists" and it certainly provides a fast paced and fun read for its audience. If you're looking for something supernatural that doesn't delve too much into heavier themes and packs the lighthearted punch that shounen manga are known for, "Two Star Exorcists" is a book for you.