Singles Going Steady is Comics Bulletin's weekly single issue review roundup.
Justice League #28
(Geoff Johns / Ivan Reis; DC Comics)
When DC rebooted their line three years ago, no book was as hyped as Geoff Johns and Jim Lee's Justice League. Rightly so, seeing as Johns was coming from his blockbuster Green Lantern run, and Jim Lee essentially prints money. But most importantly to fans, Justice League was the book which would give us the first glimpse of DC's brave, new world. Those few months before #1 came out were super exciting. But what could have been a fantastic, big blockbuster story ended up being a series of bizarre missteps. Characters firmly established as acting one way would flip/flop out of nowhere, wildly. Story beats didn't make sense. Nowhere are the mistakes more obvious than in last week's Justice League #28. The issue follows Cyborg 2.0, lovingly rendered by the brilliant Ivan Reis in his trademark "This is an event!" manner, as he consults Will Magnus about his Metal Men.
It's there, in Will Magnus' lab those five years ago, where the book starts to show its true colors. Johns' dialogue is so unnatural and strange that I'm not entirely sure he knows how real people talk to one another any more. When the Metal Men (and one woman, I should add) emerge from their sleeping pods, they each have a personality each one more stereotypical and mind-boggling than the last. Platinum, "the girl", seems to exist simply to hit on Will Magnus and bend slightly. Another one is a shameless rip-off of the Guardians of the Galaxy's Groot. I'd use proper nouns, but I forgot who they were by the end of the comic.
I understand that there is a point to this behavior. The Metal Men are childish, immature. Hell, this was the idea when the Metal Men were created all those years ago. But that's the thing: they were created years ago, and we're seeing them for the first time here. There's room for improvement, and it wasn't taken advantage of. The characterizations in this magazine are so poor, the dialogue so baffling, that I can't believe it made it to print. With the first storyline, Johns showed that he was unsure of the distinction between childishness and immaturity. With this, almost thirty months away from that first story, Johns still hasn't grown in any way.
The Geoff Johns who wrote Justice League #28 is not the same Geoff Johns who wrote Justice League #1. He's definitely not the same Geoff Johns who charmed me with the Booster Gold storyline in 52 or, later in my comic-reading life, when I picked up his Green Lantern run in trade. He's the Chief Creative Officer at DC Entertainment, a man more concerned with a potential film script than a stupid cartoon magazine.
In short: Geoff Johns doesn't care about comic books. This rating is exclusively for Reis' art, which is always a pleasure.
– Kevin Reilly
---
Undertow #1
(Steve Orlando / Artyom Trakhanov; Image Comics)
Something you might not notice until you reread this comic, is the lack of blue. Undertow is about Atlantean subversives, those who leave Atlantis to roam free, and artist Trakhanov's outstanding colour choices (like minimising the one colour you might expect to be everywhere) and thoughtful deployment of his palette make Undertow a metatextual renegade. The comic stands apart, glaring yellows, hot pinks, greens, umbers, and tender purples befitting a bold new take on the will to freedom. His pencils, fine and extremely detailed (though occasionally vague around facial acting), would fit right into the Mignola-verse, but I'd like to see them unfettered by so much dialogue, out from under the world-building imperative. For every breath-catching page Trakhanov crafts, there's one with all too much else going on over his efforts.
To be fair, writer Steve Orlando has a lot of ground to cover. He swiftly introduces Ukinnu, a one-percenter escaping the strictures of Atlantean privilege by enlisting, as his battalion are ambushed in the Outer Atlantean Territories by the "Butcher from Above", our real hero, Redum Arshagal. "Captain to a society barge of five thousand souls", Arshagal is an unflinching guardian to the free people who've chosen sailing with him over dwelling in Atlantis. So far, so Matrix, the apathetic enslaved contrasted with the fraught freedom of the awakened, submission versus sovereignty. What makes this cute is that the explorations of these sovereign souls take place on Pangea, just as prehistoric man is graduating to using tools. Implicit foreshadowing of ruin, the inescapable velocity of human history, and the exoticism of our pre-history to another race therefore loom thematically large over much of this book. Nicely played, but Orlando can't leave the table.
While Trakhanov lends heft and texture to the exiles' various technologies, Orlando elucidates at length upon them, when the simple sight of the Deliverer, a twin-hulled craft capa
ble of submerging or flying (beat that, Helicarrier) says it all. Then there's the dun-dun-DAH ending with large multi-limbed beasty, strangely reductive for a book with such big visions. And sadly, the ladies have so far had very little to do but coax and gaze. It's possible I want this book to be more cerebral, more allegorical than it intends to be, that actually it's a strikingly original adventure book, for which Trakhanov will doubtlessly provide jaw-dropping cliffhangers and page-turns. Either way, hopefully issue #2 will plot a clearer course, and we can all be joyfully pulled under.
– Taylor Lilley
---
New Warriors #1
(Christopher Yost / Marcus To; Marvel Comics)
Stop me if you've heard this fanboy story before. I was a diehard New Warriors fan back in the day. I hated what happened to the team during Civil War. I still want to know when the fuck we will get a Night Thrasher film, and the stink of Speedball becoming Penance still lingers like an uninvited fart.
My inter-web tears aside, Marvel brought back the New Warriors this week all decked out in an All-New Marvel NOW! #1 issue by Christopher Yost (Thor: The Dark World, New X-Men) and Marcus To (Batwing, Cyborg 009). It is a nice mix of some of the old team, a bunch of newbies, and one guy dressing up like one of the old squad. In bringing them back, the House of Mouseketeer Ideas remembered one important thing: make the book fun.
Mission accomplished.
The team isn't fully formed yet, but the joy comes from seeing how they tackle the day to day problems of fighting crime. Yost presents us with young heroes aware of the mistakes of their respective pasts, but perhaps conflicted about how to move forward. Some want desperately to be heroes, while others just want to live a normal life. A couple learn that quips and quick wit may not always be enough once the ante is upped, and one badass Atlantean in particular is looking for a few good surface dwellers to fight by her side. There is also a really nice moment where Justice solemnly acknowledges that while the world may know who The New Warriors are, it is for the worst possible of reasons.
Marcus To's pencils are clean and dynamic. This is great superhero comic art on display here. Yost weaves the perfect first issue intro tale. It's not all shits and giggles though, as there is a pretty serious threat that keeps popping up rather violently and seems to be the plot device which will eventually see the whole team come together. The book's solid dialogue emphasizes the outstanding characterization that Yost uses to flesh out the personalities of the "new" New Warriors.
– Guy Copes
---
Sheltered #7
(Ed Brisson / Johnnie Christmas; Image Comics)
Ed Brisson and Johnnie Christmas follow two distinct story threads in this issue, one involving a determined Victoria intent on affecting some change to her current status and location, and the other involving the fallout directly following events with "the outsiders" who made contact with Safe Haven in the last issue. Lucas' attempt to quell the disturbance brought on by the arrival of the outsiders (and of course, trigger-happy Curt!) show how he's beginning to lose physical control of the group, as well as ideological dominance. People are starting to think and act for themselves in the absence of truly effective leadership. There's a moment when Lucas utters a quiet "I told them" as a bit of brief recognition that maybe he's in over his head, or possibly even showing the slightest twinge of remorse about some of his decisions.
On the art front, Johnnie Christmas is able to carry so much emotion in the faces of the characters, or the way hair seems to bounce off of Victoria's agitated shoulders, continually connecting sharp poses with sharper words. Shari Chankhamma's lustrous coloring gives Christmas' strong art all the more dynamism. I love how she handles lighting with stuff like the kids' rosy cheeks, the differentiation of the cast wardrobe, and sudden gun-spatters of blood in the moonlight. Chankhamma's colors are brilliant, and it's not often you get to witness the birth of a rock star colorist. The artists depict a gripping sequence of frenzied violence in the woods. It's an interesting example of how misdirected violence only spins out of control and begets more unpredictable violence. My critic friend Dominic Umile has taken to calling Sheltered "winter noir," and that's as intelligently apt an aesthetic description as you're likely to find of this close-quarters breakdown of humanity. It's chilling example after chilling example of how poor choices have an uncontrollable ripple effect.
Brisson focuses the majority of the Victoria thread on a heated conversation with Mitch, and you can feel the balance of power being to shift right here, as Victoria takes command, not only of her holdout ally Hailey, but of a small squad who knows the truth and has slowly come to some of the same conclusions Victoria has. Brisson is so natural and fluid with the language. His dialogue never sounds like the staged monologues you see so often in comics, with contrived flowery writing. Victoria is pissed. It's done believably. Her anger lends a matter-of-fact truthiness to her words, it focuses her anger, gives her clarity over what's occurred, and what she wants to do next. In some ways, Victoria is the heart of the book, the emotional center of Sheltered, and as she gets more outspoken and stronger with each issue, the series itself gets stronger and stronger. Ryan K. Lindsay's backmatter about Near Earth Objects is an interesting stand-in for any foreign object which has an impact on the kno n world, and caps off an OMFG cliffhanger that'll that'll leave you fist-pumping until the next issue ships.
– Justin Giampaoli
---
Bloodshot and the HARD Corps #0
(Christos Gage / Joshua Dysart / Valentine De Landro / Joseph Cooper / John Livesay / ChrisCross, Victor Olazaba / Ian Hannin / Dave Sharpe; Valiant)
This zero issue serves as a sort of exposition explaining the history of the Valiant super hero team H.A.R.D. Corps. What Gage and Dysart produce, though, is an amazingly human story. They try to explain the hero in the concept, and, by doing so, speak to the heart of what it means to be alive. It's a story of intention marred by ambition, idealism subl
imated by greed, humanity warped by ego – it's a surprisingly quiet, moving, and intense read from a book I expected to be full of guns a'blazing (though there are those here too).
The book is divided into decades as it follows the progression of the H.A.R.D. Corps program from its start during the Vietnam conflict to the 1990's when the program was decommissioned. H.A.R.D. Corps has always been military in intent, fostered by technology and patriotism – as time progressed and this story unfolds, though, the concept started to become more important than any ideals it once defined. In the process, over the course of these years, it is the human beings caught in its grasp that ultimately pay the price for being part of it.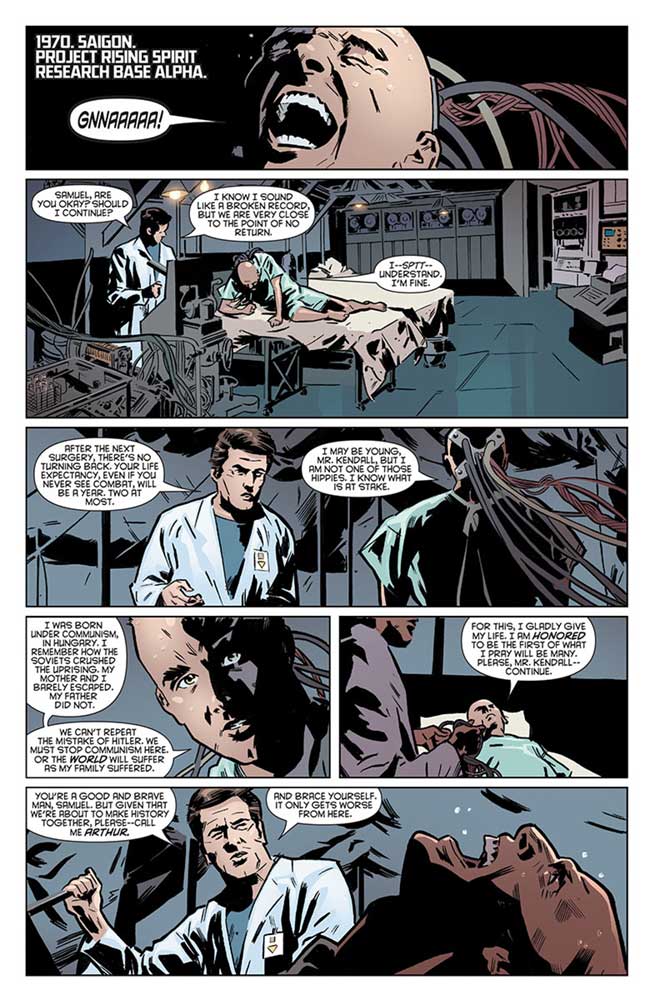 I was brought into this world thickly, emotionally manipulated masterfully in the intersection between words and pictures in these pages. Everyone working on this book seemed to understand that more often than not, a subtle touch can leave a deeper scar than a full-stance hacking ax. Of course, a full panel head exploding can provide the right punctuation to a whispered sentence – the creative team on this book here get it as well as they give.
These Valiant zero issues are amazing little gifts from a company that obviously cares about what they are producing. They seem to understand that hiring incredibly talented people to create their books works best when they trust them to do what they do best, stay out of their way, and let them roll.
– Daniel Elkin
---
TERMINATOR: ENEMY OF MY ENEMY #1
(Dan Jolley / Jamal Igle; BOOM! Studios)
Bless me father for I have sinned. It has been five hours since I read this comic of my own volition. Really, Terminator: Enemy of My Enemy #1 isn't so much bad and ugly, as it is just seemingly a retread of better stories in the mythos that have come before. The comic features primarily a bunch of scenes we have already witnessed in the first two classic Terminator films, coming across more as nostalgic mimicry rather than adding anything noteworthy to the legend. Farrow Greene is a cool protagonist, but the story we find her in isn't compelling enough to warrant me coming back for more to see how her story unfolds. That is a shame, as the creative team of artist Jamal Igle (Molly Danger) and writer Dan Jolley (Bloodhound) are known for producing stellar work in the industry. This story just seems unnecessary and ultimately boring. The art elevates the book above 1 Starterritory, but at the end of Judgment Day it is just a two-star book
– Guy Copes
---
City : Mind in the Machine # 1
(Eric Garcia / Javier Fernandez / Mark Englert; IDW/Darby Pop)
Since that sad September day 13 years ago, the country's protection from outside and inside threats have been a paramount concern of the government and citizenry at large. Various ways to better protect the people have been broached from more security cameras to the shadows of unmanned drones darkening city skies. In a growing technocracy, most if not all of the solutions proposed involve or are in some cases left entirely up to the judgment of cold, calculating machinery. But how far is too far and what do we risk losing in putting all of our trust into automated watchdogs that don't feel or intuit?
That is the question posed in City: Mind in the Machine, where a high-tech security company hopes to cash in on major government dollars with their newest software Golden Shield, (yes they're aware of how it sounds too). After a test run of the program goes horribly awry (don't worry, the only thing that got killed was their chances of getting paid) our main characters Ben and Owen go back to the drawing board. After missing a chance for a romantic stress free evening, our worn out Ben takes the bus home only to board during the same time an unknown man sets off a chemical agent inside the vehicle causing him to be blinded and nearly trampled. In an attempt to save his vision, Ben allows Owen to do something that will change his life and their fortunes forever.
This comic was an interesting and terrifying read. The premise itself seemed a bit boring at first, besides the characterization the concept of a comic based on surveillance sounds negligible. However, the notion of how our own desire for safety can backfire as shown in the onset of the book is very real, and that brings me to the terrifying part: how far are people willing to go to be safe, there are cameras on every street corner in most major cities, not to mention that everyone with a camera phone is filming things in hopes of being the Martin Scorsese of Youtube.
I enjoyed the art in this book, it wasn't trying to be too experimental, too high-end or too sparse. It takes little risk in layout and even the digitized POV used at the end of the book could look strange, but doesn't. As for the series, I'm looking forward to seeing how Ben's decision affects his finances, his popularity and ultimately his existence as the city's new protector.
– Ra'Chaun Rogers
---
Daredevil #36
(Mark Waid / Chris Samnee / Javier Rodriguez; Marvel Comics)
Daredevil is not ending. Last week's #36 was not its last issue. Far from it, really: Mark Waid and Chris Samnee return in three weeks with an all-new #1. It's a weird distinction that we're going to have to learn to cope with if we're going to keep reading and loving Marvel Comics: the superhero book which does not end, but is constantly beginning.

Daredevil #36 begins with a whammy: at the end of last issue, Matt Murdock confirmed what many had already figured out: he's Daredevil. By looking at the front cover, you can tell how it goes from there: Murdock's law firm is shut down, and everything is going to crap very, very quickly. It's hard to talk about the contents of the book because it's the last issue of the run, but you don't have to be a rocket scientist to figure out most of the story.
A successful final issue of a comic series reminds the reader of what they loved about the series in the first place. The creative team has one more shot to thank and say goodbye to their fans. Here, Waid and Samnee (uniquely credited, as the Hawkeye teams are, as the two storytellers of the book) give us one last go-around of their view of New York: Foggy Nelson's claustrophobic hospital room, Manhattan's courts, and the offices of Nelson & Murdock all make appearances. It all ends, though, where it started: high above the streets of Manhattan.
A round of applause is in order for Mr. Chris Samnee. I don't know how much I can express how beautiful these issues have been, so I'll save the lavish praise for a longer analysis of Daredevil Volume 3, on Wednesday. Assisting him on colors, as always, is Javier Rodriguez, who always brings that brilliant, bright color pallet which separated Daredevil's third volume from the others before it.
I refuse to ruin the story because it's just that good. But I promise you: after it's done, you'll be clamoring for the next volume as much as you were the next issue of Daredevil, with a killer hook the likes of which we've come to expect from the best superhero flicks. Bravo to Messrs. Waid and Samnee for doing what no one has done in Marvel NOW! quite yet: end a genius run of comics by beginning another.
– Kevin Reilly
---
Umbral #4
(Antony Johnston / Christopher Mitten / Jordan Boyd / Thomas Mauer; Image Comics)
I'm ready to place a million dollar bet that this will be the only book this week featuring a battle between relatively benevolent pirate ghosts and the dark forces of the Umbral. Now that that's settled, it's obvious that artist Christopher Mitten has been unleashed. Antony Johnston has been saying in interviews that if their collaboration on Wasteland was largely Chris drawing what Antony wanted to write, then Umbral is now Antony writing what Chris wants to draw. It's kinda' obvious now, innit? Chris has a great sense of visual imagination, seeing in his mind's eye how varied fantastical genre elements can clash together with more grounded characters, and then translating that right onto the page. Chris is letting loose in Umbral, there isn't a single page that's just going through the motions. They all have something special happening, be it a full page spread, or a near-full page spread, functioning as either breathtaking reveals of things we've only heard casually referenced, or reveals functioning as cliffhangers, or quirky stylish shots like the forced perspective of the overhead cam after Rascal and Shayim climb a ladder (which allows another type of reveal, one the audience is able to see just as the characters discover it).
All of that said, my favorite thing about Mitten's art (aside from it's obvious superficial beauty) really has to do with the way that he works together with colorist Jordan Boyd and letterer Thomas Mauer. One of the things I'm learning to study more closely is not only the style of lettering (which has nice old-timey irregularities and flourishes under Mauer, as if done by hand, like lost passages written as script on parchment, tonally in sync with what we're seeing), but the placement of the actual word balloons. This dynamic can be more of a technical or functional conceit, like the way Mauer helps pull the reader's eye diagonally down a page or through a panel, like, say, when Rascal and Shayim are climbing a ladder, and you need to track what they're saying as they're on the move. The other thing that the placement of word balloons can do is actually emphasize the right mood or tone. For example, there's an early shot of Shayim and Rascal fleeing, and as they're on the run, they carry a cnversation. I loved that their word balloons are level on the horizon, because, sure, it gives the shot nice graphic balance, but more because it puts these two on equal footing as people, both capable partners, neither higher than the other, it implies trust, it implies equal skill or capacity for contribution, and that they're in a situation together.
Jordan Boyd's colors do the necessary bits perfectly, he nails the glow of amber candlelight, the crimson bursts of blood to hit the horror beats (when a, uh, familiar character shows up in the Umbral), or the moody aquamarine nights, but he also helps highlight something Mitten is doing with the art, which wouldn't be as easy to appreciate in black and white. Notice how, on so many pages, Chris will basically draw a full page of art, and then have a few panels sitting on top of that, almost inset into the larger piece, so that even the backgrounds are part of the picture. There are no white spaces that the art sits on top of, this is full-bleed comics, the background imagery and colors sometimes even filling in the space in the panel gutters. We've been so conditioned as comic book readers to read what's in the panels and kind of gloss over everything else, but there's another layer that Chris is using here, giving a lot of depth to already very layered artwork. The full image comes off like beautifu paintings, with little triptych panel sequences adorning them, like something you might find in illustrated manuscripts from the 1500's (obligatory Fine Art reference), which suggests a classicism to Mitten's art that he's emphasizing with each successive project.
Now, any true-blue readers of Thirteen Minutes know that one of my all-time favorite characters in pop fiction is Lando Calrissian (obligatory Star Wars reference). I mean, I quote his lines in social settings, he's the only toy I have in my office at work that could give me away as a geek, and I pester Brian Wood about including him in his current run of Star Wars. Bear with me for this digressive wind-up. For so long, I've wanted comics or movies or TV shows to feature the early adventures of Han Solo and Lando Calrissian, smugglers on the run, running jobs, their back alley card games, dodging Imperial forces, bounty hunters, and the Hutts. It's the same way that I want to see the early smuggling days of Davos Seaworth and Salladhor Saan (obligatory Game of Thrones reference), to see how this lifelong bond was forged. Your fanboy heart wants it, though your critical brain knows it's probably better as casually alluded-to nostalgia, because actually showing it wuld probably never live up to what's in your imagination. I feel like seeing the adventures of Rascal and Shayim, now – in real time, is scratching this itch a little bit. I love the idea of two strong female leads from different backgrounds partnered up, with that instinct to leap before looking, with no reverence to man-made law other than what their own internal moral compass guides them toward, trusting that skill and luck will see them through.
In the process of the duo fleeing the events of last issue and encountering all the things and people they do (trying to avoid spoilers here!), Johnston does what he's best at, world-building. Not only do they discuss the disorientation of time and spatial relationships in the Umbral, which helps the audience understand how it's navigated and the internal "rules" of the book, but they hint at things like "the war" in such an off-the-cuff manner. I'm always fascinated by that kind of back story and how it's introduced, the kind that suggests larger motivations and old grievances, whether it's the hatred between Azqar (would it be the "Azqari" or just the "Azqar," plural like the Umbral?) and Yuilangan, or old shifts of power between the Umbral and the regular human folk(?), reason that magic was probably outlawed in first place, and why the existence of the Oculus is now so important. There's a vast, rich history here, something Johnston no doubt has mapped out in his notes. As was the case in Wasteland Johnston seems fascinated with class and belief systems, and how those influence power and control, larger thematic issues used as backdrops in his body of work (traces of this are also apparent in The Fuse).
Lastly, it's interesting how Johnston walks us right into the cliffhanger and we don't even realize it until we're left there like sheep to the slaughter. It's a testament to the natural writing style he's developed. There's an exponential lead-up to this moment, from characterization and throwaway lines, to the lyrics of songs being sung, right to the conversation between Shayim and Rascal just before it's sprung, but we still never see it coming. It's the mark of a true organic storyteller, the clues are right there in plain sight all along, but conveyed so effortlessly and non-expository that you don't even recognize you're being handed pieces to the puzzle. I had an interesting conversation in the LCS with a bloke who tried telling me that he was hesitant about The Fuse because he heard it was "a hard read," that Johnston takes his time and "exposits all this information about the world without telling you what's going on." I furrowed my brow and explained, no, that's actually the opposite of wht he does. There's no exposition. He establishes his worlds through characterization and dialogue. If you pay attention, it's all quite clear. (He ended up buying The Fuse #1 and Umbral #1, so I win, obligatory sales anecdote!) There's no omniscient narration, no characters talking at the audience, the clues are there if you want to interact with them. Why would you want it any other way? It's the kind of fiction I like to consume. It's an intelligent writer treating his writing as if intelligent people are going to consume it.
– Justin Giampaoli
---
The White Suits #1
(Frank J. Barbiere / Toby Cypress; Dark Horse Comics)
First appearing in a series of stories drawn by Luke Radl in Dark Horse Comics Presents, Frank J. Barbiere (Five Ghosts) and Toby (Blue Estate) Cypress' white suited protagonists are a mysterious group of killers last active during the height of the Cold War. They have become urban legend, but the trail of recent dead bodies they have been piling up makes them all too real for some on both sides of the law. What's crafted next is multi-layer mystery of pure crime fiction, hard boiled, and noirish — full of slimy charm — involving Brooklyn gangsters, expert killers, an amnesiac mystery man, generally all around twisted mofos, and an FBI agent looking for answers. What the comic lacks in meaty story progression it makes up with cool action sequences and bloody fight scenes.
Toby Cypress' art is the right kind of dirty, angular and edgy; and, while it may not appeal to everyone, it is very reminiscent both of Mike Huddleston's work on the unfortunately short-lived Butcher Baker series and the highly expressive flow that made Blue Estate such a beautiful book to flip through. The black and White comic also splashes of wicked red violence, while other displays of color are sprinkled throughout to emphasize mood. Despite some instances of muddied and nearly indiscernable art, this book is a gritty double tap to the dome in the back alley behind your favorite dive bar. Hope you like your ales.
– Guy Copes
---
Loki: Ragnarok and Roll #1
(Eric M. Esquivel / Jerry Gaylord; BOOM! Studios)
From the cover by Alexis Ziritt to the opening credits page designed by Scott Newman all the way to the final page, this is a beautiful book. Jerry Gaylord knocks the art out of the park. And Eric? Eric M. Esquivel is pure rock and roll. His version of Loki is fresh and new. Does he owe something to the portrayal by Tom Hiddleston? Sure. I think most versions of the God of Mischief from now until the day I die will owe something to that. But he's a living, breathing entity that feels right at home in a dark, dank wor
ld that Eric and Jerry Gaylord create in a quick and wonderful fashion. They give us a look into the world of the goth kids who worship Loki like the Jim Morrison meets Robert Smith he was always meant to be. This is a wonderful book, again, from start to finish, top to bottom, from cover to credits to last page. The party scene with all the different gods and god-like entities (including the Flying Spaghetti Monster!!) was incredible. BOOM! continues to astound and make waves with a large number of their first issues, and this does not disappoint.
– CW Cooke
---
Make sure to stop by and visit our friends at GodHatesGeeks for more outstanding writing about comics, films, video games and more!