Singles Going Steady is Comics Bulletin's weekly single issue review roundup.
The Fuse #2
(Antony Johnston / Justin Greenwood; Image Comics)
Do you guys remember in the Firefly and Serenity 'verse, how part of Joss Whedon's foundational world-build was to postulate that the United States of America and the People's Republic of China eventually moved past some global conflict as long-standing opposed superpowers and formed a centralized government, an alliance which led to the fusion of American and Chinese cultures? It dramatically shaped the world and altered everything from architecture and signage, to clothing style, to the speech patterns, to the mixed-race composition of society, to the lingering grudges that existed in the universe. I'm wondering if writer Antony Johnston's backstory world-build for The Fuse includes something similar. I find it interesting how there is subtle tension between Russia and Germany, most obviously represented in the two lead characters – less apparent by how certain cities are referred to, as if some alt future timeline spun out of WWII, or another future conflict that locked these two countries in contention as humans went to the orbital. That's just me thinking out loud.
Johnston, artist Justin Greenwood, colorist Shari Chankhamma, and letterer Ed Brisson continue this "CSI: Galactica" genre blender of police procedural and old-school sci-fi, delivering firmly on the narrative promise that the first issue introduced. Ristovych and Dietrich investigate what looks like a series of connected homicides, one that leads them right to the steps of city hall, and they quickly get swept up into a larger world of politicized campaign mayhem as local elections appear to be looming. It's a nice move that shows there's a larger world humming along that extends beyond the immediate beat of our two cops. I've lauded Johnston in the past for not insulting reader's intelligence and expositing information, but I'll admit that the unexplained acronyms might get a touch thick at times, with your FGUs and your FLF and your MFC and all, but it's almost like he's doing it deliberately now, showing that you can avoid handing your audience EVERYTHING and they'll still be able to follow along and dscern meaning. I mean, FLF and MFC are surely opposed political bodies, so do we really need to parse the exact words the acronyms stand for? It's an interesting writing dynamic to watch unfold. My mind is always drawn to the smallest detail, like the term "Saturday special" being used. Typically you'd see a cheap gun used in a crime referred to as a "Saturday night special" planet-side. Johnston is too skilled a writer to make a casual mistake, so I'm guessing it's deliberate because there's no "night" in space(?).
The police work is spot-on in this issue, essentially the two detectives spend the entire issue canvassing the station, doggedly working leads, some which run to dead ends, and some which pan out and blow up, all of which need to be followed as part of a thorough investigative process. Johnston is good at depicting cops who are essentially profiling victims and perps, trying to get into their mindset and figure out the sequence of things in order to explain their actions (because timeline leads to causality leads to motive leads to identity). I enjoy the subtle sci-fi clues, like the characters talking to their personal computers, ala ST:TNG, a kind of future setting shorthand. I also really dug the campaign manager giving crafty feedback to the video feed, it reminded me of those smart Aaron Sorkin scenes in The West Wing when Sam and Josh would be prepping Bartlett for a speech or a debate. Johnston is always good about weaving in social issues, whether it's class distinctions with hite collar politicians, blue collar cops, or no collar cablers, effort to show multiple ethnicities and locales during the course of the investigation, dropping references to the '97 race riots, or weighing the pros and cons of the surveillance state, always done naturally via dialogue. It's not just an empty crime caper, there's a bounty of relevant ideas to chew on, which is fitting for a place that feels like a floating Manhattan.
Justin Greenwood's artistic ability seems to get better and better with each successive project. He's become an expert at visual storytelling and drawing the reader's eye around the page in a lively way, in what could otherwise basically amount to a boring talking heads issue. There's so much diversity in his shots, the high camera position in the ME's office, low angle shots of mysterious conversations, hitting silent story beats for emphasis on a reaction, long zero point perspective shots, staging talking characters in the foreground and background so that there's two layers of "action" occurring in panel, or setting up Chankhamma to deliver things like high contrast fluctuations between white spaces and crisp colors, or the way the shadows fall ominously in Yuri's office, partially obscuring him (and what he's saying) in darkness. The best example of this symphony is probably the beautiful point-counterpoint of inset panels as Ristovych and Dietrich deduce the mystery (and build rapport based on skill n the process). It's a very well balanced page. The Fuse is an ideal stepping stone into Johnston's larger body of work, come for the high concept hook, but stay for the quality of craft on display.
– Justin Giampaoli
---
Invincible # 109
(Robert Kirkman / Ryan Ottley / Cliff Ratburn / John Rauch; Skybound/Image Comics)
I have been an Invincible fan since the first trade paperback came out. Hell, I've been a Skybound fan since that first trade and Skybound wasn't even a thing back then. Continuing a journey with characters that were birthed in my generation is something that many comic fans cherish, so making it this far in the Invincible universe has been a fun ride in which architect Robert Kirkman rarely allows for a slowdown in momentum. This issue was no exception coming off the heels of last issue's double cross.
This issue starts with insanely quick thinking on the part of Invincible/Mark Grayson, who has been stranded in an alternate reality by his longtime ally Robot/Rex/Rudy. Here we learn that this universe's version of Mark took over the Vultrimite Empire and rules from Earth. In an attempt to get himself back to his Earth, he goes out to look for the brightest mind he knows, which also happens to be the same mind that stranded him on this earth.
The Robot of this reality is a shriveled-up newborn of a man who needs one set of machines to help him live and another to stop him from being in perpetual agony. Mark and Rudy come up with a plan that may both get the former home and benefit the latter by allowing him to save his own. The series of events which follow are a bit rushed but nonetheless entertaining.
Invincible is a series that constantly feels on the cusp of something large, and this issue is no exception. The quick plan formed by Mark in order to not only secure his escape but attempt to fix his alternate reality self's world shows a continued growth that has become a trademark of the character — a growth that Marvel and DC comics sorely lack, making this the best superhero comic on the market outright.
However, I feel that I need to address the quick part of my above statement. While I understand it may not be essential to show every little thing that happened during the process, it still was a bit jarring to have everything done in one issue. There should've been more background to it than just what went on in the issue, maybe a smattering of what led to the takeover without so much exposition.
The team of Ryan Ottley, Cliff Ratburn, and John Rauch continue to nail the art on this book and though I don't mind Corey Walker coming back once in a while I prefer Ottley's pencils.
I thoroughly enjoyed this issue and while nothing extremely monumental happened the potential continues to be there.
-Ra'Chaun Rogers
---
Superman/Wonder Woman #6
(Charles Soule / Tony Daniel; DC Comics)
There is no Superman slug fest that could top Superman #75 back in 1992. The final blows between the Man of Steel and the unstoppable monster that is now known as Doomsday lead to the defeat of the monster and the death of Last Son of Krypton — an event so big that it took three full pages to display adequately.
Superman/Wonder Woman #6
…is a contender to match that bout.
The pacing of the story is fast — maybe too fast. A portal to the Phantom Zone is nearly complete. Supes and Diana need some divine armor and godly gadgets from Hephaestus, who has some words of warning for Clark. All of that sets-up a masterful battle between the four somewhere in the Pacific Ocean.
The fight is depicted largely in a 12-panel page of silhouettes — in which the only highlight is heat vision, Superman's cape and blood.
The fast pace is slowed by that one page. There is no dialogue. There is no narration. There is just the apparent defeat of Superman and Diana.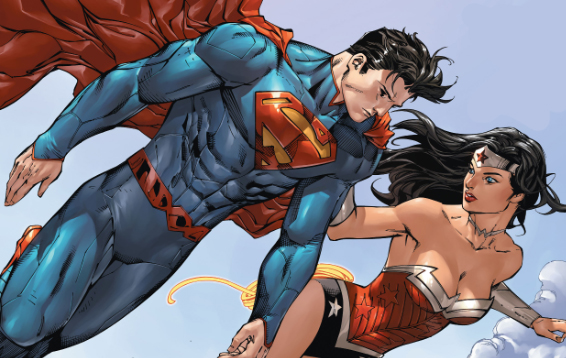 If Charles Soule (Swamp Thing) offers a theme to the book, it is a question of whether Superman and Diana can work together as lovers. Clark brings the question up. It's a little cheesy and a bit old-fashioned; but, hey, he's Superman, and that's why we love him. Diana reassures him that together they are better.
The weapon Hephaestus gives them can only work if they use it together, and after that beautiful pounding they set it off. Then, as with all tales with Greek gods, Hephaetus' prophetic warning comes around.
The second round isn't shown. You don't need to see it. Superman and Diana fall. They are imprisoned. Weak, bleeding and poisoned they resort one last desperate attempt to stop Zod from reopening the Phantom Zone. They do it together.
The final splash page from Tony Daniel (Detective Comics) also one to rival the last image of Superman #75. It doesn't take three pages to display it's size. It's just a sole page. In that classic ish, Kal-El's cape caught a staff upright in the rubble. It waved in the breeze and flew at half-mast for the fallen hero. In Superman/Wonder Woman #6, that cape is used as a shroud.
– Matthew McGrath
---
Shadowman #16
(Peter Milligan / Roberto De La Torre / David Baron; Valiant Comics)
Ladies and gentlemen, I am a glutton for punishment. That's the only explanation I can think of for choosing to read Shadowman #16. I didn't like last month's issue, so what made me think this month the title would improve? We have the same creative team, the same plotline—everything points to consistency. So why oh why did I think to myself "I'll give Peter Milligan one more chance"?
Maybe I've gotten so used to that phrase that I don't know any better.
So let's start with the good. Roberto De La Torre is in Alex Maleev photo referencing mode and he does a pretty good job. I dig the detail, angles and overall mood of the art. It suits the book. My biggest complaint, art-wise, is that sometimes I can't tell exactly what is going on in a panel. It's usually pretty clear, but occasionally there's way too much black and you can't be sure what or who you are seeing. It's a minor complaint and doesn't happen enough to ruin the book.
David Baron's colours are neat too. He usually sticks with one or two colours per scene with varying tones. It works and gives a great feeling of contrast when certain characters are coloured differently, or when the sky is a bright gold against the scene's purple hues. The colours not only match the art, but improve the book overall.
That's it for the good stuff.
Peter Milligan has written some of my favourite books (I've sure I've mentioned this before).
X-Statix, Shade The Changing Man, some killer Batman issues, a very underrated run on Animal Man, Enigma, Human Target, The Extremist–the man's made some killer comics, and I'm only scratching the surface. For some reason I believe his talent has not depleted. His Hellblazer was pretty good, and recent. His Sub Mariner: The Depths mini was great and came out not 5 years ago. I believe in Peter Milligan and want to give him another chance. And another. And another. And maybe I shouldn't.
We pick up the Shadowman story where issue 15 left off. Jack Boniface, the current Shadowman is being beaten up by his "abettors"—folk who think he makes a pretty crappy Shadowman. They whip him with a magical whip that hurts "children of the African diaspora", made from the skin of slaves. It's explained then quickly ignored. Jack's girlfriend steps in and for the rest of the book we get to pretend this first scene didn't happen.
Next up Milligan tackles the worst part of last issue, Boniface's troubling past. Turns out he was bullied as a child. One day he had had enough and turned on his bully. These days those memories give him crazy demon nightmares. Jack goes to make-up with his former bully to finally end the nightmares but—shocker—the bully is in a wheelchair. The first and second visit they can't make-up, but on the third visit they do. I hate to spoil an awful plot, but Milligan's solution makes no sense and he doesn't try to justify it either. Oh, and while Jack is trying to get rid of his inner demons a real tough bad-guy type demon is messing up the city. Luckily, it turns out dealing with your childhood bully is pretty good practise for dealing with crazy voodoo gods—they're just bullies too, didn't you know? And how does Shadowman find the inner strength to make amends and defeat the loa of fear? Another stupid solution I can't bear to ruin.
This book tackles three conflicts and wraps each of them up with increasingly dissatisfying explanations. Everything about Milligan's take on Shadowman is wrong. None of the characters are likeable, none of the plots are interesting, and none of the lore's potential is explored. Instead we focus on things like dealing with bullies, believing in yourself and the power of love. Even these things aren't done well. I'm very, very disappointed in Milligan's Shadowman run so far and I think I've learned my lesson. I'm done with this book for now.
– Chris Wunderlich
---
Astro City #10
(Kurt Busiek / Brent Anderson; DC Comics)
Can any of us really stand alone? According to Winged Victory, Kurt Busiek's Wonder Woman stand-in for his amazingly crafted Astro City Universe, the answer is simple: No. "That's the thing. We're not alone. None of us are," she says in her narration. "Sometimes we make each other feel that way. Sometimes we do it to ourselves, and however it happens feeling alone — when we don't want to be alone — can hurt worse than a physical blow." Astro City, printed under the Vertigo label for the first time, is like any superhero story. Winged Victory, Samaritan (Superman) and the Confessor (Batman) are working together to solve the mystery of women missing from Winged's academy. Just as there is a break in the case, she is summoned to appear before the Council of Nike, the Greek goddess of Victory. The disembodied women chastise W.V. for colluding with men — Samaritan and the Confessor. The council gave her the powers to be a champion for women. The council wants her to stand alone, to shun her collaborators and to fight for women without the help of men.
They allow WV to return to finish her mission. There's a brawl, and standard supervillain banter — bow, yield, kneel and what have you. But in Astro City, the standard superhero story is always a way to show something else. In this case, it shows how tired some of the tropes are in the long-underwear funny pages. "Look at you," says Winged Victory as she insults the villain, Karnazon. "You used to do things." The brief diversion of fisticuffs seems to almost distract from the main point of the story, but the battle is a device that shows Winged Victory that she not only needs her allies — who free the missing women — but that she is exhausted at playing by the rules other people set for her. She lashes out at the council. She is unafraid of losing her powers. She is unafraid of their judgment. "Do I send an imperfect message?" she asks. "Maybe. But this is how I choose to do things. To stand for what I stand for, with or without allies." This Winged Victory does what she wants.
– Matt McGrath
---
Manifest Destiny #5
(Chris Dingess / Matthew Roberts / Owen Gieni; Image Comics):
The Corps of Discovery finally pushes on past La Charrette, making tough unpopular decisions in the name of exploration and the defense of the fledgling United States. I'm continually amazed by the dedication to details from Chris Dingess, Matthew Roberts, and Owen Gieni. You've got things like the leafy flora veins in the "swamp things," the accuracy of the dress and uniforms, the utilitarian nature of the tri-blade bayonet, or the close-up of the flintlock rifle in action. Grounding the proceedings in these real details makes the historical fiction all the more believable. The introduction of a napalm-like device is an interesting corollary to the might-makes-right "shock and awe" culture of destruction and violence establishing itself in the early frontier. I enjoyed how the personalities of Lewis and Clark shine through, one the scientist explorer, one the tactical military man. Sacagawea's here too, upending conventional gender roles as one of the earliest "strong female leads" you're likely to see in comics today. Owen Gieni deserves a special shout on colors, nailing the environment with warm Earth tones as a backdrop and then juxtaposing that with pops of orange and red for violence, the amber glow of fires, and the shimmer of silver gun metal. He's continually playing with expectations, like creating such a contrast between that golden lighting of the dear in the clearing with… what happens next. It's brilliant. Manifest Destiny is a good example of how to play up true horror, wherein one of the scariest things imaginable is the unknown, and what your mind will involuntarily create to fill the void. The last page has a ridiculous amount of detail, and it just shows how much the creative team has invested in the building of this world. It's a clear passion project, the results of which have a tremendous impact.
< p>– Justin Giampaoli
---
Secret Avengers #1
(Ales Kot / Michael Walsh; Marvel Comics)
Normally, when so much happens is so short a span, like in the All-New Secret Avengers, it can be a headache. Not so. This was a fun ride. Ales (Zero) Kot's writing is funny and Michael (Archer & Armstrong) Walsh's art is funny. The work is not taking itself so seriously. The thing about Marvel is that there is rarely some deeper theme at work. Superheroes doing superhero things. Here's some quick hits: Black Widow and Spider-woman get massages in a Russian spa and then shoot-off bazookas as a way to relax; Hawkeye jumps across rooftops while being chased by AIM agents, then ducks into the same Russian spa to hide from them (Hilarity ensues). Nick Fury Jr. and Phil Coulson get sucked out into space.
This is the perfect book for escapism. It requires an intense amount of disbelief suspension and the ride is better for it.
– Lance Paul
---
Death Sentence #6
(Monty Nero / Mike Dowling; Titan Comics)
Monty Nero and Mike Dowling deliver the climactic showdown between Monty, Verity, and Weasel. I've gotta' say that was probably the hottest sex scene I've ever seen in comics. I really can't think of another that supersedes it. Death Sentence really has it all, from gratuitous sex to meaningful sex, action-oriented brutal violence, to insightful social commentary. There's a harsh realism embedded in the narrative about what a global response to superpowers might actually look like, which all boils up to an unexpected conclusion. Nero's script hones in on the inherent fallibility of people, and why the whole supes thing is a mostly ludicrous trope as depicted by Marvel and DC. It puts the work in a deconstructionist space and follows things to their inevitable conclusion, which makes for a very gripping drama. The unapologetic and unflinching nature of the writing is matched in tone by Mike Dowling's versatile art, able to pull off the gritty details or the intense emotions, working on the small sale or with very grand displays of immense power, like the battle at sea. There's a real sense of consequence to Death Sentence, something desperately missing in this genre. Now, I was always under the impression this was a finite six-issue mini-series, but the final pages suggest there will be more. If we're going to see a series of mini-series in Dark Horse's Hellboy model, then that's fantastic. There's plenty of room left to explore in this universe.
– Justin Giampaoli
---
Avengers Undercover #1
(Dennis Hopeless / Kev Walker; Marvel Comics)
Dennis Hopeless and Kev Walker continue the adventure started in their original series Avengers Arena – to the praise of many. Now, we find our teenage survivors suffering from a bad case of PTSD and a false sense of celebrity status. Through the tribulation of Arcade our surviving young marvel heroes have seen real terror, have faced deaths and loss that most heroes spend a lifetime avoiding. Is this individual comic epic? No, but it is one that continues an overall epic tale.
Undercover is merely a continuation of awesomeness from one of last season's most criminally overlooked books. Do not sleep on the kids again.
– Lance Paul
---
East of West #10
(Jonathan Hickman / Nick Dragotta; Image Comics)
I guess one of my only gripes with East of West is that it doesn't read optimally in single issues. I enjoy it, but Jonathan Hickman and Nick Dragotta are telling an epic long-form, sweeping, apocalyptic story that's basically been artificially truncated into singles. I'm essentially saying that it reads much better collected, and when I sit down to read a stack of floppies straight through, that's the superior experience. It's then that you grasp the full thrust of the story threads, the character motivations, the characters themselves (it's a pretty big cast), and the nuance of the plot lines and how they clang off one another all becomes more clear. That said, this issue maybe works a little more straightforward than many of the singles, in that it's focused pretty tightly on a couple vignettes, with father-son dynamics, Death's "deal," and his subsequent search. I liked the Sea of Bones as a spiritual and physical no man's land, and it's always a treat to see wolf and his female companion doing their animorph bit. I'm starting to pay more attention to the color-coding, like the de-saturated colors in the flashbacks, and how that shapes the mood. This is the most incredible sniper shot you may ever see in comics.
– Justin Giampaoli
---
Make sure to visit our friends at GodHatesGeeks and ThirteenMinutes for more great reviews!