Singles Going Steady is Comics Bulletin's weekly single issue review roundup.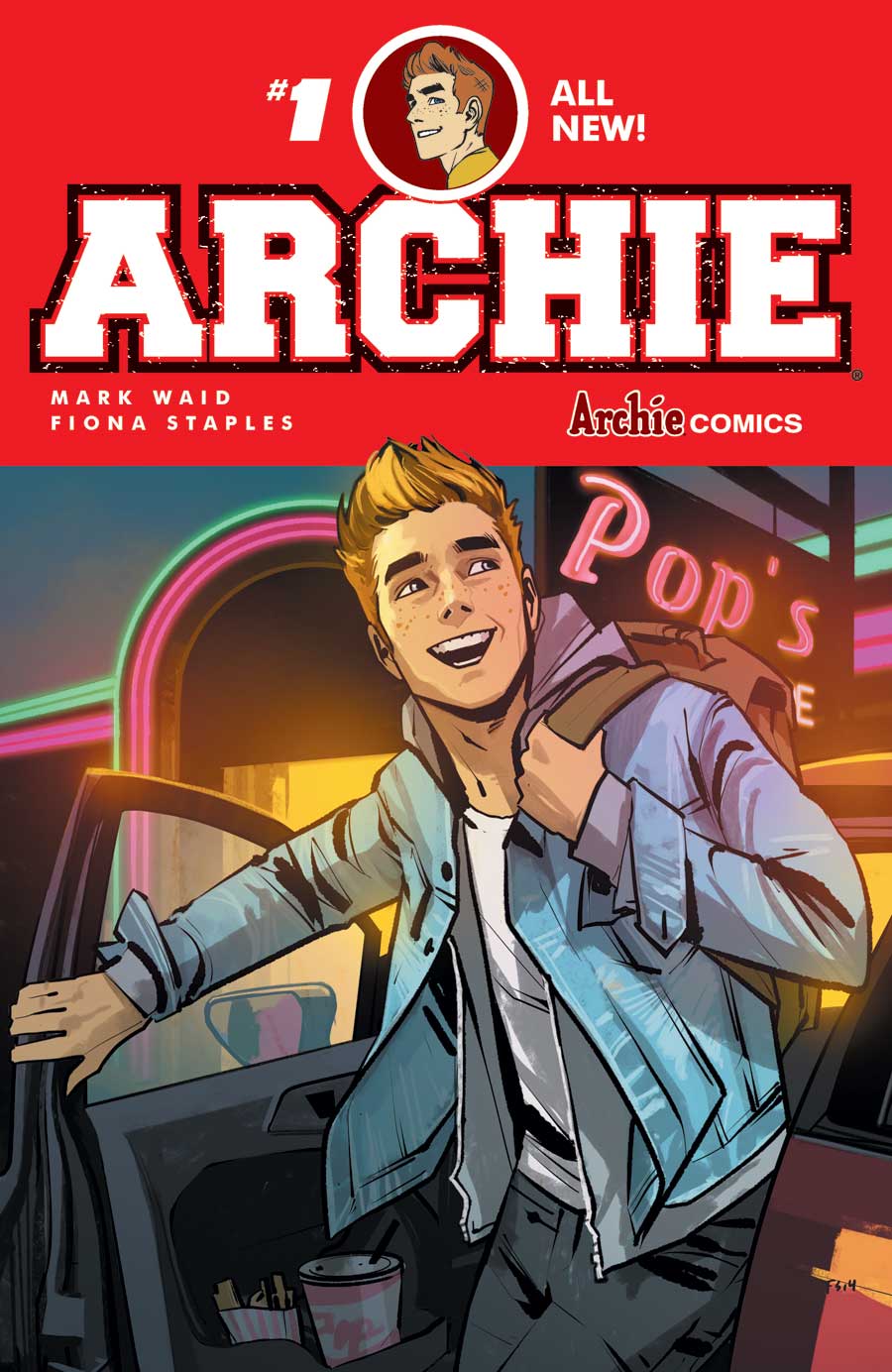 Archie #1
Mark Waid / Fiona Staples / Andre Szymanowicz /Jack Morelli; Archie Comics
For nearly the entirety of my life, Archie and his supporting cast have never seemed that interesting. They were lame comics for kids whose parents wouldn't buy them anything cool like Spawn or Bloodstrike (the 1990s were an interesting time). Though the publisher has managed to reignite fan excitement through titles like Afterlife With Archie, The Fox, and The Chilling Adventures of Sabrina, the core Archie lineup has resorted to gimmicks like "The Death of Archie" to maintain a place in the cultural consciousness. No longer is that the case. By all indications, the new Archie #1 is a must-read.
Credit to the publisher for snagging superstars Mark Waid and Fiona Staples to relaunch Archie. Waid's vast knowledge of comics history, combined with his ability to craft compelling characters, makes him a perfect fit to write these characters. Be it Archie, Betty, or Jughead, Waid manages to update these characters for modern audiences without betraying the foundation established over the past 75 years. The same can be said for Fiona Staples, who uses her signature thick line-work and mastery of facial expressions to pull readers into the world of Riverdale. Even though Staples will be on the title for only 3 issues (she does have a commitment to a little-known Image series), she has laid the groundwork that can attract readers for the long haul. If the quality of the title remains this high, that shouldn't be a problem.
– Daniel Gehen
---
Shutter #13
Joe Keatinge/ Leila Del Duca/ Owen Gieni/ John Workman; Image Comics
We've recently had an informal discussion amongst ourselves at Comics Bulletin regarding the consequences of spoilers (and plot twists) and the affects it has on writing. The general consensus is that writing, regardless of medium, should be able to stand up on its own feet despite spoilers, and in turn – relying on plot twists.
"Shutter" wrapped up the first act a couple of months ago with issue #12 and returned to stands this week with a game changing thirteenth issue. I'm having trouble trying to describe how great this issue is. Excellent doesn't cut it. Beautiful is accurate, but still not quite there. It's just…game changing. Intelligent. Maybe even a little mystifying.
Joe Keatinge's scripts have dealt with "big reveals" in the past, mostly involving Kate's large, confusing, and partially unknown (to us anyway) family tree. Some may argue that these big reveals push "Shutter" along, but I'd encourage those to go back and reread the previous issues because "Shutter" is too smart for that.
"Shutter" #13 begins with a spread full of lucid memories and photographs of Kate's past, simply stating that she "…was someone once." The images may seem to be a random selection, but they highlight specific attributes of Kate. She's educated, she's fun, she's had relationships, she has family, she's adventurous. The twelfth issue ended with Prospero wrecking Kate's memory and mind, dumping her in Venice, Italy.
Kate responds to the opening spread in a second, beautiful spread saying, "I'm still figuring it out." Owen Geini's color palette completely sets the mood in "Shutter" with a pale pink and purple skyline on top of scenic Venetian architecture. The water draws you in with cool blue and purple hues giving off a reflective, thoughtful tone.  Kate sits in the foreground writing in her journal trying to make sense of her life. Leila Del Duca continues to draw some of the best sequences in modern comics. Her ability to capture raw emotion is a rung above top-notch. The detail put into the buildings and surroundings alone puts life into Joe's scripts, but Leila doesn't stop there.
The variety of panels used in "Shutter" makes it one of the best designed/laid out comics I've read this year. What drives the designs beyond creating comics and creating good comics is the purpose behind the pen. The layouts used in "Shutter" create sequences that drive the characters and action forward and aren't unique for the sake of being unique or edgy. The movement from panel to panel, page to page, shows that Leila has intention and understanding of drawing with a storytelling mindset. This sets her apart from other great artists that can draw well because she can also tell a story. There's a difference and it's completely necessary to have both because comics is a storytelling medium, not just static images.
John Workman has a one of the most important, but often least appreciated jobs in comics – lettering. His work is subtle, because of how well done it is. The dialogue and narration is easy to follow and read. It doesn't draw readers' eyes away from the art or cover up the art, but rather guides us through it so smoothly that it nearly goes unnoticed. Lettering is one of those things that you usually don't think about unless it's awful, cluttered, and illegible. John has a great eye for bubble placement and should know that his work helps make "Shutter" such an enjoyable comic to read.
The teamwork in "Shutter" is apparent from the cohesiveness displayed with Joe's scripts, Leila's artwork, Owen's colors and John's lettering. It combines the qualities of good comics without overdoing it or leaving the issue half-baked. "Shutter" #13 is what good comics are made of and this team should be proud that it can stand on its own feet. If you haven't got the gist yet, I highly recommend this comic.
-Michael Bettendorf
---
Justice League United #11
Jeff Parker / Travel Foreman / Jeremy Cox / Steve Wands; DC Comics
Of all the books coming out from DC after enduring 2 months of event hell, Justice League United #`11 held the most intrigue. I had a rocky relationship with Jeff Lemire's run, having enjoyed the initial "Justice League Canada" arc, only to be left cold once the Legion of Superheroes and their shenanigans took over the title. With the series now in the hands of writer Jeff Parker and artist Travel Foreman, the book appears to have a tighter focus than before. It's quite a feat given that the cast has expanded greatly, and promotional artwork promises an even larger roster in the coming months.
Travel Foreman and Jeremy Cox's vibrant and expressive art is inviting from the opening page, and keeps readers hooked through the final pages. The story Parker has cooked up plays to Foreman's strengths, allowing him do deliver the same horrifying imagery which he excelled at during his time on Animal Man, while the varied cast allows Cox to play with a variety of hues on each page.
The narrative suffers some of the common flaws found in an introductory issue, but there remain gems to be found. Mera was easily the best element of Parker's Aquaman run, and it is encouraging to see her brought into the fold here. She joins an eclectic group of characters, including Swamp Thing, Poison Ivy, Etrigan and Equinox to take on the embodiment of chemical waste in the middle of Lake Erie. This lineup hints at the book's intent to bring in specialized teams to take on certain threats, not unlike the approach employed in the celebrated animated series Justice League Unlimited. The best thing about that approach is that it can lead to unexpected and fascinating character interactions.
– Daniel Gehen
---
Batman #42
Scott Snyder / Greg Capullo / Danny Miki / Steve Wands; DC Comics
What the hell, DC? Where are my goddamn half-page Twix ads?!? I get one issue of Nick Lachey hawking chocolate at me on the same page as my narrative and then you just take it away? How are Snyder and Capullo supposed to mock those ads in the very same comic, on the very same goddamn page, if they're not even there? Honestly, that was the best part of the previous issue, probably the greatest moment since the new-52 launched, and possibly on the "Top 5 Best Batman Moments of All-Time" list… but, I guess, as they say, don't be sad that it ended, be happy that it happened; so I'll tone down the semi-false hyperbolic rage and actually discuss the merits of the issue at hand.
I wasn't sure what to make of "Jim Gordon: Bat-Cop" when it was first revealed he was the one under those bunny ears. I'm not opposed to the idea in general, but it's hard for me to force my brain to think he's young enough to do that. In any "present day" story, Bruce Wayne is just always going to be approximately 35 in my mind, which means Gordon is going to be approximately 60. Logically I know you can make the math work to have Bruce's parents die at 8 and rookie cop Jim Gordon comforts him at the scene, making present-day Gordon in his late-40's. But my brain just isn't listening – my James Gordon is 60 years old, has gray hair, is Police Commissioner, and that's that. However, I also know that's on me. This isn't what I'm used to, but Snyder, Capullo, and Co. shouldn't be penalized for trying something new just because my crotchety old-man brain in a semi-young-man's body that grew up on Batman: The Animated Series doesn't find it familiar.
So how does Jim stack up in the suit? Well, not terribly in all honesty. He spends a lot of time brooding and inner-monologuing about what it means to be Batman, but, what Batman doesn't do that? The suit makes sense to deal with the less-than-Bruce-esque levels of training. The jumpsuit, or whatever you want to call it, that he wears underneath the armor is a little ridiculous – the functionless belt hangs gunslinger-style on the waist above one hip and then way down below his butt on the other hip, but hey, at least it's just one belt and not a dozen strapped around his legs and arms and covered in pouches, right? Maybe it has a function and I just haven't seen it yet, I'll give the benefit of the doubt. (And I do like the chevrons on the shoulder – very police-chic.) I get him having to shave his mustache – a red-mustachioed Batman would be just on the wrong side of ridiculous, but I'm not quite sure what he's doing with the mohawk/fauxhawk/whatever-the-hell-you-call-it hairstyle. I like that he's getting his own little rogues gallery, even if they're all one-offs. However, if he sticks around long enough, it'd be interesting to see how he interacts with the regulars.
As for the bad? Well, mostly I just can't see a publicly sanctioned Batman working in any capacity. I know I have to suspend disbelief to a certain degree to enjoy superhero comics, but that's a bridge too far for me. Can I believe a government can work with a vigilante if they need to circumvent some red tape? Sure. Can I believe that a government would be paying his salary? Not unless we're going totally dystopian – which we're not in this case. The government just gave him a $15 million personal tank? Which he immediately destroyed? It makes for a funny gag, but really throws out any semblance of grounded realism. (Again, I know, it's a comic book about a guy who dresses as a bat to fight crime. The lines I draw are weird sometimes.)
The end is a bit trope-y as well. Bruce Wayne wants to quit being Batman and get away from it all, so what does he do? That's right, he works with disadvantaged, at-risk youth while dressing/grooming like a lumberjack. There's also a glimpse of a perfectly innocent, flirtatious relationship with a (presumably) manic pixie dream girl art teacher. I can almost guarantee you in the panels right before we see him, he was chopping cords of firewood for the Widow Collins and in the ones before that he was volunteering at a soup kitchen. Although if this ultimately leads to a "Lumber-Bat" Elseworlds spinoff, count me in.
Overall, I'd say this "JG:B-C" story arc doesn't really have the potential to match the heights of the best Batman tales, but it's a fun little sidetrack that's worth a read just to get a little new flavor on the Batman mythos.
– Luke Miller

---
Justice League of America #2
Bryan Hitch/Daniel Henriques/Andrew Currie/Alex Sinclair; DC Comics
If you're looking for a prime example of the benefits of story prevailing over continuity, look no further than Justice League of America #2. This book, in case you haven't heard yet, stars the original seven New 52 Justice League members (Superman, Batman, Wonder Woman, Cyborg, Aquaman, Flash, and Green Lantern) while the main Justice League book has changed its lineup quite a bit, predominantly with the addition of Lex Luthor but also a handful of others. Also, in this story Superman is not de-powered, and Batman is still to be Bruce Wayne.
This issue centers around the arrival of a god to Earth. Not one of the gods from New Genesis, but a god from Superman's past. Rao, the Kryptonian sun god, arrives on Earth in spectacular fashion with a promise to save them. Seeking redemption for his failures at Krypton. He immediately disperses his message of hope and goodwill through all channels of communication and starts sending his disciples across the globe to hear people. The slightly longer format of this book certainly helps here as Hitch is able to tell both personal intimate anecdotes as well as laying foundation for the larger story without either feeling particularly rushed.
Don't expect to see the Justice League working together in a good ol' fashioned beat-em-up way this issue, but aside from Flash and Green Lantern, who were sent to Oa in the first issue, the other members, as well as Lois Lane through her Daily Planet writing, each get their time to shine as they process the arrival of Rao.
And finally, I can't help but be amused by the something this one particular moment. In the Daily Planet office Perry White quips his line from the Christopher Reeve movies, saying that whoever lands the story will have the greatest interview since God talked to Moses. Of course, with Superman's backstory drawing so much from Moses' story, and then seeing Superman talking with Rao on his ship overlooking Metropolis, it's hard to imagine this parallel ending here. This could potentially be a nice little bit of foreshadowing that we might see our most Moses-inspired version of Superman yet.
This book is gorgeous and fascinating, dealing with individual characters and larger ideas in the same hand. If you're not reading this one you definitely should be.
– Steven Cain