It was a pretty big week for DC, as they released several great books. Two highly anticipated series saw their debut issues, while another reached its conclusion after two weird years. Oh, and Green Lantern entered a planet that was essentially Lord of the Rings… in space! And for those looking for books from other publishers, there'll be another edition of this column coming up later today.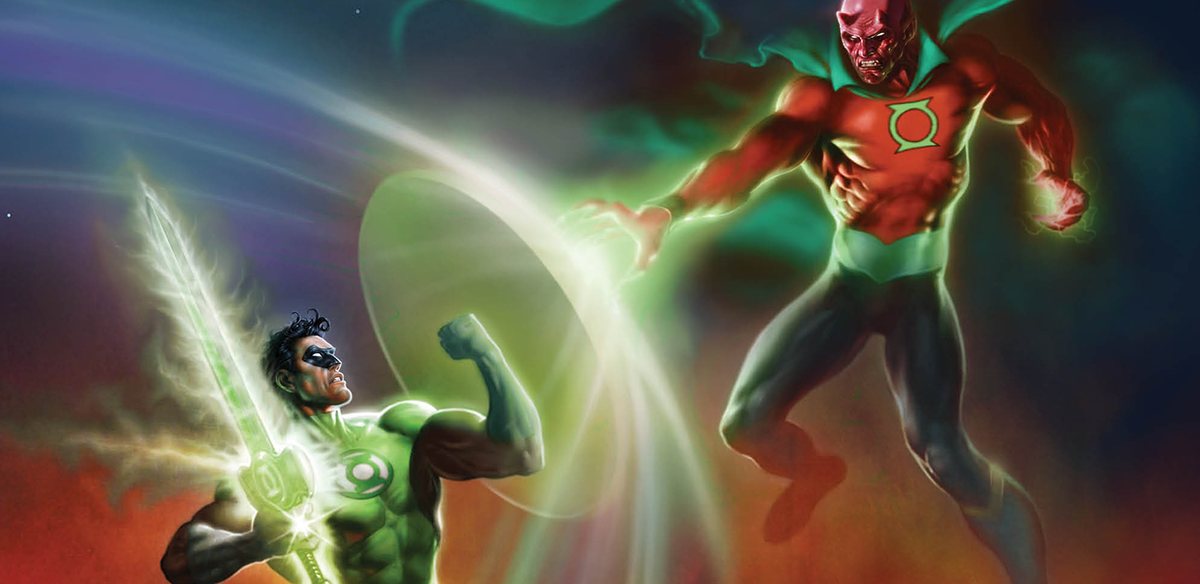 The Green Lantern #9
(w) Grant Morrison (a) Liam Sharp (c) Steve Oliff
I should be forthcoming before proceeding any further – I am not a fan of traditional fantasy stories. Hell, I still haven't seen Return of the King. With that said, the latest installment of Grant Morrison and Liam Sharp's The Green Lantern has me rethinking that stance. Liam Sharp's artwork is the real star here, as he has Hal Jordan (complete in ring-constructed medieval armor) take on dragons and get into a fist-fight with an alternate reality Abin Sur. It's pretty metal. Morrison's approach to the series, with a bunch of done-in-one installments, has done a great job in shrinking the scale of the stories without sacrificing stakes. It's a superhero book, so it can be rightfully assumed that the hero will be all right in the end. However, by shrinking the scale of the stories, the next big Green Lantern event will actually feel special, something that has been lacking since the middle of Geoff Johns' run. But for now, we get to enjoy something truly remarkable in today's comic landscape – a series of bottle issues that can be casually picked up by anyone.
The Wild Storm #24 
(w) Warren Ellis (a) Jon Davis-Hunt (c) Steve Buccellato, John Kalisz
The concluding issue of The Wild Storm is… well… a wild storm. Though the issue worryingly begins with what looks to be a knock-down, drag-out fight with heroes punching their way to victory, it is merely a diversion until the real battle can be won. Warren Ellis and Jon Davis-Hunt's previous 23 issue has lead up to this moment, in which IO and Skywatch faceoff, with the plucky group of protagonists caught in the middle. While their finally coming together as a reborn version of the Authority is a highlight, it does not compare to the the satisfying comeuppance of the series' antagonist – a shadowy (though charismatic) figure for whom secrecy is valued gets completely exposed to the world. It's a stirring reminder that a cunning mind can overcome overwhelming odds. Though it is sad to see The Wild Storm go, Ellis ends the issue with eyes towards the future. Whatever it may hold, it has a high standard to live up to.
Lois Lane #1
(w) Greg Rucka (a) Mike Perkins (c) Paul Mounts
In this era of fake news and the U.S. government actively fighting against the free press – one of the foundations of the nation – Lois Lane #1 is exactly the type of comic that is needed. Using one of the most beloved characters in comic history, Greg Rucka takes the Trump administration to task with whip smart dialogue and a strongly crafted narrative. Though certain to irk the "get politics out of my comics" crowd – funny considering the medium's history – Lois Lane is designed to make readers uncomfortable for the right reasons. It challenges readers to reflect on how they perceive the truth, and to accept that confirmation bias is a major problem with the modern American discourse.
This issue demands an art style to reflect the real world, and the duo of Mike Perkins and Paul Mounts are perfect to bring this story to life. Perkins' rendering of characters and settings has a tangibility that is rarely seen in superhero comics due to publishers' preference for a house style. Meanwhile, Mounts' colors give the pages vivid liveliness. His color choices are not bold, but his technique is flawless, making Lois Lane appear to be a real-life account of a reporter's experiences. Sadly, those experiences reflect a society collapsing on itself due to infighting and distrust. Lois Lane #1 is a must-read comic that is frighteningly too real.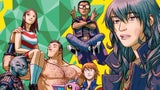 Doom Patrol: Weight of the Worlds #1
(w) Gerard Way, Jeremy Lambert (a) James Harvey
As enjoyable as I found Gerard Way's first Doom Patrol series, it did have a problem with cohesiveness. Often disorienting, the series never saw the Doom Patrol acting like the Doom Patrol. Rather, it was the misadventures of randomly thrown together characters. Those problems are immediately remedied in Weight of the Worlds #1, the first in a new batch of Young Animal titles. I don't want to solely attribute this book's success to the addition of a co-writer, but it's hard not to. James Harvey's artwork is just as gorgeous as previous artist Nick Derrington's, fully of expressive characters and imaginative settings, but it's the writing that really has me on board for this new title. The Doom Patrol are a team once more, fixing weird injustices in crazy settings with incredible chemistry between the characters. Finally, we may have a Doom Patrol title that lives up to the legendary Grant Morrision run.