Singles Going Steady is Comics Bulletin's weekly review roundup. This week we take a look at two of the week's biggest releases, both involving elements of fantasy and mythology – albeit through different approaches.

The White Trees #1 (Image Comics)
(w) Chip Zdarsky (a) Kris Anka (c) Matt Wilson
I've said it a few times this year, but trust me, it's a good thing to say; White Trees #1 may end up being one of the best comics this year. See? Having multiple comics being so great that they are in the running for best comics is a great thing! In 2019 I've bought more singles than the last two years combined.
The White Trees #1 has one of my favorite features: a map! Yes, you read that right, The White Trees has a map! Anytime I crack open a fantasy book I long for a map as to follow along with our characters and Chip Zdarsky adds just that. Along with helping us follow the story path it also shows how deep and rich this new world is constructed. The White Trees #1 is just that, deep and rich in lore.
Zdarsky stages our plot around a by the beats kidnapped loved one story, but as the saying goes, "Life is a journey, not a destination." In this case the main template for the plot isn't anything new but the history and interactions between our three main characters drives the story. Relying more on dialogue and personal interactions Kris Anka's art and Matt Wilson's colors make moments that should be mondaine into the amazing.
In some cases Anka leaves the bank ground blank to focus on characters' emotions, and in other cases uses wide panels to show the vast beauty of Blacksand. Anka's pencils are amplified by the beautiful color spectrum that Wilson brings with his pallette. With gorgeous bright eye popping colors pushing hard on the fantasy side of the story.
If you're a fan of fantasy or a great story The White Trees #1 should be on your pull list!
---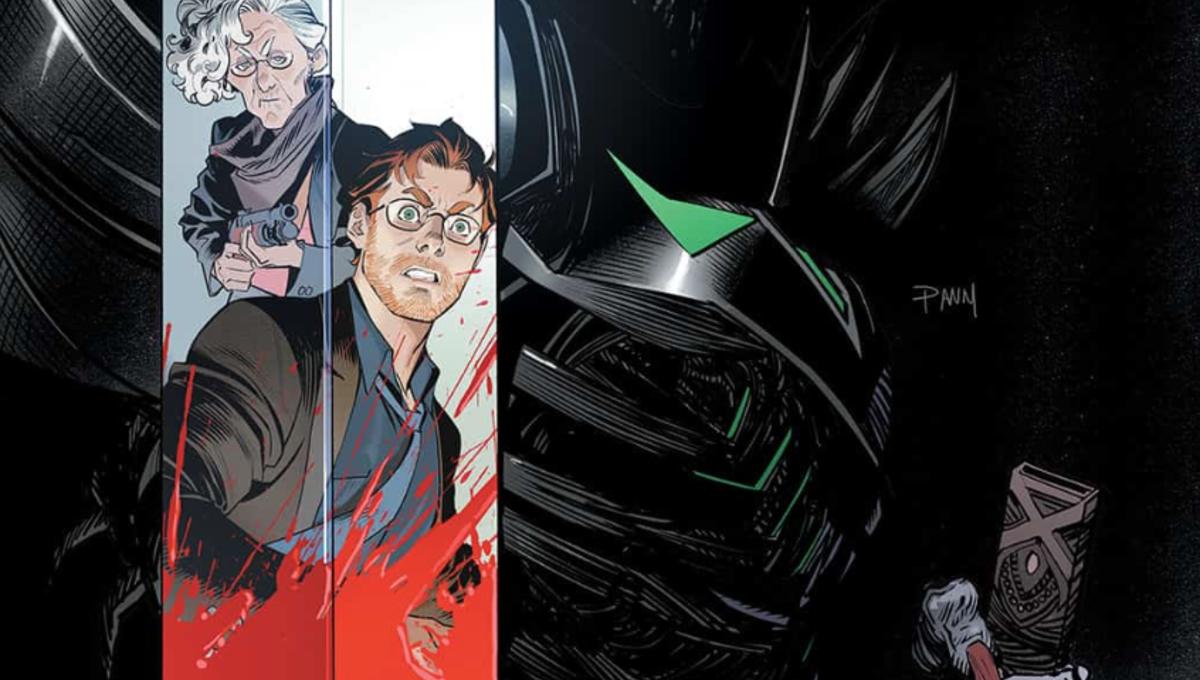 Once & Future #1 (BOOM! Studios)
(w) Kieron Gillen (a) Dan Mora (c) Tamra Bonvillain
As far as first issues go, Once & Future #1 is one of the better ones in recent memory. Kieron Gillen and Dan Mora manage to establish the main conflict, introduce the protagonists (personality quirks and all), and set up wild and weird that lies beneath a seemingly normal world. Above all else, Once & Future #1 lets readers know off the bat what they're in store for: a ghost story that speaks to the rising wave of far-right nationalism sweeping the globe.
In the vein of great adventure stories, Gillen's script features a macguffin. In this case it not the famed sword Excalabur, but rather the ornate scabbard in which it was holstered. In this world, it is seen as a symbol of the Britons' past glory, and a group of radical nationalists. Now, they are not specifically called out as nationalists. In the past, such antagonists would be seen as simply "bad guys." But we don't live in such times, and Gillen understands this by having one of these characters shoot the harmless archeologist (who happens to be a person of color) square in the face while declaring he wants "England back." It's a chilling sequence because of its brutality and relevance to the world today. But beyond this sequence, there is very little revealed about this group and their motivations.
After this setup, the rest of the issue is dedicated to the issue's protagonists. There is Bridgette, a feisty and elderly woman who resides in a retirement community, and her grandson Duncan, a clumsy twenty-something that serves as the reader-proxy in the story. As a duo, they have great chemistry act as an entertaining reversal of the dynamic of a cagey, veteran male hero and witless female companion. And their familial ties is a savvy way to preemptively snuff out any forced romance.
The hype surrounding this series (a fourth printing has already been announced) might just make this Dan Mora's coming out party to the larger comics community. Already well regarded for his work on Klaus and Buffy the Vampire Slayer, Mora brings his A-game. His art is a great fit for both sequences of gravity and levity, due to his expressive characters and page compositions. Both suspense and humor are reliant on timing, and the manner in which Mora lays out his pages enables such moments to be executed well.
Once & Future #1 is a solid first issue that shows much promise. While there is nothing within its pages to indicate why there was a frenzy in the speculator market, it sets up a story for which many (including myself) have high hopes.