Our friends at Space Goat Productions have some exciting announcements. Because we love their comics, we wanted to share their news here on Comics Bulletin. Look for reviews and interviews of their comics over the next few months.
Space Goat Productions, the nine-year-old comic book packaging and talent-management company, expands in May with its own monthly imprint: Space Goat Publishing. In addition to a number of unique, creator-driven titles, Space Goat will also be the home of the official Evil Dead 2 comic books based on the Bruce Campbell-Sam Raimi classic.
"The market has matured so much since we opened our doors as a packaging and creative services company—and we feel very strongly there's a market for the type of material we personally want to bring to readers in print and digital," said founder and CEO Shon Bury, a former writer for Marvel and DC before launching Space Goat in 2006.
"We've packaged and provided talent and creative services for the world's biggest comic book companies for a decade–DC, Marvel, Dark Horse, Penguin Books and more. We love the editors we work with at those companies and consider them friends and partners," Bury continues. "But there's still talent and voices that aren't being heard. And I want to fix that with Space Goat Publishing."
May-Shipping Launch Books Include:
Big Game Hunters #1 – A three-issue miniseries of Victorian monster hunters killing their way through a Steampunk world.
Mage, Inc.: The Intern #1 – A three issue miniseries about a non-paid internship at a modern Mage Guild and all of the magic and paperwork that goes with it.
Space Goat Presents Vol. 1 – The premiere 120-page hardcover anthology features seven genre-spanning stories by both veterans and new talent.
Bury describes Big Game Hunters as "Hellboy meets Walking Dead" and Mage, Inc. as "female Hermione Granger's first afterschool job," while Space Goat Presents draws obvious comparisons to Astonishing Tales and Marvel Comics Presents.
June heralds the return of the original Bruce Campbell and Sam Raimi movie, Evil Dead 2. Space Goat is the official home of the comedy-horror franchise that started it all—and will be faithful to Ash and the original movie with two three-issue miniseries. Evil Dead 2: Beyond Dead by Dawn and the July-shipping companion anthology, Evil Dead 2: Tales of the Ex-Mortis.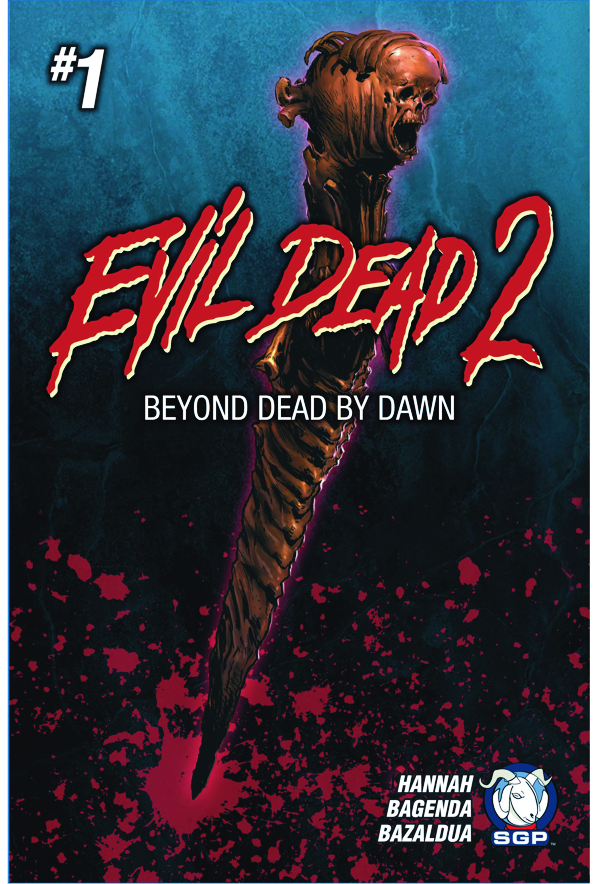 Space Goat's May-shipping books will include a two-part prequel to the Evil Dead 2 movie. Parts 1 and 2 of the prequel are written by screenwriter and Superman scribe Frank Hannah (The Cooler), illustrated by Edgar Salazar (DC's Smallville and Constantine). The prequel leads directly into Evil Dead 2: Beyond Dead by Dawn #1.
Beyond Dead by Dawn is also written by Frank Hannah, with art by pencilers new to the US market, Barnaby Bagenda and Oscar Bazaldua. Tales of the Ex-Mortis reads more like Hellraiser with jokes and features stories from industry veterans Greg Pak, Jeff Mariotte, Justin Peniston, Georgia Ball, Ivan Cohen, and more.
Space Goat has a digital strategy in place with Comixology and several other digital platforms, but Bury's focus is centered around print. "I haven't seen the retail market this vibrant in my lifetime; I want to give them the books they're telling me they want. Fortunately, they happen to be the types of books we want to make," he said.
Find Space Goat Comics online here!