Keith Silva: To borrow from those two rock-and-roll sages David St. Hubbins and Nigel Tufnel: "it's such a fine line between charm, and uh … inadequacy … yeah." With Golemchik William Exley follows in the tradition of artists publishing with Nobrow whose skills as cartoonists exceed their developing talents as writers. As backhanded of a compliment as that sounds — and yes, writing such a sentence does deserve a self-administered dope slap — it comes from a place of needing/wanting that final push over the cliff … because the potential is there. Sadly, Exley's Golemchik only charms with an incomplete completeness.
Golemchik opens in summer when the promises of spring are fulfilled and everything blooms with potential, especially for an intrepid scout like Kevin. With his guidebook and one hand and a juice box in the other, Kevin casually ambles through the forest ready to unlock the ancient arts of fort building and mushroom identification. Like an overripe berry Kevin's ideal idyll is slightly flawed however as all his friends and fellow outdoor enthusiasts have plans and places to go which leaves ol' Kev el solo. Bananarama was right (again), for Kev it looks to be a high waisted and cruel summer.
As Jewish folk traditions go, the golem is tailor-made for the devout and goyim alike. The golem Kevin unknowingly creates out of a pile of rock and through the agency of a hat, à la Frosty the Snowman, is not summoned to put down pogroms or defy anti-Semitic attacks, he's more of a big clumsy bullmastiff in service to artisanal construction projects and the obstruction of ennui. Unlike Judah Loew ben Bezalel, Kevin has little control over his creation. Before long homelessness rates for nearby fauna and the destruction of local flora skyrockets. Kevin storms out of the forest for the sanctum sanctorum-ness of his neatly-appointed bedroom and leaves behind his (?) unruly, unsafe and unchecked golem in his too small albeit charming hat. Before long Kevin learns absent parents corrupt absolutely and must put things right in the face of a cricket bat-wielding mob.
Exley possesses an idiosyncratic artistic style that gives Golemchik its all-ages magic. With his hulk hands and arms, stick legs and long nose, the golem is a delightfully imagined character buoyed by a boy's enthusiasm for not having to spend the summer alone. Exley's work looks to be that of an illustrator rather than cartoonist and so his panel layouts are simple and workmanlike, but stuffed with stylistic stuff that belie realism in the best and most fantastic ways. His use a limited color palette of oranges and blues offset with the tiniest touches of white adds to the fantastical nature of the story while reinforcing the charm, charm, charm all the way down.
Nobrow offers Golemchik as part of its 17 x 23 series which it pitches as, "designed to help talented young graphic novelists tell their stories in a manageable and economic format." Think of it as a comic book with thicker i.e. nicer paper and French flaps.
The short story format is not easy for the master let alone the novice. For a young artist to take on such a challenge is admirable although the results are sure to be mixed. Exley doesn't quite (yet) possess the chops as a writer to situate Kevin in a place where it's clear to the reader what's happening outside the margins; matter-of-fact-ness should never take the place of clarity. As much as it doesn't matter where Kevin's parents are or how (exactly) the hat helps animate the monster or why, it kind of does matter. The alchemy between words and pictures requires a deft touch, a comic timing only found … in comics—tough business for illustrators or poets alone. I admire Exley's gifts for expression as the 'feels' and the image-making are right there, top-notch, but as for storytelling, Golemchik stands on feet of clay.
Jason Sacks: Silva, as you say, this is early work from a young cartoonist, packaged beautifully and curated in a lovely not-a-comic-book format that holds color handsomely and that presents this story in a well-considered manner. William Exley's story looks great on the page, even if the story he presents isn't quite complete.
Exley's art has a sort of precise imprecision that gives it a semblance of life, especially when the human characters are offscreen. Page five, for instance, is a lovely, silent page of spiders and butterflies and trash strewn across the forest floor, depicting the golem coming to life against a backdrop of nearly abstract shapes that mythologize the detritus of mediocre human existence. Exley gives pollution a touch of poetry on this page; in doing so he shows the potential to create legends from the prosaic. As you say, it's charm, charm, charm all the way down.
It's easy to see the master beneath the student when looking at page five, which is so resonant and empathetic. There's an intriguing animating force behind those scenes, but that page also is the gateway to revealing some of Exley's weaknesses at this point in his career. As the golem comes to life over subsequent pages we sense the power of that moment, glory in the sumptuous vision presented and can almost feel the ground shake under the creature's feet. We can sense that this is momentous.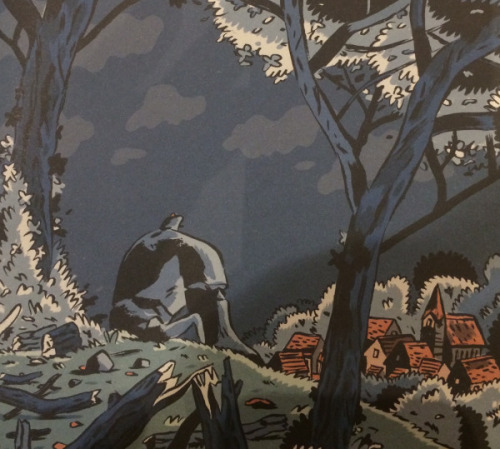 But that moment also feels like a deus ex machina in the context of everything that has previously been shown. Why makes this golem rise to life? What is his symbolic importnace in the midst of Kevin's loneliness? Is he a totem of Kevin's imagination or a physical manifestation of his daydreams or an actual force brought to life? Exley tips his hand at the end of this issue, as we see the destruction wrought by the golem, but that feels shallow, a cheat, a bit Hollywood. Exley had set the reader up for a metaphor and instead delivered the literal truth.
What are we to make of this story other than that "it's a bunch of events all strung together?" Exley seems to be grasping for symbolic significance in this tale of Kevin and his silent friend. In the scene in which the golem builds a raft, there's a hint that there could be a 'Huck and Tom' relationship between the two; in others, it's more of a 'Frankenstein's monster' type of story. If there is a point here, it's well hidden from me at least.
Maybe that alchemy between narrative and illustration will be on display more in Exley's next book. In some ways this feels like more a sketch, or excerpts from a longer story, than a tale that stands on its own. Even the cover stands in contrast with the story inside, as if Exley couldn't quite decide what he wanted to do with Golemchik. In the end, though, that's not necessarily a bad thing. Exley shows promise based on this short story, and that's precisely its point. In that way, at least, Golemchik hits its mark.