After a first issue that stretches back to the beginnings of the DC Universe, Final Crisis #2 kicks off by going international. From tying into Morrison's Seven Soldiers of Victory to the next strike against this world's greatest heroes, there might be even more to unpack this time.
Final Crisis #2
(w) Grant Morrison (a) J.G. Jones (c) Alex Sinclair
Dan Gehen (DG): Is anyone else here supercool? I read past the first page so I know I must be. In a change of pace from most events, Final Crisis #2 opens with a global perspective. It's funny when you think about how Marvel, DC, and even smaller publishers like BOOM! Handle these big crossover stories. They almost exclusively take place in either the good ole US of A, or in space. Here, we open with a group of Japanese crimefighters – a younger generation of them to boot – with their own perspective on superheroes and their role in society.
Jason Jeffords Jr (JJR): Oh, I'm supercool now! But when I first read Final Crisis #2, I was not. Opening on a Japanese nightclub we meet the Super Young Team, yes that is what they are called. With these young heroes (if you can call them that) we learn of their disdain for the older generation of heroes while they try to make their way in a new world of superheroes. At one point Heino proudly announces, " All my life I've wanted to be a gimmick. The transformation of man into merchandising! Spirit into toy! When will he realize being fantastic is a superpower itself?"
This and their inaction for action shows how they are in this superhero game for the fame and some safe adventure. Even their hero names are gimmicky wordplays on other heroes to get more clout. When this issue first released I searched everywhere to learn more of these new 'heroes' yet I couldn't find anything. Turns out this is where they debuted and didn't go far after Final Crisis. I did know a little about Sonny Sumo, so I had that going for me.
DG: I'm not going to bury the lede here – I find the opening to this issue is just a slog to get through. It's not that these characters cannot be interest. I'd actually love to see a miniseries about the Super Young Team where Morrison can explore all the little stuff he sprinkles in here. But I just do not care about any of them. Even the Shilo Norman version Mister Miracle, who is another obscure Jack Kirby pull that was seen in Morrison's own Seven Soldiers of Victory, does nothing for me.
However, I do concede that the explorations of celebrity culture are interesting, which he would expand on in The Multiversity: The Just #1. The idea that a hero is of little value because he's "old" appears to be a direct commentary on Hollywood culture, which Morrision himself was seeing first-hand as a screenwriter. But most of this issue is spent laying the groundwork for things that will payoff later in the series. We're introduced to the idea of "Motherboxxx," which is somehow different from the traditional Mother Boxes in that it has an updated, cool looking name when spelled out. 
JJR: I agree with this issue's opening, while I re-read it I found myself wanting to skip the claustrophobic double page. Yet again like you I would like to see Morrison explore the team, while making it more akin to his The Multiversity: The Just #1. Next we see the 'disgraced' Monitor Nix Uotan who is now a Mortal Germ, A.K.A a human. At the end of the previous issue Nix awoken in his new skin sans memories but with the feeling that something was off. On his way to his job at the ever famous Big Belly Burger, Nix reads a dictionary spouting off words to find his magic mantra.
Which is nothing out of the ordinary in the DC Universe when so many characters say a single word that can transform them into a literal god, or goddess. If I was a character this Universe I would constantly read a dictionary out loud, because hell you never know. Ending Nix' only moment in this issue we watch as he is mocked by his peers at BBB while he draws a few heroes we meet later on. I can't find info for sure, but it seems like the art of heroes he is drawing are sketches by Morrison. I say this because it resembles some sketches he did for The Multiversity.
DG: I find that Nix Uotan scene very relatable. I've worked in food service – specifically a college dining hall – where a fair share of my co-workers seemed a bit on the crazy side. I mean, he's memorizing the dictionary. Who does that? A crazy person, that's who. Again, this whole thing occurs in the space of one page and isn't referenced again in this issue. Just a little seed being planted for later.
I do want to touch on Dan Turpin beating the piss out of Mad Hatter, but before we get there, I'd like to jump ahead and talk about the funeral of J'onn J'onzz. Like the Nix sequence, it's only one page. It's actually a splash page, but its very much in line with the layered storytelling that we saw in the previous issue. 
Stephen Cook (SC): I'm going to jump in here 'cause in the decade since I've read Final Crisis, this splash page has really stuck with me. In such a brief span Morrison is able to convey a lot. There's some real craft in the framing, dividing what could have been a single unbroken panel into three; it gives Superman's speech time to breathe, signifies a kind of slow solemnity of the proceedings, and also gives the eye some space to take in such an array of mourners in more digestible installments.
DG: It also is a great example of a writer and artist being completely in sync. There are three Green Lanterns in the image – Hal Jordan, John Stewart, and Kyle Rayner. However, Hal and Kyle are in mourning while John is producing a field so that the superhero community can withstand the harshness of space. It makes sense, as those two were Justice League teammates of J'onn – Hal throughout the silver and bronze age, and Kyle more recently in Morrison's own JLA. John, on the other hand, served in the League mostly whenever Hal was unavailable.
However, you could dig a little deeper and see that their roles in this scene are reflective of the racial inequality in society. While all three of these superheroes were at one point teammates of the Martian Manhunter, the two white men are allowed to mourn while the black man is forced into servitude. Granted, Morrison has never made contemporary social issues the focus of his works, but the fact remains that he and J.G. Jones constructed this funeral image in a manner that this could be inferred by schmucks like me.
JJR: Got to interrupt you before we get to that meeting of Mad Hatter and the toilet. With my reading of the omnibus recently I found out they had a whole issue focused on the funeral; Final Crisis: Requiem #1 where before he dies J'onn J'onzz projects his planets history into those he was closest with. I didn't know that until now and I feel like it is an underrated issue. Showing each character close to him reacting to his death, then in the middle of the night, writing down the Martians history into a book.
The funeral page in Final Crisis #2 is beautiful and to me felt like it was setting the pace of how fast Morrison wanted to flow into the plot because any other story would focus more pages on a funeral for such a recognizable character. Instead they had a tie-in focus on it as not to draw away from other plot points. Plus I love the ending of what Superman says, "And pray for a resurrection." Yeah I know he meant this in a respectful manner but damn did it make me laugh with all the resurrections we already receive in comics. On the subject of using only a few pages to plant seeds for later it feels like this whole issue is in that vein (as you mentioned with laying groundwork).
DG: Well that's kind of the point, isn't it? In this big, sweeping metatextual narrative, of course there's going to be a mention of the revolving door that is death in superhero comics. This story was written about 15 years after The Death of Superman, and since that story we've had Hal Jordan and Oliver Queen die and come back. Even before Supes kicked the bucket, the X-Men's Jean Grey had died and come back. What I like about this line is that Superman is fully aware that this is a world where death isn't necessarily a permanent condition and calls it out right on the page. And within this same issue, we do get a resurrection, just not the one Superman was praying for.
JJR: We spend more pages meeting the Super Young Team than on any other story beat in this issue. Most scenes only last up to 3 pages with the story throwing a lot out you barely even tapping the breaks. Whereas the first issue felt a little slower lingering on scenes this one felt like it had so much to say but had limited page count. 
DG: That's because Morrison and Jones just cut out all the bullshit filler that tend to plague events. All of that stuff can be found in the tie-ins, like the aforementioned Requiem. But if you just take the core story found in Morrison's issues, you do end up with a complete picture.
It's actually a throwback to the days of compressed storytelling. This funeral is only one page, but if someone like Geoff Johns or Bendis or Hickman were driving the bus, it would definitely take a couple pages. Instead, we are given exactly what we need and move on to the next thing. Turpin beating the shit out of Mad Hatter seems insignificant, but it's a critical plot point that only takes up a single page. Turpin finds out he needs to get to Bludhaven (or what's left of it), and we see him full of rage and aggression. That's quite a change from the blasé attitude he demonstrated in the previous issue, and an example of how Darkseid's essence is affecting the world.
JJR: That was one of the things I liked with Final Crisis, unlike other events the main story was told all in the core event. Whereas other events you have to read the tie-ins to know what is happening in the main story, but here the tie-ins feel more like a side dessert.
This is where I became confused (first of many), what the hell happened to Bludhaven? I don't recall reading exactly how it got so messed up, did they explain it? Was it implied? Or did my dumbass somehow gloss over it?
SC: Some Google-Fu tells me Bludhaven's all messed up from the events of Infinite Crisis — the baddies did some bad stuff, quarantine, etc. I think Morrison is just working in established continuity but it does put a damper on the "no tie-ins necessary" storytelling going on here. 
DG: Well, Infinite Crisis was a major event, and what happened to Bludhaven was a major plot point of that story. But in all honesty, how often are cities fucked up in the DC Universe? That's a regular Tuesday.
JJR: Ah, so instead of Taco Tuesday they had Total Destruction Tuesday! Following the beating of Mad Hatter and the funeral of Martian Manhunter we make our way over to The Secret Society of Super Villains post Libra's recruitment speech. Lex believes the Manhunter an easy target, telling Libra that he would take him more seriously if he were to hurt someone super like say, Superman? Yep, a big order, but when you are making a team composed of super villains you need to dream big. At least for Lex, whereas after the previous display of strength a fair amount of the villains now believe in Libra and his team.
I always loved the panel of all of the villains leaving the abandoned strip club for multiple reasons. They are walking out of a strip club for starters, which in itself is hilarious, and I know all of the heroes must be busy but no one is monitoring this place and wondering what was going on? Yes they were monitoring it, but didn't go to the location until the end, too little too late huh? Finally I think it just looks cool with all of these villains around each other, especially the fact that they included the Shadow Thief, who we see on a bridge column. Ending the villains moment in Issue 2 we have Libra wanting to collect on what the Human Flame owes him big time. Ominous, right?
SC: The devil gets his due. It's another great little piece of characterization for Libra, building that mysterious danger (even for the villains) that just electrifies the air when he's on the page.
JRR: Next scene we have our Alpha Lantern Kraken acting like, well an alpha.
SC: Ha yes, she certainly does — calling the Justice League the "local crimefighting club" is just poetry. I also love her sting at Hal Jordan when she asks how much time he spends on earth versus the "thousand inhabited worlds" in his sector. It's pulling at that same thread our opening in Japan did, that these grandiose events always seem to happen on Earth or America when the galaxy is such a big place.
So Alpha Lantern Kraken shows up in the lab and has some nice pointed conversation with the DC Trinity, especially Bats. She keeps trying to shut down Earth's greatest detective in his investigation on Orion's death. Whatever could be the reason for that?
JJR: Yeah the galaxy is a big place, but that's why they have Lanterns for so many sectors. Then again earth has four Green Lanterns who all seem to just chill at earth constantly, so she's not wrong, but it's been shown in the past Earth is a hub for invaders. I love watching Batman punching above his weight class and in this case when he quips not 'voting' for the Alpha Lantern being in charge got a good chuckle from me. Then her response that this job is for Trained Professionals and that Hal needs to clock off was pretty funny. Looking at it the interaction with the trinity was pretty damn funny while speaking a good deal on Alpha's character.
DG: See, the Alpha Lanterns never sat right with me. I get it, they're the Internal Affairs department of the Green Lantern Corps. However, their portrayal is very typical of a pop-culture Internal Affairs department, trying to nail their own people to the wall even if there's nothing to truly warrant such harsh scrutiny. It's the reason why as soon as the twist is revealed – that Kraken has been taken over by Granny Goodness – it just falls flat for me. However, I do like the notion that the New Gods are falling through reality across the cosmos, not just on Earth. It's a nice way to expand the scope of the story without being convoluted.
JJR: I agree with you on both points, never cared for the Alpha Lanterns, and loved how this wasn't just focused on earth. In the next scenes we see John Stewart get attacked by a hidden foe, then Hal Jordan arrested by the Alpha Lanterns while still in bed. Combined these moments only last 3 pages which keeps the pace of this issue, but when Kraken shows up to Orion's body with Batman in the room we have one of the higher page counts for issue 2. In this Batman comes notices a Green Lantern ring imprint on her hand.
I'll be honest this moment flew over my head for years. I had no idea what was wrong with her hand because I thought the Alpha Lanterns just loved that logo so much that they had it everywhere. Personally I thought it was one of many logos on their body. Then years later I realized it's because like Batman said, John has a hell of a punch.
We make our way over to Bludhaven in all of its desecrated glory with Turpin. Finding Turpin as he explores the destruction is the Good Reverend as seen on TV, another fallen New Good in human flesh. Through a tour of the 'Evil Factory' – I love that they call it that – we learn of these gods in human flesh capturing humans for a multitude of means, including what looks like Kamandi. In the background of the entrance you can make out "ND D", if I was a betting man, I would say it's COMMAND D. This scene ends with a captured Batman, which leads into a few different stories.
DG: That's exactly what it is. Kamandi, of course, is another Kirby creation and is dubbed "The Last Boy on Earth." Fitting that a story about beginnings and endings would reference Anthro and now Kamandi. Also, Kamandi brings a sense of finality to the story – a glimpse at the last days of the DC Universe.
Taking Batman off the board this early is a smart move, especially given Morrison's penchant for making him "Bat-God." Taking that key chess piece off the board insulates the plot against the "why doesn't Batman do anything" criticism.
JJR: It makes sense, because we all know if it didn't happen that way then Batman could fix this whole Crisis by himself in a matter of pages…… In all seriousness I enjoyed his "Bat-God" run and agree with this being a smart move. Talking about taking people off the board how about Libra's plan to take out Superman? Personally I feel like the way it happened was a stretch and that Supes would have totally noticed Jimmy as Clayface much sooner, or even the bomb. With all that's happening wouldn't he be on high alert? Hell I would have skipped out on being Kent and stayed Superman because of all the happenings around the globe.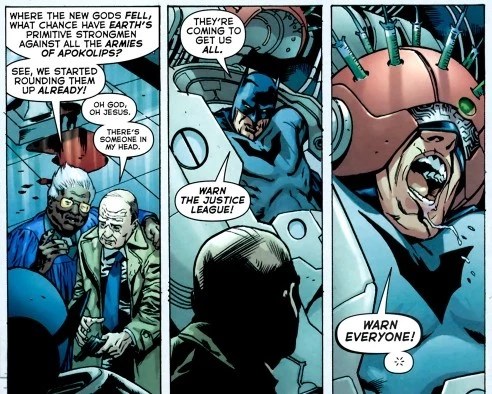 DG: I find that it's easy to dismiss the Clark Kent part of Superman's life, but Morrison understands just how important it is. The television show Lois & Clark has a great perspective on this. In an exchange between the titular characters, which boils down to the line "Superman is what I can do, Clark is who I am." Even though he has these godlike powers (as we'll see later in this series), he was raised by a kind-hearted, salt-of-the-earth couple in the midwest that instilled in him values that would go on to define his moral compass. It's easy to say that the Kents are the most important people in the DC Universe.
The point is, Clark's life is just as crucial to the character as Superman. Morrison knows this, and by proxy, Libra knows this. Even if Clark wasn't at the Daily Planet, you can bet that it would be attacked because of how important those characters are to Clark.
So here we have Batman off the board, and now Superman off the board. As a quick peek ahead, Wonder Woman will be sidelined. It's looking pretty dire. But as the issue ends, a shred of hope appears as Barry Allen emerges from the Speed Force, being chased by the Black Racer. Of course, this was foreshadowed through images of lightning seen not just in this issue, but in the previous issue and even in the marketing of this series.
It's pretty ingenious how Morrison uses lightning to subvert reader expectations. Up to this point, it could be safely assumed that the lightning was tied to the red skies and gave a sense of impending doom. This extends beyond the medium and into culture in general. Lightning isn't used to convey hope, but rather dread. How many scary stories are set during a thunderstorm? How many horror movies have used lightning as a scare tactic? Readers are set up to view the lightning based on their past experiences in other media. Yet, on this issue's final page, it is revealed that the lightning symbolizes hope and rebirth. It will be interesting to see if that carries forward in the following chapters.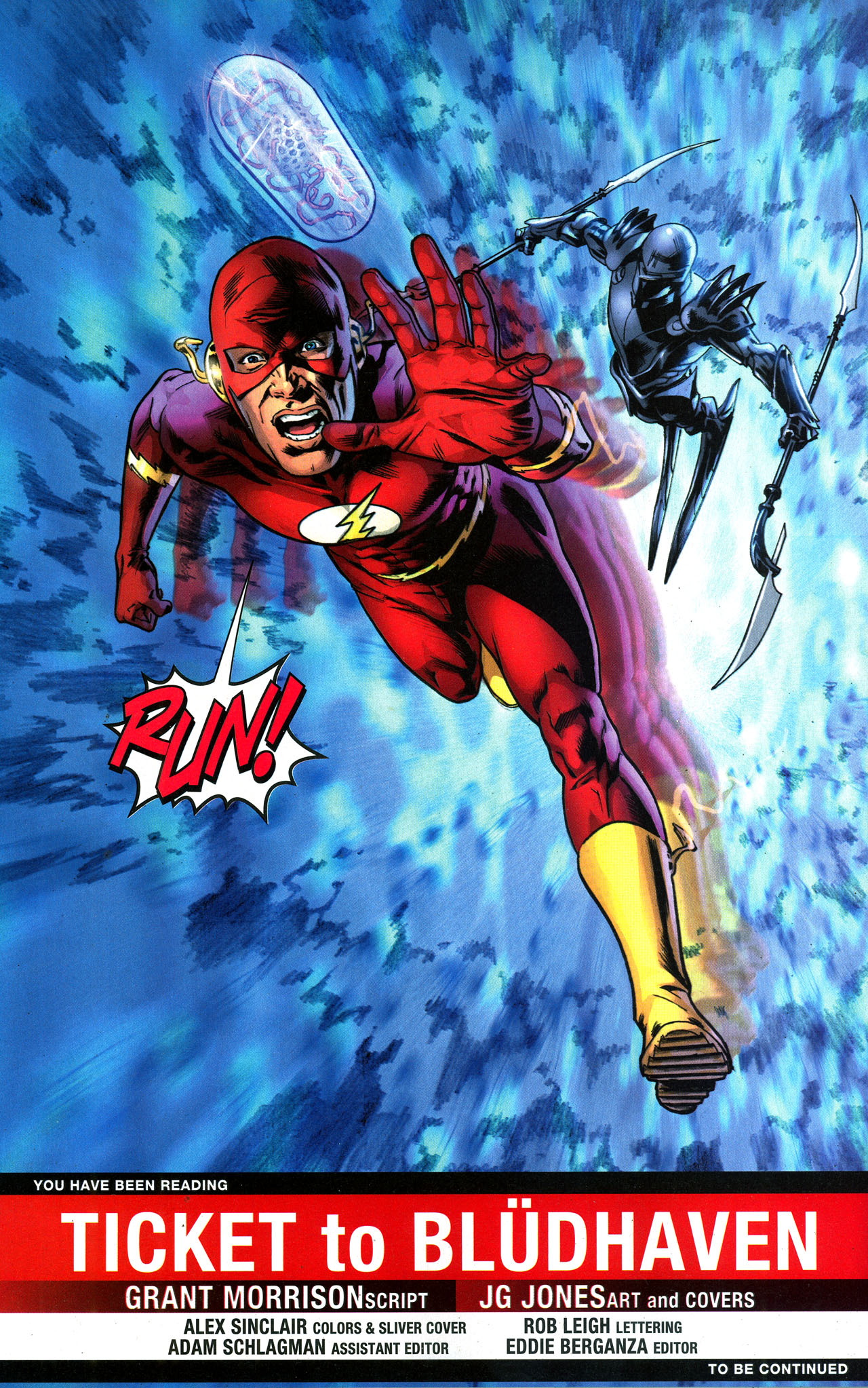 Previously on "The Full Run: Final Crisis"