If there are two overarching themes found in the works of Grant Morrison, they are metatextuality and all stories matter. Both of them can be found in the pages of Final Crisis, arguably the most polarizing event comic of all time. Unlike most crossover events, Final Crisis is not designed to bring in new readers and is even difficult for longtime fans to fully grasp upon their first read. A common sentiment is that, to fully appreciate Final Crisis, readers need a "PhD in DC." While I would argue that isn't necessarily true, it doesn't hurt to brush up on both DC's history and Morrison's own works before giving it a go at tackling this material.
Crisis in Context
Dating back to the 1963, the term "crisis" has been used by DC Comics to mark their big crossovers. Throughout the 1960s, 1970s, and into the 1980s, these crossovers typically saw team-ups between the Justice League of America and the Justice Society of America, who hailed from different earths in the DC Multiverse. Over time, more alternate earths were revealed, such as the Nazi controlled Earth-X, the Fawcett Comics world of Earth-S, and so forth. However, in 1985, DC opted to collapse its multiverse into one during the mega-event Crisis on Infinite Earths.
Considered the grandfather of all future comic events (despite Marvel's Secret Wars being published the year before), Crisis on Infinite Earths not only collapsed the DC Multiverse, but was also used to fully relaunch the DC Universe as a whole. Many of the hallmarks of modern DC events, including Final Crisis, can be found here. Red skies, cosmic and existential threats, and the involvement of a Flash are just a few of the common elements established by Crisis. But more than anything, DC would use its crisis events as a means to shake up or fix established continuity.
After Crisis on Infinite Earths, DC enjoyed a great period of storytelling. The new Superman series, John Byrne's Man of Steel, rebooted the character's origin in a modern context. A similar approach was taken in the pages of George Perez's Wonder Woman. Meanwhile, Batman's new origin, "Year One," was told in the pages of Batman #404-407. Jim Starlin and Mike Mignola's Cosmic Odyssey is one of the best stories the publisher ever produced. But eventually, DC editorial realized that the continuity of the relaunched universe was as neat and tidy as envisioned. To make the necessary tweaks needed to clean up matters, another crisis event was needed. 1994's Zero Hour: Crisis in Time, a mostly forgotten story, was the result. 
Despite being underwhelming, Zero Hour did what it set out to accomplish in bandaging up the DC continuity. And like Crisis on Infinite Earths, it had the elements that story had previously established: red skies, an existential threat, and a notable impact on the universe's overarching canon. Thus, the publisher chugged along, producing stories in a singular universe throughout the remainder of the 1990s and into the 2000s. To work around the lack of a multiverse, the concept of "hypertime" was introduced in 1999's The Kingdom, the sequel to the classic miniseries Kingdom Come. But eventually, the DC higher-ups needed to get their multiverse back, considering it a true distinguishing element from their competitors at Marvel.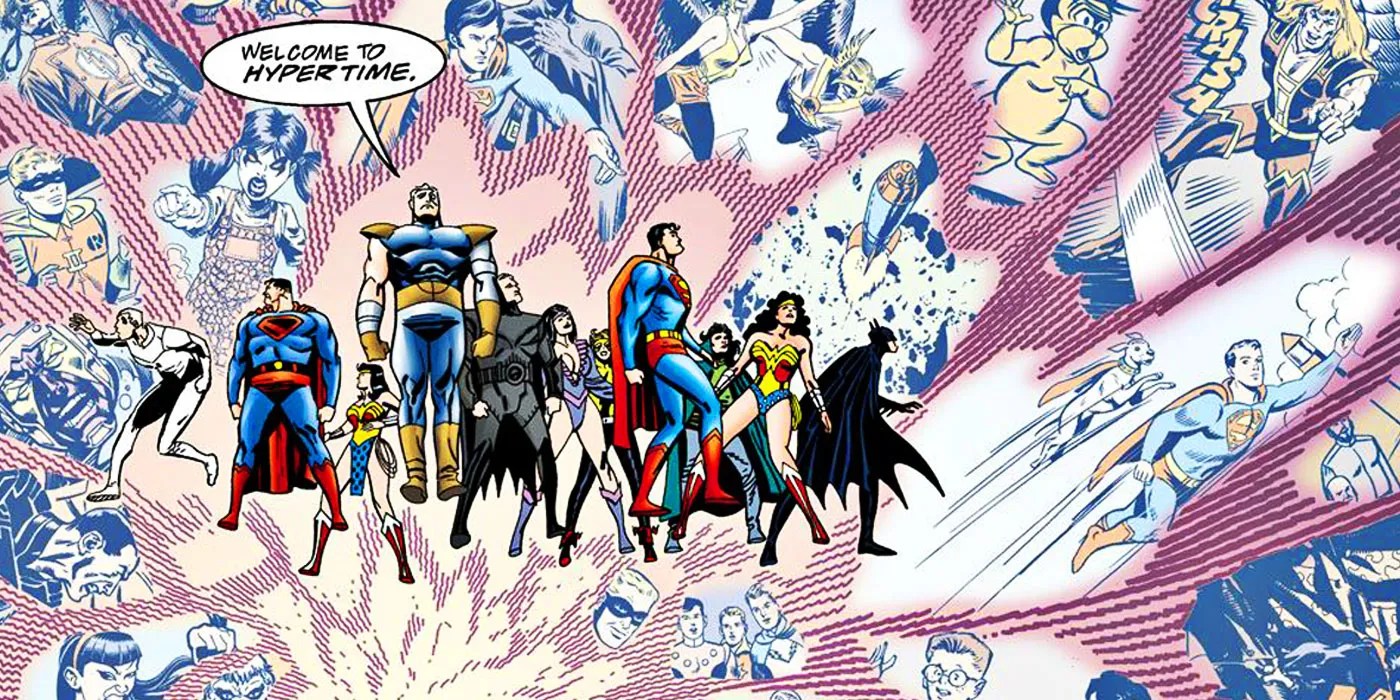 2005's Infinite Crisis by Geoff Johns and Phil Jimenez, for all intents and purposes, restored the DC Multiverse, though at the end of the event it was thought to have been recollapsed down into a singular "New Earth." Like Crisis on Infinite Earths and Zero Hour before it, Infinite Crisis was marked by the famed red skies and an existential threat, this time the petulant child Superboy Prime. The reborn multiverse was revealed that New Earth was just one of 52 worlds in a new, finite multiverse. This was explored in further detail during the weekly series 52, which might arguably be DC's greatest achievement as a publisher. During 52, a small group of characters – Rip Hunter, Booster Gold, and Supernova – discover that the multiverse does in fact exist, but opt to keep it a secret. 
Beyond the restoration of the Multiverse, Infinite Crisis would explore themes such as heroism and the contrast of earlier comics' optimism with the pessimism of modern comics. However, despite Johns and Jimenez's best efforts, the story ultimately seems to side with the notion that the industry trend toward darker storytelling is for the best, likely due to editorial mandate. It makes sense, as the polarizing and often derided Identity Crisis (which is not a true "crisis" story) was a commercial smash just a year prior to the launch of Infinite Crisis. The stories in DC that would follow continued, for the most part, on a darker path.
The Themes of a Grant Morrison Comic
Grant Morrison's first big splash in American comics was the 1989 graphic novel Arkham Asylum: A Serious House on Serious Earth with artist Dave McKean. It was a commercial and critical success, and shined a spotlight on Morrison's other notable DC work at the time, Animal Man. A previously obscure and uninspired character, Morrison's Animal Man dealt with a variety of themes, from eco-terrorism and vegitarianism to the everyday lives of superheroes.
The first prominent example of Morrison's penchant for metatextuality can be found in Animal Man #5, "The Coyote Gospel." Starring a cartoon character named Crafty – a stand in for the Looney Tunes' Wile E. Coyote – Morrison transports him from his animated cycle of outlandish life, laughable death, and predictable reincarnation to a more realistic world inhabited by the titular Buddy Baker. This is the first instance of Morrison's decades-long statement that the comic industry is doing more harm than good by embracing dark and gritty storytelling for its aspirational figures.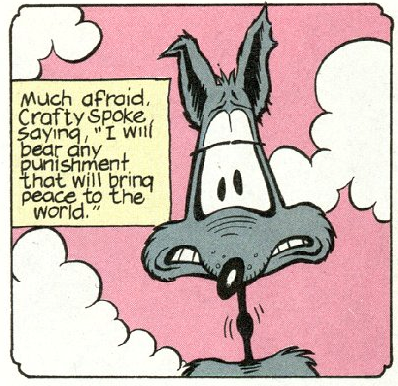 Though he would continue to develop subversive and twisted stories in the pages of The Invisibles and Doom Patrol, his acclaimed run on JLA made the languishing title DC's flagship. Bringing back a lineup of the publisher's prominent characters, Morrison and artist Howard Porter used JLA to tell big, bombastic stories that propped up icons like Superman and Batman as the pinnacle of humanity. This would reach its culmination during the "World War III" story arc, the conclusion to Morrison and Porter's run in which the population of Earth gains superpowers and fights alongside the Justice League to stop an invading threat.
Morrison continues to look at the heroes of DC Comics as a natural endpoint for humanity. As stated in All Star Superman,
"You have given them an ideal to aspire to, embodied their highest aspirations. They will race, and stumble, and fall and crawl….and curse….and finally…. They will join you in the sun, Kal-El. They will stumble, they will fall. But in time, they will join you in the sun. In time you will help them accomplish wonders."
To Morrison, humans are different from other animals because we are "imitators." While dolphins or eagles or mice do not aspire to be anything outside of their abilities, humans seek to push themselves beyond their physical limitations. They seek means of flight or deep sea submersion. Because of our desire to be more than ourselves, the idea of Superman was inevitable, and it is an idea that humanity will continue to chase. 
The concept of time and space is also frequently in flux in Morrison's works. Both the "B Theory of Time" and the "Holographic Principle" take prominence in his books, perhaps best exemplified in The Multiversity and Final Crisis. In its most basic terms, the B Theory of Time postulates that time is not linear, but is fluid and omnipresent. Meanwhile, the Holographic Principle, in its crudest form, is a tenet of string theory in which the universe appears projected as a two-dimensional image when viewed from a higher dimensional plane. Both theories could be applied to comics and, as silly as it may sound, makes the argument that the world we perceive may be experienced like a comic book by advanced, higher beings.
These are the philosophies and concepts that Morrison brings to the pages of Final Crisis. We'll end on an excerpt from Morrison's book Supergods.
"Why shouldn't we use all our brilliance to leap in as many single bounds as it takes to a world beyond ours, threatened by overpopulation, mass species extinction, environmental degradation, hunger, and exploitation? Superman and his pals would figure a way out of any stupid cul-de-sac we could find ourselves in—and we made Superman, after all."