Tiny Pages Made of Ashes is Comics Bulletin's small press review column
"I Don't Hate Your Guts"
(Noah Van Sciver)
It's a weird thing, reading the comics of a cartoonist whose work you enjoy. You feel like you get to know them even though you've never met them. You get to know how their mind works by the material they present on the page, by the choices they make for the way they deliver their stories, the characters they focus upon, the style of presentation that they choose to use.
I've been reading Noah Van Sciver's comics for several years now but this collection of diary stories (published by 2D Cloud) is the first time I've seen the actual man who's created comics that I've enjoyed and written about (or that my fellow Van Sciver loving pal Daniel has written about) here on Comics Bulletin, books like Deep in the Woods, The Hypo and Fante Bukowski.
"I Don't Hate Your Guts" is a collection of 32 diary comics from 32 days. They're straight diary tales as opposed to the kind of veiled autobio of his more fictional tales, and they make for fascinating – though slightly depressing – reading. Many of the strips are about Van Sciver's day jobs, working at a Panera Bread and a bookstore, where he works as a wageslave in order to live and to follow his dream. I don't know why I found it such a bummer to see Van Sciver get in arguments with his boss about having to work closing shift at the restaurant – maybe somehow I expected him to have gotten rich off a book he had published through Fantagraphics (the idea makes me giggle a bit inside), but the comic acted as a nice reset of expectations… oh yeah, the types of cartoonists we cover here on "Tiny Pages" are often earning a tiny income from their comics.
In the midst of the work, the trips to the bars, the hanging out with friends, and all the ennui, we also get a moment of real happiness in this mini, as Noah goes out on a date – and hits it off – with a woman named Leah. It's wonderful to read this moment in time in their relationship, get a feeling for the happiness that their time together brings to Van Sciver. In the moments with her, he turns off the angst and projects a moment of contentment that will make any reader smile.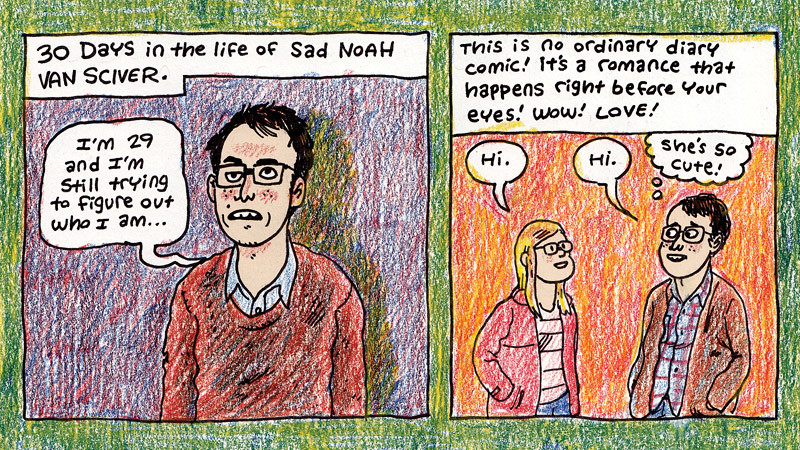 It's those scenes that lift this book from a standard introspective, navel-gazing mini into something really worth picking up, because there's a character arc here. We see Van Sciver grow a bit happier and a bit more focused, and that arc makes this book special.
Drawn in color with a loose, improvisational style (is it done in markers?) that gives even the slowest passages verge and energy, "I Don't Hate Your Guts" is a treat for any Van Sciver fan. I enjoyed seeing him lift the mask and talk about himself for a change.
Order "I Don't Hate Your Guts" from 2D Cloud.
---
Death in Oaxaca
(Steve Lafler)

American expats Rex and Gertie, and young son Myles, are settling in to the beautiful Mexican town of Oaxaca. Things seem like paradise there: the natives are friendly and funny; a wonderful house is available for rental; Gertie and Rex can both work from Mexico without any concern about their incomes. And, in fact, things seem absolutely wonderful. But as you might guess from the title of this first issue of a new series, there are secrets in the town too, secrets that involve a mysterious bat, and a costumed heroine, and strange dreams, and much more on the edges of what seemed on the surface to be a placid society.

What makes Death in Oaxaca special is the juxtaposition between the ordinary and the extraordinary. Rex, Gertie and Myles are a happy family, seemingly content in their journeys and loving life in their new Mexican town. Lafler sells that aspect of the comic in wonderful ways and in small touches – with Rex learning to play guitar because one of his friends encouraged him, or the fun that Myles and Rex have wandering their town. It's easy to get lulled into believing that this will be a straight drama, maybe a travelogue or kind of shrouded autobio strip.
But Lafler is playing a different game here. A very interesting, very different game.
The costume and the bat and the "skull guy" who come to dominate the second half of this 34-page story imply that this is all scene-setting and that there's a lot more that will take up this graphic novel. That gives the ending an interesting, kind of giddy-feeling energy that promises Lafler will take it in unexpected directions.

He certainly has the history in his career to prove that will be true. Steve Lafler has been creating comics and graphic novels, always in his idiosyncratic, ground-level, easygoing style, for over two decades now, carving out his own hand-drawn, rough-hewn comics art that always seems to go in its own very personal directions. His work on Death in Oaxaca shows that same attention to maintaining his own style and approach, and the results are intriguing and fun.
Order Death in Oaxaca from Alternative Comics.