Love is in the air. Specifically, the love of comics. While Valentine's Day looms large on Friday, the real cause for celebration occurs on Wednesday with new comics hitting stands and digital storefronts. Best part is, there's no need for self-loathing as you pound your 3rd pint of Ben & Jerry's. So let's take a look at what looks good for this week.
The Batman's Grave #5 (DC Comics)
This shouldn't come as a surprise, but Warren Ellis and Bryan Hitch's series continues to be the best place to go for the Dark Knight's adventures. I don't care if it's in or out of continuity (probably out since Batman: Pennyworth RIP is also out this week), but a good story is a good story. And this is a damn good one.
The Batman is summoned to Arkham Asylum, where he is presented with parts of a deadly puzzle he couldn't see assembling all around him. And he may not make it out alive.
The Green Lantern: Season Two #1 (DC Comics)
I've never been much of a Green Lantern fan, but I am a big Grant Morrison fan. I still am not a big fan of DC's space cops, but I'm digging what Morrison and Liam Sharp have done thus far and can't wait for more.
The team of writer Grant Morrison and artist Liam Sharp continue their bold new take on the Emerald Warrior in a wild 30-page second season opener!

In the wake of the Blackstar incursion, Hal Jordan and his fellow Lanterns must pick up the pieces from that cataclysmic conclusion. Among them is Jordan's next critical mission: search for the next generation of cosmic immortals. Is the universe ready for…the Young Guardians?
Harley Quinn and the Birds of Prey #1 (DC Comics)
There are a lot of people that think Harley Quinn is overexposed, and they may be right. However, getting a book with Amanda Conner doing interior artwork can't be passed up. Plus, this book has at least a more sensible title than the movie.
The creative team that transformed Harley Quinn forever returns to shake up her world once more—and this time, the gloves are off!

Harley Quinn has avoided Gotham City ever since she broke up with The Joker and found a home, and a kind of family, in Coney Island. But when she gets an offer she can't refuse, she has no choice but to slip back into the city as quietly as she can, hoping to be gone before anyone—especially her ex—learns she's been there. But for Harley, "as quietly as she can" is plenty loud…and before she can say "Holee bounty hunters, Batman," The Joker's sicced every super-villain in the city on her pretty ombré head—and the only team tough enough (or crazy enough) to come to her defense is the Birds of Prey!

The foul-mouthed, no-holds-barred sequel to one of DC's raciest runs is here! Get on board early, before we come to our senses!
House of Whispers #18 (DC Comics | The Sandman Universe)
There really isn't a book like House of Whispers being made right now. It's such a unique experience, even when contrasted against the other Sandman Universe titles.
The Corinthian has been shattered into thousands of pieces, each one infecting an acolyte of Erzulie, turning their whispered prayers to her into incantations of horror! It falls to Erzulie to pull every one of those shards together and reassemble the Corinthian…but the problem with reassembling him is that, well…then the Dreaming's worst nightmare is back, and very, very angry!
Hellmouth #5 (BOOM! Studios)
While it may not have lived up to it's "EVENT OF THE YEAR" billing that has been pushed hard by the publisher, Hellmouth has been a thoroughly entertaining supernatural romp that has set the stage for new directions in both Buffy and Angel. Hopefully, the creative team is able to stick the landing on this final issue – a feat rarely performed in modern events.
THE EVENT OF THE YEAR ENDS HERE! Angel and Buffy finally confront the enemy in the heart of the Hellmouth, but the journey has already taken it's tolls. Beaten in body and spirit, they might not have enough power between them to save the world. With more allies than they know, Buffy and Angel will make their final stand… and not everyone will make it out alive.
X-Men #6 (Marvel)
Hickman good. X-Men good.
Mystique goes to extraordinary lengths to get what she wants…
Canopus #1 (Scout Comics)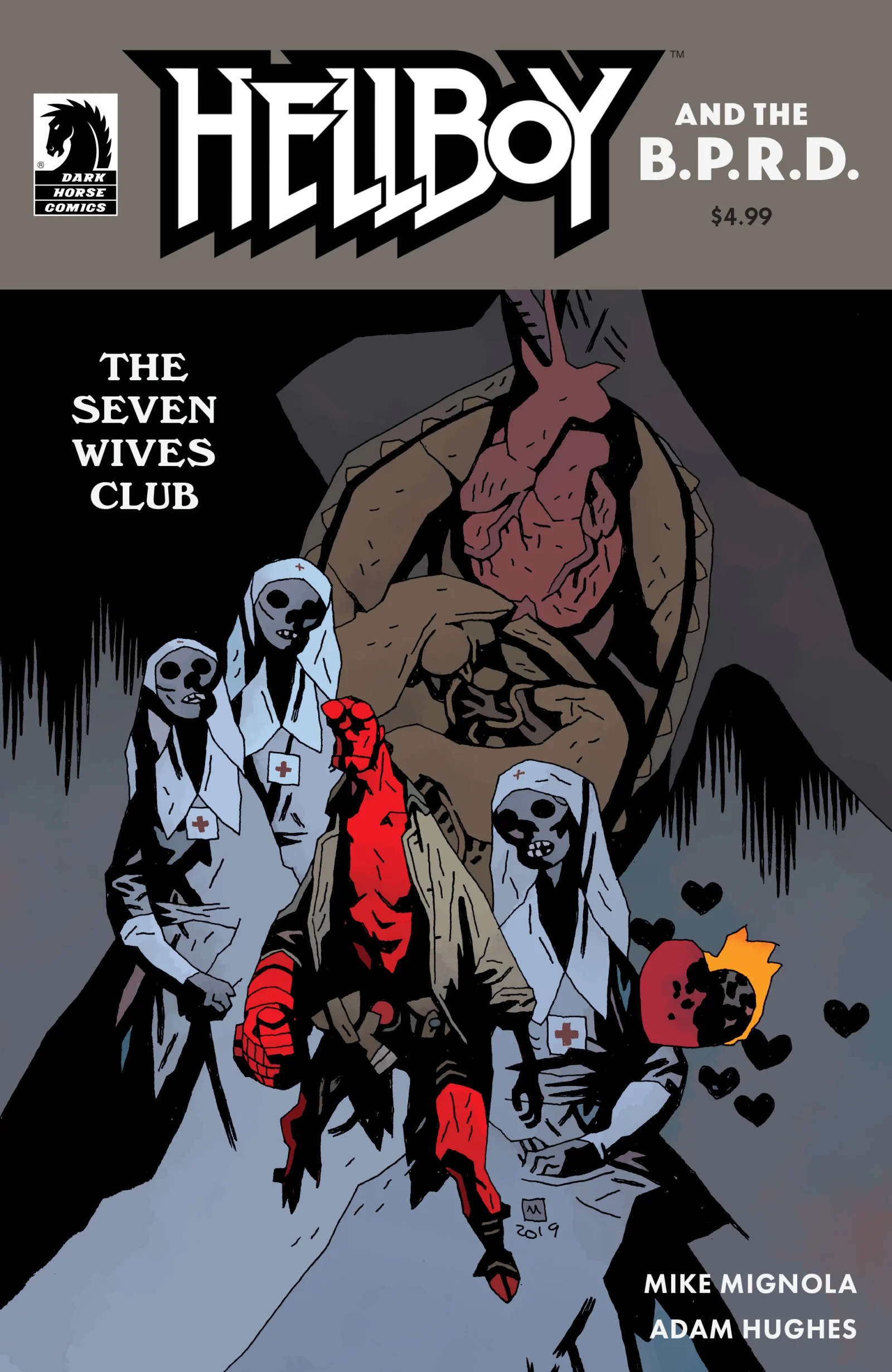 Every week, I like to just pick up a comic on a whim, and this week the debut issue of Canopus is the lucky one. The premise looks like your typical sci-fi fare, but I'm curious to see its execution.
Helen wakes up marooned on a lifeless alien planet 300 light years from Earth with no memories beyond a hazy sense of extinction-level urgency to return to Earth. Joined by Arther, her strange robot companion, she explores the planet to find materials necessary to repair her ship. However, circumstances are not as straightforward as they seem. Along the way, Helen's most painful memories return as monstrous manifestations hell-bent on her destruction. Canopus is Castaway meets Annihilation, with a healthy dose of 'Phillip K. Dick' thrown in for good measure!
Hellboy and the BPRD: The Seven Wives Club #1 (Dark Horse)
It's motherfucking Hellboy! What more reasoning is there?
The team behind the Eisner Award-winning one-shot Hellboy: Krampusnacht spins a new ghostly yarn! Hellboy comes to the aid of a young girl whose ghost hunt goes wrong, and a visit to an abandoned medical school reveals sinister layers to a grisly, long-ago murder. Stolen cadavers, vengeful spirits, and more abound in this one-shot.

Hellboy creator Mike Mignola reunites with fan-favorite artist Adam Hughes for a spirit-fueled scream fest sure to excite old and new fans alike!
Blackwood: The Mourning After #1 (Dark Horse)
It's motherfucking Blackwood! The continuation of Evan Dorkin's acclaimed Blackwood offers a great combination of horror, emotional resonance, and engrossing artwork.
The next chapter of the hit occult fantasy series Blackwood, from Eisner Award-winning Evan Dorkin (Beasts of Burden) and the powerhouse art team of Veronica and Andy Fish. Blackwood College is in mourning after the death of Dean Ogden, unaware there's a traitor in their midst looking to bury the entire school. Meanwhile, the students continue to deal with Dennis's death, a situation that Reiko not only refuses to accept but plans to rectify. Will mayhem ensue? Duh. 

o A continuation of the hit occult fantasy series.

o Perfect for Harrow County and Beasts of Burden fans!