Singles Going Steady is Comics Bulletin's weekly single issue review roundup. 
Wayward #6
(Jim Zub / Steve Cummings / Tamra Bonvillain / Marshall Dillon / Zack Davisson; Image Comics)
After a short hiatus, Wayward #6 marks the beginning to a new story arc. The intensity and lingering mystery that concluded the previous arc resonates throughout this issue. A new protagonist has emerged. Her name is Ohara Emi and she went to school with Rori. Ohara mentions Rori throughout the issue, asking questions, recollecting memories when their paths crossed and ignoring rumors and hearsay from her peers.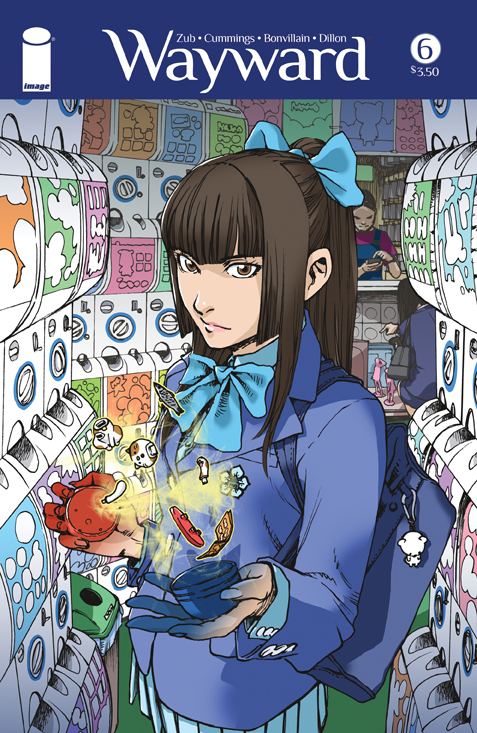 Jim Zub creates Rori's perfect foil in Ohara's character. She's Japanese and blends into the societal expectations placed upon her. Despite this primary difference, she is also runs parallel to Rori. She follows patterns and feels like an outsider. There's a dichotomy created in her following proper social order (giri) and her opposition to it (ninjo). This is shown partially by Ohara's interest in collecting Gashapon, something her father considers childish and her reluctance toward the pattern of life she's expected to follow. These details are put into perspective by Comic Bulletin's own Zack Davisson and his insightful essay that concludes Wayward.
For those that enjoyed Rori, don't worry, she's returned, but not quite in a way that you'd expect. She's present in the story and is surely vital to this new arc, but those purposes have yet to be revealed. These instances make great use of Steve Cummings and Tamra Bonvillain's artistic abilities, often times utilizing fading color palettes to distinguish memories from the present or contrasting, bright colors to highlight moments of supernatural occurrences.
The art by Cummings and colors by Bonvillain's are vibrant and continue to set Wayward apart from other comics on the stands. The characters are lively and boast Cummings ability to draw full ranges of emotion. The coloring when showing Japan feels so natural to the story that Zub and Cummings have presented. It's a truer, more natural Japan that we're not often shown in Western pop culture. Cummings' ability to draw action sequences is top-notch. The action is fluid and paced well. He balances the point of view in the panels so the motion doesn't appear muddled or confusing. These choices are heightened by Bonvillain's color choices and Marshall Dillon's careful lettering. Dillon uses onomatopoeia is spot on, most notably during the scene where Ayane fights off a group of Foxfires that're chasing Ohara.
Oh yeah, Ayane and company.
It might be a good time to mention that Ayane and Nikaido are back – and in full force – in this issue.
Wayward #6 holds tight to the essence of the first arc and maintains mystery. The added protagonist is a welcomed addition. Her personality is similar to Rori's, but her experiences differ and she is distinguished enough for readers to both care about and like her. Ohara doesn't seem to be a replacement, but perhaps a placeholder for what's to come.
-Michael Bettendorf
---
Multiversity: Ultra Comics #1
(Grant Morrison / Doug Mahnke; DC Comics)
I don't like to write in the first person. I owe that to my training as a real-life (somewhat) mild-mannered reporter for a great daily newspaper. (Once upon a time, I even had an editor named Perry White.) I want to focus on the work I'm asked to review rather than making the review about me and my fanboy feelings. Hey, it is what it is, but that's my style. I'm only writing this preface so you can feel the weight of what you're about to read: I hate Grant Morrison. He's a pompous douche whose writing is laced with a sense of superiority drawn from an unfathomable source, which often makes his work an unbearable slog. I'm only writing this preface so that you can feel the weight of what you're about to read: Grant Morrison's Multiversity: Ultra Comics is brilliant.
That declaration doesn't change my feelings or opinions about Morrison in the slightest. In fact, that air of superiority I mentioned? Yes, that's part of what makes it brilliant. Listen, Morrison intuits comic books and narration in ways that transcend common understanding or even use. Ultra is full-fledged expression of that understanding. (If you pick this book up and you don't get it, go find a copy of Scott McCloud's Understanding Comics, which deftly explains the marriage between words and pictures. Then read Ultra again. If you are really a geek, go find Umberto Eco's essay on Superman and comic books and how they are unique in storytelling because they demand that characters must be constantly reinvented for the present audience, unlike the tales of ancient heroes like Gilgamesh, Achilles, and Beowulf whose feats have been always rooted in the distant past. Eco is a specialist in semiotics — the study of symbols. [Heavy stuff, I know.] Then, read Ultra again.) Morrison infuses his ideas and understanding of the medium into Ultra's narration. Then, by breaking the fourth wall and using second person narration, he asks us to give those ideas life. Thus, the book is a conduit between creator and audience and in being that the universe of that book becomes three dimensional.
As one of the "Architects" of the New 52, Morrison helped shape the contemporary DC Comics multiverse. His ideas are peppered throughout all of the books of the last five years. I haven't read all of the Multiversity books — you know, because I hate Morrison. But, I'm going back and reading them because if they are anything like Ultra, they are a guide to not just understanding the New 52, but the whole of DC Comics since the Flash sped onto newsstands in the 1960s. I've invested 20-odd years of my life reading DC and Superman in particular. I'll read anything that helps me make sense of what it is I've been reading and why for two-thirds of my life even if it is at that pompous bastard's hand.
Doug Mahnke's (Green Lantern, Superman/Wonder Woman) pencils are spot on. But, this is book is definitely an example of how the art highlights the writing and not vice versa. Everything about this book bows down to Morrison, that prick, and his ideas.
– Matt McGrath
---
Wytches # 5
(Scott Snyder / Jock / Matt Hollingsworth / Clem Robins; Image Comics)
I'm finding myself less and less interested in Wytches as the months go by. Maybe it's because the weather is getting warmer here in Nebraska and the sun has some out to say hello. Maybe it's because when this book debuted in October, the autumn air and horror movie marathons made this horror book more appealing. Whatever it was, it has faded.
The last issue left off with Sailor's mom, Lucy, unable to remember who Sailor was. I found that to be an interesting avenue for the story to take, but nothing further has been explained in Wytches #5, only that she is still has no recollection of her daughter. Throughout the series, the accident that put her into a wheelchair has been mentioned, so I've presumed it has something to do with that or something to do with pledging and the wytches. Either way, we gain no ground on that front.
Instead, we follow Charlie Rooks as he takes a policeman, who is involved with the wytches, hostage in order to find Sailor. The issue is punctuated with flashbacks of Charlie and Sailor at the hospital after Lucy's accident. They serve as both motivations for Charlie as well as include tidbits of information regarding Charlie's absence and Sailor's relationship with her father.
The artwork by Jock continues to look grimy and gritty to emit intensity. Charlie finds himself at the wytche's hovel in the woods. It's creepy, dense with a suffocating atmosphere, but at this point nothing we haven't seen. As he crawls into the entrance of the tree, he's led down a cave-like dwelling and heads deeper and deeper into the keep to find Sailor. There're tight spaces that make my skin crawl.  It's mostly dark, save for the wytche's cauldron and bright yellow/orange CHIT sounds that they say. I say mostly dark because the biggest problem I have with Wytches is the sun/light/camera-flares that riddle this book. At first, their inclusion added to the mystery and mythos in this tale, but after five issues of feeling like I've stared into a light bulb before reading this comic, I just can't do it anymore. It's become a distraction rather than a purposeful additive. There seems to be no reason to include them other than for stylistic preference, but in that regard it falls flat.
The script for this issue feels somewhat predictable and doesn't capture the horror and suspense that the previous issues had that kept me coming back for more. The issue ends with Charlie recovering Sailor in the pit of the hovel, but in doing so, gaining the attention of the wytches. There're still questions to be answered, which makes me eager to see how this team will wrap up this story – to be concluded next month.
-Michael Bettendorf
---
Hit: 1957 #1
(Bryce Carlson / Vanesa R. Del Rey; BOOM! Studios)
Boom! Studio's HIT: 1957 is an interesting introduction to a lurid world of various anti-heroes, gangsters, and crooked cops operating in the late 1950's era West Coast cities. I wasn't familiar with the earlier incarnation, HIT: 1955, so I wasn't too sure what to expect. Writer Bryce Carlson (Adventure Time) bounces the narrative around the seedy underbelly of several unsavory characters, including Bonnie Brae, a woman with a past that has come back to haunt her (she's a capable femme fatale, and, refreshingly, is the most compelling and interesting character), and a trio of crooked cops trying to track down a serial killer known as the Hollywood Hacker.
Vanesa R. Del Rey's (The Empty Man) art is distinctive in it's clear, defined lines, which work well in making the action clear, and her use of shadow and shading really aides in setting the mood. The whole books reads like a long-lost film noir, and its myriad stories and characters offers a lot in terms of plotline (if one group of characters isn't interesting, in just a page or two you'll be introduced to someone much more interesting or charismatic). Refreshingly, the characters aren't all one-note, either: they're not all straight-up bastards, or goody-two-shoes either. Complexity in characters? Sign me up!
It'll be great to see where this story's going, and whether these characters are going to intersect and throw a few more shades of black into this already dark series.
–  J.L. Caraballo
---
The Valiant #4
(Jeff Lemire / Matt Kindt / Paola Rivera / Joe Rivera; Valiant Entertainment)
The last decade has seen a series of comic events which has been, for the most part, pretty terrible. The Valiant has not. Credit goes to co-writers Matt Kindt and Jeff Lemire and artists Paolo and Joe Rivera. This creative team has managed to craft a story with a wide enough to scope to warrant the inclusion of Archer, X-O Manowar, and the Eternal Warrior, while at the same time keeping the narrative tightly focused on intimate character interactions. The reason is that this event is a horror tale on a global scale, and The Valiant #4 sticks the landing.
With this concluding chapter, Kindt and Lemire manage to crank the tension up to eleven and then break off dial. After an opening sequence set in the far future, the issue is a non-stop ride through its climax. Kindt and Lemire are able to balance the issue's dual storylines, seamlessly bringing them together by the final pages. Both narratives provide readers the necessary character developments and plot beats to keep them invested. The showdown between Bloodshot and Kay McHenry with the Immortal Enemy has all the intensity of a [good] slasher film, as well and allowing the Riveras the room to flex their muscles with stunning action.
The plot thread starring Eternal Warrior, Ninjak, and Breaker (among others) may be secondary, but remains crucial to the overall narrative. Their aim to unlock a "mystery box" – which was sent back in time from Eternal Warrior in the future – is  wonderfully paced. Tension builds with each passing panel as the characters attempt to unlock the trump card in the battle against the Immortal Enemy, fully aware of the plight facing Bloodshot and Kay.
In the issue's back-half, the creative team finds a way to buck expectations for a truly surprising and affecting conclusion. Readers have become so used to the formula of modern comics, it is rare to come across a title [that isn't from Image or Vertigo] where the stakes – and consequences – are real. Not the case in The Valiant. This is what superhero events should aspire to.
-Daniel Gehen
---
Regular Show: March Madness #1
(Kevin Panetta / Rian Sygh / Various; BOOM! Studios)
Often times, licensed comics just don't work out. KaBOOM! however, seems to have pretty good luck with the formula, especially in the case of their treatment of Cartoon Network's Regular Show. The nice thing about this series is that you can read it from the beginning or pick up a random issue and you'll always have a good time with. The March Madness special issue would be as good a place to start as any.
Mordecai and Rigby are up to their normal ridiculousness in this collection of shorts featuring Mordecai's cousin, equinox demons and paper airplanes. Need I say more?
The only downside to the Regular Show March Madness edition is that, if you're not a fan of the show, it may not strike the same chord. In any case it's a great extension for fans that stays faithful to the property. If you need more Regular Show in your life, give this a shot.
– Ryan Scott