Advance Review: The Venture Bros.: The Fifth Season Blu-ray
The Venture Bros. is one of those pop culture phenomenon that inexplicably slipped past me. Everything about this show connects firmly to the pleasure centers of my brain, and yet, after watching the pilot and first episode or two, it just didn't grab me. So I let it go, figuring it just wasn't for me. Like I did Buffy, Angel, Farscape, and Supernatural; all of which I came back to later and had my mind blown by how amazing they became.
Well, guess what? It's the same here.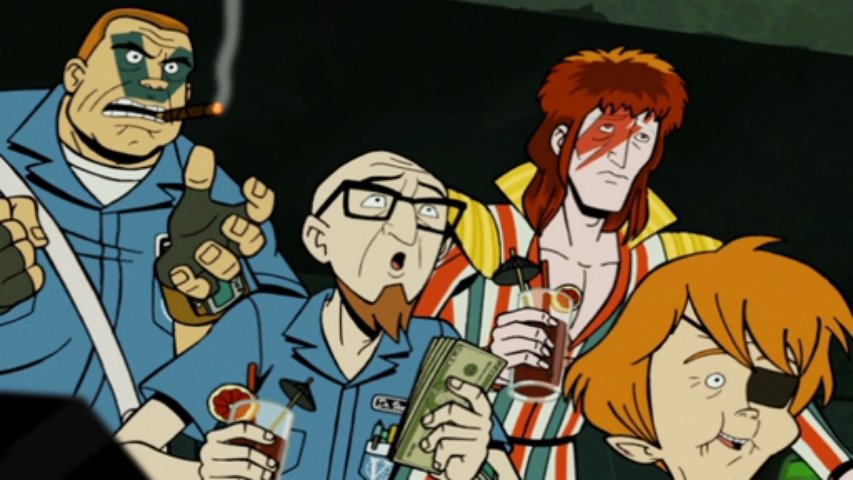 Which puts me in an odd situation as far as reviewing the fifth season Blu-ray release. I never realized that there was such an intricate and involving mythology for this show. Seeds for stories are laid seasons in advance sometimes — whether the creators, Jackson Publick and Doc Hammer, ever intended for them to be seeds or not — and while a lot of the humor comes from mocking nerd culture, there's a love at the heart of this show for everything that it makes fun of.
That's what I didn't give it enough to time to demonstrate back in 2003, but now, eleven years and five seasons later, I finally see what all the fuss was about.
I don't know that it's always been this way, and from what I gather after listening to the audio commentaries it's probably varied over the life of the show, but Season Five seems to lean more on world-building and exploring the relationships of these characters than simply going for outrageous humor for its own sake. Which isn't to say it's not hilarious, because it is, but there's such a vivid imagination at work that when something funny happens, it's a natural part of the Venture Bros. world.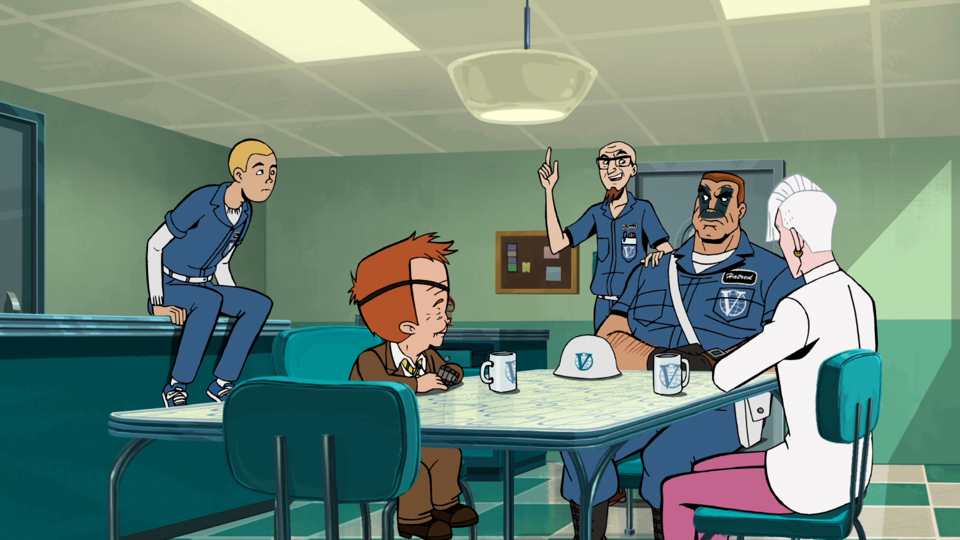 This isn't some bullshit Family Guy-type thing where there are no rules and pop-culture references are just tossed into a low-brow blender and sprayed out haphazardly.
Season Five is the shortest season of The Ventures Bros. yet, clocking in at only eight episodes (although the premiere is double-length), plus two specials that aired between the conclusion of Season Four and the debut of Season Five. Going into the season premiere, "What Color is Your Cleansuit?" I admit I was kind of dreading it. But a review job is a review job and I was ready to suffer through and give it a chance (I mean, come on — I reviewed that awful Three Musketeer movie for Christ's sake)
But by the end of that first hour, I was in. Here's the episode lineup:
5.01 "What Color is Your Cleansuit?"
5.02 "Venture Libre"
5.03 "SPHINX Rising"
5.04 "Spanakopita!"
5.05 "O.S.I. Love You"
5.06 "Momma's Boys"
5.07 "Bot Seeks Bot"
5.08 "The Devil's Grip"
Bonus 1: "A Very Venture Halloween"
Bonus 2: "From the Ladle to the Grave: The Shallow Gravy Story"
I'm sure that there's a lot of stuff that I'm missing along the way, but once I was in the groove it became clear that The Venture Bros. is like mainlining everything I love. I'm not sure if it was just me finding my footing or what, but each episode seemed to get better than the one before it, and once we hit episode 5, "O.S.I. Love You" it's just a non-stop solid gold dance party in my head.
The Disc:
The single disc is a 1080p/VC-1 video encode that is very nice to look at. Animated shows are almost always difficult to really judge as far as video quality, but this is about as good as a cartoon can look. The audio quality is solid with a Dolby TrueHD 5.1 surround track that does a fine job with dialogue and effects.
The real joy, though, is hearing J. G. Thirlwell's soundtrack cranked up and blaring in a wondrous cacophony of horns, drums, and electronica. If you don't have that disc in your music collection then your collection could use some fixin'.
The Extras:
Audio Commentaries: Jackson Publick and Doc Hammer provide a commentary track for every episode of the season, plus the "Very Venture Halloween" special and are about as entertaining as you would expect. They often spiral off into conversations and stories that are only tangentially related to The Venture Bros. but that's half the fun. They make it even easier to watch the whole season from start to finish again and again.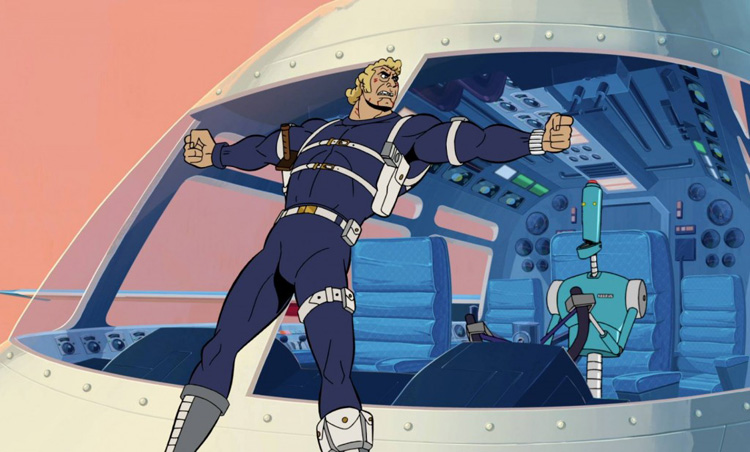 Deleted and Extended Scenes (6 minutes): A few fast and furious additions to scenes. Mostly these seem to be cuts for timing as there's not really any bad jokes or anything that falls flat. It's a nice feature, but doesn't really add much to the overall experience.
Fax My Grandson (3 minutes): Oh man, was this hard to get through. In "SPHINX Rising" Gary posts a request for new members on Guildlist and Diamond Backdraft has trouble figuring out how to work his fax machine, amongst other issues. It was edited down to under a minute in the episode, but this goes on and on.
Coming into this as a newb, all I can say is I loved it and think you should too. It's got that whole Planetary meets Sixties S.H.I.E.L.D. meets Seventies Marvel Superheroes vibe that is like catnip to somebody like me. You're like me, right?
Right?
Be sure to check out this review and more exclusive content over at Comics Bulletin's new sister site, Psycho Drive-in!
---
Paul Brian McCoy is the Editor-in-Chief of Psycho Drive-In, writer of Mondo Marvel, and a regular contributor/editor for Comics Bulletin. His first novel, The Unraveling: Damaged Inc. Book One is available at Amazon US & UK, along with his collection of short stories, Coffee, Sex, & Creation (US & UK). He recently contributed the 1989 chapter to The American Comic Book Chronicles: The 1980s (US & UK) and has kicked off Comics Bulletin Books with Mondo Marvel Volumes One (US & UK) and Two (US & UK). Paul is unnaturally preoccupied with zombie films, Asian cult cinema, and sci-fi television. He can also be found babbling on Twitter at @PBMcCoy.