Living in a zoo together dwells adorable bears with their own unique personalities that sometimes mesh but when it does not erupts hilarious antics which can all be found in Bear Nuts.
Alison Acton, mid-30s, initially came up with Bear Nuts as idle work when she and some of her co-workers were laid off at an animation studio. She made stickers of her art and sold them at conventions where people told her to make a comic which led to Bear Nuts.
The animation studio that the Bear Nuts creator was employed at would work on short minis (short miniature series) to fill time slots. The first mini was to be a spoof of My Little Pony which Acton says was long before the current MLP series. Eventually, the studio wanted to create a Care Bears spoof but the business ended up closing.
Bear Nuts launched in 2008 and is about "an ensemble comedy where no one gets along and they can't get away from each other" according to the creator. The Ottawan came up with webcomic's name by thinking of bear related puns.
The sweet and funny webcomic stands alone with a remarkable main cast of now 12 bears. The original 10 bears are as follows: Prozac, Death, Gimp, Lech, Evil, Tanked, Gay, Crack, Nerd, and Vanity. The names of the two new female bears have not been released yet.
Bear Nuts highlights each of the bear's unique personality.
"I mostly started with the trait I wanted them to embody, and then went from there. Some of them were originally named after people I knew who happened to personify certain negative stereotypes, but those had to be changed of course," said Acton.
As readers move through the webcomic story they will encounter the bears' own back story that is intricately created by the Ottawan.
"I start with whatever their individual issue is, add some crappy situation, and sprinkle on the angst," said the Bear Nuts artist.
Readers who are familiar with Care Bears will notice the similar marking area on the Bear Nuts bears. Acton gained inspiration from her old animation studio job when there might have been a Care Bears spoof. The artist says the markings have no name and are just visual cues about what to expect from each bears along with identifying them.
Some of the bears' markings are obvious with their names like the pill for Prozac or the skull for Death. Nerd's marking is a weenie and Gay's marking is a lavender rhino. Acton says drawing a Star Trek insignia would have been obvious on Nerd but she did not want to do that. Gay's marking is from an LBGT symbol.
"There's a Care Bear with a rainbow symbol so I didn't want to use that for Gay, and pink elephants were all over The Simpsons. I asked a friend who researched other LGBT symbols for me and the lavender rhino (horny beast) seemed to fit," said Acton.
All the animals in Bear Nuts talk except smaller animals like birds, squirrels, chipmunks, etc. The creator says that is partly related to her already large cast so she will not have to worry about "fleshing out" any of the smaller animals which just have a supporting role. She also says it makes them less empathetic in case Evil eats them all.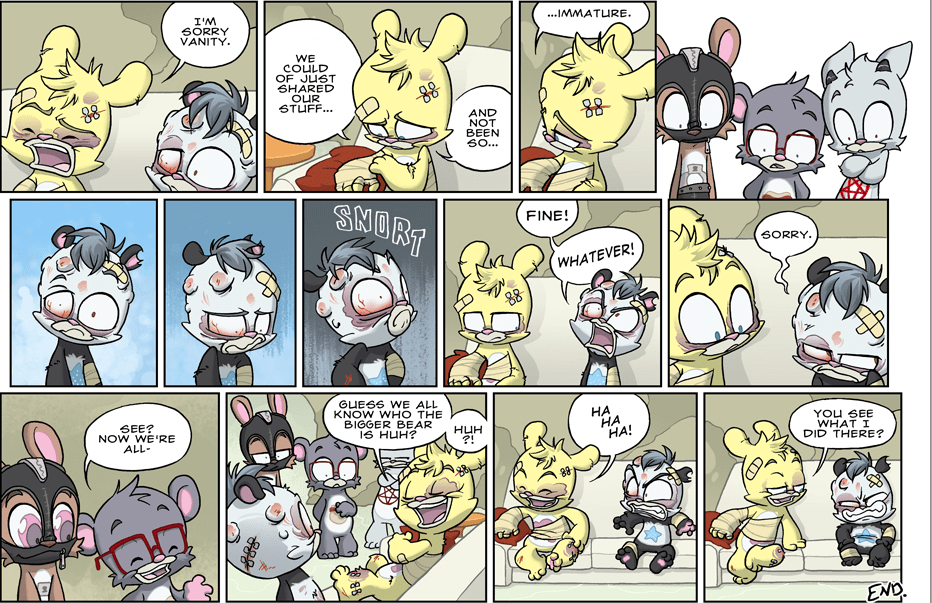 Above: Gay, Vanity, Gimp, Nerd, and Evil
The Bear Nuts artist's background is classical animation and her webcomic is specifically modelled after the abandoned parody short of Care Bears. She says her art style is pretty quick and expressive which she enjoys.
One comic page averages 6 to 10 hours depending on the level of detail and backgrounds involved. The artist starts with a basic outline and thumbnail of all the pages. Next, the dialogue and action gets complicated and changed than to what she originally plans so it takes longer to finalize. She pencils in blue and inks over the lines then colours and letters in Photoshop.
"I finally got a large format scanner last year so I don't have to stitch all the pages together again," said Acton.
Having such a large cast, Acton does not regret creating any particular bear but rather choosing to have 12 main characters.
"It can get confusing when I'm drawing sections with all of them and I sometimes get lost in the staging, or realize I've only drawn 9 and I can't figure out who I'm missing," said the Bear Nuts creator.
Bear Nuts is run mostly by Acton and sometimes she gets assistance from her husband. According to the artist, her husband is a colourist for Marvel Comics and DC Comics and sometimes helps her colour if she is behind or helps her with brainstorming.
"…usually, he cooks. I have been known to screw up Kraft Dinner," said Acton.
Acton's favourite conventions that she attended were FanExpo and Anime North in Toronto. She also travelled to cons in New York, Florida, and Boston. The creator also has been to an Ottawa convention and also would like to go to a Calgary one. She has not been to a convention in a few years due to her children which consist of a four-year-old boy and twin three-year-old boys that keep her busy.
The Bear Nuts artist dreams of an animated series for her webcomic but says realistically she would just like to finish all the material she has planned and see where it goes from there. She also wants a plushie of her Bear Nuts bear Tanked that would come with different outfits and accessories.
Acton would like to see readers be cheered up by her webcomic.
"I just want to create an entertaining comic that makes people laugh and brightens [people's] day," smiles Acton, "and maybe [not] come away thinking I'm emotionally disturbed."
You can find Alison Acton's other links below:
Studio DoOomcat is both the pseudonym and brand for Acton and her husband. They use it as a website name for their online portfolios here and any other freelance design work they do.
Alison Acton and her husband, Jim Charalampidis' portfolio site
---
Thanks to our friends at Two Geeks Talking for letting us share this content.
Two Geeks Talking is a partner in Crossroads Alpha along with Comics Bulletin.