Review: 'Art Schooled' Makes Jason and Keith Want to Go Back to College, Almost
JASON SACKS: So, Keith, we've had an explosion of memoirs in the last few years, with Alison Bechdel's Fun Home and Are You My Mother? next to David Small's Stitches, Craig Thompson's Blankets, Derf Backderf's My Friend Dahmer and John Porcellino's outstanding Hospital Suite.
Add Jamie Coe's fine début graphic novel Art Schooled to that list of fine new graphic memoirs.
Coe tells the story of his experiences in art school – no , wait, don't flip to that next page, Coe does a fine job in this memoir of ensuring that this book doesn't descend into clichés, or at least not too far into clichés, as he tells stories and has us meet the people who made his art school experiences unique. (And to be fair, Coe's lead character is a guy named Daniel Strope so Daniel's experiences may not be the same as Jamie's).
Coe does so in a way that immediately captures the reader's attention: staring directly at the reader on page one, with a black eye and bruises all over his face, Jamie-as-character tells us "I wish I was still there." To which we think, hey, wait a minute, this kid is all black and blue and yet he still misses art school? This is an experience that I want to have too.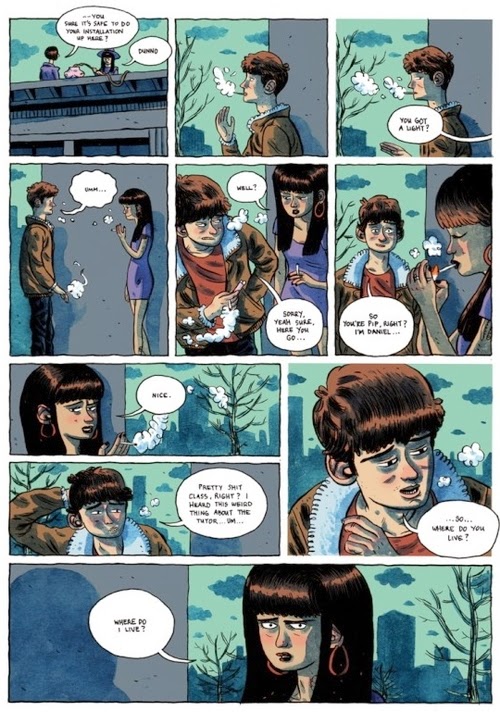 So as we dive into the book, we meet some of the different snobby students who are part of Daniel's art class. They're all different types of students (the differences of which he spells out in glorious, humorous detail in the middle of the book) but all are united by their love for abstract, avant-garde art and by the fact that they look down on Daniel's unformed art. They also all have their own obsessions: "Rebecca Chow always drew a minimum of fifteen dicks in every picture she made," "George Khan dressed like a cartoon villain and always did third-person perspective photography projects that showed him 'not givng a shit.' Of course they were manicured down to every last minute detail."
Coe/Strope seems frustrated by his classmates but also amused and fascinated by them all, especially the beautiful Pip Lang, whom he saves from being crushed by a pair of giant cement breasts (hey, this is art school) and who soon becomes his friend and briefly his lover.
From there, the story flows along in short segments that take up different sections of the page – one section on the different types of students who study art, others that fill different sections of time or that separate out different experiences, or flash forwards or backward in time, or that just jump around like the mind of a kid fresh out of college relating some of his favorite experiences to friends.
That segmentation gives this book real energy. Each scene takes as long as it needs to, and each finds its shape within the page and with the smartly-designed coloring that has a subtle effect on the way that we feel his experiences. Early scenes are in bright, standard coloring showing perhaps that Daniel is just like he was in high school at the beginning of the book, or representing that these are clear memories that are easy for him to remember, or representing moments when he was fully awake and alert.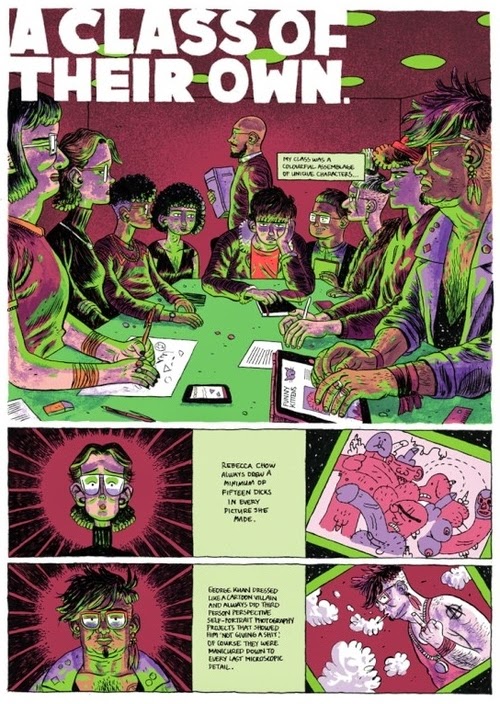 Different sections take on different colors: faces glow green as everyone is working, like a shade pulled over their eyes; a purple haze of passion when Pip and Daniel kiss, a subtle red for panic when the classmates all take their critiques in class. It's a subtle change from scene to scene, but the change is effective in part because Coe's cartooning doesn't change much as the story goes along. When he graduates, he's very similar to the person he was when he entered school, but he's also extremely different. Coe potrays that dichotomy wonderfully with his stylistic approach to the piece.
All that said, there are problems, especially with the tone. Most of the time we see events through Daniel's eyes, subjectively played out through his perceptions and the distance that he emotionally takes from the story he's telling. During those sections of the story, the plot flies along quickly and a few years are covered in just a few panels. But at the end, events shift to a more objective viewpoint and the story slows down to cover one eventful night in deep detail. That gives the book an uneven feel, and makes the quicker scene earlier feel a bit less important than they should – especially since the conclusion is less exciting and complex than Coe may want us to think that it is.
And so while the ending of this book is a bit predictable, it reflects the fact we know this kid who ends up creating a memoir about his experiences in art school. The journey is what is important, and it's a wonderfully entertaining journey.
I might not want to enroll in this art school, but I enjoyed my visit.
KEITH SILVA: Comics needs more distinctive voices like Jamie Coe. Each cartoonist you name in your opening roll call, Jason, has an idiosyncratic style best described as Bechdel-ian, Backderf-ian or Thompson-ian. True, Each one's particular voice may have something to do with the autobiographic nature of their work, but I think that's more circumstance than plotting. Singular voices, those we recognize specifically for their difference, are noteworthy and rare. Jamie Coe has that kind of voice.
Yes, Art Schooled shows the blush of youth often associated with thinly-veiled memoirs, yet another addition in the ubiquitous survey course of write-what-you-know. Coe's choice to see his art school experience through the eyes of the well-meaning but dopey Daniel Strope would be dismissed if not for the fervor he shows as a storyteller. Regardless if Coe wanted his first major work to be an art school confessional or not this is the story he had to tell, not calculated (plotted), but instinctive.
Reading Art Schooled, reminds me of the sensation I get when I tuck into Paul Thomas Anderson's first film 'Hard Eight' or better yet, Darren Aronofsky's'Pi,' it's that sense of seeing something that's part passion project, part gotta-get-this-outta-my-goddamn-system-so-I-can-move-the-fuck-on-as-an-artist. When one of these tiger-by-the-tail types does come along it's best to meet the work at its own level rather than act like a four-year-old on Christmas morning who can't wait for what's next. And yet, I look forward to Coe's 'There Will Be Blood' or 'The Wrestler,' the moment when Art Schooled becomes nostalgic for both the reader and the author. Coe earns a pass here even if it won't be a patch on what he turns in next or after that or after that.
Credit Nobrow with the cultivation of fresh voices like Coe, Louis Roskosch and those other first-time cartoonists and illustrators who's first call to the bigs shows up in the pages of the annual Nobrow series. I'm looking at you Conor Nolan and Bianca Bagnarelli. In the case of Coe and Roskosch, Nobrow deserves a slight critical tweak for publishing original voices whose debuts tend to read like coming-of-age boilerplate; more par-for-the-course than a deliberate act by any such avant publisher.
The bulk of Art Schooled exhibits itself as standalone sequences stitched together with the grit and determination of a bildungsroman, but there's also a lot of humor here (often at Strope's expense) that evokes the impudence of alternative-newspaper comics. Imagine a pocket universe where Art Schooled first exists as something like Dykes to Watch Out For, where Coe hones his craft to eventually deliver a debut as polished as Fun Home? That's not fair to Coe or Bechdel even if it speaks to the teller and the tale. Art Schooled gives Coe the distance to stand on both sides of the divide, to simultaneously be self-deprecating and to take the piss all the while able to stand far enough away to avoid the splash-back. This critical distance falls flat when Coe, not so slyly, drops a hint in the book's penultimate panel that things turn out O.K. for the self-absorbed Strope as well as for the artful if not narcissistic Coe. In some ways it be better if Daniel Strope was Jamie Coe. Why the dumbshow? Why the compromise? Own it (so sez the guy with zero books to his name).
Speaking of critically-speaking, at about the center point of Art Schooled, the reader, Strope, sincerity and sarcasm all sit side-by-side through such a critique. Face to face critiques in art school or elsewhere (like real life) define the cliché 'necessary evil.' When art is out in the wild, it's a bit more bulletproof to the slings and arrows of outrageous fortune and asshat-ery, not so in the crucible of the classroom critique. To reinforce its hellish nature, Coe bathes the sequence the color of a darkroom red light. As the knives come out, Coe reinforces the vox populi's expectation of stereotypical art school students:  those who seemingly do nothing and pass it off as informal genius, classroom lawyers there to bullshit (tell) more than show and those that would rather be run through with a pike than comment on their work and, of course, the rest who sit in righteous judgment of everyone else.
When Strope steps to the front of the class, Coe cants the images inside the panel borders, it's the composition of both the condemned and recently courageous. He returns to this technique whenever Daniel's cockiness clashes with his concern for his surroundings whether social, romantic or personal. Strope's work translates as a loose collection — "vignettes" is the word he uses — of his art school experience, a baby step removed from Rosie who presented a piece with (only) the words 'Men Are Dicks' on it. Before his teacher cuts the critique short (she has a meeting to attend) she manages to give some cogent advice: "carry on … keep doing the sketching and practise your drawing." Artists are sharks, always swimming, always practicing. Perpetual motion machines of forward propulsion who translate experience and imagination into their medium of choice. Coe can crow about his struggles, his foibles and his accomplishments as long as he continues his practice. Practice, Coe, practice.
Art Schooled matters because it's personal; a testimonial that stands its ground against the disposable nature of more mainstream comics – a quality and quantity that reaffirms itself every Wednesday. Even for all of its youthful impetuousness, a document like Art Schooled rings true both in experience and execution and that's why comics needs more Jamie Coe comics.