Female fans of the emotionally complex and fresh approach to sexuality webcomic Flipside are surprised when they learn that its author is male.
Brion Foulke, 36, created Flipside with the desire to explore issues like the psychological aspect of sexuality and how it affects relationships. He says many stories focus on sharing one point of view which almost seems like "propaganda." Foulke wanted Flipside to be more complex than the mainstream comics.
Flipside is mainly about relationships and adventure.
"I think there's a correlation between those two things [sic] because relationships can be an adventure as well," said Foulke.
Maytag is a "nymphomaniac jester girl" with a split personality and is the reference behind the webcomic's name Flipside which refers to her two personalities. Foulke says Maytag is inspired by classic anime and her hat tassels that go over her ears are similar to Lum's from Lum Invader. Shortly after, Bernadette was conceived to be Maytag's counterpart.
"[Maytag's] personality was just a combination of traits that I found interesting," shares the Chicagoan.
Crest was created as the primary male character who "haplessly" finds himself entangled in the couple's problems. He is meant to be the character that readers can identify with but as the story progresses the story shifts from Crest to Maytag and Bernadette. Foulke says Flipside is more about Maytag and Bernadette with Crest as an ordinary person travelling with them. The 36-year old sees that Crest has his own share of problems and wants him to continue growing as a character while keeping his normalcy.
Foulke values character names and takes considerate time for each character.
"It took me a long time to settle on the name Maytag, and eventually I did because it just sounded right," said Foulke.
The creator keeps notes on "cool sounding" names that he happens to think of or see somewhere and when he needs a name for a new character he reviews his notes to check if there is a good one.
Flipside is a webcomic that incorporates magic from healing, enhanced technological, and more. Foulke says magic is a great tool for creating all kinds of interesting scenarios.
"You almost [always] have to have magic in a fantasy comic [sic] because without magic it's not really fantasy, it's medieval fiction," said the Chicagoan.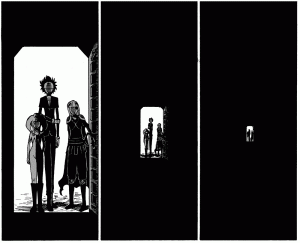 Above: Maytag
Foulke originally created Maytag's black and white colour scheme based on the title Flipside. He says it looks good in a black and white comic not to mention that he likes how it is different from the usual bright jester characters.
Flipside is an evolved art style of Foulke's and he says that his style used to be similar to Dragon Ball Z.
"…gradually I've incorporated influences from all kinds of manga that I've read," said Foulke.
One page of art for Flipside takes about four to six hours which includes Foulke penciling, inking, scanning, shading, and lettering. Script work takes about 30 to 60-minutes which begins as rough drafts on regular paper where he proceeds to write down dialogue and layouts with rough art on each page.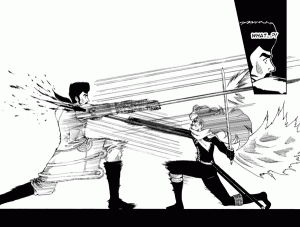 Above: Bernadette
A stereotype regarding sexual comics that includes thorough erotica or touches on it is that women are the dominant suppliers of the genre. Men have been known to go under female pseudonyms if they produce these comics because women are not comfortable with the idea of men invading their innermost desires.
Foulke says he has seen many men produce sexual comics but feels that perhaps men tend to focus more on the male fantasy aspect of it.
"I think I'm probably different in that respect… not completely different [sic], because I don't exactly not cater to male fantasies," said the Flipside creator.
The Chicagoan disagrees with the practice of men going under female pseudonyms to be accepted by women. When Foulke first began he was not aware of the stereotype and had no idea he "should" be using a female pseudonym. He says it has not hampered his progress at all.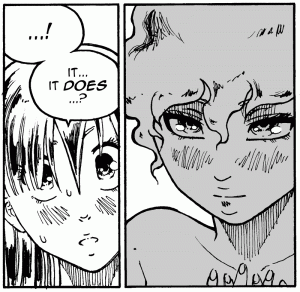 Above: Maytag
The stereotype goes farther where it depicts men as homosexual or too emotionally sensitive. Foulke says he is neither.
"I've personally never felt any problems with people picking on me because of my comic. Most of my feedback I get is very positive. The few negative responses I get tend to be people unhappy with the current direction of the comic," said Foulke.
He has been told by people that they were surprised to find that the author of Flipside was male because it seemed like the webcomic was written by a female. Foulke takes that as a compliment.
Foulke says he usually has girls that express their surprise that he is able to capture the "female perspective" even though he is male.
"I take that as a compliment because [sic] while I wouldn't say that Flipside is necessarily going for just a female perspective, I'm glad it can be seen that way," said Foulke.
You can check out Brion Foulke's links below:
---
Thanks to our friends at Two Geeks Talking for letting us share this content.
Two Geeks Talking is a partner in Crossroads Alpha along with Comics Bulletin.