Bryan Stroud for Comics Bulletin: How many years did you spend at Continuity?
Michael Netzer: The peak of my career was basically two years between 1975 and 1977. After 1977, those two years were the learning curve for me. What is very interesting is I got to New York and in a way that one aspect of my art, which is drawing stuff, that ability to draw seemed to go on the back burner and I became more of a comic book artist. I wasn't drawing drawings, I was drawing comic books. The 70's, working at Continuity, and the two years of doing art took a front seat and I worked so much that it was a little scary at times because it wasn't just drawing. Our handwriting was the same (mine and Neal's). My natural handwriting was pretty much like his and everything seemed like this synergy of things at Continuity with Neal. Those were those two years. It was a big learning curve, learning to do what Neal does.
I wasn't looking to do it better than he does. I was just trying to do things the best that I could. I didn't think it could be done better than he does. I wasn't aware of where I would be taking my art at the time. I just pretty much put my mind to concentrating on that learning curve of absorbing everything I could in those two years. The cultural world that was around me, at Continuity, whether it was the actual craftsmanship of drawing, or whatever. I think during this two year period you could see a marked improvement in everything I did. There seemed to be an attitude there of, "Keep an eye on what this guy is doing, because it looks like he's getting better really fast."  It took something like a year and some time in the later part of '76, maybe the first book I did which was a Challengers #82, the second Challengers where Neal got the bundle that came in from DC Comics to Continuity and he flipped through the bundle and he looked at that Challengers that I had done and he saw me working on it and he looks through it and comes back out and he's holding the book in his hand and he was really enthused about it.
To me it seemed to be a turning point. It was also a bit of a turning point on the Batman/Kobra that I did. The turning point was like I'd gone from the point of being like someone who was looking for his way as an artist to one who had at least developed the ability to put together a good comic book. I wasn't really looking at what Mike Nasser, who I was at the time, was like as an artist. I was still in the state of the learning curve.
Certainly by that time there was a turning point where we had went from the amateur/rookie that was groping around in the dark for something to hold onto to, "See, here's a guy who can do professional comics."  It was an interesting change. There was a lot of criticism, still, of my work. Because it was so much like Neal's. But it really didn't bother me. I had such admiration for Neal's work that when it would come up that, "Well, you're a Neal Adams clone," well, if I'm going to be a clone, then I'm happy to be the clone of one of the better artists out there.
It seemed to be enough for me at that time. It was that second year that things started changing. I had a personal situation that wasn't very easy going on in Detroit and then her mother, who I couldn't bring to New York when I was making $30.00 or $40.00 a page at the time and sometimes a page would take a couple of days to do and living in New York was a very expensive thing. I was sharing an apartment with people who were young artists who were still looking to get work. Whatever money I was making at the time sometimes had to be shared with the people you're working with. Sometimes someone would want to go out to eat or something and because not everybody is working so whatever money was being made was going out more quickly than it was being made.
I worked very hard to make a living in comics at that time. Especially when living in a community type of thing. So there was a bit of a change happening in that second year, slowly building up. "You know, there's something about this that isn't working."  It made me invest a lot more time in working, trying to develop the craft more and more and more and there was an improvement. You could see from issue to issue that I was investing more time than I did on the issue before. It was improving and I was getting a lot of commercial work with Neal, doing illustrations for magazines, like a nice little illustration of Bjorn Borg, the tennis player that showed an ability to do a painted type of work, which was a very good piece. I had a good name, I had a good reputation, but something just wasn't really working.
I needed to see where it was going. I couldn't see myself forging a career in this particular direction that things were heading into. The business was not compensating enough for the work needed in order to do really good work. Neal at Continuity, had a whole different reality. He was into commercial art long before he came into comics. He had an infrastructure. He wasn't doing that much comic book work. The little bit of comic book work he was doing at the time was really supplemental to a large amount of commercial work, so he never really had that problem.
For me it was like I was still young. I was coming into my own. I became aware that this was a time in life when you had to decide what you wanted to do. Who you are and what you're going to do with your life. I had some friends who were very uptight at the time. It was very interesting. They would say things like, "This work is so good, but why are you doing comic books?"  I would say, "Well, what else would I do?  What else can I do?  I've been drawing illustrations."
Certainly today in hindsight that wouldn't have been a very good choice because the illustration work was all being done in the commercial art market the way it was in the 70's was totally different. You had commercial artists doing movie posters and magazine illustrations…you don't see that any more. Or at least very little of it.
CB: Right. It's all gone to photography.
NETZER: Exactly. On the other hand, and I think this is what creates the turning point, there was a world of comic book fandom that we were part of which was a very interesting situation. We would go to these conventions, whether in New York or New Jersey and we were invited to these conventions in Detroit and so on and we would go like celebrities, like stars. They'd pay your way, give you a motel room and you'd get to the place and you could do sketches and make a few hundred dollars doing that and at the convention you could sell original art. The reception from fandom was phenomenal!  I mean you go to a convention and you sit on a panel with a few hundred people in the audience and you could talk about anything you wanted to and it seemed like the audience were completely fascinated. "Tell us what you're doing. Tell us about the comic book world. Tell us about these characters. Tell us about this, tell us about that."
This was an interesting phenomenon, and to me it seemed to be more important than anything else that was happening around me. It was like this wonderland and anything that was happening in my life was this cycle and to me that was very important.
Now the thing about it is that whatever the problems were at the comic book industry personally at the time, they weren't just problems of the industry itself. The industry is part of a larger, financial wheel that the whole world was in at the time. There was a course that the world was taking at the time, it seemed to me, that was not portending good news for the long road ahead. Further ahead in the future. It seemed at the time pretty clear to me that things were going to get worse and not get better. It seemed like, from the little experience that I had, from working those two years, that the direction was that financially, for people like us, it was going to get harder and harder as we moved along. Not just for us, it seemed like for everybody in the world.
The world was heading on a course where the strong were going to get a lot stronger and the weak are going to get weaker. It's just the nature of things. And certainly looking back on it today 35 years later, it has borne out to be a fact. You could say that life is better for some people, but I think generally that the general picture is that life has become harder for almost everybody. And if you are succeeding and are able to find your place, then you can count yourself among some of the lucky ones, but that generally isn't true for everybody. It certainly isn't a situation where you could say that the general quality of life is getting better for everybody.
It's like the myth of capitalism. The myth of capitalism was that everybody has an opportunity. Well, it's true that everybody has an opportunity, but everybody can't succeed. They might try very hard, but it takes a lot of things for someone to succeed. The savvy to be able to be a good businessman, which sometimes means that you have to be pretty tough with people and take things by force and do things in your position and stature in order to basically get something from someone that you couldn't get otherwise. And what if you're not that materialistic sort of guy?  If you're an artist, sometimes you're just interested in the craft. "I want to tell stories. I want to draw well. This is what I love doing."  Well, that's like a whole different reality from someone who is a savvy businessman and is going to succeed.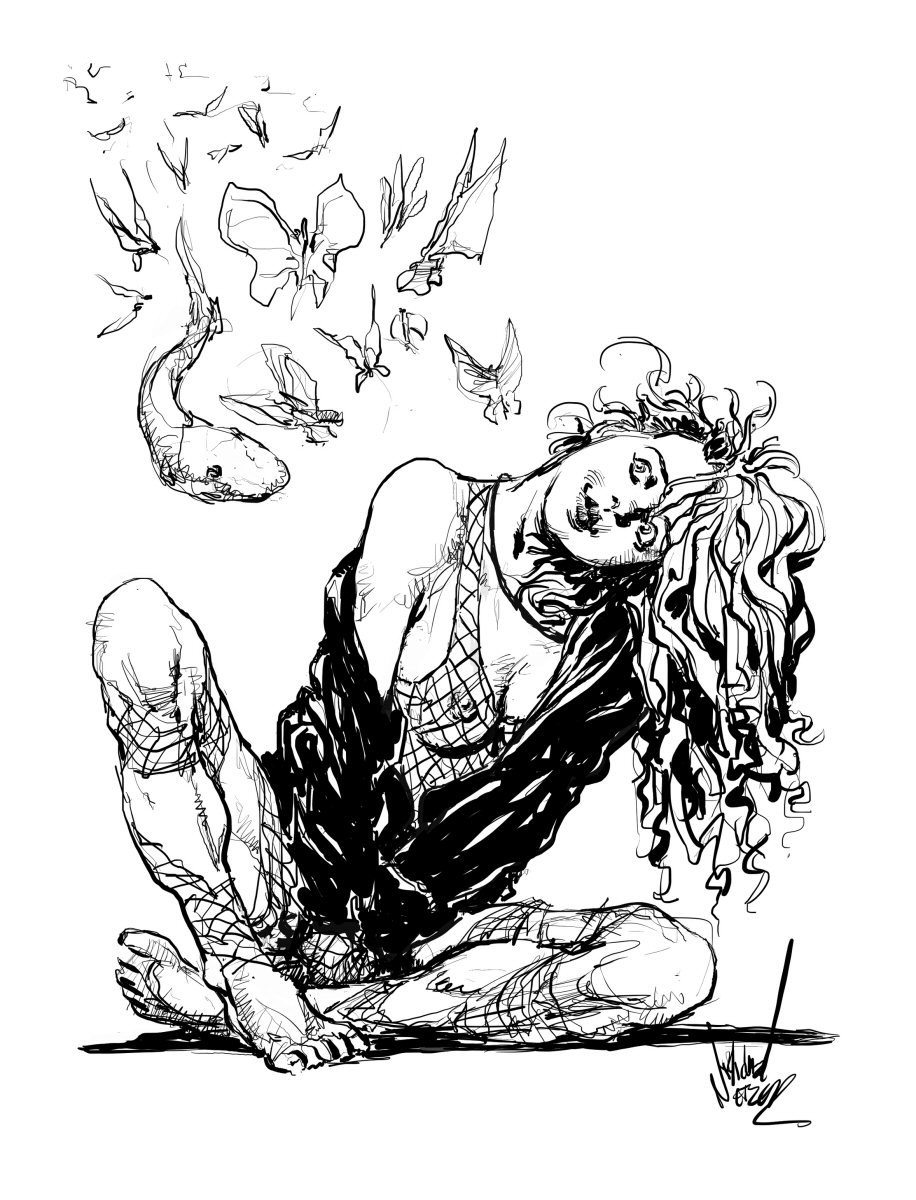 I mean, come on. You have guys like Mike Kaluta and Bernie Wrightston out there. Where are they?  Why aren't they working?  Why aren't they doing projects?  The popular interest in artists and writers in comic book properties is like with DC and Marvel where we discussed that "We will decide what's going to be popular and what isn't. We make the distribution decisions and we do this and we do that.."  It's to the point where talent like Jeffrey Catherine Jones, who is one of the most phenomenal artists who probably exist on the face of the earth today, is relegated to doing commissions. Like an unemployed artist. She's doing commissioned artwork for collectors because there aren't any jobs in the industry based on who gets picked and chosen. It's a really wild situation if you think about it. The great artists of our generation, of that time period, basically have no place to work today. And I'm not just talking about them, I'm talking about the regular people like Bob McLeod and George Harras and everybody who were important to the industry at that time. Today it's like they're on the margins and have to fight for any one particular job, and it remains that way.
I believe that at the time I had a feeling that this is how things would go and it's going to take something very serious and big to be able to affect any kind of change. I think around the time of my second year up there that I sank into this state of re-positioning myself. And maybe in a search for myself; who I am, what I am, what am I going to do with my life; in order to come out of it in such a way that I can find a direction that would offer something a little better than the one that was being offered to me at the time.
I suppose you've heard stories about that particular period. Basically what I've given you up to now is a bit of the important background to explain the necessity I felt for some kind of change.
Now, the change that I was going through at the time…and I remember many times being out with Howard Chaykin and Gray Morrow sitting and having a drink downstairs and I remember Howard saying, "Mike has really become quiet. He seems to be not engaged in anything any more."  This was in the later summer of 1977, and I really was at a point of change. I was still at Continuity and I kind of disengaged myself totally from everything that was going on. I was still doing some work, on a big collaboration story and it was done and I was at sort of a standstill. I had friends at Continuity, the younger crowd who pretty much felt maybe the way I did, although they were still chugging along trying to find themselves and get a footing in the industry.
At some point I came to some conclusion that this wasn't working and I needed to change. I just wasn't sure where. But I did start asking myself, "What do you want to do?"  I think that from that position that I was in, instead of going in the direction of, "Well, why don't you take care of yourself, maybe go find some other career and see if you can go somewhere else, maybe leave New York and go back to Detroit and see if you can set up a home for a family, try to keep the family back there together," instead of doing that, I did another thing. I said, "I want to see what I can do to change things."  I know it's a big thing that you can't really change. Look at the economy; look at Government; look at the world infrastructure, which everything in your environment is connected to; which everything in your local environment is influenced by. This is the beast that you have to deal with. This is the world that you're dealing with and if you want to change something you have to deal with the whole thing in order to influence your local environment. And unless you can have some kind of effect on the whole package, you're not going to be able to change anything.
At that point, for me, it was like I had nothing to lose. I simply had nothing to lose, so at that point, when you're going into this spiritual thing and you're asking yourself, "What do you believe in?"  It brought me to a place saying, "Well, I'm the kind of guy who looks at history and where humanity is today and I look at all of the influences that have historically had their impacts on civilization."  I realized there are a lot of factors that need to be touched on in order to have an influence on what's going on in the world. Some of them being religious, some of them being spiritual, some of them being economic, some of them political…but there were a lot of things.
I think that I took it upon myself to be some kind of person who would at least step aside form this thing and see what you could do and at least find out who you are. For me, at the time, when I think of it, of what drove me into this particular corner, I would say that I certainly had an idea of history. I thought that historically, the kind of local world we live in wasn't always in tune or in touch with the larger picture of how humanity has evolved to become what it is.
Let me give you an idea: Here we are, a group of comic book creators, working in an industry like underdogs, being taken advantage of. We can't get our shit together enough to put together a union or a guild, and yet the same creators who are not able to create this one simple stand as a group of people, these are the creators that are sitting down and writing and drawing stories of the greatest heroism that humanity can imagine: The mythology of superheroes, which involves sacrifice, and of good fighting evil. It's like we were able to write it, but we can't live it. We are powerless. It seemed like a big dichotomy. Even a hypocrisy, I would say, to sit and write these stories but we're not able to do the slightest kind of thing to improve our lot in this life.
CB: Ah-h-h-h.
NETZER: Ah-ha!  So I was starting to see my environment and saying, "Guys, what are we doing here?"  It started becoming like meaningless. It seemed to me that you have to show, throughout your whole life, that we need that same thing that we're writing about in the comics. We needed to because the world needs it. Because we need it. Because our children will need it. Because the way things are going, it's going to get worse and worse. And there doesn't seem to be anybody that is making a real stand. If it was Neal, then he was a lone soldier. There were a few. But Neal certainly didn't seem to have the support of the industry. If the comic book creators had come together to help create this guild, then they would have. But their fear for their particular state prevented them from doing the heroic thing that needed to be done. The very same thing they were writing about in the comics all the time!  They were writing about it!  They were writing stories about sacrifice and fighting evil and it was just, "We were writing about it, but I'm sorry, we can't do it. I don't want to jeopardize my income here."
CB: Quite the contrast.
NETZER: So to me a lot of this took a rather…let me tell you this story. As a kid, I remember being 4 years old and I was in Lebanon. In Lebanon, just like in America, just like in every other culture, a kid growing up, one of the things he hears, that I heard at least, which made a big impression on me…just imagine yourself as a kid: Everything is new in the world and somebody says, "The painter is coming to paint your house."  And you see the guy coming to paint your house and you know what that is. And if someone says "painter," you see that he paints houses and then you ask an adult, "What does that painter do?"  That is the most simple, basic curiosity: To learn new things, and as a kid that's what it is: A series of learning one new thing after another.
So back at the age of 4 I remember hearing all the time people saying, "God forbid, God willing," this whole thing where God is all the time coming out of people's mouths. I remember asking an adult one day at 4 years old, sitting on the steps of the house, "Where is this God?"  It seemed like this must be a big guy that everyone had this reverence for, and I was wondering who he was. "What are they talking about?  Who is this guy?"  I had this impression about him, but he never came around. I never did see him. So the guy looks up and he points at the sun and says, "You see that?  On the other side of that, he's over there."  It kind of drove me crazy at the time. "Really?  Come on, I'm not stupid. I know that you don't mean it, right?"  You're talking about something that you believe in, and yet you really don't know what it is. I was really enamored with the subject. And it was on a slow burner. As a kid growing up, I would conceive of these stories. I was into science fiction, and I was into the superheroes, and it seemed like all of the stories I tried to put together and write, whether I was doing samples, or whether I was looking ahead at a time when I would become a comic book artist, a lot of them involved some kind of future that put forth the idea of discovering the Creator and what he was.
It seemed that this was all good and fine for a child, but at this particular point in my life that we're talking about, my second year of comic books, I began to think, "Well you know, Mike, you could take it upon yourself to go out and try to change the world; the way things are, but you know this sounds like a really big (something.)  It would be good for you to include that in all the periphery of options that you are considering. Whatever it is that you decided to do."
It reached a point where I was sitting with this girl in New York, a friend, and she asked me, "What are you going to do now?  You're not finding yourself in the comics."  I said, "I don't know. I wish I could use my talents in the industry to say something to the world."  She said, "What would you say?"  I remember writing down, "We should love each other."  This seemed to me to be a very important message. She said, "Okay, so what?  Where do you want to take this?"  It seemed to me this was a very big message, and then the connection came: This really is the core. I'm not talking about religion. Surely religion hasn't really fomented that message. But the source of religion does. And I thought that I would want to go and figure that out. To see what it was that source was talking about.
So at some point I put myself in that position, and at one point I said, "This is going to be the next step."  Then I made the decision to leave New York and to go spend some time in the mountains and on the beaches of California. Just to clean up inside. To disengage from the hustle and bustle of what was going on in New York and to clear out my mind. It seemed there was something in all that that I could grab. So I did that.
One day, it was the 19th of November, exactly three years after I went to Continuity, and after two years of a very intense comic book career, I met somebody early in the morning at Continuity and I said, "Tell everybody I'll be gone for a month or a month and a half and don't worry about it. I'll be back."  And that's what I did. I had ten dollars in my pocket and went out on the George Washington Bridge and hitchhiked out to California.
CB: Wow!
The journey will be concluded in Part III next week!
Summary
Article Name
Classic Interview: Michael Netzer Pt. II - Off He Goes to Find Himself
Description
Part II of Bryan Stroud's interview with Michael Netzer.
Author