Walt Simonson is as nice as they say.  Brilliant, but humble and still enjoying a long-term gig illustrating comics, he continues to be a force to be reckoned with, but still takes the time to talk to the interviewers such as this one who seek him out.  From September of 2009 I give you the Mighty Simonson!
Bryan Stroud for Comics Bulletin: Your start in the business came from kind of an interesting direction, going from Geology and switching to art school and it's well documented about your Star Slammers as your senior degree project. How did you get from Point A to Point B?
Walt Simonson: The simple answer is that I, even as a kid, really had two interests. One was dinosaurs and one was drawing. My dad was a soil scientist and while not a geologist he studied the earth, so the family had a scientific sense to it. When Dad's friends would come from out of town they were usually scientists coming into D.C. to do stuff, so I never thought about art as a career. I just drew because it was fun to draw. But I also liked dinosaurs and thought I'd pursue that as a vocation.
I went to college and was a geology major. Typically when you want to study dinosaurs your undergraduate career is either geology or biology and then you become a verto-paleo or whatever you're going to be as a grad student. In my case I got to the end of my senior year and I'd actually done some Paleo research as part of my senior thesis, but I reached a point where I decided, about two months before graduation, I could see this was not what I wanted to do as a vocation. I'm sure my parents were thrilled…
CB: (Laughter.)
SIMONSON: They discussed that with me and they were nothing but supportive the whole time, but I ended up, literally, graduating from college with no real idea of what I wanted to do except that it was not in the geology/paleontology realm. What happened then was I took a year off. I was one of the very early boomerang kids. I moved back home, I lived in my old room, I got a job in a local bookstore and along about fall, having graduated in May, I decided to apply to art schools, really because that was my other interest. I really hadn't taken very much art and the art that I had taken I hadn't been wild about. Mostly because in art courses back in junior high school and places like that you go through a curriculum like, "Okay, this week it's paper mache sculpture; next week it will be toothpick construction; the week after it will be origami."
I just wanted to draw. I just wanted to be left alone so I could draw. So my art school grades tended to be in the "B's," though I had an "A" one year because I had a teacher who let me do what I wanted to do and taught me the stuff I needed to know. My original introduction to perspective was in the 8th grade because Mrs. Pope actually let me draw on a regular basis and graded that stuff and taught me perspective, so that was one year I had a pretty good grade in art. But, I didn't know what else to do really as a graduate senior with a degree in geology so as I said before I applied to art schools and eventually ended up going to the Rhode Island School of Design and while I was there I got really interested in telling stories through comics.
The funny part is that during my initial college career, while I was a geology student, I discovered Marvel comics. This was back in the mid-60's, and it was right when Marvel was hitting what I regard as their first big golden age where Jack [Kirby] and Stan [Lee] and Steve Ditko and Don Heck and all these guys…some were doing brilliant work and the guys whose work wasn't as brilliant were still doing some of the best work of their careers. They just had some phenomenal stuff. So about 4 or 5 years of really enjoyable comics. I read them all and I had a great time. Right about the time I went to art school I wasn't reading as many, but I began to become interested in trying to tell stories in the form and that's really a big part of where the Star Slammers and my degree project came from.
So by the time I graduated from RISD, I had a 50-page comic that I had written, penciled, inked and bound in the second half of the volume, and over the 2 years I was working on it; my junior and senior years, my work went from being what would be regarded as pretty decent fan work to the last two or three chapters being marginally professional and they were well designed. That was just the direction I was headed in. I learned in art school and incorporated a great deal of what I'd learned into my comics, so the work tends to be a little on the eclectic side. It gave me, basically a portfolio to take into New York City to try to get work in the business.
CB: Outstanding.
SIMONSON: And back at that time, around 1972 when I graduated, I went to New York in August of that year, and Marvel and DC were the only companies at that time producing the type of adventure comics that I wanted to draw. This, of course, was before the internet, it was before FedEx, it was before all that stuff. There was no overnight delivery of any kind, so pretty much if you wanted to do comics like that you had to live near the publisher, because you had to take your work in.
So the result was that a generation of guys; one of the last generations of guys, really, where we all moved to New York. Probably guys all about my age, so I knew all the guys who got into the business from perhaps '67 to '75 or so. We all lived in Southern Manhattan or Queens or Brooklyn, but you'd go into the companies and drop stuff off and you pretty much met everybody, so I know all the guys from my generation, which was actually very cool and it was very exciting and very inspiring because you could see the type of work they were doing.
I still remember going into DC and Bernie Wrightson brought in maybe the 4th issue of "Swamp Thing". It was a werewolf story and there was a full page interior splash of the werewolf with a lot of Zipatone, a lot of tonal work on it and it was just so stunning we thought we should probably take Bernie out behind the bar and mug him.
CB: (Laughter.)
SIMONSON: It was just great and it made you want to go home and say, "Geez, I've got to level up my game."
CB: The bar just got set that much higher.
SIMONSON: Oh, man. So it was cool. It was a neat time to be doing comics. I was lucky enough to get work really rapidly. I wasn't doing a regular series. Back in those days you pretty much weren't put on regular series to start with. Back-up stories, when there were back up stories, was where you got your training.
Now you probably get your training in some of the smaller, independent companies, but I got some backup stories and made enough money to pay my rent…sort of, and eat…sort of, at least until I could bring my own game up to a level where I was offered better work, but really it worked out pretty well. I was very lucky and I was able to get into the business and pretty much stay there.
CB: Well, right out of the gate you won Shazam awards among others, so that must have validated your career choice.
SIMONSON: Well, you know what it did?  It made the rest of my career possible. Basically the year I got into comics it was in early August of '72 and by March or thereabouts of '73; less than a year, Archie Goodwin, who was an editor at DC and became my editor on several of my backup stories and had become a good friend offered me this new strip he was getting ready to do in the back of Detective Comics called "Manhunter". It ran for a year. Detective Comics was a bi-monthly comic and "Manhunter" was an 8-page chapter in each issue at the end of it except the sixth chapter, which was 9 pages and the last chapter was 20 pages where we crossed over with "Batman" and basically that strip really made my career.
Between Archie and me we won six awards over two years, the Shazam award and others. What it meant for me really, in terms of a career, was that it was before organized fandom like you have now. Fandom today is not only organized, but they're all on the web and everything gets around in 4 seconds…including the misinformation, but everything gets around in 4 seconds. Back then there were fanzines. I did drawings for some of the science fiction fanzines before I got into comics and I knew fandom. I knew guys who were fans. I was more of a science fiction fan as far as the organized part of fandom as well as a comics fan, but what it meant by winning the awards was that people in the industry knew who I was, and so when in the early 70's I began doing the strip, I was one more young guy doing comics.
Then about a year later when the strip was through, pretty much all the editors knew who I was at both Marvel and DC, so essentially it did kind of validate my professional credentials. I think that really helped in getting offered work. Having people know who you are rather than having to introduce yourself and show your portfolio…that really made a big difference. So "Manhunter" was the strip that really made me, professionally.
CB: That became your calling card.
SIMONSON: Yeah. All the work afterward was quite different from that like the "Metal Men" and some other stuff, but I didn't have to introduce myself after "Manhunter".
CB: You're a triple threat as a penciler, inker and a writer. Which role brings you the most satisfaction?
SIMONSON: They're all neat. That's one of those cheesy answers, but it's absolutely true. The things that I would be most concerned about doing comics over the years I've been working, especially in the old days when there were no royalties, you produced a fair amount of work in order to make a living and I always felt there was some danger in that of repeating yourself too much; of falling into formula to the extent that you could crank stuff out, but it might not be that interesting.
Not only would it not be interesting to look at, but I'm not sure it would be interesting to do, at least not for me and so I worked fairly hard over the years to do different aspects. To write, or to draw, be it penciling or inking, to work with other artists I would write for or to work with other writers I would draw for, partly as a way for varying my own job so that I would retain interest in what I was doing.
To tell the truth when I got into comics, as Neal Adams never fails to remind me when I see him, I thought I'd be in comics 3 or 4 years or maybe 5 and at the end of that time I thought I'd have probably learned everything I could from comics and I'd move on to something else. Now here I am 30 (humph) some years later…
CB: (Laughter)
SIMONSON: Anyway, I feel I'm still learning. I do still feel that there are challenges when I get up every day trying to figure out a page layout or design or how to draw something, how to ink something. I work pretty hard at that and I feel that the work has done pretty well as a result. I don't think I've lost a lot while trying to do the different kinds of things I've worked on. That in turn keeps my interest in the work and that makes it worth doing.
CB: And that would keep you refreshed in the process. I can see how important that can be.
SIMONSON: Hopefully. Another reason working with other people is important is because if you're working with another writer or you're working with another artist, they will bring stuff to your story, whether it's the writing part of the art part that you will never have thought of, and I find that very refreshing. I prefer working what's called Marvel style, which is where you supply the artist with a plot or I get a plot and then you draw the drawings and the writer works from there.
It's not a commonly done approach these days I believe. It's certainly my preferred approach. I find in some ways it's more like working without a net, which keeps it more exciting and for me brings a certain life to the work that I don't always feel in work with full script.
CB: That sort of echoes something I heard about the joy of working with Dick Giordano as an editor when they brought a page in or what have you and he said, "Well, that wasn't really what I had in mind, but this is great."
SIMONSON: In a way it kind of allows for happy accidents. I always say you either have mild disasters…though I've learned over the years that there's almost no art that's so bad that you can't write something that makes sense out of it. (Chuckle)  Probably the same is true for scripting as well, and for drawing from scripts that you're not entirely happy with, although to be honest I've really been very lucky in the partners I've worked with over the years either as writers or artists.
I've been kind of careful about it as well, but I've been able to work with an awful lot of people and I don't really have any jobs to look back on where I go, "Gee, I wish I hadn't done that."  It just hasn't happened. But I do find that in working Marvel style, at least for me, the gifts that the other partner has, whether it's a writer or a penciler that you're working with, those gifts, it seems to me, if you are able to work together well kind of get maximized in a way that I don't always feel is true if I'm working out of a full script. I've never actually written a full script myself, so I don't know. Maybe it works out just fine. It just seemed like more work than I wanted to do.
CB: It sounds familiar. Len Wein said something to that effect. Something like putting a straitjacket over another straitjacket.
SIMONSON: Oh, that's very funny.
CB: Well, over the course of your long and diverse career you've drawn many of the iconic characters: Superman, Batman, Spider-Man, Conan, and Hercules. Was any particular assignment really memorable or fun?
SIMONSON: The ones I've really liked are probably the ones I'm best known for. "Manhunter" is certainly my sentimental favorite because I so loved working with Archie [Goodwin]. I worked with a lot of really good writers and I've said this before and I mean no disrespect to all the writers I've worked with and those who know Archie don't take it that way, but I probably haven't worked with anybody that I was more in harmony with than Archie on the "Manhunter" stuff.
It was very early in my career and it was really a high water mark and even though I didn't have much prior experience, maybe a year and a half by the time it was done, I understood at the time what a pleasure it was and what a high point it was for me to be able to do what I did on that strip and to work with Archie on it. Another character that at the time was a best seller that I enjoyed working on was the adaptation of the movie "Alien" for Heavy Metal.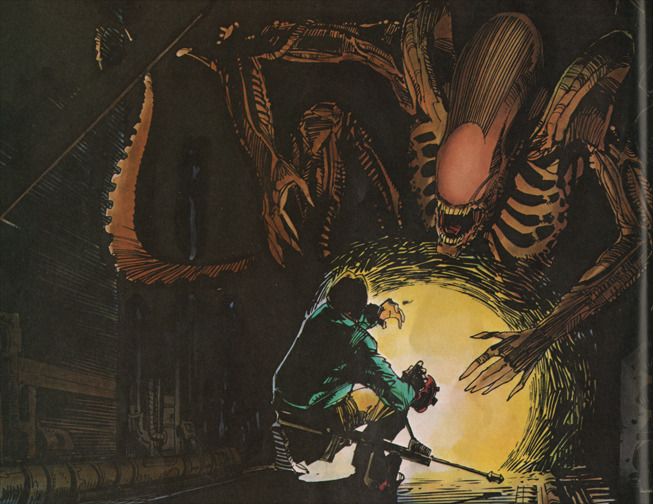 I got to work with Archie again and I got to do all kinds of stuff with that book that was very exciting. I got a lot of help from the studio with reference. A lot of very cool stuff that I could go on and on about, but that's a whole different interview. Alien was a lot of fun and I thought it came out very well. Thor, naturally, and honestly although it wasn't read very widely, I loved doing "Orion" for DC. That ran for 25 issues. Two of them were double issues. I thought that was some of my best work. In terms of the writing and the character, it was an interesting challenge and it's amazing how well it worked out. One of the things I like about it is Orion himself is rather a difficult character and it was fun to write a guy who's not just…I mean, you know I wouldn't mind living next to Thor except of course he'd keep getting attacked by frost giants and that wouldn't be good for the neighborhood, but he'd be a cool guy to hang out with and know.
Orion, on the other hand, is the guy I probably wouldn't want to live within 500 miles of, really, but he was an interesting guy to write and because he had these inner demons but he was still interesting and worth following. It's a little hard to describe, but I thought he was a complex character who was not necessarily the best liked guy on the block, but he had other qualities and I tried to bring those out in the storylines. So I had a great time. I did some graphic stuff in that book that I really, really liked.
When I look back I'm still very pleased with some of the graphics in that book. Some of the story telling and the images in that book I had to go and find. Something else I liked a lot, I got to work with Mike Moorcock on an Elric story for an almost 200-page graphic novel encompassing four chapters. I've known Mike for a long time. I read his Elric stuff back when I was in college and so doing some new Elric material…we did almost an "Elric Year One" where actually the material in terms of continuity precedes the first Elric book. So that means I got to draw Elric when he was still living at home, he still had his Dad, he had his first crack at getting a hold of the storm bringer, the rune sword, he had his first meeting with Ariak(?) his kind of patron demon lord or lord of chaos, really, so I got to do a lot of origin stuff for Elric and I got to draw it, so that was great and working with Mike is always a gas.
He's such a sharp guy and he gives you way more visual stuff than you can possibly cram into a comic book. We did 4 forty-eight page comics to make the entire graphic novel, a series of four story arcs, and honestly I could have easily drawn each of those comics as an 88-page graphic novel and had plenty more left over to draw when I was done.
CB: Holy cats!
SIMONSON: It was fun. We worked from a full script and Mike and I had worked together before on the Multiverse work, which was also fun, and Mike really gave me carte blanche to do the visuals and storytelling as I felt it needed to be done. So it gave me a great deal of freedom in the visual structure of the story and I like to think I took advantage of that and still told the story he wanted told. He seemed very happy with the results.
CB: Nice. You can't ask much more.
SIMONSON: No. It was great. So I've done a bunch of stuff. I'm working on a graphic novel right now for DC that I'm sort of inclined not to say very much about yet because it won't be out until well into next year some time, but basically it's six short stories that kind of tie together on a theme, or are tied together by a theme and they run a timeline from about 70 or 74 A.D. up into the not too distant future and each story, containing mostly lesser known DC characters, and what I'm trying to do there, and see me again later to see if this is successful.
I don't know. Or I won't know until I'm done, but what I'm trying to do is draw each story in a somewhat different style. That's because what I'm working at is trying to derive a style…I mean it will all clearly be me. I'm not going to suddenly become Moebius in one job and Joe Kubert in another. It won't be that far apart. I wish it were that far apart.
But what I'm trying to do is to derive the stylistic approach to the storytelling of the drawing for each story from the tale I want to tell. I've got some ideas I'm very pleased about as a way of approaching it and we'll see how it actually works out in the end. I have no idea. I'm in the middle of that right now. It's challenging to try and think of that stuff and try to figure out how to handle it and so far I've had a lot of fun. It will be up to somebody else to tell me how good it is…or not.
CB: Intriguing. When you've followed someone else who's done a spectacular job, let's say like in the case of Orion and you've also done some work on "Bat Lash", so following in the steps of someone like Nick Cardy or Jack Kirby, did that intimidate you or did you just approach it as a new gig?
SIMONSON: You know, without being too egotistical about it, it really doesn't, and that's probably more where I come from professionally in terms of my time in comics more than anything else. You've got to remember when I came into comics in '72, really almost all the work that all of us were doing was derived from earlier comics. Some guys like Mike Grell with the Warlord and others had their own characters, but a lot of the stuff you did you just came in and you were doing Thor and the Fantastic Four and Superman and Batman and Wonder Woman and the Avengers.
You were doing books that a lot of great talent had done before you. And really if you came in and were terribly intimidated by that, I think you probably wouldn't have lasted very long. I mean I didn't come in and say, "Well, I'm going to out-Kirby Jack on Thor."  It was not that kind of an approach, but it was certainly an approach that was inspired by the work that had gone before and you still wanted to do your best, but it wasn't like you came in nervous that those guys has preceded you. I will say at the time that if I had to draw "Hawkman" it might have freaked me out looking at Joe Kubert's "Hawkman" originally. I'm not sure. I didn't happen that early, so it's okay.
CB: (Chuckle.)
SIMONSON: And then with a character like Manhunter I got my feet under me doing a character that I got to help invent. My training in comics from day one was on characters that in a number of cases, very great talents had already had a crack at and in some cases of course invented, so it was never really an issue thinking, "Oh, my gosh, I'm drawing a character that Jack Kirby drew!"  I mean I knew Jack. Not well, but I knew Jack. He was a neat guy who did fabulous work and it wasn't really a question of coming in and being antsy following in his footsteps because in some ways, back in those days, we all were. Or in the footsteps of Curt Swan or Gil [Kane] or Joe [Kubert] or all the guys you could name. But that was the way the business was back then.
Now there are a lot of places you could get into the business and do things that were not at all out of what those guys did, but it was different. It's a different game now. What it really means is that I don't come in on a book and…now there's no bigger fan of the Fourth World stuff than me. There are other guys who I will say are probably almost as big fans as I am, and probably there are some who know more or have memorized more than I have, but I'm a huge fan and I loved doing "Orion" for DC. The "Fourth World" material for me remains some of Jack's very best work he did. There are probably people who will argue about that. That's okay. I don't care. But it seemed in some ways his most personal book. Frank Miller and I were talking about it years ago. Frank said that he thought in some ways it was the first independent comics.
What I think he meant was that there was a quality of personal vision in them that a lot of other books, even really good comics, didn't always have in mainstream American comics back then, and even allowing for that, and I'm certainly a huge respecter of that material, when I get to work on a book like "Orion", I'm happy to do it. I was delighted to do it. I was dying to do the character, but I don't feel I've got to walk exactly in Jack's footsteps or even anywhere else. I try to find out what I like about the book; what I like about the character, what I like about all the characters and then tell stories that derive from the material, but hopefully don't just feel like they're the same stories told over again. I've been through comics when they've back and simply been rehashing the old stuff. I can recognize that stuff pretty fast. I'd like to not do it if I don't have to.
CB: Yeah. Build on the foundation rather than rebuilt everything.
SIMONSON: Yeah. But I really kind of build my own structure and in a way it's not so hard because my drawing is so eclectic and borrowed from so many sources. Jack is certainly a huge part of the understructure of my drawing, but he's not the only guy. And when I get done, as much as it may owe to Jack or Moebius or Jim Holdaway or other guys, it still looks pretty much like me at the end of the day and I think the writing is the same way. I pretty much approach the writing on my own terms, which gives me a shot at doing stuff I enjoy and it won't come out feeling like the stuff someone else has done.
To Be Concluded…