Late December means it's time for some "Best of" lists. But while others are taking this opportunity to look back at the decade, we're simply going to focus on the year that was. Today, we're going to take a look at the stories that had us completely hooked from the start, whether they played a role in an ongoing story or if they stood on their own. They made us laugh, they made us cry, and they made us think. And they were the best the year had to offer.
Best Miniseries
Dan's Pick: Superman Smashes the Klan (DC Comics)
There's been a lot of damn good miniseries released throughout the year, many of them coming straight out of DC. But despite strong contenders like Harleen, Jimmy Olsen, and Lois Lane, it is Gene Luen Yang and Gurihiru's Superman Smashes the Klan that takes the cake for me. Full of poignant social commentary without being preachy, this miniseries loosely adapts a beloved radio adventure from the 1940s, uses the aesthetic of the revered Max Fleischer shorts of the 1930s, and possesses the craftsmanship of an Eisner-winning writer and a gifted art team. Superman Smashes the Klan not only is further proof that Superman not only isn't difficult to write, but if written well his stories can be truly special.
Jason's Pick: Wonder Twins (DC Comics)
I agree with Dan's statement of there being a damn good amount of miniseries released this year. Looking back at the year I believe I read more mini-series than anything. Honestly It may be because I love mini's and if I like a monthly series I pick it in trades. So with that aside, Best Miniseries is a hard one for me. Yes, I probably said that in each list, but how about you try to do a best of list? But let's get to my pick—DC Comics Wonder Twins. Jeez, there is so much I can say about how great this series is. Hell, one of it's issues is my favorite of the year. When I bought the first trade I carried it around work making people read it. It may be my most highly recommended comic series out there. Why is this? Because Mark Russell and team made a set of characters I never cared about into ones I wanted more of. This was due to how amazing each issue is with equal amounts of humor, real life themes, life lessons, deconstructions of the genre, action, drama, and so much more. Wonder Twins is a must read in every aspect! WONDER TWIN POWERS, ACTIVATE!
Mike's Pick: Murder Falcon (Image Comics)
Murder Falcon is one of those comics that is just plain old over the top fun. Down and out Jake has quit music until he finds a new zest for life when he meets the Murder Falcon. As Jake gets the band back together the Murder Falcon gets stronger gaining power from Jake's ability to shred on the guitar, which is fortunate because crazy monsters are just coming from out of no where. Can Heavy Metal save the world!? A great series created by Daniel Warren Johnson whose Paul Pope influenced art just adds to the heavy metal craziness.  (Murder Falcon started late last year but the bulk of the 8 issue miniseries was published in 2019.)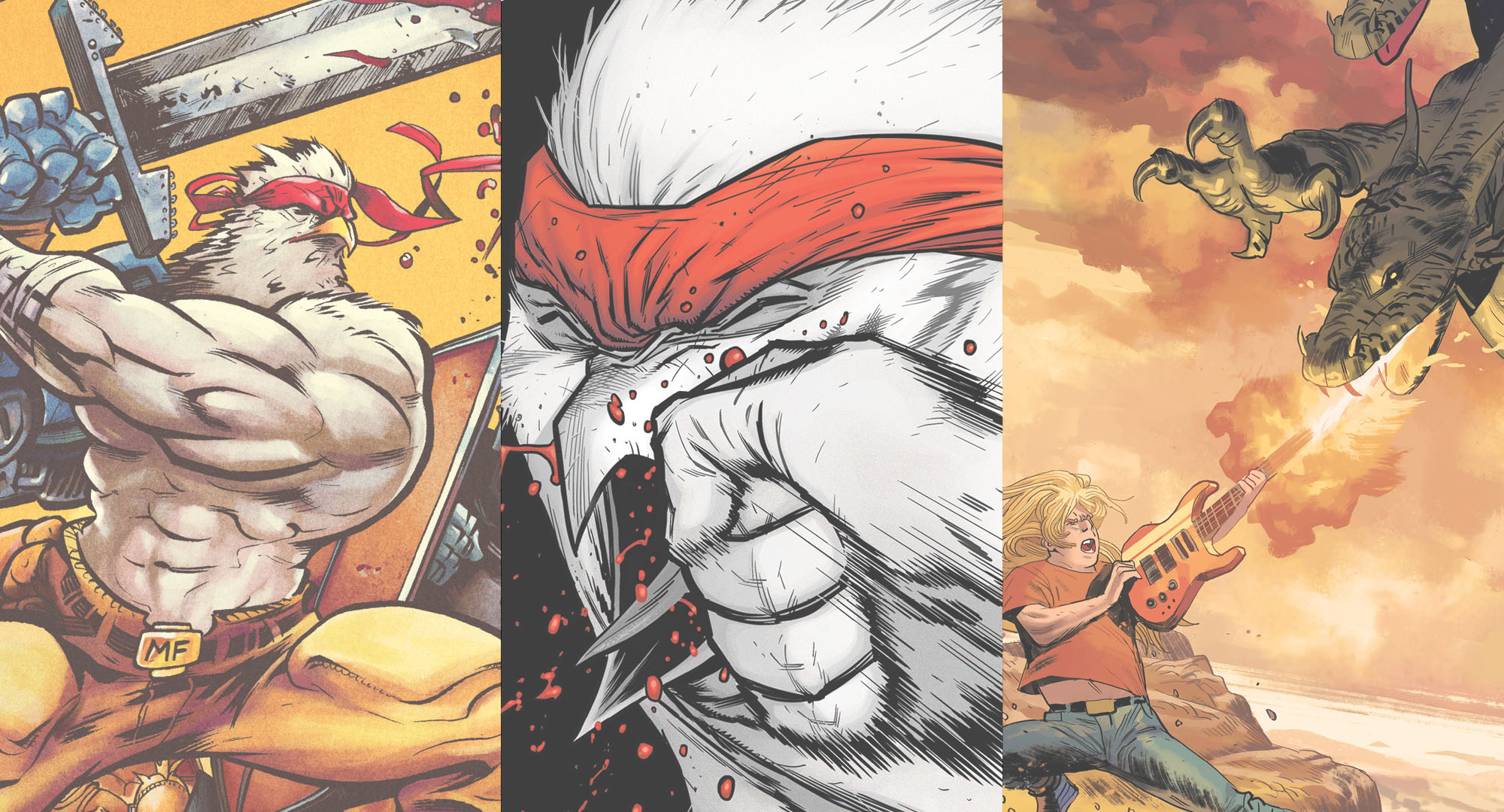 Best Manga
Jason's Pick: After The Rain Vol. 5 (Vertical Comics)
Last year I was enticed by the cover art of After The Rain Vol. 1, taking a look at the inside I fell in love with the interior art. But, the story being told wasn't my cup of tea. That was until I read the first volume and realized I was dead wrong. Who knew I'd fall in love with a romance? Then four volumes later and I was sad to see it end. It may be a quick read, and Vol. 5 may not end how you want, but damn was the journey amazing. Each volume I finished had me longing for the next, especially Vol. 5. If  you're looking for an amazing manga that is filled with heart that ends in a bittersweet moment, do yourself a favor and check out Jun Mayuzuki After The Rain.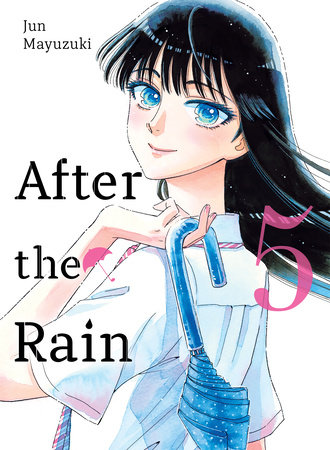 Dan's Pick: Codename Sailor V Vol.1 & 2 (Kodansha Comics)
I'll be honest, I don't really read manga. But during 2019 I did read Codename Sailor V, and I loved it. The precursor to the phenomenon that is Pretty Guardian Sailor Moon, Naoko Takeuchi's story of Minako Aino follows the traditional hero's journey structure. While it does lay into the expected tropes, Takeuchi's craftsmanship, both in writing and art, is spectacular. There is a rawness to Codename Sailor V that isn't seen in Sailor Moon. While the latter is more refined, the reader can sense the passion that Takeuchi pours into each page of her original work in the magical girl genre.
Best Single Issue or One-Shot
Dan's Pick: Klaus: The Life and Times of Joe Christmas
It took until the last Wednesday of the year for my pick to be released, but it was worth the wait. Grant Morrison and Dan Mora's annual tradition of releasing a Klaus one-shot never fails to deliver a unique and entertaining experience that celebrates the best, and sometimes forgotten, aspects of the December holiday. This year's installment is a silent issue that showcases the adventures that this world's superhero Santa has had alongside his trusty sidekick, Joe Christmas. Evoking themes of togetherness and family, this year's Klaus manages to say so much without a single word of dialogue.
Mike's Pick: Joker: Villain of the Year
This one-shot comic co-written by legendary filmmaker John Carpenter (Halloween, Escape from New York, Big Trouble in Little China) and Anthony Burch (Borderland's video games) is a snapshot into the mind of Joker as you follow him and a fellow Arkham Asylum inmate after they breakout. Before the night ends Joker will show you why he's not just your run-of-the-mill bad guy.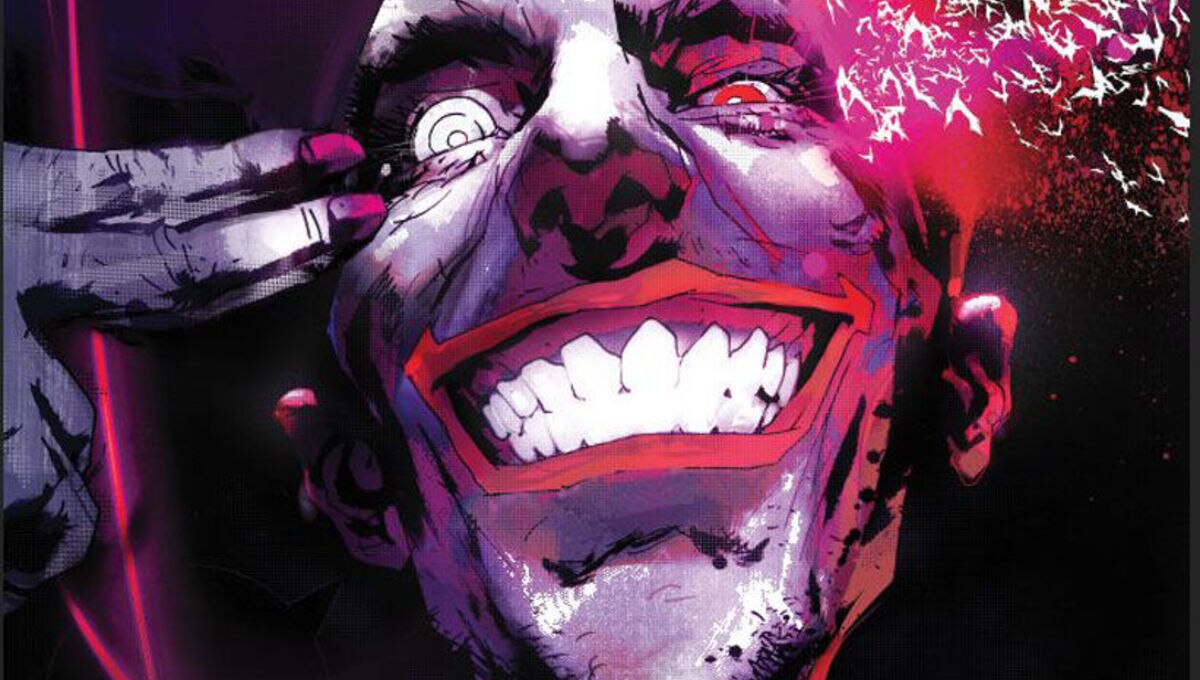 Jason's Pick: Wonder Twins #7 (DC Comics)
It's hard to write a quick reason why Wonder Twins #7 is my favorite single issue. That's because I could spend a multitude of words on the reasons why. Hell, I did that when it first came out! Nonetheless, Wonder Twins #7 has everything you can ask for in a comic; action, drama, life lessons, humor, a new hero that's unique and a great pep talk from Superman. In this issue alone the team behind Wonder Twins deconstructed so many themes and ideas seen in the superhero genre that it's worth multiple re-reads.
Best Original Graphic Novel
Dan's Pick: La Voz De M.A.Y.O.: Tata Rambo (Image Comics | Top Cow)
Few mainstream publishers take as many chances as the Image sister-studio Top Cow Productions, with La Voz De M.A.Y.O. being perhaps their riskiest proposition to date. At the very least, it's the studio's most politically charged. The real-life story of writer Henry Barajas' great-grandfather, La Voz De M.A.Y.O. captures the truths of the immigrant experience – one that has even more meaning in today's polarized political climate. As powerful as Barajas' words is the art by J. Gonzo, making this graphic novel truly stand out from a crowded sea of great books.  
Jason's Pick: When I Arrived at The Castle (Koyama Press)
I originally bought When I Arrived at The Castle due to its amazing cover. Yes, I do that often. Double yes, that has burned me before. But, in this case it worked out magnificently. After having written my initial review I've visited the castle multiple times, finding more on each trip while loving each return. Instead of gushing about how great it is here, pop over and check out my original review!
Best Event or Story Arc 
Dan's Pick: HoX/PoX (Marvel Comics)
There was perhaps no bigger news in 2019 than the announcement of Jonathan Hickman taking over the X-Men titles. Marvel's mutants have had a rough go of it in recent years. But in typical Hickman fashion, he managed to grab readers with a compelling mystery and gripping storytelling. Kicking off his run with the twin titles House of X and Powers of X, Hickman successfully reset the X-line of books by giving the X-Men both sovereignty and an identity crisis. At least one thing didn't change: Professor X is still a sanctimonious dick.
Mike's Pick: HoX/PoX (Marvel Comics)
Ditto.
Jason's Pick: DCeased (DC Comics)
Tom Taylor is a name some may know from his run on the Injustice comic tie-in. I've heard great things about said comic, but have never checked it out. I've said it before, hell I believe I said it when I talked about Blackest Night years back. I don't particularly like zombie stories. That's what made me shy away from DCeased, even though I thought the name was pretty clever and funny. But, on a recent trip I decided to check it out on Hoopla, and who would've thought. I instantly fell in love. So much so I put it on my must buy list. The story Taylor tells with a techno virus infecting Cyborg, then earth is so new age and uniquely cool that its surprising it hasn't been done more. Plus the art by Trevor Hairsine and James Harren perfectly match the story Taylor sets out to tell. The greatest thing about the mini-series is it isn't in the main universes canon so Taylor and team can do whatever they want. So prepare yourself for some gruesome deaths!