'Tis the season for good tidings to all. And for those of you here, that likely will involve picking up a comic or two centered around the holiday season. If you're looking for a something to check out while waiting to catch a glimpse of Old Saint Nick, here are a few obvious and not-quite-obvious choices for your reading pleasure.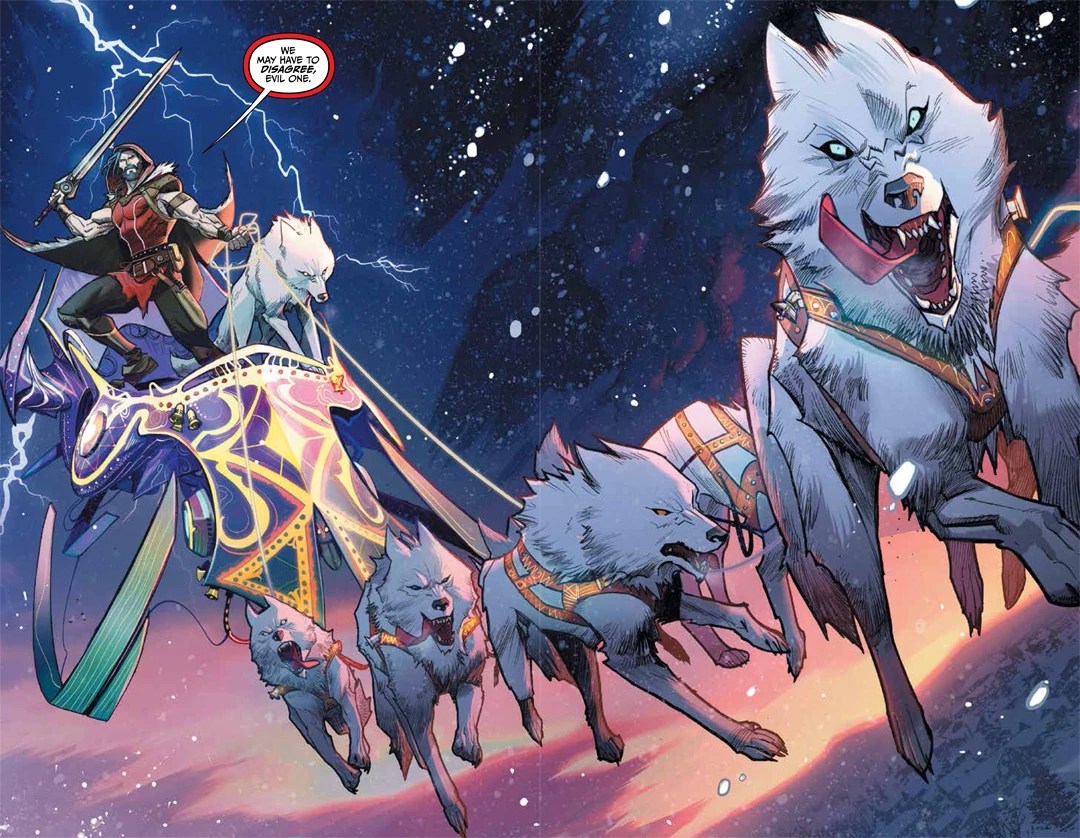 Klaus
Grant Morrison and Dan Mora's retelling of the Santa Claus legend is arguably the greatest Christmas-themed comic ever. Not the jolly, rotund figure seen on Coca-Cola cans every December, Dan Mora's rendering of the man-who-would-be-Santa is that of a fierce and compassionate loner sickened by the injustices in a nearby village. It's not difficult to see Morrison has mixed an element of social commentary into Klaus, with an oppressive ruling class valuing their own greed over the needs of the many. But at the end of the day, this story is about the birth of the Santa Claus legend, and it satisfies on nearly every level.
If you get through the original miniseries and are looking for more, BOOM! recently released a collection of "The New Adventures of Santa Claus" with Klaus's story continuing in a more modern setting. There's also the one-shot Klaus and the Crying Snowman due out this month.
Batman: Noel
A Christmas Carol is one of the defining Christmas stories of all time, having seen a fair number of updates over the years. There's Scrooged and The Muppet Christmas Carol, just to name a couple examples. In 2011 writer/artist Lee Bermejo took the Charles Dickens classic and gave it a Gotham City makeover in the beautifully crafted Batman: Noel. With the titular character standing in for Ebenezer Scrooge (and really, it's perfect casting) as well as appearances from notable members of his supporting cast, Noel is a great read for superhero fans looking to get into the holiday spirit.
"Slayride" – Detective Comics #826
Paul Dini's woefully brief tenure on 'Tec during the 2000s saw a number of bright spots, including this gem. Robin (Tim Drake) has been kidnapped by the Joker and is forced to endure a night of merry mayhem. Released during a surprising period when the Clown Prince of Crime wasn't overexposed, his appearance here was a treat for readers. With a sick sense of humor, he recklessly drives a car around Gotham, gleefully running over hapless citizens all while dressed as jolly old Saint Nick. Well, not exactly, but he has the hat at the very least. With Robin forced to watch while tied up in the passenger seat, this is a very glum holiday tale that ends on a pleasant note.
Happy!
Grant Morrison shows up again on this list, this time accompanied by artist Darick Robertson for a psychedelic mystery involving a drunk ex-cop, a pedophile Santa, a kidnapped little girl, and an imaginary, flying blue unicorn. Though considered underwhelming when it first released, this miniseries has seen a resurgent popularity thanks to the (simply fantastic) SyFy show. While our "hero" is anything but conventional, the story shows readers that the holiday season brings out the best in almost everybody – even if their best is nothing to aspire to.
"White Christmas" – Buffy the Vampire Slayer #4
We've had a fair bit of Buffy coverage on the site in recent months, mostly due to yours truly giving the series yet another rewatch. However, this time I'm also checking out the comics put out by Dark Horse, which includes this fine little gem from the late 1990s. Despite being the one person who has to save the world on practically a daily basis, heroism does not provide a steady paycheck, and with the holiday season in full swing, Buffy decides to get a job in order to earn some extra holiday cash. But, as luck would have it, her new manager happens to be a fan of the dark arts, resulting in an ice demon coming to wreck havoc. Also featuring an endearing ice-skating scene reminiscent of 1976's Rocky, this is a breezy, light-hearted holiday treat.
"I'll Be Doom for Christmas" – What the…? #10
Doctor Doom as Santa Claus. Do I need to say anything else?
"One Perfect Gift" – The Flash Vol.2 #73
Mark Waid's run on The Flash is often considered one of the greatest comic runs of all time, and for good reason. While Waid certainly had his fair share of epic story arcs, including what might be the greatest Flash story in The Return of Barry Allen, it also had a good deal of great, done-in-one issues. This is one such tale, as Wally West and Linda Park have Christmas with the Garricks. The premise is simple and light-hearted, as the two speedsters spread a little holiday cheer as dinner is being prepared. In the end, it is a great tale of generosity and kindness befitting the season.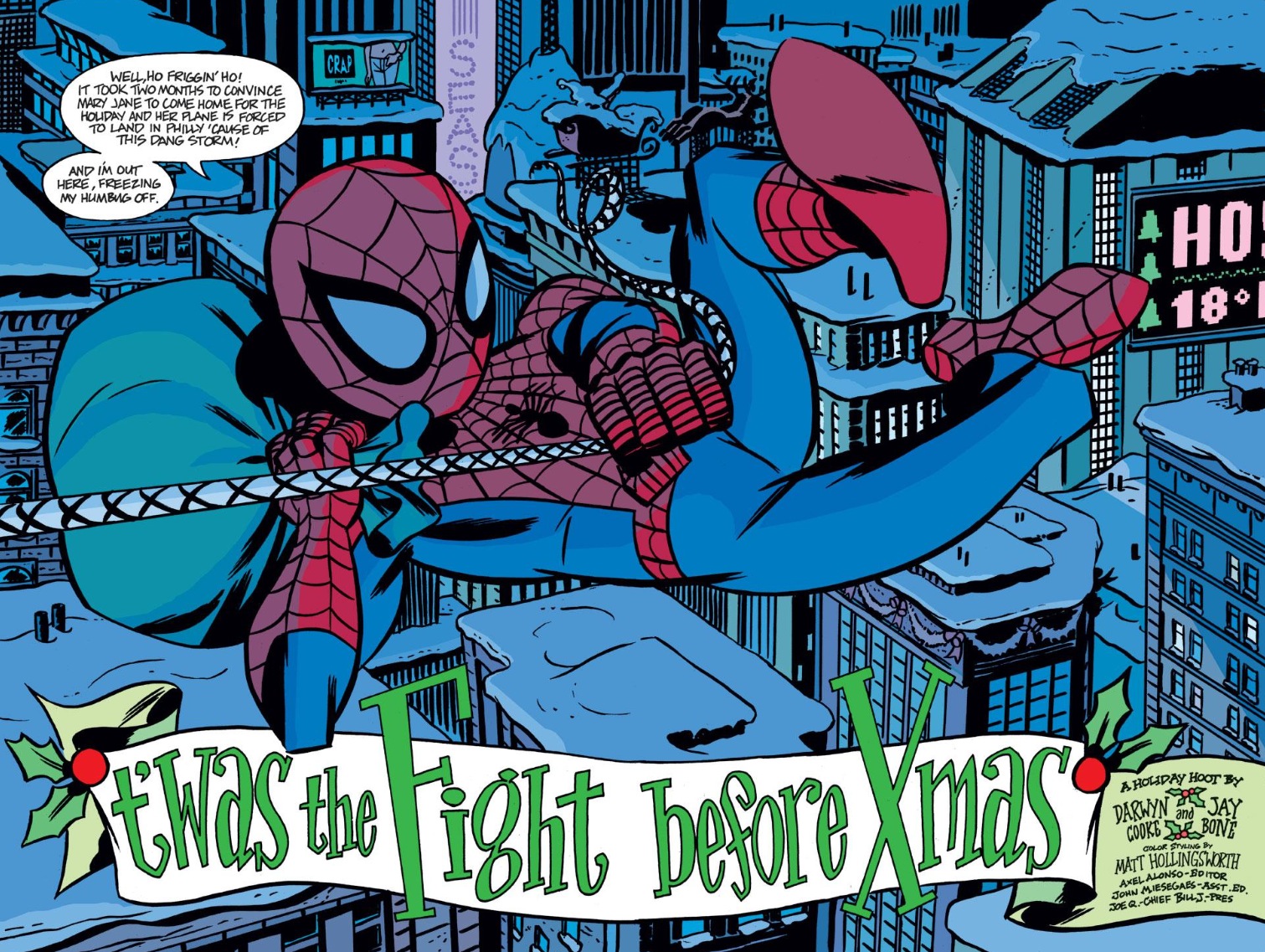 "Twas the Fight Before X-Mas" – Spider-Man's Tangled Web #21
Two of comics' greatest combine forces in the over-sized Spider-Man's Tangled Web #21, with the late Darwyn Cooke providing the writing and inks for this J. Bone illustrated holiday tale.
This reads like a vintage Spidey tale. Forced to go shopping by J. Jonah Jameson to get a last-minute Christmas gift for his wife, Peter Parker ends up in a very crowded mall. The scene is relatable to anyone that's ever waited until the last moment for their holiday shopping. And then, because it's a Spider-Man story, mayhem ensues. It's a fun story, but really it's an excuse to see J. Bone draw Spider-Man and his supporting cast, which is reason enough to seek this out.