It's October 31st, which means our Comictober series has come to an end for this year. But before the day comes to a close, let's take a look back at one of the more difficult comics to get a hold of in recent years: Halloween: NightDance. Written by Stefan Hutchinson and illustrated by Tim Seeley, NightDance takes place within the world of the 1978 classic, Halloween. Unfortunately, the Halloween franchise has more timelines and continuities than the DC Universe, so let's take a moment to revisit the film series.
Of course, the original film by John Carpenter is a classic and launched the career of actress Jamie Lee Curtis. Then, a second one was pumped out 3 years later. The sequel introduced the idea that Curtis' Laurie Strode was actually the brother of masked killer Michael Myers, thanks to a script written by a contractually obligated, apathetic, and drunk Carpenter. After Halloween II killed of (for a time) Myers, Halloween III saw the series try to become an anthology series, with a new spooky movie intended to be released each year. That didn't work, Carpenter completely left the series, and Halloween 4 brought back Myers. Halloween 5 introduced a bunch of crap that the writers of Halloween: The Curse of Michael Myers tried to explain. Despite their efforts, the series was pretty much run into the ground until Jamie Lee Curtis tried to reunite with Carpenter and producer Debra Hill or a 20th anniversary movie.
This idea eventually became Halloween: H20, and although neither Carpenter nor Hill were involved, it saw Curtis return to he role that launched her career to finally take down the monster that has haunted her since 1978 (that sounds familiar). It ignored everything but those first two movies, giving the series a much needed injection of life. It is also this new timeline where NightDance takes place. Unfortunately, this also technically takes place within the same timeline as the laughably bad Halloween: Resurrection. While all of this is technically accurate, Hutchinson crafts the story in a manner which readers only need to have a cursory knowledge of that original movie.
On its own, NightDance is a frightening portrait of a serial killer. Rather than being motivated to kill his family members, this Myers enjoys stalking and psychologically torturing his prey. While this may at the surface draw comparisons to the version of the character recently seen in 2018's Halloween, that version of Myers is just a force of nature, moving on from victim to victim and killing rather indiscriminately. That in itself is frightening, but it doesn't hold up against that original incarnation.
The Myers of NightDance is much more in line with the one seen in Carpenter's film. One of the most notable things about this story is that, while technically taking place between H20 and Resurrection, it is completely divorced from the film franchise. The one thing Hutchinson borrows is the idea that Michael can become fixated on a target and will aim screw with them as much as possible before ultimately ending them. This is the case for Lisa Thomas, a resident of Russellville, IL who has her own traumatic experience with Michael.
Much like Laurie Strode, Lisa becomes a fixation of Michael's purely by being at the wrong place at the wrong time. However, whereas 1978's Michael aimed to disturb Laurie by creating a "carnival funhouse" using her friends' corpses as props, NightDance sees Michael taking an even more insidious approach. Lisa is kept locked in a basement by Myers, and upon her escape is stalked while those she comes in contact with are picked off one-by-one.
Hutchinson's script is perhaps the strongest of his many Halloween comics, but it is the visuals provided by artist Tim Seeley that truly makes this a skin-crawling affair. There are certain images which have since been borrowed by the 2018 film due to their frightening nature. However, the ability to linger on an image makes their creepiness all the more effective in NightDance. Whether it's Michael's stealthy movements in the background of images, the aftermath of an incident, or the straight up violence, Seeley manages to capture the pure evil behind that drives Michael to act. The use of heavy shading and what looks to be ink washing gives the book a darker, grainier look.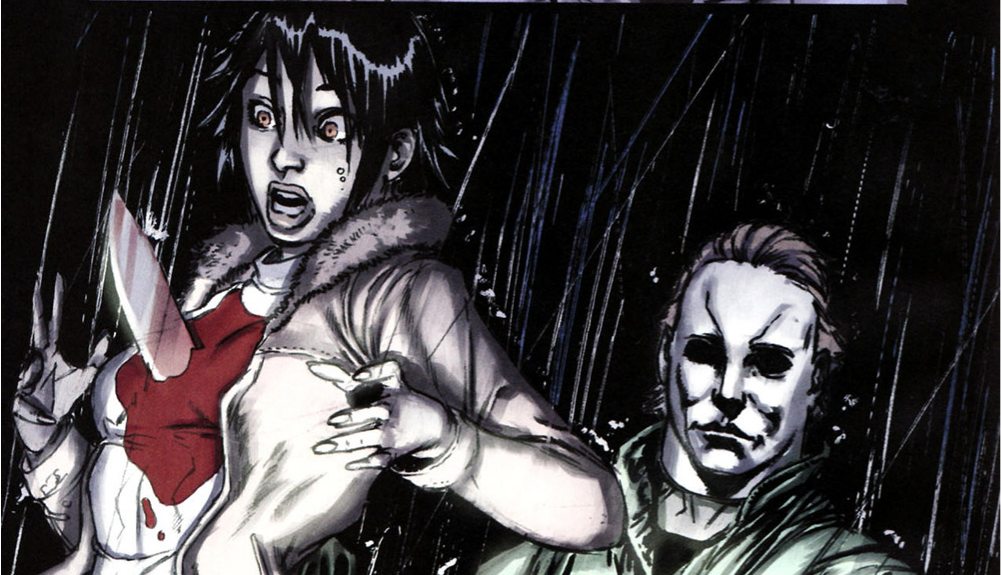 The book's visuals are further enhanced by the colors of Elizabeth John. Her use of a muted palette perfectly captures the autumn aesthetic. Aside from the heavy use of browns, oranges, and greens, she uses a darker shade of red than most colorists do for blood. Not only is it a striking visual, it also causes the blood to blend into the dark of night, as if the essence of Myers' victims are consumed by the black.
There is a case to be made that Halloween: NightDance is the best follow-up to the classic horror film. By setting the story in a town other than Haddonfield, IL, it enforces the idea that evil can truly be anywhere at any time. Unfortunately, the collected edition of this story has been out of print for some time, and secondary market prices for both the trade and the single issues are quite pricey these days. However, if you are able to get your hands on this story, you're in for one hell of a treat.