There are few people more associated with horror than filmmaker John Carpenter. Since his landmark Halloween in 1978, Carpenter has directed (and scored) some of the greatest horror movies – and action movies – of all time. It seems that every year, there's a Carpenter resurgence in autumn, as more people discover his works – many of which were either ahead of their time, masterpieces of low-budget film-making, or both. Today, he is considered one of the most influential movie-makers of all time. And unsurprisingly, many of his works have seen continuations or adaptations in comic books, enough to fill a Top Ten list.
10. Halloween: Autopsis (Paranormal Pictures)
Writer Stefan Hutchinson has become synonymous with Halloween comics. In 2006, he teamed up with artist Marcus Smith for Autopsis, which was published by Paranormal Pictures, a studio that is seemingly just as mysterious as the series' masked killer. Set in the continuity of Halloween: H20, Autopsis follows a photographer who has become obsessed with Michael Myers and Dr. Sam Loomis. While his obsession with Loomis shapes his view of the doctor as a pitiful, broken man, his pursuit of Myers proves foolhardy. As is the case with most of Hutchinson's Halloween books, the conclusion ends up dour and unfortunate for our protagonist.
9. Snake Plissken Chronicles (CrossGen | Hurricane)
The antihero of the cult classic Escape From New York and it's less celebrated follow-up, Escape From LA, Kurt Russell's Snake Plissken ranks among the most iconic sci-fi protagonists of all time. This four-issue miniseries from CrossGen and Hurricane picks up from the end of New York, with Snake making his way to Atlantic City following his presidential pardon for completing his in-movie mission. Though the series is far from a masterpiece, it does a decent job at fleshing out the world only hinted at in the movie and give Snake something to do other than escape from an island prison. With fun little nods to other Carpenter and Russell projects, Snake Plissken Chronicles is a fun if sloppy read.
---
8. The Fog (Dark Horse)
So here's the deal, this is a prequel comic to movie itself – specifically the terrible (like, unimaginably terrible) remake that came out in 2005 starring Smallville's Tom Welling. Though written by former Dark Horse exec Scott Allie, which makes this recommendation somewhat problematic on the basis of moral principle, the story itself wisely does very little to tie into the 2005 movie, instead telling the tale of the past which can be enjoyed on its own. With moody, creepy art from Todd Herman and Dave Stewart, The Fog comics are a great addition to an October reading list.
---
7. Halloween (Chaos Comics)
The first set of Halloween comics was a 3-part miniseries published by Chaos in the year 2000, aiming to bridge the gap between the "Thorn Trilogy" (Halloween 4-6) and Halloween: H20, which was released in 1998 and brought Jamie Lee Curtis back to the series. Although this series was rendered non-canon by 2002's Halloween: Resurrection, most would argue that film is so terrible that these comics are what should be held as true canon by fans. Written by Phil Nutman with contributions by franchise veterans Daniel Farrands and Mickey Yablans, these comics would follow Tommy Doyle (the kid babysat by Laurie Strode in 1978's Halloween and later played by Paul Rudd in Halloween: The Curse of Michael Myers) as he continues his fight against The Shape.
---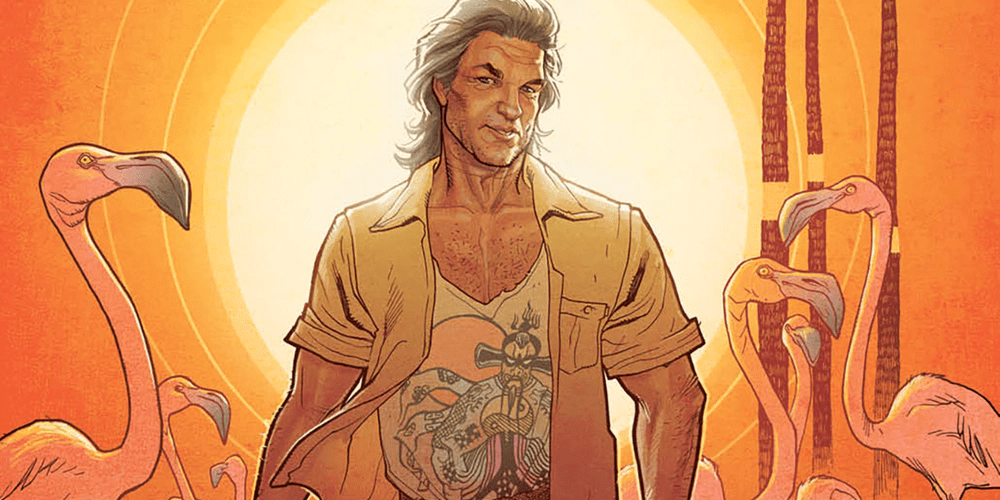 6. Big Trouble in Little China: Old Man Jack (BOOM! Studios)
Everyone loves Kurt Russell's Jack Burton, the sidekick that thinks he's the hero of Big Trouble in Little China. Though he has claimed to be done with the character, this series from BOOM! Studios allows readers to imagine what it'd be like to see today's Kurt Russell once again behind the wheel of the Porkchop Express. Unsurprisingly, Jack Burton is still the same muscle-headed goofball that made him a cult movie icon. Though a lot of fun, this series will leave readers wondering if Jack is wearing the same shirt all of these years later, or if he stumbled upon a near endless supply at some point in life. Maybe that's what he's been hauling in his truck for all of these years.
---

5. Escape From New York (BOOM! Studios)
Escape From New York landed Kurt Russell what may be his most iconic role as the war hero turned criminal Snake Plissken. Writer Christopher Sebela's 16-issue series picks up immediately following the events Carpenter's 1981 cult classic and chronicles Plissken's subsequent adventures. Eventually concluding where 1996's underrated – that's right, underrated – Escape From L.A. begins. Taking Snake on adventures to Florida, Siberia, back into New York, and Cleveland, Sebela fleshes out the world not seen in the films. Artist Diego Barreto's artwork provides a great bridge between the dark, gritty world of EFNY and the flashier, bombastic one seen in EFLA. Throughout the series, Snake remains one of the coolest characters ever created.
---
4. Halloween: Nightdance (Devils Due Productions)
The subject of a ComicTober 2018 post, Nightdance once again sees Stefan Hutchinson take the reigns of Haddonfield's most notorious psychopath. In this, Michael is not driven by a curse to eliminate his bloodline or any nonsense like that. He's just a ruthless killing machine that enjoys toying with his prey. Psychologically unnerving thanks in large part to the art of Tim Seeley, Nightdance shows readers how terrifying the Shape should be when unshackled from stories involving Laurie Strode.
---
3. Big Trouble in Little China (BOOM! Studios)
If there's one character from Carpenter's movies best suited to make the transition from movies to comics, it's Jack Burton. Who? Why the iconic sidekick who thinks he's the hero of the cult classic Big Trouble in Little China. Initially written by Eric Powell (The Goon) and later Fred Van Lente (Archer & Armstrong), BOOM! Studios' take on this Carpenter classic is somehow more insane than the actual film. Featuring time travel, more insane monsters, and more of Jack Burton's clueless actions, the Big Trouble in Little China comics are among the best adaptations of a John Carpenter work.
---
2. The Thing From Another World (Dark Horse)
Despite taking the name from the 1950s classic that Carpenter remade, this miniseries is indeed a sequel to the 1982 horror movie. Clocking in at only two issues, it's not a heavy lift for readers. Written by Chuck Pfarrar with art by John B. Higgins, the story does an incredible job of maintaining the unease and pervasive tension that characterizes Carpenter's work. Higgins' art is simply masterful, crafting an immersive world that is equally authentic and surreal. While it does sacrifice the film's ambiguous and, in my opinion, perfect ending, the introduction of new Antarctic settings and characters – with their own motivations and suspicions – makes The Thing From Another World a thrilling and gore-filled horrorfest that desperately needs to be put back into print.
---
1. Big Trouble in Little China / Escape From New York (BOOM! Studios)
What's better than a comic adaptation of a John Carpenter movie? A comic that smashes together two John Carpenter movies! That's what writer Greg Pak and artist Daniel Bayliss concocted for BOOM! Studios back in 2016. This insane miniseries sees Kurt Russell's Jack Burton – unknowingly haunted by his film's villain, David Lo Pan – get sucked into the hellscape inhabited by Kurt Russell's Snake Plissken. Though it does borrow the EFNY moniker, this seems to take place in a world post-Escape From LA. Soaked with vibrant colors and manic energy courtesy of Bayliss's art, this miniseries is a pure joy to look at. Meanwhile, Pak's crazy plot may lean more on the rules of Big Trouble than the Escape movies, but by starting with Jack Burton readers immediately buy into the events. As for Snake, he continues to ooze calm coolness despite the events unfolding around him.