Singles Going Steady is Comics Bulletin's weekly single issue review roundup. 
Convergence #3
For an event that seems to be based almost entirely around nostalgia, it's a bit odd how little of it the main title evokes. I don't know or care about any of these characters – maybe the New 52 Earth-2 had a bigger following than I thought, but at this point, this series feels more like a continuation of that series than anything standing on it's own. Maybe it's supposed to, but I sure would have loved to see the original Earth-2 JSA characters in these roles. (Alan Scott with the purple cape, Jay Garrick with helmet so ridiculous that it's cool – as opposed to just ridiculous, touch-of-gray Superman, maybe Wildcat, Huntress, and adult Dick Grayson still-as-Robin… I would have devoured that book.)
As it is, we're left with flat, unknown characters and inane battle-banter. Even the supposed-to-be poignant death(s) don't mean anything to me, because these characters are as anonymous as Captain Carrot and the Zoo Crew to me. Alas. What could have been…
– Luke Miller
Convergence Adventures Of Superman #1
I find it odd to be reading a Convergence title that's written by Marv Wolfman, who some might remember wrote the original DC crossover Crisis on Infinite Earths.  What I mean by this is that one would think Wolfman would play a much larger role in the writing of any crossover that obviously will draw from his magnum opus.
It is fitting that his Adventures of Superman tale stars none other than Supergirl, a character Wolfman killed off over 30 years ago.  Wolfman brings his wordiness back into play; there's more dialogue in this book than there is in almost 90% of the stories told nowadays.  I'm not insulting this, I actually feel it makes the book better.  That being said, Superman and Supergirl really seem to talk a lot during fight scenes when they should be concentrating on battling multiple Phantom Zone inmates.
Roberto Viacava provides very inconsistent pencils for this tale, providing some spectacular art on some pages, in particular when Supergirl is alone.  On other pages his work isn't spectacular. His Superman really seems to be based far in the past before the original Crisis and again the quality seems hit and miss.
Overall it's not a bad piece of work, but I really don't think it's a necessary buy for anyone trying to follow the full Convergence story.  For those that must have all crossover issues you could do worse.
– Kristopher Reavely
Convergence Batman And The Outsiders #1
Part of the trick of these Convergence stories is getting the characters right, and getting that across quickly.  Most of these comics have not done a good job of it.  In fact, Convergence: Batman and the Outsiders might be the best example we've seen in this event of how to connect the reader to the characters over just a few pages.  Very quickly, we know a lot about Geo-Force, Black Lightning, Katana, and Metamorpho.  We even get nice moments with Batman, Commissioner Gordon, and Leslie Thompkins, plus a nice mystery involving Halo.
Andreyko and D'Anda cover a lot of ground and move things along a nice pace, building towards a typical ending for the Convergence line, albeit one with some momentum behind it.  Next to Justice League, this was probably my favorite book of the week, and one of the most enjoyable we've seen so far.
– Kyle Garret
Convergence Green Lantern Corps #1
As Kyle just said about BATO, the trick in these Convergence issues has been in getting characters right. Green Lantern Corps gets its characters completely wrong.
Guy Gardner was always "the asshole Green Lantern", the hero with a nasty attitude that was self-centered, uber-confident, fierce; he was the kind of guy who bounced back quickly from whatever came his way and maintained his boundless self-confidence. But here… Guy is a wimp. Guy is a downer. He's depressed. He pouts. He moans and groans and sees Leslie Tompkins, psychologist (in a moment that contradicts a scene in another comic this week). He's completely off-character.
Because of that, this comic is just 22 pages of downer. Nothing happens except miserable people feeling miserable. It's a slog to get through, and the very worst example of his this misfired nostalgia can backfire. Gimme my nasty Guy!
– Jason Sacks
Convergence Hawkman #1
When it comes to the past two weeks of Convergence mini-series, Hawkman ranks on the high end of the spectrum. That may be what they call damning through faint praise. Convergence: Hawkman #1 is a pretty damn good comic when compared to other DC Comics this week, but is a lackluster affair when stacked against everything else. It's a coherent story with intelligible art and even a memorable moment or two. Maybe that's the best that can be expected from this event.
Jeff Parker is a known quantity and I still hold out hope for his Shazam installment next week, but the best he's able to manage here is to not bog down the first half of Hawkman with too much exposition. There's plenty to explain, specifically a bunch of enemies no one younger than 30 is likely to recall, but he does have confidence that his readers are at least paying attention (unlike many others in this event). Parker manages to place his characters at the center of the story even with a burdensome setup weighing the whole affair down.
Tim Truman captures the aesthetic that this late-80's setting is pursuing with a solid chase and action sequence. Nothing about the comic ever challenges readers or stands out as being iconic, but that is a thought true to much of the period which it emulates. It's a very standard depiction of events that functions to convey story, but not much more. That style summarizes Convergence: Hawkman nicely, a standard affair that only stands out when set side-by-side with its lackluster competition.
– Chase A. Magnett
Convergence Justice League America #1
And the award for figuring out how to navigate Convergence goes to Fabian Nicieza!  Every other issue of Convergence has covered the same ground: heroes trying to adapt to being civilians, big booming voice, dome opening up, powers returning, cliffhanger that introduces the big fight.  Nicieza, perhaps in an effort to avoid drawing to much attention to the fact that the Justice League Detroit is stuck in Gotham, skips almost all of that, instead going directly to the team already having their powers back.
This allows Nicieza and artist CrissCross (fantastic to see his work again) to give us the best type of superhero comic, the one where the build up and the fight are filled with character beats, witty dialogue, and frenetic action.  By leaping over the usual structure of these comics, they're giving this version of the Justice League more time to shine.  This might be the best they've ever been portrayed.
– Kyle Garret
Convergence New Teen Titans #1
I love The New Teen Titans by Marv Wolfman and George Perez. Not only was it among the first comic series I ever read, but it was filled with a diverse cast – each with their own distinct characterization – and absolutely astounding artwork. This tie-in to Convergence does an admirable job in capturing that magic.  Yes, the quality of the issue is limited by the main event, but the creative team manages to overcome those limitations and tell a fairly captivating story.
Credit to DC for getting Marv Wolfman to revisit this incarnation of the Titans. Were some of the interactions (especially those involving Donna, Dick and Kori) a touch melodramatic? Yes, as they should be. Despite some of the interpersonal drama, there remains a familial bond within the team that shines when they are confronted by the Tangent Universe's Doom Patrol. Perhaps even more impressive than his handling of the team dynamics is how he manages the conflict between the two universes. The "battle" turns into nothing more than a facade, with the heroes opting to talk through the problem. It's refreshing, an unfortunate reaction for an event filled with heroes.
– Dan Gehen
Convergence Superboy And The Legion Of Super-Heroes #1
I'm torn on this issue.  I really like the way Stuart  Moore writes Superboy, but I don't really care for how he writes the Legion.  And that's fine, but the selling point for me is the Legion because I am a Legion fanboy.  Superboy missing his family, friends, and dog was a wonderful moment, possibly one of the best we've seen from Convergence.  But the choice of Legionnaires stuck in the dome seems kind of random and Colossal Boy being stuck at 12 feet tall makes no sense.  His power is to grow bigger.  He lost his powers.  He wouldn't be stuck at 12 feet tall because the only thing allowing him to be 12 feet tall is HIS POWER.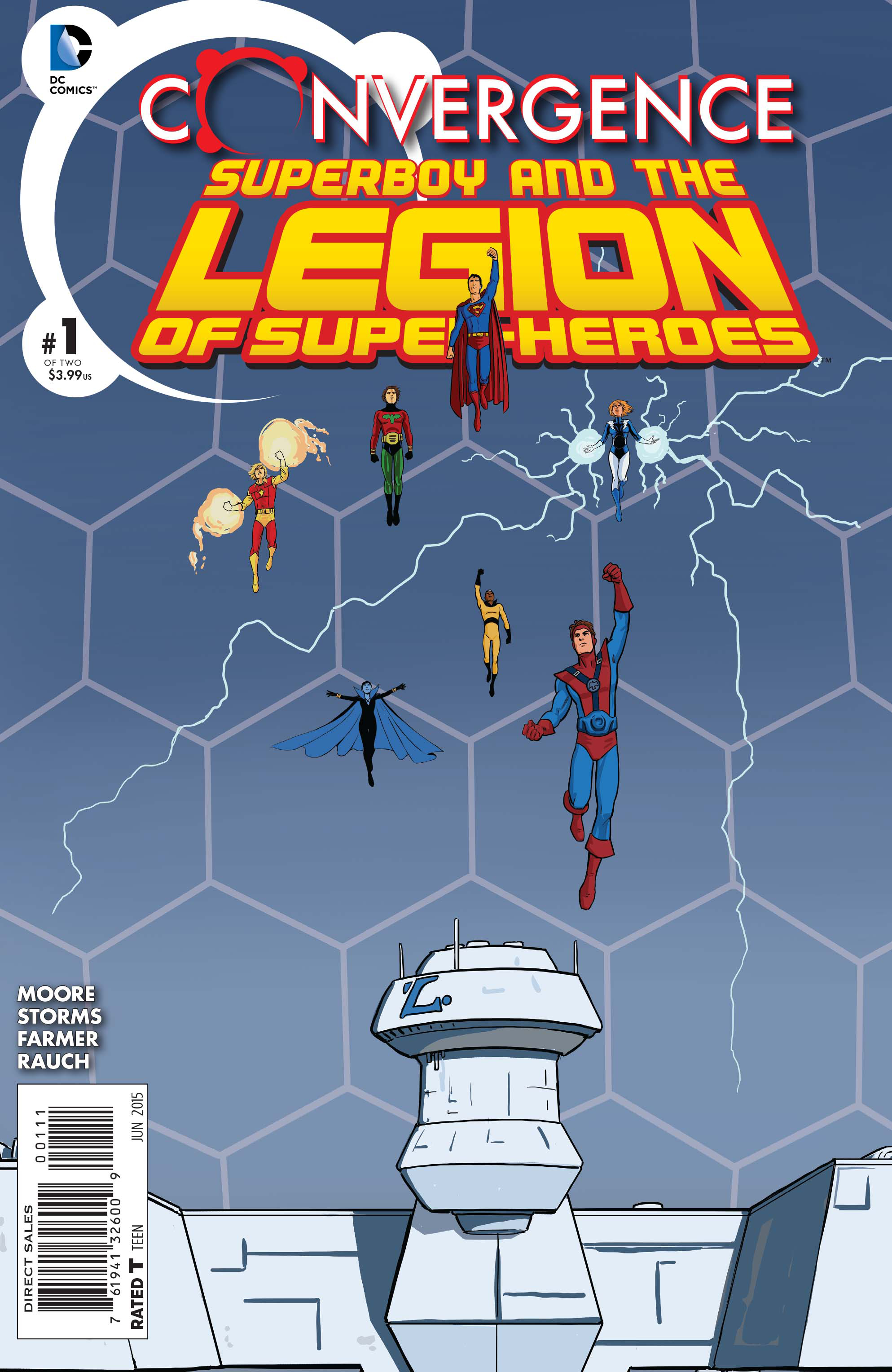 The art by Gus Storms and Mark Farmer is unique, a kind of swirl of the abstract, manga, and an underground book.  The only problem with it comes with Lightning Lass' flashback which makes it look like her twin brother, Garth, is the one who tried to kill her, when it reality it was her older brother, Mekt.
Still, it was nice to see this Legion team again, even if a roll call or some kind of context would have been nice.
– Kyle Garret
Convergence Swamp Thing #1
One of the things that happens after reading 30 Convergence crossover comics is that you start to crave something different; maybe something with a bit of an attitude, or a different approach, or art that's off-model in some way. You start to crave a comic like Swamp Thing. This comic, delivered by veteran writer Len Wein and veteran artist Kelley Jones, is an off-center, oddball delight.
Kelley Jones's art is an absolute wonder here. He continually makes decisions to tell his story in unusual ways, with cutouts an clever three-panel sequences and oblique angles that help to emphasize the strangeness of Swamp Thing and his story. Maybe the thing that excited me the most is that Jones felt free to go off-model with his design of Swamp Thing, so we get a memorable look  for the character that resonates with Bernie Wrightson's original vision of the character — Jones is obviously a big fan of Wrightson — as well as the later Steve Bissette/John Totleben era that fans probably know better.
Len Wein's script is playful and clever, with scenes that spark with clever characterization and a level of world-building that makes this comic stand out against its peers.
It's no surprise that these two vets deliver a rollicking good time, but I didn't expect Swamp Thing to be as darkly fun as it was. This is one of the best Convergence comics. (And having read every one of them, I've earned that opinion!)
– Jason Sacks
Convergence The Flash #1
This week in Convergence brings the return of the classic, both-parents-alive version of Barry Allen. But if this version "died" in Crisis on Infinite Earths, how the hell did he end up under one of Telos' domes? Like most of Convergence, the less concerned you are with minor things like logic, the better. Here's the quick refresher on where Barry was at this time: in self-imposed exile to the future which ended a two-year arc where he was put on trial for the murder of the Reverse Flash. There was some behind-the-scenes drama between editorial and writer Carey Bates that resulted in the most boring iconic stories ever produced.
For most of its twenty-plus pages, Convergence: The Flash #1 is equally exciting. We follow Barry Allen as he accomplishes various day-to-day tasks like making breakfast, making small-talk with co-workers, and drinking coffee. Perhaps I'm being a little hard on the title. After all, writer Dan Abnett actually gives this era's Barry a personality – an omission that had been a persistent knock against the character. When the dome falls and Barry reconnects to the Speed Force makes for a genuine, fist-pumping moment. It doesn't hurt that the art by Federico Dallocchio is really good. Unfortunately, seeing this issue follow the same formula as every other tie-in to this event takes the wind out of its sails.
– Dan Gehen
Convergence Wonder Woman #1
This is a wacky, odd comic. I thought the point of this week's Convergence comics was to deliver characters as they were right before the Crisis on Infinite Earths, but this issue goes a different direction, taking on the "non-costumed" Wonder Woman era of the late 1960s, that radical era when Diana Prince wore ordinary clothes — she looked great in a white jumpsuit — and fought spy agencies, witches and gods rather than her classic villains.
It actually is logical for WW to doff her costume and help women in a non-costumed way, so maybe this approach is a reasonable bridge between the thoroughly rotten pre-Crisis WW and wonderful non-costumed WW. There was no reason for her to keep her costume on in a domed Gotham City, so why not have her wear comfortable yoga pants?
One other wonderful aspect of this issue is that it resonates against the '60s WW run. This story of a malicious coven could easily have been drawn by Mike Sekowsky in 1969, and it's a goofy delight as illustrated by Joshua Middleton, all thin lines and emotional faces and dark shadows. And then the whole thing loses its momentum when alternate world version of Batman villains come in to the story. Yeah, Diana fights Batman villains again because it seems that the Joker and Poison Ivy need to appear in most all of these Convergence comics. Was anyone asking for WW to fight the vampire Joker? Oh wait, who asked for any of these matchups in the first place?
– Jason Sacks