Daniel Gehen: Why do I love comics? Because I like superheroes being heroic and things can be done in this medium that simply cannot be replicated to the same effect in other media. I find a crazy, fantastic splash page which is the result of the work of someone's bare hands more awe-inspiring than a CGI-rendered spectacle. All of this is found in Crisis on Infinite Earths #5. After four issues of what is essentially set up, the gloves come off for George Perez. With an assist from Jerry Ordway, this issue has some of the best visuals of the series.
Earth One and Earth Two are merging, and all of their histories are occupying the same time and space. On one page, dinosaurs and stagecoaches and hovercrafts (oh my!) are interacting with each other. The very next page is a gorgeous double-page spread of the various heroes of Earth One and Earth Two gathered by Harbinger and Pariah. There's a dude that looks like the lovechild of Thor and Conan the Barbarian (Warlord) claiming to know what's impossible, all while Superman is inspiring others instead of snapping necks. We also finally see the Anti-Monitor, and he is intimidating as hell.
It's a good thing the visuals are spectacular, because other than that there's a whole lot of nothing here. Yes, Harbinger deals with the fallout of her [mind controlled] actions. Yes, the Anti-Monitor has Psycho Pirate screw around with the Flash's emotions. And yes, there's some big visuals. That's not a whole lot to fill the space of an entire issue. It's the first time this event feels really bloated, and Wolfman's melodramatic dialogue certainly does not make this a more enjoyable read.
Jason Sacks: Holy crap, this comic is dumb.
Okay, can we litigate that? Can we say that up front? This comic is dumb. It's stupid. It's full of pseudo-science and speechifying for no goddamn good reason and plot twists that make no fucking sense and look at me I'm like Daniel Elkin swearing and rending my brow over this stupid crazy-ass comic book.
But look at that cover! Just look at it and drool at its inherent George Perez-ishness. Stare at all the characters and think about how stupidawesome the cover is – heroes from one Earth on one side and from the other Earth on the other and the heroes who have doppelgangers in the middle bisected and dude it's just so elegant and smart if your world is a place that just wants unironic pure joy. Glory in the game of guessing who these characters are, and even better if you don't know who they are because you can make up your own stories and have even more fun. "Arrowhead on the top left is a Navajo chief who can grow to be three stories tall and chases off Custer in one story." "Dodo on the bottom right is a Golden Age hero who was the spirit of the extinct dodo bird brought to life by a magic spell by a mad scientist with a fetish for birds." "Guy on the middle left with the two giant panels on his helmet is a Jack Kirby creation called Magnetometer who fought OMAC the mohawked future Marine in a battle to earn money to save his eight-year-old who had cancer."
On and on you can go because that's what ridiculous escapist comics do for you. They're all about the costumes and the blank slates those costumes represent, all possibility and excitement, unjaded and welcome; the thrill of the new and the excitement of the promise of a new friend and holy crap look at all those possible new friends on pages 7 and 8. Who are these people? They're like walking into the lunchroom at a new high school and wondering who all these people are. Who's good? Who's bad? Who has the good super-powers and who has the good pot and goddamn look at how cute that girl is sitting with what looks like football players.
I know that the teachers look like they suck – that blonde one who floats over everything in her off-the-shoulder blue jumpsuit is bossy, and the red-haired guy in the banana-colored metal jumpsuit looks like a member of REO Speedwagon but hey there are lots of kids at this school who look like they're fun to hang out with. I know from this issue that their parties are wild and you never know what's going to happen.
I guess I'm saying that Crisis #5 takes me back to that twilight time in my life, the time inbetween Neither kid nor semi-adult, just muddling in the middle looking for peace and happiness and companionship in the four-color pages and finding something so stupid it's brilliant and so brilliant it's, well, it's brilliant. By the time the penultimate page rolls around where we find out that the big bad of the series is a dead man or something (who the fuck knows), I always find myself with my brain turned off, metaphorically drooling and full of joy. And when the Freedom Fighters basically commit suicide on the last page for no good reason, well, isn't that the kind of thing that someone in his inbetween years would think was great?
Yay for stupid comics.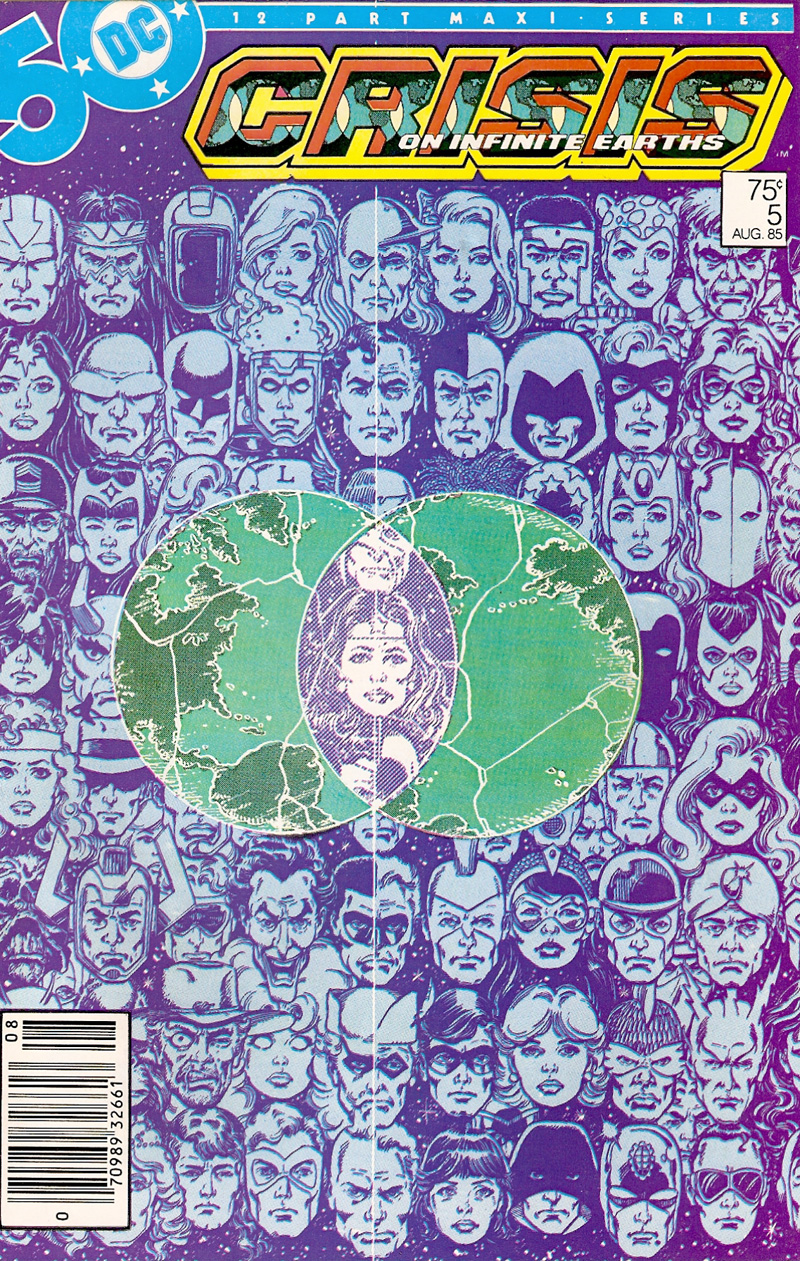 Kyle Garret: You're goddamn right "yay for stupid comics!"
Yes, I admit that this issue is an incredible let down from #4 and, in many ways, it's totally unnecessary.  When I thought back on this series I actually forgot this issue entirely — I went from the events of #4 to the events of #6 in my head.  There's really not a ton of value in this issue…
…aside from getting to see George Perez do what he does again.  And, honestly, no matter how bad the story is, isn't the Perez art worth it?  Of course it is.
Here's the thing that people who aren't as old as dirt sometimes don't realize: The pre-Crisis DCU was bat shit insane.  They don't realize that up until the dawn of the Marvel Age, DC produced a ton of superhero comics, none of which featured any real characterization at all.  So they were completely dependent upon plot and that well is only so deep, at least if it's confined to stories that, you know, make sense.  DC spent years publishing stories that were absolutely insane, truly beyond anything Morrison or Hickman put out today.  And the two dimensional characters introduced in these stories were equally nuts.
So when I see Warlord, Amethyst, 80's Catwoman, 80's Black Canary (SO 80's), B'wana Beast, The Creeper, Spectre, Phantom Stranger, Swamp Thing, and Sgt. Rock having a conversation about the end of the world, I say thee "fuck yeah!"  Because that is the superhero drug right there.  That is what Daniel and Jason are talking about.  That is pure, unadulterated stupid ass, illogical, large than life, not bound by your mortal rules superhero comics, and even at its most superfluous, it brings a smile to my face.
It reminds me that "making sense" is something that adults worry about, and that kids seem so much happier without it.
For what it's worth, though, the back six of this series are infinitely better than the front six.  But when you're creating a series that's supposed to encapsulate what was, at that point, nearly 50 years of history, you're bound to be dragged down by the weight of all that history.
Zack Davisson: I guess we are monologuing for this issue, and that is probably for the best. I can admit upfront that it is the weakest of the series–the first that truly feels like "filler." Like Kyle said in another post, I actually forgot about issue #5. Mentally, I jumped straight from 4 to 6, so reading this was a reminder of a chapter I had blanked out. It serves little purpose other than those last few pages.
But I disagree about "stupid comics." I've read stupid comics. Lots of them. I've read lots of comics that exist as pure splash and splatter, with little substance. Candy bar comics. All sugar, no nutrition. But I think you do a HUGE disservice by placing Crisis on that isle at the corner store–even this flimsy issue.
Like that opening splash page that Jason guffaws about. It is masterly. When I was reading it, I became aware of how Perez and Wolfman had used the dialog to control the reader's eye so you that move across the page like a camera panning. It adds movement and a sense of time to a static page. Perez does more than draw pretty pictures. He controls the comic medium like few other of that era. It's brilliant work.
And Wolfman as a writer makes this more than about fluff and nonsense. Yes, this is the batshit crazy DCU of the time, but I am always amazed at how he manages to imbue it with dignity and respect. Writers like Grant Morrison pull up the pieces of the past and turn them into beloved parodies. James Robinson mines the past and tries to darken it, adding smudges to the bright colors and throwing some garbage in the gleaming streets. But Wolfman takes it as is–at face value–and holds it up as something to be taken seriously.
I think Kurt Busiek put comics like this best when he called them Grand Opera. Or if to pull from my own Japanese experience, like kabuki theater. Or Shakespeare. They are not attempts at naturalism. They exist in a self-contained universe that only works if everyone suspends their disbelief and accepts that gaudy, unnatural universe for what it is–and embraces it. If you sit in a kabuki theater and point fingers and make jibes at the painted faces, bright costumes, and exaggerated gestures, then frankly you are missing the point and should have bought tickets to the little underground theater showing the slice-of-life drama. Because this is Joseph Campbell territory–The Hero With a Thousand Faces.  This is mythology, that taps into deep emotions, not logic. Jason is right that it is the costumes that matter, just as in kabuki it is the painted faces that matter. The unnatural nature allows us to break away from comparisons from our own life and tap into something different.
Like that final scene with the Freedom Fighters. Wolfman and Perez take the hookiest characters, the absolute laughing stock of the comics pantheon, and infuses them with something primal. Faced with a lose-lose situation, they chose to go out with courage instead of lay down and die.
It actually reminds me of a friend of mine who died of cancer recently. The last time I saw him alive, he had lost his ability to speak and was strapped into a hospital bed with so many tubes sticking out of him he no longer looked human. But in a rare moment of clarity, he looked up and saw that I was there.  His eyes got a little smile on them and his hand struggled to move until he finally managed to flip me off.
Damn straight.