One topic that's been popping up on a more frequent basis is the idea of "Batman is terrible." I get it. Batman has been thought of in recent years as a Republican power fantasy: a rich white guy with cool toys gets to beat up the mentally ill on a nightly basis while frequently engaging in child endangerment with no repercussions. On top of that, he is willing to develop contingency plans against his own allies while demanding 100% trust in his abilities. Yeah, Batman is pretty terrible. But that wasn't always the case. Being one of the few pop culture figures that is malleable, there are plenty of versions of Batman that aren't brooding sociopaths. But those examples are often ignored, especially by those pushing to "legitimize" comics as a medium worthy of academic analysis. The problem is that not every comic has academic value. Therefore, legitimizing the medium does not mean legitimizing every comic.
While better regarded around the globe, comics unfortunately still have the stigma of being "kids' stuff" in the United States. Though that stigma continues to wane over time, it is a perception that is still held by many, resulting in a medium where the top selling title barely cracks 100,000 copies. Problems with the industry's current distribution model is a whole other topic for discussion, but the medium's public perception dates back decades thanks to the nefarious and self-righteous efforts of Fredric Wertham. Through bogus research in his book Seduction of the Innocent and inspiring a U.S. Congressional inquiry into the comic industry, he was able to kill off many of the industry's more experimental titles and force the remaining publishers to adopt the self-neutering Comics Code Authority (CCA). Comics produced under the CCA were often bland, spineless superhero fare. Characters such as Batman became deputized agents of the law rather than vigilantes.
However, most superheroes and their most iconic elements already were, for the most part, compliant with the code. Aside from the first year of Batman stories, he was well on his way to becoming the "Bright Knight" that would be parodied in the Adam West series. Ditto for Superman. Wonder Woman… her stories remained uniquely feminist and fetishist until health issues forced William Moulton Marston to step away in 1945, after which her stories became more in line with other superhero books. So yes, certain comics of the era were more mature than their contemporaries, especially when you look at titles such as The Thing (not the 1982 classic) or Weird Tales. But this often distracts from the fact that comic books were produced as cheap, disposable entertainment for kids.
Creators that are hailed as legends such as Carmine Infantino and Steve Ditko were cranking out stories knowing that their art would be sold in 10-cent issues comprised of cheap newsprint and a couple staples and handed to children for entertainment. It's a truth of the medium that people – myself included – do not like acknowledging today. But that's the reason Batman, Green Arrow, Captain America, and a host of others had kid sidekicks – to appeal to children readers. Spider-Man's appeal was in part due to him being not much older than the readers at the time.
Eventually, readership age trended up and publishers pushed for stories that were more reflective of the median audience. As a result, stories such as Green Lantern/Green Arrow, The Death of Gwen Stacy, and the Dennis O'Neil/Neal Adams Batman flourished without losing the broad strokes morality that had defined the medium's storytelling. This continued into the 1980s, with Chris Claremont's Uncanny X-Men and the Wolfman/Perez New Teen Titans, both of which took on a soap opera-like storytelling model. Though the situations that the characters found themselves in grew more complicated, it was presented in a manner that could be easily digestible. This changed, however, with the release of two significant works: Watchmen and The Dark Knight Returns (TDKR). Both comics presented a more serious take on superheroes. Watchmen provided readers with a thorough deconstruction of superhero comics, while TDKR presented a version of Batman that was by-and-large considered darker, grittier, and harsher than previous incarnations – and a far cry from the POW! BAM! ZAP! of the 1960s television show.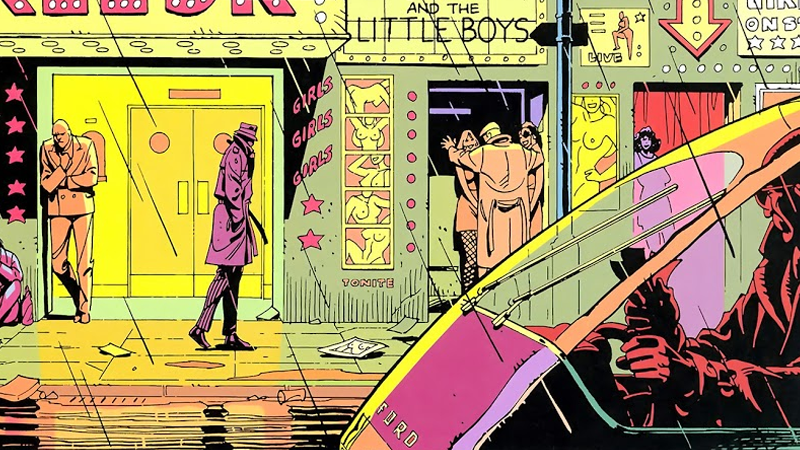 Unfortunately, as tends to be the case, the heads of the industry saw the success of these books and thought that's all readers wanted. And so marked the beginning of a new age of comics, characterized by grim and gritty storytelling. As time passed, this trend also added new elements to appeal to 1990s readers. Most of the superhero books from this era are thought of with disdain. The ones held in high regard either coming from mature readers imprints such as Vertigo or that maintained a bygone sense of hope and optimism, such Justice League International or Mark Waid's The Flash. Into the 2000s, superhero comics shed some of their outlandish 1990s elements, but maintained their grimness as they aimed to tell more mature stories. It was a misguided effort, that lead to divisive stories such as Identity Crisis, Cry for Justice, and the recent Heroes in Crisis. 
While superhero stories evolved into their current state, the 1990s and 2000s saw the advent of another creation that would impact the industry: the internet. The internet has made it easier for people to voice their opinions, no matter how informed or misguided they may be (including yours truly). Add to that the desire by a readership to have their passion be taken seriously, and you have a recipe for a culture that takes superhero comics way too seriously.
An academic approach to comics and graphic novels is nothing new. Michael Uslan, producer on all of the Batman movies dating back to the 1989 hit, famously taught the first fully accredited course at Indiana University titled "The Comic Book in Society" back in 1971. It postulated that superheroes were the direct and natural evolution of folklore, an approach that some of the most celebrated writers in the medium have taken. 
Though it has come under higher scrutiny in recent years, Alan Moore and Dave Gibbons' The Killing Joke is often pointed to as a must-read Batman story, especially when looking to convince others that comics aren't for kids anymore. But Alan Moore himself is the book's harshest critic because of its contribution to the medium's trend of dark, brooding, ultraviolent characters. As he stated in an interview at the now defunct Mania.com: 
"I've never really liked my story in The Killing Joke. I think it put far too much melodramatic weight upon a character that was never designed to carry it. It was too nasty, it was too physically violent. There were some good things about it, but in terms of my writing, it's not one of me favorite pieces. If, as I said, god forbid, I was ever writing a character like Batman again, I'd probably be setting it squarely in the kind of "smiley uncle period where Dick Sprang was drawing it, and where you had Ace the Bat-Hound and Bat-Mite, and the zebra Batman—when it was sillier. Because then, it was brimming with imagination and playful ideas. I don't think that the world needs that many brooding psychopathic avengers." (1)
Moore would go on to say in the same interview that he hoped works like Miracleman and Watchmen would inspire fresh ideas in the medium, only to be disappointed that the wrong lessons were learned. Having read his other superhero work, especially the Superman stories "For the Man Who Has Everything" and "Whatever Happened to the Man of Tomorrow?" he sees superheroes as inspirational figures. One creator who shares this sentiment is artist David Mazzucchelli, artist of 1980s classics Daredevil: Borne Again and Batman: Year One.
Though Year One is set, according to Frank Miller, in the same continuity as TDKR, it also served as the official origin to Batman up until 2013's Zero Year. Like TDKR, Year One was a more serious take on Batman, though more optimistic and hopeful. However, it was also more grounded, contributing to a movement that demanded, if possible, elements of superhero comics be founded on real-world concepts. Like Moore with The Killing Joke, Mazzucchelli has taken issue with the mainstream takeaways from his work.
"With Year One, we sought to craft a credible Batman, grounded in a world we recognize. But, did we go too far? Once a depiction veers toward realism, each new detail releases a torrent of questions that exposes the absurdity at the heart of the genre. The more 'realistic' superheroes become the less believable they are." (2)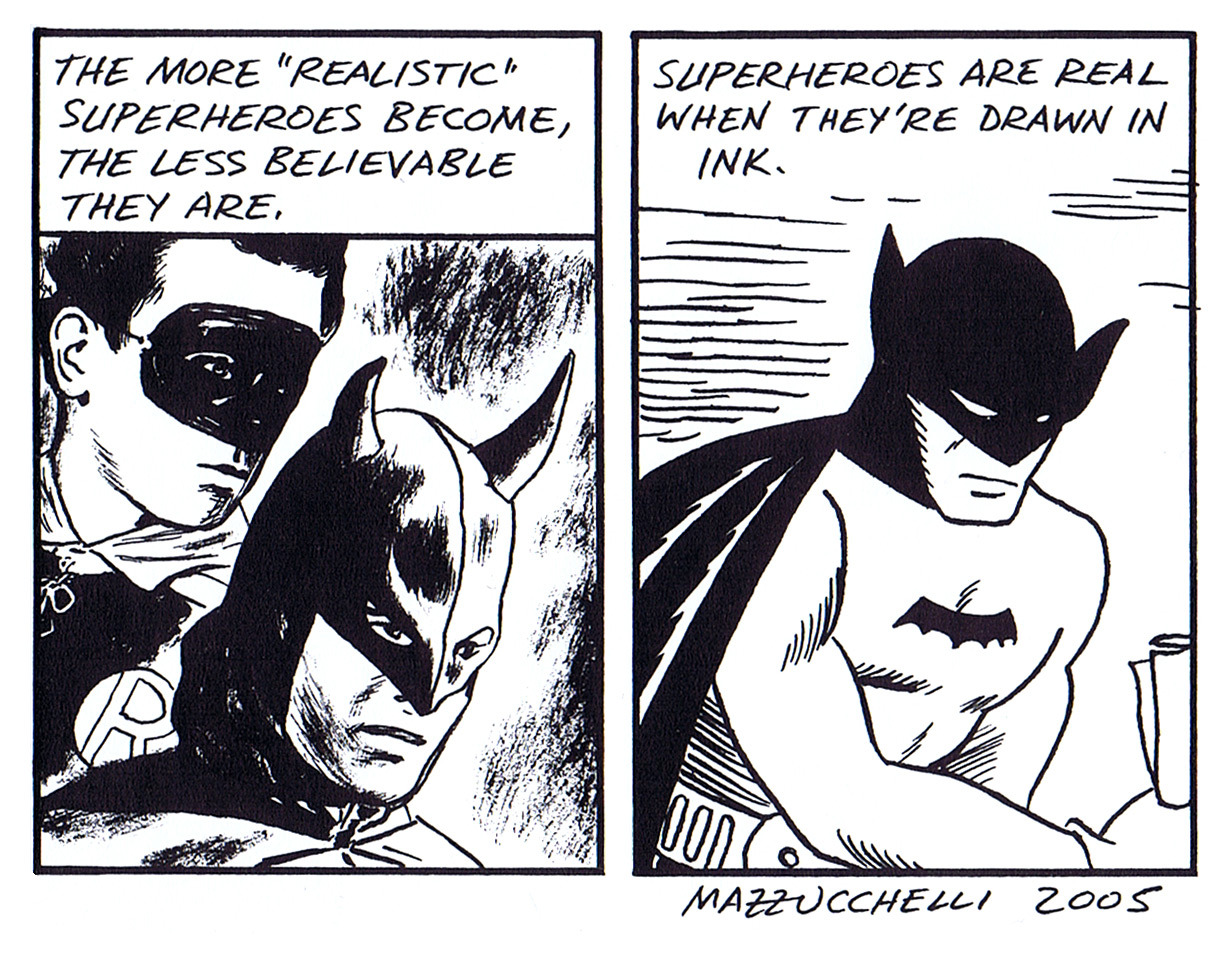 Mazzucchelli has a point. The more that we apply real-world logic to superheroes, the more evident it becomes how bizarre they are. Arguments are made by people that Batman is terrible because of the real-world reaction to a white billionaire with a child army that frequently acts outside the law by beating up the mentally ill in the name of justice. Of course if that was the case in the real world it'd be awful. However, these are characters that live in fictional universes with fictional rules and fictional logic. The more the world of Marvel and DC resembles our own, the more their worlds crumble. This has been seen in attempts to give real-world stakes to superhero stories. DC's Identity Crisis and Heroes in Crisis, as well as Marvel's Civil War do not hold up because these larger-than-life characters become broken when the rules of reality are applied.
One creator who understands this more than others is Grant Morrison. Throughout his career, Morrison's works have dealt with metatextual themes, but also with the notion that superheroes should be beacons of hope and representative of ideals instead of abiding by the rules of the real world. His JLA run with artist Howard Porter approached DC's big seven heroes (Supeman, Batman, Wonder Woman, Flash, Aquaman, Green Lantern, and Martian Manhunter) as the modern day pantheon of gods. His nearly decade-long run on Batman began with a story that called back in tone and style to the O'Neil/Adams stories of the 1970s, while further incorporating other outlandish and silly elements for the character's history. But his biggest statement on modern superhero comics is Final Crisis.
There are many ways to interpret Final Crisis, but one popular interpretation is that the story postulates what happens to the world if it continues to embrace dark, depressing stories and trying to make heroes play by "real world" rules. Evil versions of the Monitors – cosmic beings that oversee the DC Universe – literally work to suck the life and joy out of the world. It is only when the heroes – lead by an army of Supermen – embrace concepts of optimism and hope. Moreover, their victory is a result of discarding the rules of the real world, and embracing the infinite possibilities of the comic medium.
Morrison continues these themes in The Multiversity. The series' first issue sees a character who defines absurdity, Captain Carrot, take on an analogue for Marvel's Hulk. In one of the series' many fourth-wall breaks, he then turns to the reader and asks "Who else wants to argue with cartoon physics?" Though artist Ivan Reis is known for a realistic aesthetic in his depiction of characters, his Multiversity art does not shy away from bizarre imagery. In The Multiversity: The Mastermen, Morrison is joined by artist Jim Lee in a story about a Nazi Superman taking on the underground team The Freedom Fighters. In this issue, Morrison uses one of the grim and gritty period's premiere artists to lament the industry's attempts to mirror real life.
This is not to say that all comics are unworthy of critical analysis. There are a plethora of comics from smaller, independent publishers that do not focus on superhero epics and, as a result, are equipped to address real world matters with greater nuance and precision. Even those books with more outlandish concepts, such as Saga by Brian K. Vaughan and Fiona Staples, are suitable to address serious, topical matters as they are not bound by the constraints of an 80-plus year canon, nor are they driven by major corporate conglomerates. Those that have frequented sites such as Your Chicken Enemy, The Sequart Organization, or The Comics Journal are aware that superhero comics offer little outside of broad strokes or heavy-handed socio-political commentary.
Since their inception, superheroes have been ingrained in the fabric of American pop culture to varying degrees. They are fantastic beings whose stories invite the reader to follow them on a journey that could never be achieved in the real world. A degree of verisimilitude may be necessary for the initial buy-in, but to expect Batman or Spider-Man to conform to our world is a fool's errand. As Morrison states,
"Adults…struggle desperately with fiction, demanding constantly that it conform to the rules of everyday life. Adults foolishly demand to know how Superman can possibly fly, or how Batman can possibly run a multibillion-dollar business empire during the day and fight crime at night, when the answer is obvious even to the smallest child: because it's not real." (3)
Superheroes are fun constructs that work best when exploring grand concepts and enabling imaginations to flourish. As publishers try to make them conform to the real world, and the more fans and critics try to scrutinize them under real world news, they will inevitably fall apart. Paradoxically, it is when their weirdness is embraced that they truly become real.
(1) https://www.inverse.com/article/14967-alan-moore-now-believes-the-killing-joke-was-melodramatic-not-interesting
(2) Miller, Frank & Mazzucchelli, David. Batman: Year One – "Afterword". DC Comics, 2005.
(3) Morrison, Grant. Supergods: What What Masked Vigilantes, Miraculous Mutants, and a Sun God from Smallville Can Teach Us About Being Human. Spiegel & Grau, 2011.