In part two of our two part series, we take a look at the post-Convergence DC titles and give you our early take on whether they're lame or game.
Robin, Son of Batman by writer/artist Pat Gleason
Aside from what I believe is Patrick Gleason's writing debut, there's not much to go on with regards to the first Robin solo series since Tim Drake became Red Robin.  The cover would suggest that we're going to see an adventure book that takes place in strange and wonderful lands, which sounds pretty good to me.  Damien's carrying a sword on the cover, which makes me think he's been de-powered by this point, too.
I'm going to go out on a limb and suggest that Damien will no longer be hanging out with Batman at this point.  The cover places him far removed from Gotham.  It would also be in line with my thinking that we'll see a new Robin post-Convergence.  I also think the "Son of Batman" subtitle is to keep this a Bat book even without a regular story connection.
Gleason's an underrated artist; at the very least, this should look good.  It will interesting to see if Damien really has enough fans to keep this book afloat. —Kyle Garret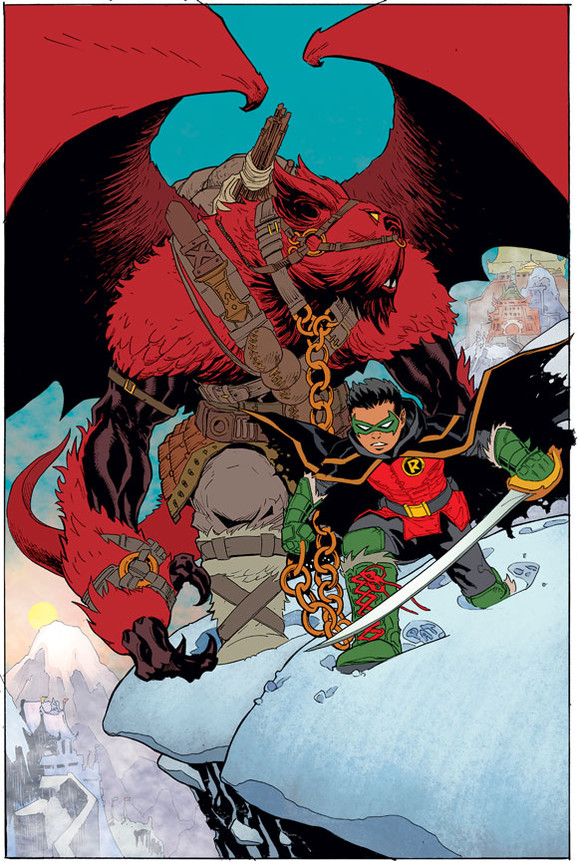 Black Canary by writer Brenden Fletcher and artist Annie Wu
If there's a silver lining to be found in the end of Marvel's Hawkeye series written by Matt Fraction, it's that Annie Wu is available to work on Black Canary.  Wu's work on the Kate Bishop issues of Hawkeye were good enough to make me okay with not getting David Aja's art every month.  Her work manages to be both clean and gritty at the same time and wonderfully emotive.
Brenden Fletcher already has a substantial reputation at DC between co-writing Batgirl and co-writing Gotham Academy, two of the three comics that arguably led DC down this new road.  I'm looking forward to seeing how he does on his own.
A Black Canary series makes perfect sense given the characters increased profile on The CW's Arrow.  But it's also long overdue.  She ranks in the top 5 iconic female characters in the DCU and deserves to be treated as such.  Separating her from Green Arrow and allowing her to stand on her own could be one of the best things about the questionable reboot. —Kyle Garret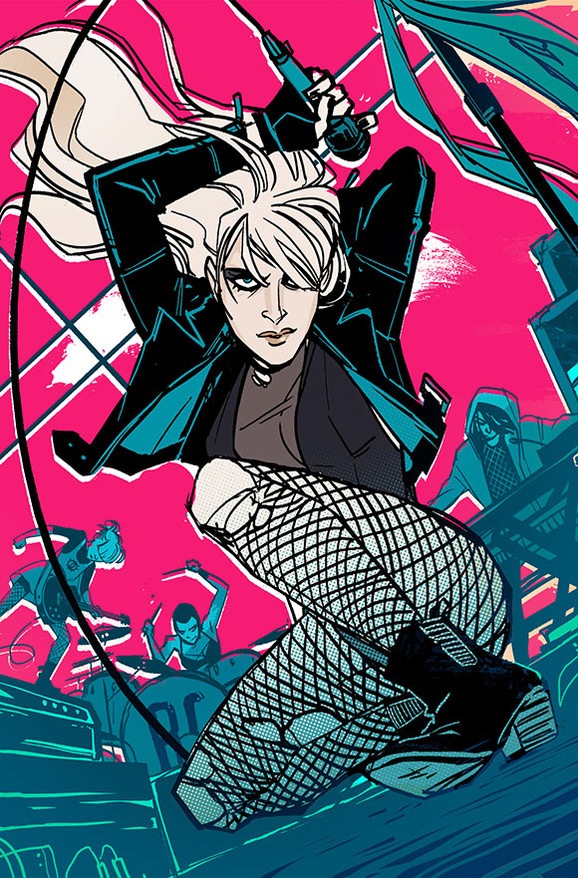 Martian Manhunter by writer Rob Williams and artists Ben Oliver and Paulo Siqueira
Martian Manhunter is one of my favourite DC characters. He's the Martian that decided to live peacefully with us humans (maybe some villains get "manhunted"), but unlike Superman this guy is through and through alien. He's got every power in the book, a rich backstory that's rarely been explored and when he's not written with 360degrees of seriousness, he can be a lot of fun. But I stress, he needs to be injected with SOME amount of fun. Giffen, DeMatteis and Maguire knew what they were doing back in the 80s when they made this guy the ultimate straight-man in a room full of goofs, but since then we've had precious few moments with the manhunter that weren't drab and full of doom and gloom. I loved John Ostrander's Martian Manhunter series and enjoyed MM's tale in Brightest Day but if I read one more story with our green man flying around moping about Mars–I'll have a fit.
If Rob Williams wants to play up the "father figure" role MM has been playing so often, I'm cool with that. Again, as long as it's fun. Have him buddy up with someone who's interesting and not just a constant victim. He was mishandled at the start of the New52 in Stormwatch and I opted out of Justice League of America where he ended up, but even now in his Justice League United role I feel his potential is being ignored. Take of the power Grant Morrison gave him in the 90s JLA, combine it with the fun he had in the 80s Justice League and try to write as well as Ostrander did in the 00s–and we have a winner.
Can Rob Williams and Ben Oliver pull this off? Judging from their past work, I fear that that fun I was hoping for will remain but a twinkle in my eye. I fear this will be just another super-serious mope-fest. I fear it will look good and sound good and be the exact opposite of everything I was hoping for. Then I checked out Paulo Siqueira's art. It's fun, curvy and almost Frank Cho-like. This could be real neat.
Either way, I'll be checking this one out. There's a world of untapped potential–I hope it's discovered.–Chris Wunderlich
Earth 2: Society by writer Daniel H. Wilson and artist Jorge Jimenez
Don't toy with me, DC.
Everything I've read has indicated that the current Earth 2 will no longer exist by the time Convergence comes along; it's already been overrun by Darkseid in the pages of New 52: Futures End.  In it's entirely possible, of course, that something happens between now and June that brings that world back.
But the title of this comic has me hoping for something else.
I'm a big fan of the Justice Society, specifically the pre-Crisis version.  The beauty of those stories is that they featured actual change.  In an industry dependent upon the status quo, the Justice Society evolved.  Superheroes existed during WWII, they had kids who took over for them, people died, etc.  It was great.
Would DC be nice enough to bring that world back?  To resurrect Earth 2, but this time make it the Earth 2 that old folks like me remember so fondly?  They could even make it current; at this point the children of Infinity, Inc. would be the main heroes, and many of them would already have children of their own.  And just think of all the wonderful flashback stories they could tell!
They're just messing with me, aren't they? —Kyle Garret
Midnighter by writer Steve Orlando and artist ACO
Midnighter is now experiencing a resurgence in recognition thanks to his villain status on Grayson, but while many new readers may know him as the Gay Batman they may not know that there are tons of back issues centered around the character. In fact, he is the only The Authority team member that received his own solo series that extended beyond the length of a miniseries back when Wildstorm Productions was a thing.
Up until this point, however, the majority of creators who wrote and pencilled Midnighter were straight men. While some of those creators did fine work and most were quite respectful of Midnighter's orientation(even known homophobe Chuck Dixon did his best in Grifter & Midnighter, although don't take that as a reading recommendation), this sometimes did lead to notes of stereotyping. New 52 Stormwatch, while it didn't necessarily have a stereotyping problem, certainly had a characterization problem in general and therefore didn't fare much better in terms of positive representation.
So, how to make sure your gay character has an accurate portrayal in his new title? Easy solution: hire a gay creator.
This isn't to say that this is the only reason Steve Orlando is perfect for the new Midnighter title. His Kickstarter for his comic, Virgil, was successfully funded back in 2013. His creator-owned title, Undertow, at Image Comics  has been well-received. The man has credits to his name.
But the discussion Orlando had on twitter with me and a couple of other Bulletineers was very faith-affirming. Not only was he a big Authority fan, but he also considers Midnighter to have been an important example to himself as a gay teenager. Assuming editorial doesn't lean on him too heavily as it did with the numerous Stormwatch creative teams, he should do more than a fine job.
As for the artist, ACO: if the interiors of the Midnighter title are as scary as that cover, we're definitely getting one hell of a comic. I relish the thought of the old, gory Midnighter returning in full form with a bloody nightstick and sadistic grin, especially in that great of detail.
One thing we may not get more of, but should: Apollo's development into his own character, too.-Ray Sonne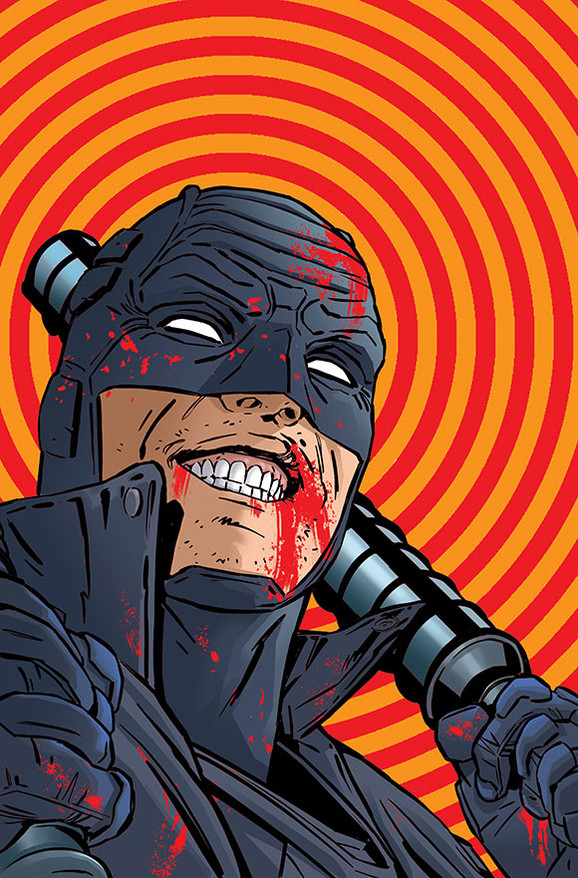 Bat-Mite by writer Dan Jurgens and artist Corin Howell
So, this is happening, I guess. If this isn't the most outright "fun" book DC is doing, then I'm not sure why it exists. –Luke Miller
This is the DC equivalent of All-New Doop, complete with its own bite-sized character that no one can understand…no one except the Batman of Zur-En-Arrh, that is.  Here's hoping Jurgens and Howell have their imagination caps on and really go all out with this fifth-dimensional miscreant.  –Alexander Lu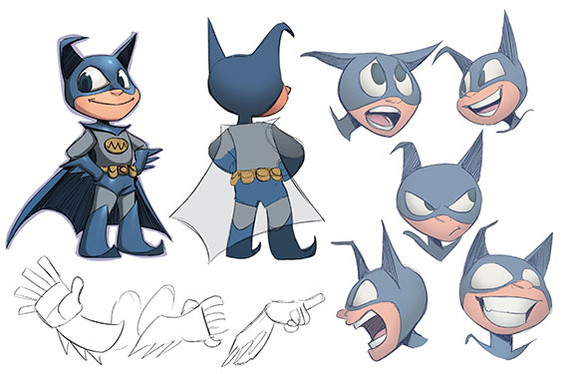 Batman Beyond by writer Dan Jurgens and artist Bernard Chang
Starring Tim Drake!  Okay, fine, we don't know that for a fact (yet), but that's my guess.  It will be interesting to see when this series takes place.  Calling it Batman Beyond more or less demands it take place in the future, or else what is it beyond?  Bernard Chang is a solid artist, although Dan Jurgens seems to be an odd choice as writer…although, now that I think about it, Jurgens is a good choice if there's time travel involved, given his association with Booster Gold.  In fact, that could make this title a whole lot more interesting. —Kyle Garret
Cyborg by writer David L. Walker and artists Ivan Reis and Joe Prado
Reis and Prado were among the first artists whose work I experienced when I picked up comics full-time. Their highly-detailed, cinematic work drew me in as a reader who was mostly unfamiliar with comics as a medium. Newer readers who want to slide over from Justice League into Cyborg will find a good transition with them on art for this title. I am not quite as familiar with Walker's work, but I look forward to getting to know his take on the character in June.–Ray Sonne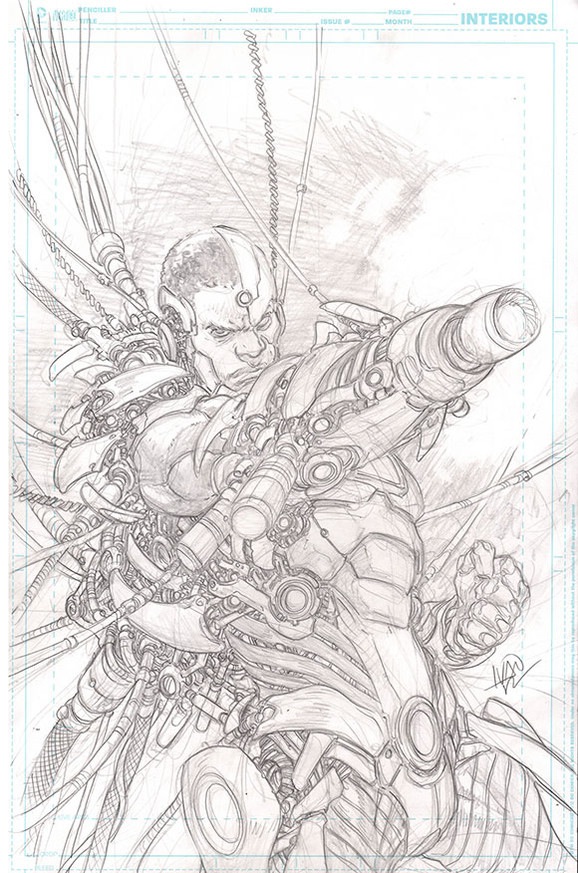 Dark Universe by writer James Tynion IV and artist Ming Doyle
The dark part of the DCU was unable to hold my interest in its first iteration, but this go-around includes Tynion and Doyle so I am totally in!  —Ray Sonne
Doomed by writer Scott Lobdell and artist Javier Fernandez
Man, this redesign of classic DC villain Doomsday looks so good. Where the old Doomsday was a spiky, over-muscled type, this new Doomsday looks like an MMA fighter with nasty gloves and an fighting attitude. I know a lot of people don't like Lobdell too much, but (maybe because I'm writing so much about the 1990s) I always find his writing to be full of fun moments and unexpected kicks. So I expect this comic will go all kinds of ways that none of us expect. Seems like a great ride to me. — Jason Sacks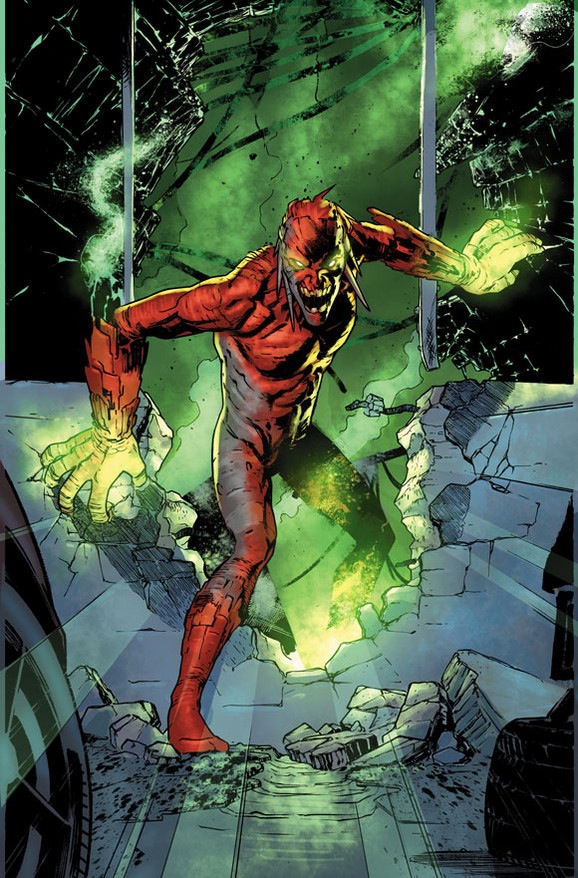 Harley Quinn/Power Girl by writers Jimmy Palmiotti and Amanda Conner, with artist Stephane Roux
Before DC Comics decided to relaunch its universe with Flashpoint, one of their best titles was the ongoing Power Girl series, particularly the first twelve issues by the triumvirate of Jimmy Palmiotti, Justin Gray, and Amanda Conner. That magic briefly reared its head towards the end of 2014 when Pee-Gee guest starred in a two-issue team-up in the pages of Harley Quinn. Now, Palmoitti and Conner are giving us six more issues of Power Girl… teamed up once more with Harley Quinn.
Many of the numerous launches by DC and Marvel featuring strong female leads owe their existence, or at least their storytelling, to Power Girl. The character has always been a strong character, both physically and psychologically. Her mental toughness made her a fan favorite during Geoff Johns' JSA series. Though she has attained significant fanfare due to her physical attributes, Palmiotti and Conner acknowledged that part of her appeal without making it the focal point of their run.
Harley Quinn as a series is very difficult to pin down. Like the other DC titles Palmiotti has worked on in recent years, it seems to exist outside the mainstream DC Universe. Power Girl showed up when she was also back on Earth 2 during the World's End weekly series. DC co-publisher Dan Didio has made multiple appearances in the title, mostly as the butt of a fecal-themed joke. Because of this, we can expect Harley Quinn / Power Girl to take place within the continuity of the main series, rather than the larger DC Universe.
That loose continuity may drive some readers crazy, but it's pretty much in-line with what was stated in Friday's press release. Dan Didio said, "In this new era of storytelling, story will trump continuity as we continue to empower creators to tell the best stories in the industry," Palmiotti and Conner are simply taking advantage of this freedom to tell the story that they want. Hopefully, this series sees the commercial success for other creative teams to follow suit. —Daniel Gehen
Red Hood/Arsenal by writer Scott Lobdell and artist Denis Medri
Of all the new titles announced by DC, this is the one I find most baffling.  Opinions on Scott Lobdell's writing abilities aside, is there really demand for a Red Hood/Arsenal book?  This is exactly the type of thing that DC is supposedly trying to avoid.  You can't have a book featuring these characters without being steeped in continuity.  How do you explain Jason Todd to a new reader?  I'm not even sure I know how they're explaining Roy Harper, given he's now the same age as Oliver Queen.
Speaking of which, Arsenal is currently being seen by millions of people each week on The Arrow.  So why exile him to this title?  Why not put him in the Green Arrow book?  There are so many characters to choose from the in DCU, surely Lobdell could have found two different ones for his buddy cop book. —Kyle Garret
Starfire by writers Jimmy Palmiotti and Amanda Conner, with artist Emanuela Lupacchino
Out with the half-a-bra and in with the new, athletic costume! Among the first New 52 titles that received harsh criticism from fans was Red Hood and the Outlaws #1, which portrayed Starfire as some kind of drugged out, amnesiac sexbot that didn't even remember her own ex-boyfriend's name. Offended female DC fans, and quite a number of male ones as well, wanted to set that comic on fire.
This cover by Amanda Conner flings that impression far, far away from this character. This Starfire is happy, confident, and completely owns her sexuality. She's curvy, but not at Barbie doll proportions. The holes in her top and shorts are decidedly fashionable, not offensive. This is not going to be a comic that takes itself seriously, based on that poor man in the background being yanked away by his ear by his wife and that even poorer girl checking down her shirt to compare her less voluptuous chest to Starfire's. I hope that these people have at least a cameo in the interiors, I find them so amusing.
One of the potential demographics DC alienated by turning Starfire into Miss Male Gaze 3 1/2 years ago was the younger demographic of those who know the character from the Teen Titans cartoons. I have not watched those shows, but I'm going to guess that they do not linger on Starfire's sexuality so this strikes a nice balance. Starfire gets to retain her bubbly personality from the cartoons while still owning her sexuality, probably making her closer to Marv Wolfman and George Perez's vision in the original Teen Titans run than she has been lately.
I had no interest in Starfire until the day of this writing. If you had told me in the past that this was one of the future DC titles I was going to be most excited for, I would have responded rather derisively. Why would I want to read a book about some alien chick I know almost nothing about? But Conner's work here is absolutely the best out of the bunch DC has released to the press and is a testament to the power covers have with readers.
Oh, and picking Emanuela Lupacchino, one of their best female artists, to do the interiors? Whoever's editing this knows what they're doing!-Ray Sonne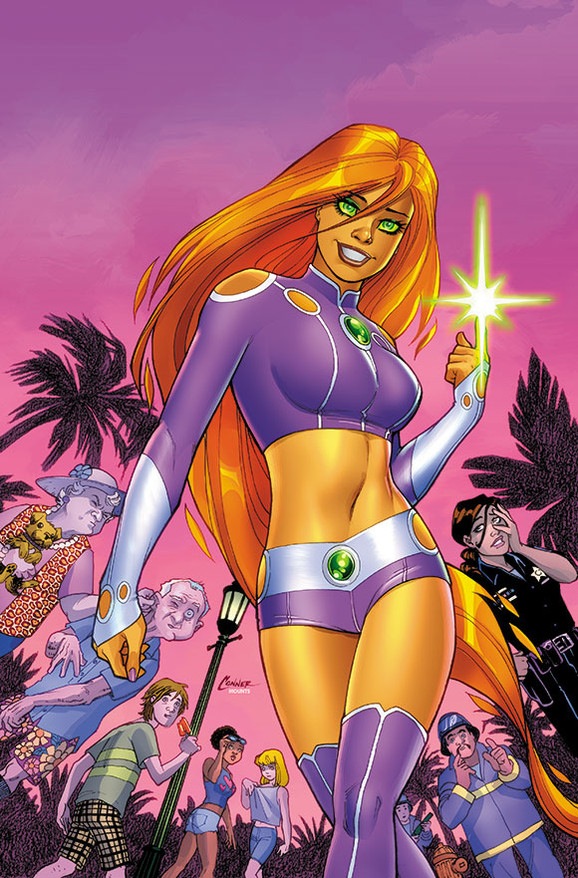 We Are Robin by writer Lee Bermejo and artists Rob Haynes and Khary Randolph
I am crushed that Bermejo is on writing duties here since he is one of my favorite pencillers in the industry. On the other hand, that cover depicts some excellent artwork . Think I'm going to wait until the reviews are in for the first issue, but this title is something I'll be keeping my eye on.–Ray Sonne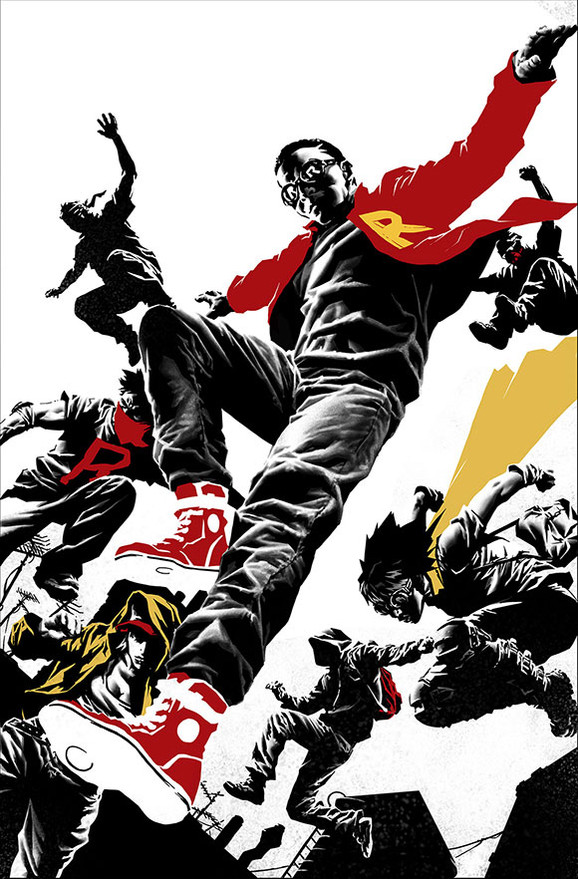 Justice League of America by writer/artist Brian Hitch
Bryan Hitch, artist of the seminal works The Authority and The Ultimates, is drawing Justice League of America. Not only that, he's writing it too. For anyone that wants an idea of what his book may look like, just check out the main promotional image used for DC's post-Convergence announcements. Depicting the New 52's core seven Justice League characters, Hitch's Justice League of America looks to be a place for classically inspired superhero adventures.
With that said, there are a lot of questions surrounding this book. Hal Jordan is shown to be part of this team – is he returning to Earth? When does this even take place? How will this work with the current Justice League comic by Geoff Johns? If Hitch's own tweets on the matter are any indication, we shouldn't worry about any of those matters. I doubt anyone will as long as the book delivers on what it appears to be promising – big, fun superhero stories. –Daniel Gehen
Bizzaro by writer Heath Corson and artist Gustavo Duarte
Yes, because what the world really needs is more example of Bizarro speak from the guy who brought us Justice League War. All snark aside, this could be a fun ride if the tone is right. — Mark Stack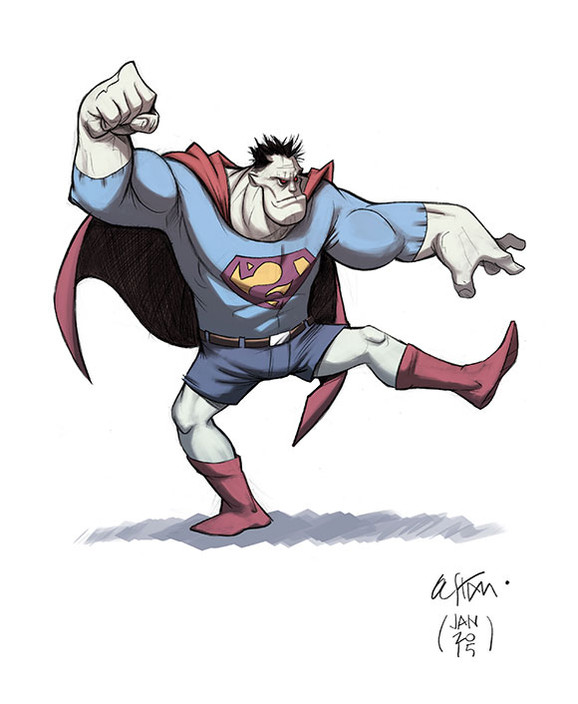 Prez by writer Mark Russell and artist Ben Caldwell
Here's the thing: we want variety, we want diversity, we want titles that younger readers can pick up and we want our favourite creators to be recognized. Remember The Green Team? No, not that one issue of 1st Issue Special Joe Simon wrote in the 70s–I'm talking about the 8 issue run in the New52 by Art Baltazar, Franco (I love Art and Franco!) and Ig Guara. Yeah, I forgot about it too. I mean, did anybody actually read that series? I didn't, and I don't recall hearing a thing about it after it's initial announcement.
But there you have it. When DC tries to give us something different, a few people pay attention the following is so small that it can't be supported. I like the idea of rebooting a one-off silly concept from the 70s with a decent creative team, but I'm a fickle, prudent reader who doesn't have the budget for another monthly title that I'm merely happy exists. My curiosity doesn't translate into having more available money. I didn't give my support to The Green Team, despite generally liking everything about it, and it died a quick death.
I fear this will happen to Prez. The idea sounds fun, as I assume we're looking at a variation on another whacky 70s Joe Simon creation–remember the old Prez, the first teenage president? The art has miles and miles of potential, because Ben Caldwell absolutely deserves a mainstream, monthly title. Remember his work in Wednesday Comics with Wonder Woman? Reign in that wild artist power and temper it with a writer who knows what he's doing and you could have one amazing looking book on your hands. And I've never read anything from Mark Russell, but I hear he's a funny guy.
I want to support this book and I want YOU to support this book. I like that it exists, but I'm not sure if that can translate to the appropriate amount of backing this title will need to survive. I'll try to remember to give it a shot…–Chris Wunderlich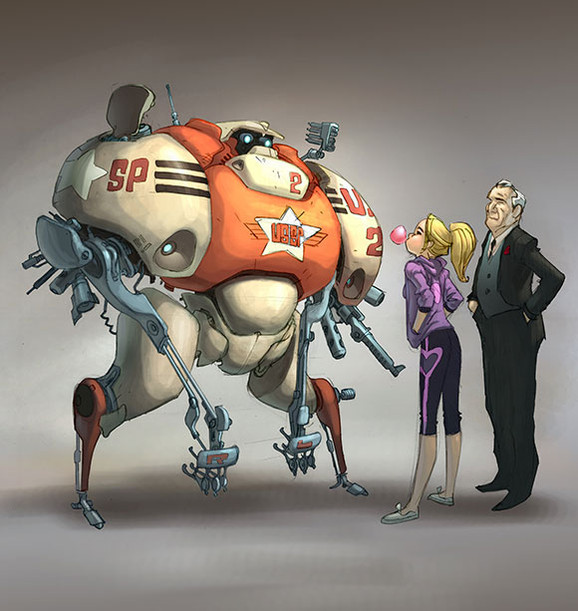 Omega Men by writer Tom King and artist Barnaby Bagenda
I have no idea what this title is and I probably won't end up reading it. That said, yay for Tom King getting more work at DC! His work on Grayson has been exceptional and I love the idea that DC is willing to throw more books at the guy. Here's to hoping this is a positive stepping stone for the continued success of Mr. King. — Mark Stack
Mystic U (tentative title) by writer Alisa Kwitney and artist Mauricet
We have no idea what this is. Literally no idea. This appears to be Alisa Kwitney's first ongoing but not her first comics work. And this would appear to be Mauricet's first DC work. There's really no telling what this is or how it's gonna go. —Mark Stack
Section Eight by writer Garth Ennis and artist John McCrea
Hearing that Ennis and McCrea were back at DC the day the announcement was made had me flipping out when I wasn't even out of bed yet. Best news to wake up to ever. This is going to be amazing; time to finally finish Hitman. —Ray Sonne
Dr. Fate by writer Paul Levitz and artist Sonny Liew
Here's the best case scenario I can think of for this book: Dr. Fate (whoever he happens to be in this incarnation) is haunted by the spirits of all of the previous men to wear the mantle – men who were murdered in gruesome, horrifying ways. However, Fate can access their knowledge, memories, and expertise in his fight against some seriously terrifying bad guys (think old-school Hellblazer mixed with, I don't know, let's say Cthulu). Fate also knows that his horrific death is imminent and impossible to prevent, but he keeps on fighting, hoping that one day, the weight of his knowledge and experience, combined with all the other Fates before and after him, will be enough to defeat the darkness for all time… I don't for one second think that's how this will play out, but I can dream of horror-style superhero book. –Luke Miller

Green Lantern: Lost Army by Cullen Bunn, art by Jesus Saiz and Javi Pina.
I have to imagine that this book will replace the space left by Green Lantern Corps and New Guardians (and, I guess, Red Lanterns and Larfleez, but those books never made much sense to me).  So the question, then, is: who will appear in this book?  Assuming Hal Jordan maintains his role in Green Lantern, there's John Stewart (who is so much better than Hal Jordan), Guy Gardner, and Kyle Rayner (who makes no sense in the New 52 reality), not to mention Simon Baz.  The cast is going to be pretty bloated if all four of them are being crammed in.
It should look good, though.  Jesus Saiz and Javi Pina create some great, fairly dark, work.  Maybe this will be the grittier Green Lantern book. —Kyle Garret
Justice League 3001 by Keith Giffen, J.M. DeMatteis and Howard Porter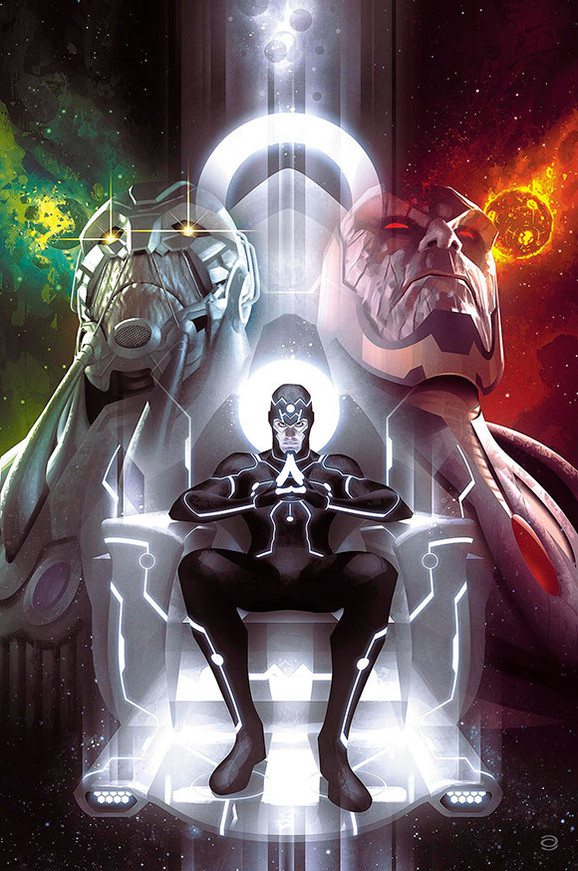 Constantine: The Hellblazer by Ming Doyle and Riley Rossmo
I love Hellblazer but I only like the character of John Constantine. Sounds almost paradoxical, doesn't it? Well, not really. See, it turns out that when you take John Constantine out of Hellblazer he becomes a little hard to swallow.  Especially when that means moving him into the greater DC Universe. John Constantine isn't a hero and shouldn't ever be treated as such. He's a bad dude that just so happens to end up on the right side more often than not. Sometimes Justice League Dark would forget that and other times it would embrace the sort of seedy storytelling that John Constantine thrives in. I didn't read Constantine past the first issue even though I found it to be particularly non-offensive. I was bummed to see it going pretty heavily into the universe-spanning crossovers with all of the Earth 2 stuff.
So, what's all this rambling about anyway? Well, it's about whether Constantine can work in the DC Universe. I don't think so. But I also don't think this title is doomed to failure. Again, this seems paradoxical. John Constantine works in Hellblazer, in that Vertigo corner of things. Calling this book Hellblazer isn't enough to sell me but putting Ming Doyle and Riley Rossmo on it is a start. Doyle has some Vertigo cred but, aside from her story in the Wacom anthology Pressure/Sensitivity, I don't know of her as a writer. Riley Rossmo, with his standout work on books like Bedlam and Rasputin, is the real draw here. He's a guy that can handle the grime and mystical with equal deftness. He's a fit for the world of Hellblazer and I only hope the writing is able to keep up with him. — Mark Stack