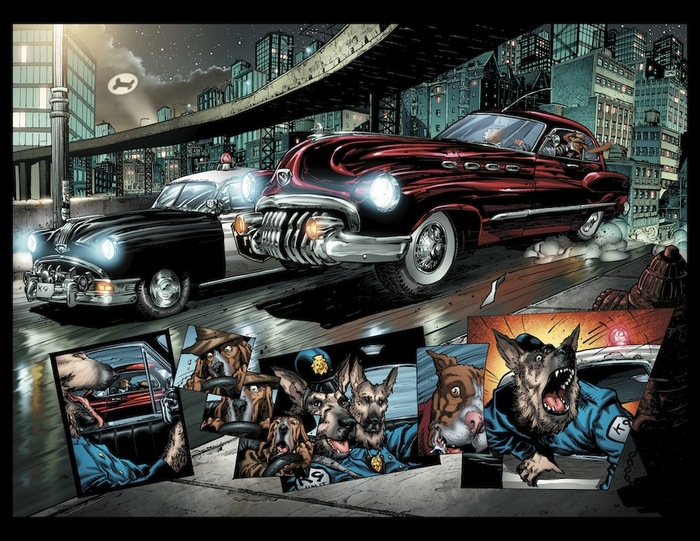 Imagine a tale that is something akin as a cross between Scarface meets Avatar with dogs and cats, but, you know, better. Yeah, that's what we were told about Dirty Bones by "OMG" and Luke Whitehead (the creators). This is an epic tale of a mutt by the name of Rover, who lives in New Bark City, Growlsville. Rover is an ex "Gangster" that gave up his life on the streets to embark on a quest of self-discovery while standing up against the segregation between the mutts and the pedigrees. Rover quickly discovers that life in the city has changed as Dirty, the notorious "Big Dawg", has taken control of New Bark City by force and is now fighting a vicious turf war with Madam Kitty for ultimate power. It's a dog-eat-dog world where no animal is safe in this adventure of romance, gangsters, tommy-guns, fast cars and flea-bitten varmints! Dirty Bones, where every dog has its day!
Written and illustrated by: Mario "O.M.G" Gully (Marvel Comics, Arcana Studios, and creator of Ant from Image Comics)
Colored by: Thomas Mason (X-Men #1 20th Anniversary Edition by Jim Lee, Guarding the Globe by Robert Kirkman, Spawn #200 cover by Rob Liefeld and Todd McFarlane)
Executive Produced by: Luke Whitehead (Entertainment Executive/Manager and Founder Mixed Nation)
Gully and Whitehead have done their due diligence in setting their financial goal, and here is what your special pledge will contribute to:
Pencil and Ink Issue #1 (32 Pages)
Color Issue #1 (32 pages)
Printing Issue #1 with gatefold page and variant cover version (This comic book will be in stores!)
Producing incentives and distribution of incentives
Advertising in Diamond Previews Catalog
Internet and Retailer Advertising
Book signing and moderate accommodations
This project will only be funded if at least $50,000 is pledged by Fri, Mar 21 2014.
__________
Robert J. Sodaro has been reviewing comicbooks for some 30 years. During that time, his reviews and articles have appeared in numerous print publications, as well as on the web. Subscribe to receive regular comicbook articles and reviews.