Fantagraphics Books
(w/a) Georgia Webber
People are funny. Not in a "ha ha, that's hilarious" manner (though that can also be true), but because they can be so perplexing. This is especially true when it comes to what is considered valuable. Televisions. Jewelry. If you're reading this, perhaps your comic book collection. We place value on these things while completely disregarding others. Such as our voice. Most people don't give their voice a second thought – it's always been there and always will be. Sure, it can become distorted temporarily because of a stuffy nose or a desire to make others laugh, but it's always going to be there. Until it isn't. What happens to us when we lose our voice? Dumb: Living Without A Voice is a graphic memoir by Georgia Webber which explores her experience living that very question.
When we're young, we feel invincible. Whether you're in your teens, twenties, thirties, and so forth ("young" is a relative term, after all), it seems like there is nothing you can't do. Being a twenty-something in Montreal, that was the case for Georgia. She worked, went to school, and partied hard. As a result of that lifestyle, she caused damage to her vocal chords, forcing her into a drastic lifestyle change.
The art within Dumb may not impress those used to that of classic superhero comics. However, Webber's pen-strokes have a simplicity that is as comforting as they are elegant. With each passing panel, her artwork draws readers further and further into this world. Though based in Montreal, Webber avoids using big-city visuals, making the reading experience a universal one. The cafe she works in may be in an urban area, but it could very well be the local coffee shop in a small, rural town. Touches like this make it so that the reader can easily see a version of themselves on the page right next to Georgia.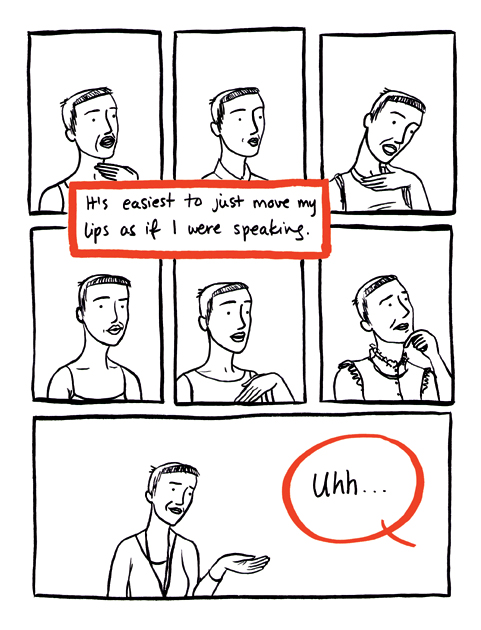 Webber expresses the frustration this temporary disability has caused brilliantly through her artwork. As time passes, her crisp, clean lines become rougher. The panel grids begin to bleed into one another until there is no differentiation. Eventually, the pages become a swirl of black, white, and red with text desperately making an attempt to stand out. It's a great way to symbolize the actual struggle she experiences with her voice. Without the ability to speak, the words she wishes to express get lost in an ever-changing communication system involving note-taking, lip-reading, and pseudo-charades. While the early pages in the book are very well executed, these later pages – dripping with raw, unbridled emotion – that make Dumb a wholly unique and engrossing experience.
Throughout Dumb, Webber makes use of a very simple but effective color palate: black, white, and red. That last one is very important, as it adds so much to Webber's storytelling ability without compromising its aesthetic. It's unlikely that this book would work nearly as well (if at all) without the red. Because it's a color used to symbolize fire and passion, those moments of agitation pop off the page.
Dumb: Life Without a Voice is a wonderful story, elevated by its true-to-life nature. With each captivating turn of the page, Georgia Webber's personal journey is a stark reminder that no one, no matter how young or old, is invincible. The life that each of us have, for all its warts and blemishes, is still pretty great. All it takes is one thing, big or small, to turn it all upside down.