Before October begins, the DVDs and Blu-rays for horror films (especially those who never had a chance to haunt the new medium) begin to appear like a horde of monsters calling for the people who love them.
Scream Factory (which is Shout! Factory's horror line) caters especially to the horror films of the 1970s and ;80s, when the genre began to become less about suggestion and more about a bathing in blood, sometimes more blood than it seemed a body could hold!
If you saw any of these films are films at a certain point in your life, and you have fond memories of them, then nothing anyone writes is going to convince you that you don't need to have these in your horror film library.
All of the Blu-ray horror releases I've listed here have remastered prints, decent audio, are delivered uncut, and contain a number of extras if you want to know what went on behind the scenes. They are a horror fan's delight.
There are others who are more of an expert on this subject than I am, but since many of the principle players involved in the films appear on these sets, I believe they are the best they have ever been presented, and with the goriest scenes intact.
You may have had to bleed hours for your hard earned money, so be damned if you shouldn't get what you bought a horror move for in the first place.
I've included suheads for each of the films so if you have a favorite you can easily find it. And given my memory, if I want to find it at a later point, it hopefully will be a much easier task.
A group of young men and women take a trek into the wilderness and discover that nature is not their best friend.
Rachel Ward and Daryl Hannah are among the women taking a bus ride into the deep woods for a river rafting excursion. They don't get to do much. Sit on the bus. Sit around a campfire. Eventually do some rowing on the rubber raft down a treacherous river.
The driver is a wild-eyed Joe Pantoliano, who brings the film alive whenever he is onscreen. Joe acts the pants off this thing.
Everyone else is just along for the ride. Or to get slaughtered. Actually, there's not much blood in this film. In fact, Director Andrew Davis states on the bonus track that the corporate suits had him add a prologue to the film because in their non-talent executive opinion there wasn't enough blood spilled. Here is their mindset:
More red. More green.
While The Final Terror unfolds somewhat along slasher movie formula, there's an identifiable, unkillable killer stalking the young people. They sit around campfires once off the bus, ready to white water raft down the nearby river, but something shadowy is stalking them.
Joe keeps warning them, "Something's gonna getcha!" or words along that line, but everyone believes Joe is just a killjoy loony.
There's also virtually no sex or nudity. The Old Testament staple of slasher films that if you have sex and you're not married, especially if you're a woman, is not really among this film's tenets.
The creature attacking them shows up only in the last ten minutes of the movie, reminiscent of the 1950s horror films where the monster strikes offscreen throughout the beginning reels.
Creatures cost money. Films like The Final Terror have a tight budget. Filming on location, in cold weather, in freezing water, in the middle of goddamn nowhere, lives in the memories of the video interviews of the actors who had to whitewater raft down the mountainous river.
Even a film that you may revile, may think has nothing redeeming about it whatever, probably challenged the people who were making it in ways they never expected. There were battles they never expected to have to fight. There were losses that left wounds that never quite healed.
The extras on The Final Terror give personal testimony to that filmmaking reality.
Whoever expected to see the stalwart star of The Texan television series become Farmer Vincent, who makes the best barbecue sauce you ever tasted, and the tenderest meats and even runs Hotel Hell with the pink neon sign burnt out?
You are literally checking into Hotel Hell. And Rory is all smiles and bonhomie and ecstatic with loving life.
The Texan was pretty solemn riding his horse from town to town. Nothing much seems to get Farmer Vincent down. His sister, Ida (Nancy Parsons), is memorable, as well, delightfully matching Vincent for ecstatic enthusiasm for their product and what they do to make the product.
Motel Hell cooks slowly, like the meat being tenderized, but by its end, the film becomes truly bizarre. It's like a barbecue sauce. The taste might not be to everyone's liking.
The film really follows no standing pattern of the genre. It delights in oddball characters, and that's part of the charm of seeing some like Rory, who played steadfast, steely characters in films. I knew of the film before seeing the Blu-ray but I had never seen it, and I certainly would not have imagined Rory all broad smiles and gaiety and gleefully participating in the insanity that eventually boils over into a cauldron of incendiary images.
The ribs will stick to your ribs. For some the ribs will fall off them.
You can go float in the lake in the back of the hotel, if you don't know your lover is lying dead beneath the surface of the waves.
Terry (Nina Axelrod) takes refuge in the motel, during the slow cooking stages of the first half of the film, and just about everyone likes the way she looks.
There are quick flashes during the first half hour of how whacky the movie is going to become. The images leave more question marks about exactly what is going on, leaving the berserk explanations for the last half, when the entire film veers crazily from horrific satire to bizarre scenarios, verbal and visual.
When Farmer Vincent talks about no artificial ingredients in his smoked meats, and goes on a harangue about the purity of food and the benefits to those with that kind of diet, the film seems almost prescient, even if taken to an ultimate insanity, in its diatribe about being "you are what you eat."
Thosee statements seem like they were written for a film being made today, where individuals fervently debate the right kind of diet, whether it is gluten free or with sea salt. Organic meats and milks, vegans and carnivores, in a generalized way all the different determinations discussed to today are on display. Everyone is convinced their way is the true way to survive nutritionally. It is sometimes done with all the fervor of political or religious fanatics.
In the end, after all is said and done, if you avoided drugs, alcohol, smoking, etc., it is sugar that will kill you. What will grow in your garden?
I don't want to spoil the fim too much, but a couple of these images are needed to capture the flavor of the film.
In the last segments there is cross dressing.
How to talk to your food combined with you to talk with what you've planted.
There is role playing and a dominatrix.
It definitely is not a by-the-numbers standard horror film, in 1980, when it was made, or now.
You decide if it leaves the right taste on your tongue and in your head.
Don't get stuck in the Bayou on Halloween, any year. Even dressed as National Guardsmen, and in a group, it won't save your ass. Not if you run afoul of the Cajuns living in the Lousiana swamp locale.
In this column of horror/thriller films, Southern Comfort is the slickest looking film, anchored with the weight of known talent. Andrew Laszlo is behind the camera, as he captures the isolation and eerie essence of the murky swamp waters, hiding whatever might be right beneath the surface.
Mangrove trees thrust their thick trunks out of the hidden depths. Spanish moss drapes down from the tangle of growth that obscures the sky.
Every actor, especially Powers Booth and Keith Carradine, had to know that when they signed the contract to film Southern Comfort they were in for a tortuous ordeal not only in front of the camera, but in their daily lives, trudging in muck and mire for weeks. The location filming defines the film's uniqueness, and its gives it a forlorn ambiance all its own.
This 1981 film by Walter Hill (who wrote the original script for the Robert Culp-directed Hickey and Boggs in the early 1970s) had Booth and Carradine as members of a National Guard unit on maneuvers who invade the territory with cavalier attitude and accidentally tear up traps left to catch food by the local inhabitants.
Everything goes drastically downhill from there.
Rapidly.
Some critics of film felt the movie was a metaphor for the Vietnam War, with the troops outwitted by a lesser armed force, who knew how to take advantage of the place where they lived, and were expert on how to defend it.
I'm not sure Vietnam had anything to do with it, but it won't matter to viewers watching now. Vietnam is long gone. It is replaced by Iraq and Afghanistan.
The movie is about survival. It starts with arrogant attitudes by strangers coming into a place they believe is theirs to merely traipse through. Conflicting personalities within the group, from Fred Ward (who would later fight the Tremor creatures) and Peter Coyote (who would later display wonder at seeing E.T.), all fight each other as much as the enemy, who is cunning and lethal. Death is final and sudden, with little time to bury the dead.
As with all the Scream Factory horror Blu-rays, the picture is sharp, the swamp locales captured in brooding clarity.
There are a number of extras that showjust how difficult it is to shoot a film where it is hard to get not just get the cast, but also all the equipment to make a movie, into a place that remains primal.
Lake Placid is written by David E. Kelley. Kelley is well known for being a part of, and/or creator of, some cutting-edge television shows. Kelley wrote, or cowrote, a number of the L. A. Law episodes, which Shout! is releasing. They are up to Season Three in that series right now, and I hope some of you will check the series out. That show wase groundbreaking in what television could do at the time, and they have an excellent cast of characters. The show can be found here.
Kelley also did the marvelous TV series Picket Fences, which also challenged the boundaries of network television during its time on air. Unfortunately only one season of that unique series has made it to DVD. I hope if L.A. Law and Hill Street Blues are a success for Shout!, then maybe they'll release Picket Fences. Hey! You never know.
Exactly how and why Kelley did Lake Placid is not something I totally understand.
Even with some excellent extras on this Blu-ray set, I still find it somewhat puzzling.
The movie has some moments, certainly. If you came to see a film about a giant croc existing in a lake that is otherwise idyllic, then you have come to right film. It has a decent cast. Nobody is being especially challenged by the material.
It opens with a great Stan Winston special effect: a body hauled out of the placid waters that has been chomped in half. As you can see, the body definitely looks as if it has been chomped in half.
The movie is not as zany as it might like to be, except when Betty White is on the screen. I think this may be one of the first times where White is used against her younger persona, uttering the funniest lines in the movie. I wish there were more of her. She is a delight.
The dialogue below with the photo must come from the subtitles.
Betty lives on the edge of the river. She is not cooperative with Bill Pullman's reasonable sheriff after the chewed corpse is discovered, and suspicions grow that a prehistoric crocodile is feeding in the calm waters.
Bridget Fonda comes into town to verify if indeed there is a croc in the east coast lake. She is given thankless lines, taking offense at the small town people's slightest comment, as if it is reflected at her.
This is not a funny commentary on gender insensitivity, since Pullman's sheriff is stuck taking verbal abuse from her sensitive nature while dealing with people get torn into pieces, or chunks of them being found, and the rest devoured.
The film was released in 1999. Like the old horror films, it is awhile before we really see the monster at the center of the piece; the reason people came to see the film in the first place. But when the croc comes ashore, eats cattle right in front of Betty, then Stan Winston's work really shines.
Cars get crunched, but not digested. The croc will try to gum everything that gets in its path. Not just the cast but even helicopters, thanks to Stan Winston and his special effects gang. One of the bonus features shows a lot of footage taken of the team creating the crocodile, and how challenging it was to get it to work. The fact that the crocodile is not all CGI lends it a reality that it might not have otherwise.
Whether the film succeeds as horror, as comedy, or as horror/comedy can be debated. But it must have been pretty successful along the line. I believe it became a series, ending with Lake Placid 4.I haven't seen the sequels. By that time, if the first film is any indication, every vehicle is eaten, as well as the entire populace.
Except for Betty White.
Yes, you read the title right.
Writer/Director Jeff Lieberman tells this story in his video interview that is included as one of the extras on Scream Factory's Blu-ray of Squirm. You can hear Lieberman's questioning of his decision to not cast Kim Basinger in the lead actress role, his quiet lament, "Maybe in another lifetime."
The decision still preys on his mind.
Basinger told him she had no objection to doing nudity in the movie.
Why did he choose Patricia Pearcy over Basinger, when the locale for the movie is set in the South, and Pearcy was an Eastern actress, while Basinger was born and raised in a small southern town not unlike the one Squirm takes place in?
He says he told Basinger he just could not believe a woman as beautiful as her would live next to a worm farm. You can lose a role just like that in cinema — because you're too beautiful.
As with the other Blu-ray horror films from Scream I have included here, there are some fascinating behind-the-scenes stories.
In fact, this was Jeff Lieberman's first film he wrote (his wife told him it was the "worst" idea she had ever heard for a film), and like Sylvester Stallone with Rocky he held out on selling the idea of worms attacking a small town unless they agreed he could direct.
Originally, when he wrote the script, the story line was set in a small eastern town, not in the south. The film was about to start shooting when the studio decided it would be too cold to shoot in the east and changed it to the south. Lieberman had to quickly rewrite, and change the locale and background of all the characters.
Mick comes from the big city to meet with Geri Sanders, who comes from a small town where worms are a major factor in selling. Mick doesn't give a damn about worms when he first arrives in the isolated place, right after a tremendous electrical storms saturates the earth and turns worms into carnivores that love to devour humans.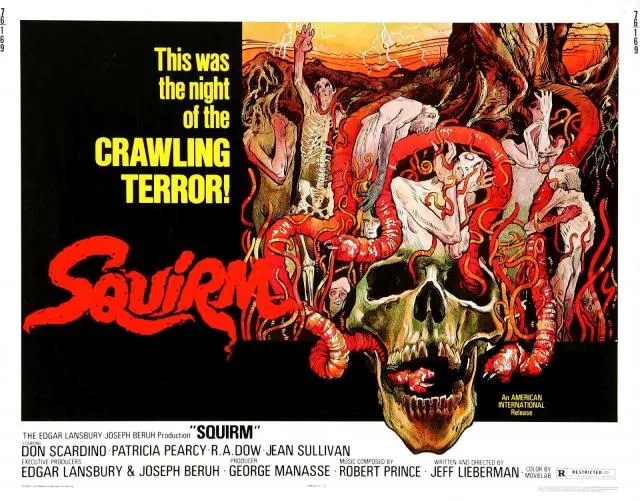 While the worms percolate and become more ravenous, Mick has a chance to get on the wrong side of the sheriff, who shows he is much more interested in having sex than Mick is. He also meets Geri's next door neighbor, Roger Grimes (R. A. Dow), who works with his disgruntled father buying and selling worms.
Geri's mother seems to be caught in the midst of a Tennessee Williams tortured Southern woman state of mind. And Geri's pot smoking sister, Alma (Fran Higgins), whose presence brings playful energy to the scenario, gives Mick a chance to smoke a joint with her.
For a horror movie about the onslaught of worms, Lieberman does seem to have a genuine affection for his characters. This is a rarity in many horror films from this time period.
The first actor cast for the film was R. A. Dow. Why? Because Roger was going to be the first victim of the worms.
The talented Rick Baker was going to find a way to make the worms eat R.A.'s face, so they needed to start working on his image, to create the effect, months ahead of time. Rick Baker loved werewolves and worked on bringing lycanthropy to a new level during monster films of the 1980s.
Here, in 1976, his work with the worms is still amazingly affective.
You get cast in the film before the stars so worms can eat your face. That could be an apocryphal warning about Hollywood.
Below, apparently, close to the nude sequence Jeff Lieberman makes reference to the fact that he could have had Kim Basinger. Fran takes a shower that lasts, oh, about two seconds in the film that exists.
Worm Face becomes a Peeping Tom. Who wants this face staring in at you from your window?
The most memorable image from the shower sequence is worms dangling from the shower head. They used real worms!
The first time I saw Squirm I was with people from Marvel Comics. When we came out of the film, Ralph Macchio was going on about how bad the movie was. I asked Ralph what he expected from a film titled Squirm.
The title tells you exactly what it is. It's a movie about worms attacking people. They eat them from the inside out. They eat their faces. They turn into swimming pools of worms. When I first saw the film I thought they were using spaghetti to fill out the number of worms for the drowning scenes.
I couldn't have been more wrong.
According to Jeff Lieberman they used so many worms making this movie that there was a shortage of the crawlers for more than the rest of the year. That's another fact you'll learn from the Blu-ray extras.
Your Halloween bag is full now.
Eat your worms.
Eat your crocodiles.
Eat your ribs.
Before they eat you.
Copyright © 2014 Don McGregor
---
The hardcover edition of Detectives Inc. is still available. Continued sales on the series can help make the new Detectives Inc.: A Fear of Perverse Photos/A Repercussion of Violent Reprisal a reality. The hardcover edition of Detectives Inc. is still available. Continued sales on the series can help make the new Detectives Inc.: A Fear of Perverse Photos/A Repercussion of Violent Reprisal a reality. I'm not sure if IDW still has any volumes left of the hardcover, but you can buy it on Amazon. 
The newly designed http://www.donmcgregor.com is up and running, and Gary and Dawn Guzzo have brought it up to date. I'm talking to Gary recently about having an update Blog right there on that very page where I can Post and you can reply. Check us out!