If you read Batman comics in the mid-to-late 1990s and into the 2000s, chances are you read a book written by Chuck Dixon. At one point or another, his name graced the pages of Batman, Detective Comics, Batgirl, and Robin. He's credited with creating the superteam Birds of Prey. However, for many his finest work is the original 40 issues of Nightwing he penned alongside artist Scott McDaniel. Dick Grayson has been a comics mainstay since 1940, and he adopted his Nightwing persona in 1984, but these issues by this creative team built a foundation and set a standard for the character which few have come close to reaching.
On a surface level, Nightwing is an imitation of a Batman book. The hero is a discount-store Batman operating in a discount-store Gotham taking down discount-store villains. However, the series very quickly became its own thing thanks to a mission statement established in the first issue – to make Dick Grayson be his own person, both in and out of costume.
Prior to Nightwing, Dick Grayson's publication history may be long, but it is not varied. For the first 30 years after his debut in 1940, he would epitomize the role of kid sidekick. He was always at Batman's side, sometimes helpful but mostly needing to be saved. He did fulfill his intended purpose well in giving the Caped Crusader someone to talk to, since DC was worried that people might think the character was crazy for talking to himself (nevermind the fact that this is a rich guy dressing up in a costume and beating up the mentally ill). It wasn't until Dennis O'Neil took over the title that Grayson saw some growth, graduating from high school and being shipped off to college. Though the real reason for this was to return Batman to his darker roots after the technicolor wackiness of the Silver Age, allowing Dick Grayson to grow up was an unintended benefit.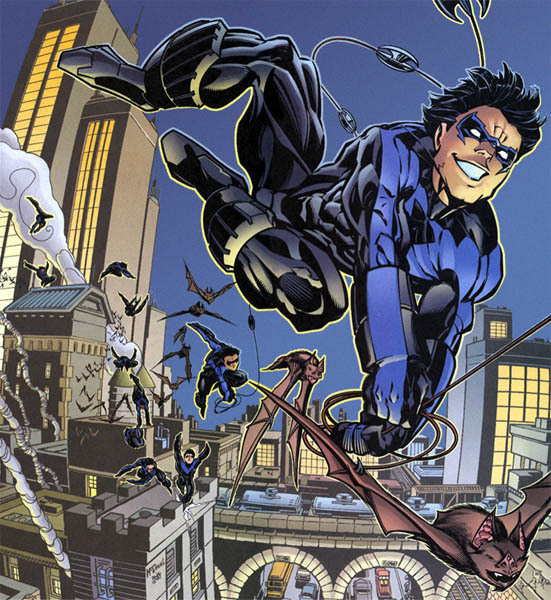 The character's profile would continue to rise, as Marv Wolfman and George Perez chose Robin to be the anchor of their series The New Teen Titans. The title would be DC's biggest hit for most of the 1980s and would provide for more character growth not just for Dick Grayson, but for other legacy characters in the DC universe like Kid Flash (Wally West). Not only did leadership of the team allow Dick to mature, but it also provide the opportunity for him to shed the role of Robin, taking up the new identity of Nightwing in Tales of the Teen Titans #44.
Nightwing would continue to lead the Teen Titans into the 1990s as well as make guest appearances in Batman and The Flash. He also would star in a regular feature of Action Comics Weekly. Following the multi-year "Knightfall" saga, Dick would temporarily take up the mantle of Batman in the "Prodigal" arc, before starring in the one-shot Nightwing: Alfred's Return. After this, he would finally his first solo book – a four-part miniseries by Dennis O'Neil and a pre-porn-tracing (I think) Greg Land. The success of that series gave DC the confidence to launch an ongoing Nightwing title.
I vividly remember the first time I saw marketing materials for the new Nightwing book. During the summer of 1996, my family went on a summer vacation on lake in upstate New York, during which I managed to pick up a copy of Wizard Magazine. Flipping through, I saw a full-page ad that essentially showed Scott McDaniel's cover art for Nightwing #1. Right then, I was hooked. I had to read this title. I remember liking the book as a kid, and upon revisiting it over 20 years later, it might read even better today.
Chuck Dixon's comics are very "meat and potatoes" in that they will never be considered for the greatest of all time, but a worst they are solid books. This is true throughout his tenure as the writer of Nightwing. Even when McDaniel stepped away from art duties, the title continued to be good. But it is those initial 40 issues with McDaniel that are among the best stories Dixon ever produced.
Beginning with "A Knight in Bludhaven," the creative duo sought to expand Dick Grayson's world beyond the familiar faces of the Bat-family and Teen Titans. Right away, a new big-bad for Nightwing would be introduced in the form of the hulking Roland Desmond, aka Blockbuster. A perpetual thorn in the side would manifest in the form of Tad Ryerstad, who would adopt the unoriginal moniker "Nite-Wing." Meanwhile, characters such as Bridget Clancy would act as a great foil in Dick Grayson's civilian life.
As much as Dixon and McDaniel worked to establish a world solely for Grayson, they also secured his role as the bridge between DC's JLA-tier heroes and the rising class of "young justice" heroes. Legacy would be a defining trait of the publisher's 1990s comics, and although Dick Grayson would only briefly assume the role of Batman in the "Prodigal" arc, in Nightwing he would develop into a mentor for younger heroes. More importantly, he would show the other members of the Bat-family that they could be a hero without being mentally unhinged.
There is no better example of this than in Nightwing #25. Titled "The Boys," this bottle issue sees Dick Grayson and Tim Drake take on the mean streets of Bludhaven… blindfolded. It is a training exercise which goes just bit differently than planned, as is the case in most stories. However, the events of the issue are not the primary focus, but rather the brotherly bond between the former and [at the time] current Robin. Dixon's script for this issue is full of banter as he peppers wise anecdotes into Grayson's good-natured dialogue. Meanwhile, McDaniel's artwork keeps the pacing brisk, fitting giving the nature of the story. Nightwing #25 is arguably the crown jewel of the creative team's run.
Though both creators have faded into relative obscurity in recent years, there is no denying the influence that their time on Nightwing has had on all succeeding creative teams. Whether it was the succeeding work by Devin Grayson, the New 52 run by Kyle Higgins, or the current Rebirth series, they all are compared to the work of Dixon and McDaniel. This is the bar which must be met, and few runs since have come close.